FREE SEO WEBSITE ANALYSIS
Do you want your online business to succeed? Consult our SEO experts before you start your web project and we will help you make a detailed digital marketing plan.
To succeed, you must stay focused on a well-prepared strategy. Besides being dedicated and persistent, it is of utmost importance to set the course of your marketing efforts and avoid unnecessary costs of a strategy which brings no results whatsoever. Asset allocation to a marketing strategy is a good way to go because it can be a stepping stone for business success.
The role of an SEO consultant is to see the right chance, the right way to go, and to draw up a marketing strategy to aim your business exponentially to the top.
Keep reading to find out how SEO consultations work, what are its phases, and what methodology our consultants use.
1. Online presence analysis
Before we begin, we must highlight that it is essential to know what our clients' business activities consist of, as well as the structure of the website and social media presence. In order to develop a thorough digital marketing strategy, we must detect and understand all your business efforts and goals. As a result of this analysis we get to find out what your target group is, see what their demographic structure is, see what your expectations and your business strategy are in general.
There are a few indicators of your website's condition, and these include visits, PageRank, keyword positions in the SERP and their number.
It is highly important to define the primary goals of an internet marketing campaign. Do these goals involve more traffic, obtaining better positions in the SERP, increasing social media presence or something else?
2. Competition analysis
Your competitors in the real world need not be the same as your online competitors. In the online world, companies have a chance to present their business in the best possible way and thus reach the highest positions in the SERP. Quite often, your competitors' keyword positions will affect your business as well.
For some reason or another, they are there and our SEO consultants are going to discover what SEO techniques and strategies they have used and to take advantage of all the mistakes they may have made.
It is therefore necessary to reflect on your competitors' strategies and reach your goals.
3. Strategizing
SEO now refers to a plethora of internet marketing activities. It involves using different techniques, starting from social networks, going over link building campaigns, and all the way to writing content on relevant websites.
Our SEO consultants will determine which techniques are the best for your website and help you implement them on your website.
4. Implementation of SEO techniques
It is important that the same SEO agency runs all your internet marketing activities, starting from consultations and choosing the right SEO approach, all the way to implementing them on your website and social networks. If team members work together on one goal, you can expect only the best results.
5. Reporting
Besides constant monitoring of SEO activities, it is also important to have a transparent proof of all the SEO activities you implement, so that in return you see its outcomes.
Sending periodic SEO reports is essential and makes the entire process more transparent and easier to comprehend.
This is a list of activities our SEO consultants perform:
Understanding client needs, business goals and making a digital marketing strategy
Making a comprehensive website analysis
Determining keywords
Sending the initial report
Competition keyword analysis
SEO content analysis (SEO copywriting)
Website architecture and internal linking analysis
HTML and page layout analysis
HTML code validation
On-page recommendations
Optimization recommendations: headings, meta tags and titles, text formatting (bold, italic, underlined text), page speed and performance improvement
Defining a link building strategy
Monthly monitoring and reporting on SEO activities
Monitoring the relationship between SEO techniques and business goals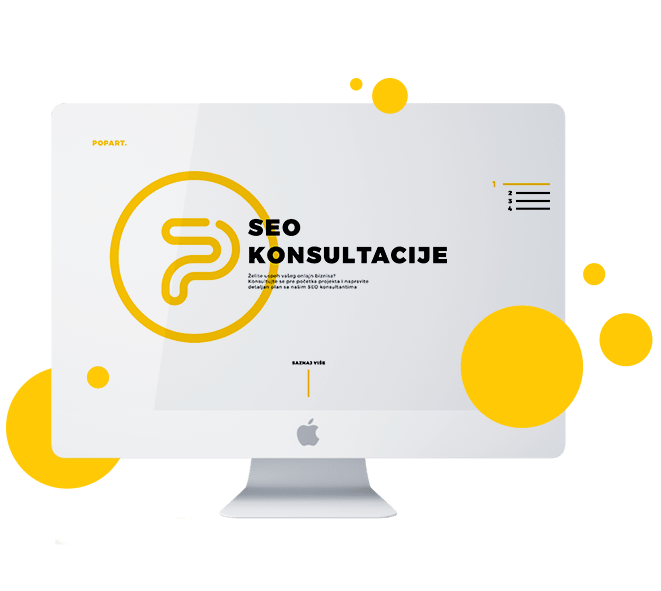 Request SEO consultations
If you are not sure what the SEO process is supposed to be like but have a general idea how to implement some activities, give us a call and schedule a consultation meeting with our experts. Our SEO team will analyze your website's condition and positions, suggest changes and a draw up a detailed plan of marketing activities in accordance with Google's recommendations. We set the course and you lead the way.
Form