Social networks are starting to take a leading role in the communication with shoppers and consumers. Learn what digital marketing entails and how your brand and business can profit from social networks.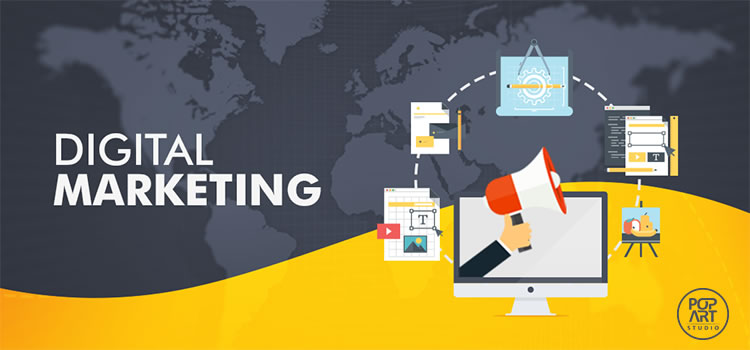 What is digital marketing?
Digital marketing is a marketing field which primarily deals with creating online strategies for the purposes of branding and increasing visibility of a company's digital image on the Internet.
Considering that 70 to 80% of people (in the US) have Internet access and spend their time on computers and mobile devices (source: Smart Insights), both for business and in free time – it is no wonder that this field of marketing has become hugely wanted, even more than the regular marketing activities.
They say that if you do not exist on the Internet, you do not exist at all. This saying does not seem all that different from reality considering that around 90% of Internet users aged 16-24 visit and use social network. Additionally, almost 77% of Internet users visit online shops and buy products online (source: Global web index 2016).
Moreover, the fact that 37% of searchers reach their desired products via search engines, as opposed to 34% of people who buy a product directly influenced by direct marketing activities (source: Similar Web 2014), only speaks for the fact that digital marketing is yet to become bigger. It can only be expected that in the near future digital marketing is going to reach its full potential.
Why not leave a digital mark with your brand as well?
---
What does a digital campaign entail
After you have had you website designed and web content written, there comes a choice of a social platform to be made, as well as a detailed strategy for content marketing. This involves choosing adequate means of graphic and textual representation which would make the brand more recognizable in the eyes of their users, including Google search (or any other search engine).
After a solution has been produced, content is promoted, results are measured, and campaign results' reporting is obligatorily sent to the client.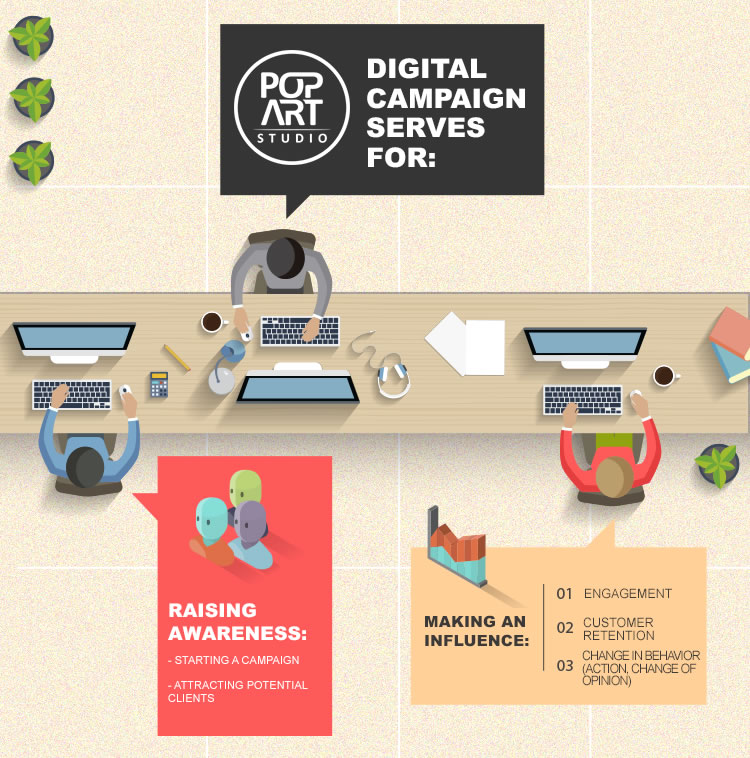 Using the means of direct marketing via social networks and all other means of communication with potential clients and users, e.g. via social network promotion on Facebook, LinkedIn, Twitter, etc., as well as via email newsletter campaigns, Google AdWords, etc. a positive image of a brand is formed and users are invited to take action.
---
What is Social Media Marketing (SMM)?
Social Media Marketing (SMM) is a kind of digital marketing, closely specialized in social networks where potential clients or shoppers usually spend time (e.g. Facebook, LinkedIn, Twitter, Google+). The goal of social media marketing is to create textual and visual content which encourages users to take action and, finally, change their behavior.
---
Digital campaign merits:
Branding on all channels
Drawing users' attention
More followers
Users' or followers' activity and comments
Change in behavior (e.g. shopping)
Positive reviews
Increased website traffic
Measuring results and reporting
Higher customer satisfaction index (CSI scores)
Return on investment (ROI)
In order not to get questions from your shoppers, such as: "Why are you not on Facebook/LinkedIn?", talk to us! We can start an effective campaign that suits your needs and find good, unique solutions for your brand.
It is high time to hire a digital marketing agency which offers free consultations for your digital campaigns!
---
Digital agency PopArt Studio
PopArt Studio is a digital agency from Serbia, which offers all digital services no matter where you are on the globe:
Graphic design
Web design
Web development
Web copywriting
Digital campaigns (strategic campaign planning for Facebook, LinkedIn, Twitter, Google+, Instagram, Pinterest, YouTube or any other social network you want to be present on)
Search Engine Optimization (SEO)
Digital marketing:
Share this page