Do you want your clients to remember you all year long? Order business calendar design and decorate your wall, desktop or pocket!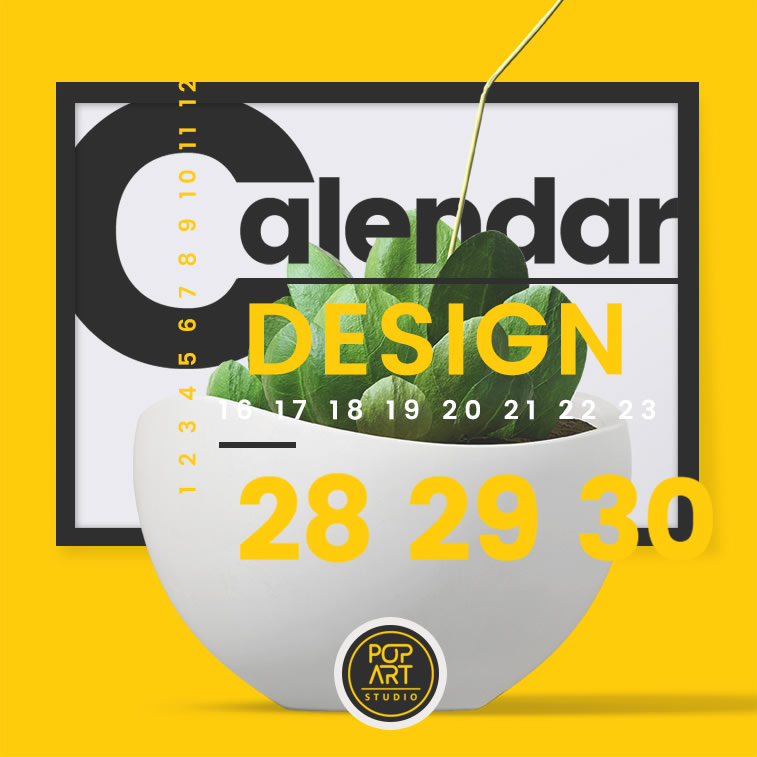 Calendar design
Business identity is expressed through visual elements that fit into a company's story and which usually include: logo, business card, memo, calendars, folders, and agendas. If one would decide to offer gifts to one's clients, this promotional material would often include popular items, such as: business cards, T-shirts, stationery with company logo (notebooks, agendas, and calendars), promotional mugs, umbrellas, etc.
In a business environment, calendars are very useful for planning daily tasks, business meetings and promotions, so it is very useful to keep one in your sight.
---
Business calendar design
PopArt Studio is a graphic and web design studio which creates personalized calendars for business clients. Our team of experienced graphic designers presents your company image, as well as your services and vision, in a format that suits your needs best.
Business calendars can be either print or electronic.
---
E-calendars
Electronic calendars (e-calendars) can be sent via email and put on your computer, tablet, mobile phone or some other mobile device's desktop, and even on your company's social media profiles (Facebook, LinkedIn, Twitter, Google+).
---
Wall, pocket or table calendars
On the other hand, calendars which are intended to be print can be the following:
Wall calendars these can have one or multiple pages. Calendars with multiple pages can present your services or products on each month's page, whereas one-page calendars are comprehensive and their design usually consists of only one graphic solution you choose along with the calendar.
Pocket calendars these can be in small format and fit in your or your client's pocket easily, or can be used as a bookmark. Pocket calendars are often combined with business cards: the front side contains your business card data with your logo and other contact details, whereas the back side contains a calendar. Additionally, calendars can be nicely designed in combination with greeting cards as well.
Table calendars these are usually designed on six pages (graphics) and contain a print calendar with months on each side of the paper, but can also contain more than one month per page. Similarly to wall calendars, table calendars also include your company's logo and represent your services, products or simply beautiful graphics that can make the work environment look better.
---
Promotional calendar design
Promotional calendars are a great way to be remembered by your clients all year long! This is a convenient and inexpensive way of advertising, so it is no wonder that holiday season is the right time to order one for you and your business partners. Calendars have gained presence in business to that end that there are even annual contests of the best graphic solutions of wall calendars.
Find inspiration for calendar design on our blog and order creative calendars for your firm.
---
Calendar design services: prices
If you are interested in adding professional calendars for the coming year to your company's promo package, contact PopArt Studio which offers calendar design services within the graphic design package. Based on the type of calendar you need, the timeframe and your wishes, we will give you the best offer and send you the price. Do not hesitate and contact us now!