The digital landscape changes every day with new trends and expectations emerging both from your users and competitors. Some of these trends are only passing fancies while others manage to stay and sometimes, even shift the paradigm of UX/UI design, ushering in a new era and setting a new standard to which now everybody else has to measure up.
What this basically means is that both designers and entrepreneurs have to be on the lookout for the best practices and the latest tweaks to show their audience that they are leading the pack and not following it.
As an entrepreneur, you should know that your customers are most likely constantly online and visit dozens of different sites every single day. This means that to do some business, you have to keep them on your site, offer them something more visually. You need to grab their attention and some of the best and latest UX/UI designs can give you that edge to stick out from the rest of the online crowd.
So, to get the most out of your visual identity, we bring you some of the leading trends in UX/UI design to boost your brand's overall appeal.
Dark mode
Undoubtedly, the dark mode has become one of the benchmark trends for 2020 with some of the leading brands offering them in their products as alternative themes (think Instagram, Android, or Apple).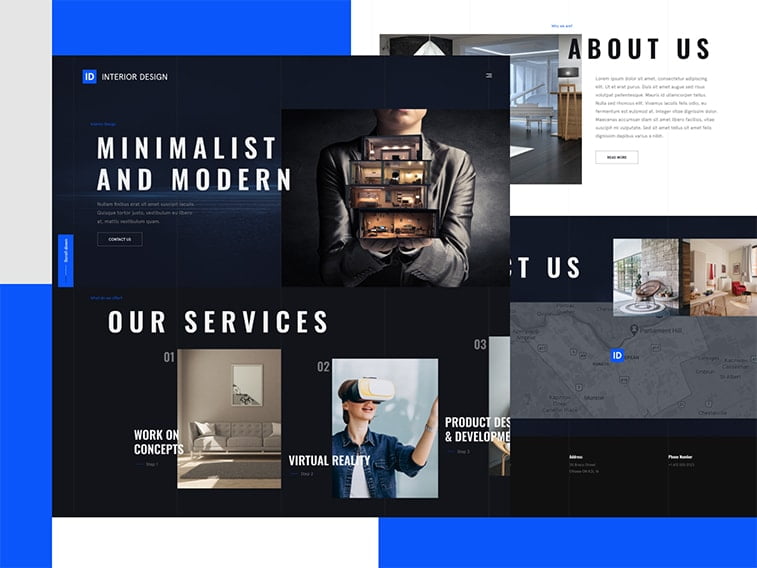 Why is dark mode so hot right now? Here are some of the mean reasons:
It simply just modern, sleek, and sophisticated

The dark background allows you to highlight other design elements

For OLED/AMOLED screens, it can even save battery power

It's easier on the eye in low-light conditions.
With most apps, users can choose to activate the dark theme whenever they want while other products offer automatic switching that can be scheduled beforehand.
Hand-drawn elements
In 2020, being unique is the name of the game, and one of the best ways to showcase that uniqueness is with free-hand design elements that help to infuse positive emotions. These incomplete elements make the overall design less rigid and more authentic. These unique little shortcomings are very welcome among users, as the hand-drawn, imperfect an oftentimes incomplete visuals add a certain amount of uniqueness, character, and humanity to the entire design.
These imperfect elements can help give your brand another layer of "human touch" as it gives a refreshing new take on the world of web design which has been dominated by pixel-perfect elements for so long. This trend lets you create something purely unique and exclusive that can help grab the attention of your regular and potential customers alike.
3D elements
When we mention 3D we're not really talking about something revolutionary new under the sun as these elements have been fascinated users for years. However, as AR and VR manage to gain more ground in 2020 and the upcoming years, more and more websites and companies will infuse them in their design in the form of hyper-realistic 3D visuals. This trend gives designers and site owners a chance to encourage potential customers to spend more time on a particular website and boost the chances of closing deals. On the other hand, 3D visuals offer visitors a unique experience as they stretch the boundaries that lay between real life and the digital realm.
However, for this to work, the website UI must perform exceptionally well. This means, such a web app needs to be well-optimized and fast-loading to deliver the desired effect with the heavy content. That being said, a lagging website due to content-loading problems, might have the opposite effect and deter users from the website.
Floating elements, soft shadows, layers
How about building some intensity with layers? Creating a 3D element and smooth it over? Floating visuals and soft shadows can also get that coveted slightly 3D effect, but with a much softer feel to it. Go one step further – apply the shadows and layers to text, videos, and images.
Nowadays, layering elements on top of another is a huge thing among UI/UX designers. And with applying soft drop shadows, they can also enhanced depth. The combination of these techniques gives designers the ability to create a lightweight feeling and to move away from the flat and classic design world that dominated the websites of yesteryear.
Embrace VUI
VUI or a Voice User Interface can boost your site's online presence and leave its mark on your visitors. Virtual assistants and voice chatbots have managed to gain prominent ground this year, and it's no wonder. They pretty much transform the way users look for information, take notes, and generally, transform the way they use the internet.
By implementing a voice user interface you can gain a competitive edge over the rest of the contenders in your industry.
eCommerce Product presentation
No matter what kind of design trend you end up committing to, if you're playing the eCommerce game, you'll want to showcase your products as well, no matter what. However, throw the old and mundane realistic photos out in the trash and embrace a new surreal approach. This new UI/UX trend gives online stores and eCommerce platforms the chance to step out of the ordinary and go wild regarding their creativity. The point is to "hypnotize" customers with interesting and exciting photos of their products, sometimes even showcasing unreal elements. The key is to force your visitors to use their imagination and to have them stay longer on your website.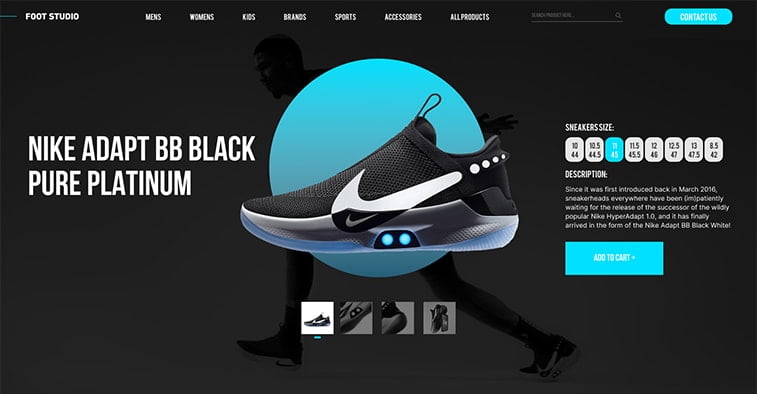 And you know the drill, a longer average session time can lead to possible improvements in your conversion rates as well.
Blend graphics and images
What about overlapping the graphics on your site to your images? This hot UI/UX trend for 2020 lets you explore your creative side to the fullest and to implement designs that will take your visitors' breath away.
Such a technique lets you dial in the perfect amount of character and tone for your website. It can add just the right touch of playfulness if your promoting toys, for example, and can add just the perfect dose of seriousness if you run a finance website.
This is also a great and unique way to give your brand justice and have your website fully reflect the story you want to tell.
Abstract visualization
Truth be told, databases, lists, and tables all look pretty much outdated, tiresome, mundane, and unattractive. With abstract data visualization, production- and tech-oriented websites can add a significant twist to their design.
Let's say, if you're a business offering server appliances or any kind of hardware, you can abstractly showcase your products by showing its aces moving in every direction.
Realistic textures
It seems as textures are making a comeback to the UI/UX design scene after years and years of dominance by isometric objects and ethereal gradients. Create a design where users want to reach out and touch your site thanks to all the grains and contours.
There's only one thing – keep it all in good taste. If you overdo it, you're running the potential risk of distracting your visitors from focusing on your products and services. Aim for a good balance so the overall picture is harmonious and everything blends in just fine.
Wild color combinations
Add a bold and futuristic twist to your website with bright colors – another hot design trend for this year. Try experimenting with different colors that don't harmonize well with each other to grab the attention of your visitors. Break the monotonous dominance of minimalistic design with limited colors and stick out from the rest.
Go a bit wild and try out new things. Give neon colors a try for example. Remember, the goal here is to get noticed.
Bold typography
2020 and 2021 are all about bold fonts regarding UI/UX design. True, they are not an innovation, but they are becoming more and more popular as time passes by.
Here's the catch – most visitors scan your headings first. To attract them, you want to go with bold fonts for your titles. Also, it can help you make more sense on your website by highlighting certain main elements such as your products, services, categories, and so on. Apart from this, it also gives a modern touch to your overall design.
Microcopy and UX-writing: a new era in written content
If you've ever tried to close a sale or create a website that drives sales, you know that a solid company with a great product is far from enough. Your customers want a story, want a certain lifestyle with the brand. They want to be a part of history, they want the "vibe". A great way to boost your brand identity and to get your visitors more engaged with your product is by making the written content on your site more informal, more unique, more provoking. The truth of the matter is, users have gotten bored with the old sales pitches and managed to figure out the old copywriting methods that always targets the same emotions.
As such, companies and copywriters needed to change the way they reach out to your visitors. They've made the dialogues less formal, more regular, friendly, and even a bit humorous, based on the preferences on their target audiences of course.
Microcopies are another great way of boosting your UI/UX design because it gives a unique tone to the website and allows to you get even closer to your users, however, it only works when you manage to capture the brand's identity. They are really brand-specific and thus, need to be highly individualized. It makes perfect sense. These small bits of text need to be closely brand-related to make an impact, otherwise, visitors might even fail to register them.
---
The takeaway
In short, these are the hottest trend for this and the upcoming year when it comes to UI/UX design. As you can see, there are quite a few things that have been around for a while (like 3D and bold fonts) but there are also a few new things that will probably impact the world wide web more than we might be anticipating it at the moment.
If you're a business owner, try combining at two or more of these trends to get the best effect. On the other hand, make sure to consult with a design agency, especially if you are new to running a digital business. These professionals have both the experience and the expertise to help you come up with a modern and ground-breaking design that will complement your brand outstandingly and will help you to become a more prominent figure within your industry.
---
 More on UI/UX Design