Deo uspeha vebsajta leži i u odabiru pravog domena. On treba da na pravi način prestavi vašu firmu i omogući što bolju poziciju u rezultatima pretrage na Guglu. Stoga je izbor domena ključni faktor dugoročnog digitalnog uspeha.
Odabir pravog naziva domena kojim ćete svoju firmu predstavljati na internetu sastoji se iz više koraka. Koliko god da je bitno da domen sadrži naziv firme ili odgovarajući nastavak, podjednako je neophodno da bude jedinstven, da vas razlikuje od konkurencije i da vas ne dovede u pravne neprilike.
U nastavku saznajte kako se razlikuju URL i domen, zbog čega je važno istražiti konkurenciju ili pažljivo ispisati ime, na koji način odgovarajući nastavak utiče na rangiranje vebsajta, te koji je poslednji korak u odabiru domena.
---
Terminologija – URL i domen
Termini "URL" i "domen" često se koriste kao sinonimi, ali među njima ima razlike.
Naime, URL je direktan link koji će posetioce dovesti na vaš sajt. Primer URLa je https://www.popwebdesign.net/.
S druge strane, URL već sadrži naziv vašeg domena, i u prethodnom primeru domen je "popwebdesign".
---
Razmišljajte unapred
Iako se čini potpuno opravdanim da se unapred sprovede istraživanje i provere dostupna ili slična imena firmi i zakupljenih i slobodnih imena domena, u praksi se dešava da se ovaj prvi i najvažniji korak često previdi.
Svakako ne želite da dođete u situaciju da imate dizajniran korporativni identitet, logo i vebsajt, i da tek nakon toga odlučite da registrujete domen – i potom otkrijete da ga je neko već zakupio. U takvim slučajevima, možete izabrati približan sinonim, drugi nastavak u URLu, ili se odlučiti za potpuni redizajn svega.
Zbog toga je bitno prvo dobro istražiti stanje na tržištu, analizirati konkurenciju i dostupne izvore, pa tek onda praviti bitnije odluke.
---
Počnite od nule – kako se zove firma?
Nekad je najlakše početi od nule, jer je izbor gotovo neograničen. Najbitnije je početi od imena firme i smisliti kako taj naziv uklopiti u mogućnosti korporativnog dizajna i brendiranja firme, bez obzira na to o kojoj se oblasti poslovanja radi.
Ako u obzir uzmete optimizaciju, domen je prvi element koji će roboti analizirati tokom indeksiranja sajta. Stoga je potrebno pažljivo odabrati pravi domen. Razmislite o sledećim mogućnostima:
lično brendiranje (peraperic.com) – stvara osećaj poverenja, autoriteta i verodostojnosti
generičko ili opisno brendiranje (vencanice.rs) – na prvi pogled objašnjava cilj poslovanja
sugestivno brendiranje (kupitelefon.net) – bliže objašnjava poslovanje firme i sugeriše mušteriji šta treba da uradi
slobodno brendiranje (wordpress.com) – ni na koji način ne upućuje na oblast poslovanja
hibridno brendiranje (popwebdesign.net) – uključuje naziv firme (ili bar njegov deo) i oblast poslovanja
---
Odaberite pravi nastavak – .rs, .com
Nastavak domena, poznat i kao ekstenzija, odnosi se na krajnji desni deo URLa i uključuje poslednju tačku i ono što dolazi nakon nje.
Najpoznatiji i najpopularniji nastavci su .com, .rs, .org, .net, .edu. Mada je do nedavno postojala tek nekolicina ovih nastavaka, njihov broj se polako povećava, pa su se pojavili nastavci s nazivima gradova, poput .london, .tokyo, i mnogi drugi, a zbog mogućnosti kreativne upotrebe dobro se kotira crnogorski nastavak .me.
Nastavak je izuzetno bitan jer na neki način određuje tržište na kome će Gugl rangirati sajt. Na primer, ako želite da se rangirate na lokalnom tržištu, nikako ne treba odabrati globalni domen poput .com. Treba imati na umu i to da je na globalnom tržištu teško izboriti se za dobre pozicije s nastavkom .com jer je konkurencija neuporedivo veća. To znači da ako želite da npr. prodajete cipele na srpskom govornom području, najbolje bi bilo da uzmete domen cipele.rs.
---

Sa prefiksom www ili bez njega?
Često se dešava da se zbog migracije sajta sa jednog domena na drugi stvori duplirani sadržaj, kada jedna verzija sajta sadrži prefiks a druga ne.
Iako danas više niko ne razmišlja o tome, nekada je bilo bitno da URL vašeg sajta obavezno sadrži prefiks www. Iz perspektive korisnika, URL bez prefiksa svakako je jednostavniji i elegantniji, naročito u pregledačima (eng. browsers) u kojima adresna traka služi i kao polje za pretragu.
---
Ćirilički ili latinični domen?
Do pre nekoliko godina bilo je relativno nezamislivo imati ćirilični domen vebsajta. Međutim, razvoj tehnologija i interneta omogućio je ravnopravnu upotrebu ćiriličkog pisma na vebu, uključujući i domene vebsajtova.
Od 2012. godine, Srbija je druga zemlja u svetu koja ima nacionalni domen na nelatiničnom pismu, .срб.
S obzirom na Nacrt izmena i dopuna Zakona o službenoj upotrebi jezika i pisma koji će se uskoro naći na razmatranju a kojim će se podsticati upotreba ćirilice u svim sferama života, možda će u budućnosti upravo ćirilični domen biti presudan za što bolje rangiranje na lokalnom tržištu.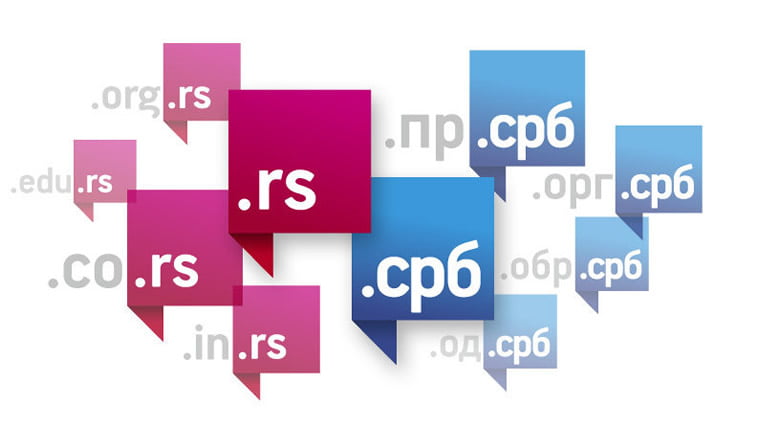 ---
Jednostavnost se isplati
O kom god domenu da se radi, korisnici lakše pamte jednostavne domene. Dve do tri reči, što kraći URL, preciznost i pamtljivost – ključ su za pravi domen.
Kreativnost jeste korisna osobina, ali ne i kada se radi o domenu vebsajta. Ako pravite dugoročne planove, budite posebno pažljivi ako za naziv domena birate reči i izraze koji su trenutno popularni, poput skraćenica, da se ne bi desilo da za neku godinu izraz izađe iz upotrebe a organska posećenost sajta drastično opadne.
Trebalo bi izbegavati i crtice, i pisati reči onako kako se pišu.
---
Triput meri, jednom seci
Greške u kucanju se dešavaju, te dobro obratite pažnju na ispravno ime. Može se desiti da permutacija samo dva slova ili drugačiji nastavak odvedu vašeg posetioca na sajt konkurencije, ili da nakon migracije sajta korisnici više ne mogu da vas pronađu.
Dobro istražite naziv svoje firme pre registrovanja domena da biste izbegli zbunjivanje korisnika ili, u lošijem slučaju, pravne posledice. Takođe se preporučuje pretraživanje direktorijuma robnih marki i zaštićenih imena.
---
Pronađite provajdera (i hosting)
Poslednji korak u odabiru domena jeste to da ga zakupite, jer ćete samo na taj način osigurati svojoj firmi digitalni život.
Nakon što ste istražili konkurenciju i tržište, pronađite provajdera koji nudi registraciju domena koji želite. Takođe se dobro se raspitajte o trajanju zakupa domena, o lokaciji servera, o korisničkoj podršci, o dodatnim uslugama koje se nude, a nakon toga uživajte u svim pogodnostima koje nudi poslovni vebsajt.
Odabir naziva domena deo je uspešne prezentacije firme na internetu i treba mu pristupiti s pažnjom i posvećenošću. Samo na taj način možete svojoj firmi obezbediti dugoročno i uspešno poslovanje – time što ćete se na tržištu pozicionirati kao verodostojna i uspešna firma koja brine o svom ugledu i gradi ga na pravi način.
Zanima vas veb dizajn? Pogledajte povezane članke: