Potraga za odličnim sistemom za upravljanje projektima je zadatak kom treba pristupiti s oprezom i detaljnim planom koji će prvenstveno staviti fokus na potrebe Vašeg poslovanja.
A zašto? Pa, zato što su ovi alati ono što drži Vaš tim, menadžere, projekte i klijente na okupu, a u nekim slučajevima, predstavlja i vodeći alat za kreiranje izveštaja, što ih čini neprocenljivim pomagalom za menadžerski tim.
Stoga, odlučili smo da izdvojimo najbolje alate za upravljanje projektima u 2020. i time Vam pomognemo da donesete pravu odluku za svoje poslovanje.
Kako odabrati najbolji sistem za menadžment projektima?
Kada tražite najbolji alat za upravljanje projektima, važno je da uvek izdvojite vreme i pronađete onaj koji nudi mnoštvo korisnih opcija.
Ako ste u svetu digitala već neko vreme, svesni ste da je Vašem poslovanju potreban sveobuhvatan sistem, koji će zameniti brojne druge alate i pomoći Vam da ostanete upućeni u sva dešavanja u Vašoj kompaniji.
Na sreću, danas imamo veliki broj softvera za upravljanje projektima koji će Vam pružiti potpunu kontrolu nad projektima i detaljima projekata, na jednom mestu.
Upotreba jednog, opsežnog alata koji poseduje prave odlike može značajno unaprediti Vašu produktivnost, usmeriti radni proces na svim projektima i poboljšati rezultate timskog rada.
Dodatno, ovi alati mogu uštedeti ne samo mnogo vremena, već i novca, jer će jedan kvalitetan alat zameniti mnoštvo manjih.
Do sada ste sigurno koristili različite alate za komunikaciju, praćenje statusa projekata, deljenje fajlova i informacija o finansijama. Cene ovih različitih alata brzo se mogu nagomilati, ostavljajući Vama visoke mesečne račune koje trebate da platite. Ponekad, ovi alati čak i neće biti toliko korisni, te ćete svakako morati da mnoštvo zadataka obavljate "peške".
Korišćenje jedinstvenog sistema može biti zastrašujuća ideja, posebno ako napuštate platformu kojoj verujete. Stoga, potreban Vam je jedinstven softver koji poseduje odlične opcije, integracije, intuitivan interfejs, i nudi sledeće važne mogućnosti:
Upravljanje projektima – vođenje zadataka i upravljanje timovima su svakako najvažnije opcije koje bi ovakav alat trebalo da poseduje, pored jednostavnih tabela, lista zadataka, podsetnika za rokove, itd.
Praćenje troškova i rokova – pratite vreme utrošeno na rad na projektima.
Kontrola izveštavanja – pregledajte stanje projekata, vreme rada, budžet, efikasnost i fakture.
Upravljanje resursima – uočite da li na određenom projektu imate previše ili manjak ljudstva, i kako da bolje rasporedite resurse.
Fakture – lako i brzo pretvorite projektne izveštaje u procene ili fakture.
Ažuriranja – obaveštenja u realnom vremenu i ažuriranja o statusu projekata, promenama zadataka i uslugama.
Prilagođavanje – omogućava Vama i Vašem timu prilagođavanje alata za specifične potrebe projekata.
5 najboljih sistema za upravljanje projektima
U nastavku Vam donosimo naš izbor najboljih alata za menadžment projektima koji će Vam pomoći da radite brže i efikasnije na svim svojim projektima.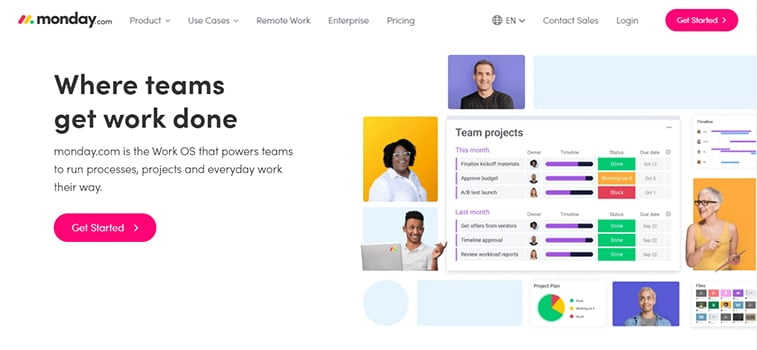 Ovaj vizuelno intuitivan alat je odličan za saradnju, praćenje i planiranje podataka.
Šta je to što Monday.com čini idealnim alatom za menadžment projekata? Ovaj softver radi fantastičan posao u oblasti upravljanja kompleksnim i detaljnim projektima i pruža nepodeljen fokus na najvažnije informacije.
Glavne odlike Monday.com programa uključuju menadžment module i resurse koji nude korisne alate za saradnju. Vaši korisnici mogu, na primer, jednostavno upload-ovati i prikačiti fajlove, ostavljati komentare, tagovati i pominjati kolege iz tima, itd.
Ovaj alat takođe poseduje odličnu tabelu za kreiranje izveštaja koja može da skuplja podatke iz različitih izvora, čime možete da napravite sveobuhvatniji i detaljniji dokument.
S druge strane, ovaj sistem ne nudi rešenja u pogledu kreiranja faktura i računa, ali radi odličan posao u praćenju vremena rada na projektu i faktura.
Sve ukupno, Monday.com je izuzetno fleksibilan softver koji možete prilagoditi svojoj metodologiji rada, a istovremeno uzeti u obzir sve zahteve i potrebe Vašeg tima i projekata. Ovaj alat nudi odlične alate za automatizaciju koji Vam omogućavaju da ubrzate određene aspekte rada na projektima.
Ovaj sistem podržava integraciju sa Google Drive-om, Google kalendarom, Gmail-om, Slack-om, GitHub-om, Typeform-om, Dropbox-om, Jira-om i mnogim drugim.
Cena alata je 17 dolara mesečno za dva korisnika, a podrška je dostupna 24/7 putem mejla ili telefona.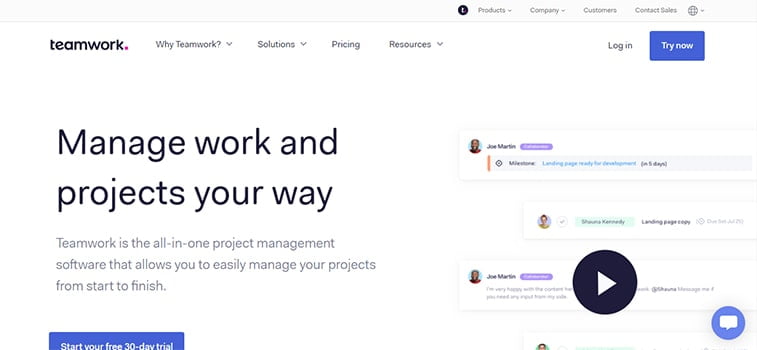 Sistem za upravljanje projektima koji unapređuje saradnju, sistematičnost i vidljivost svih Vaših projekata.
Teamwork Project je sistem za menadžment projektima koji koristi preko 20.000 kompanija. Poseduje sve funkcije koje bi ovakav alat trebalo da ima, kao i dodatne opcije poput izveštavanja, lista prodaje, čestih zadataka i automatizovanih odobrenja.
Prednost Teamwork-a je nesumnjivo opcija saradnje koja ga čini idealnom za marketinške timove. Alat nudi mogućnost četa između saradnika na nivou zadatka, prikaza aktivnosti u realnom vremenu, beleški za upis različitih podataka korisnih za sam projekat, i drugo.
Teamwork se može integrisati sa alatima kao što su Slack, Float, Numerics, Hubspot Gmail, timeBro, Easy Insight, Integromat, PieSync, Userback, i mnoštvom drugih alata koji će olakšati i unaprediti Vaš tok rada.
Iako Teamwork Projects nudi veliki broj opcija koje ga čine odličnim softverom za upravljanje projektima, ono što može da predstavlja problem pri korišćenju ovog alata je korisnički interfejs. Intuitivnija grafika i razumljiviji prikaz podataka definitivno bi pomogli u skraćenju i olakšavanju obavljanja radnih zadataka, posebno početnicima u programu. Svakako, savladavanje ovog alata nije naučna fantastika, ali je definitivno teži i dugotrajniji proces u odnosu na neke druge programe ovog tipa.
Cena Teamwork-a se kreće od 9 dolara mesečno, uz 30 dana besplatnog probnog perioda. U ponudi je i freemium verzija koju može koristiti do 5 korisnika na 2 projekta.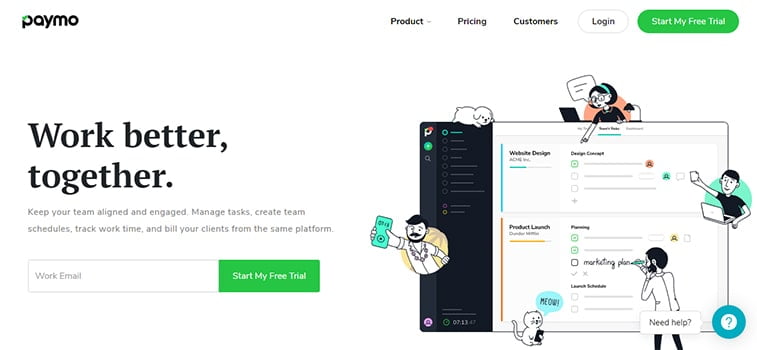 Alat za upravljanje projektima koji prati napredak zadataka i omogućava jednostavnu kontekstualizovanu saradnju.
Uz Paymo, praćenje napretka na projetima je veoma jednostavno, jer ovaj alat nudi odeljke za organizovanje projekata i timova. Planiranje, praćenje vremena, fakture, i resursi se svi nalaze na jednom mestu.
Uz Paymo, praćenje statusa projekta i obaveštenja je vrlo lako, i omogućava Vam da uvidite i razrešite sve probleme u Vašem poslovanju. Opcija kreiranja kalendara omogućava Vam da pratite zadatke Vašeg tima, slobodne dane, i budžet. Takođe, Paymo Vam dopušta fleksibilno praćenje projekata, putem mobilnog i dekstop veb aplikacije.
Platforma je kompatibilna sa alatima kao što su Slack, Google Suite, Jotform, Adobe CC, Xero, QuickBooks Online i drugim.
Paymo nudi 2 plaćena plana, sa početnim cenama od 11,95 dolara mesečno po korisniku, dok se na godišnju pretplatu dobija 20% popusta, kao i besplatna probna verzija.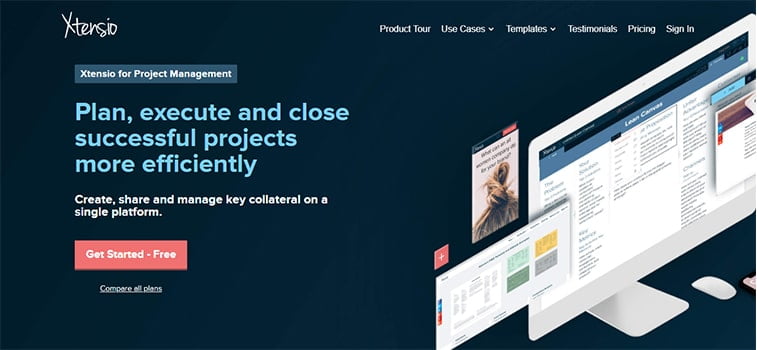 Inspirišite svoj tim i pojednostavite proces rada.
Kada pokušavate da odgovorite na pitanje koji program za upravljanje projektima je najbolji, često ćete dobiti odgovor "onaj koji najviše odgovara Vašim potrebama". Ovo je vrlo generalan, ali i definitivno tačan odgovor.
Xtnesio je sistem za saradnju na projektima koji čini razvoj i implementaciju kampanja i novih proizvoda jednostavnim i efikasnijim.
Opcije koje nudi Xtensio daju Vam mogućnost da kreirate detaljne dokumente i jednostavno skaliranje kako se Vaša ponuda razvija. U principu, ovaj alat nudi sve od definisanja zadataka i planova, menadžementa, testiranja i upravljanja budžetom.
Osim osnovnih alata za upravljanje projektima i izveštavanje, Xtensio je odličan i za brending, jer Vam omogućava da uspostavite standarde brendiranja u okviru celog tima, i time kreirate jedinstven identitet Vašeg poslovanja. Xtensio je odličan i u predstavljanju informacija i rezultata, jer u nekoliko klikova možete podatke pretvoriti u digitalnu prezentaciju.
Možete jednostavno prilagoditi sadržaj Vaših projekata i rokove, a obaveštenja unutar aplikacije pomažu Vam da ispratite sve novosti vezano za Vaše projekte.
Cena alata kreće od 50 dolara godišnje za profesionalni paket za frilensere i mikro timove, dok veće kompanije mogu da sami kreiraju svoj paket u skladu sa njihovim potrebama i ciljevima.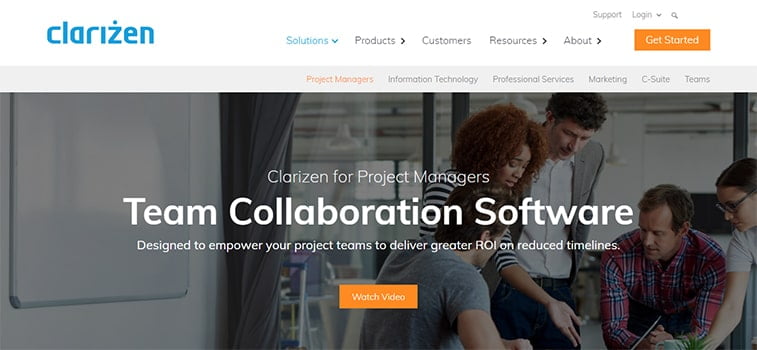 Upravljajte procesima, tokovima projekata i portfoliom.
Clarizen je cloud rešenje koje pomaže marketinškim agencijama da prevaziđu probleme nesinhronizovanog tima, rada na više sistema i manjak transparentnosti.
Clarizen olakšava i ubrzava proces upravljanja projektima, omogućavajući Vam kompletan pregled svih projekata i timova u cilju unapređenja efikasnosti. Automatizacija i prilagođavanje samo su neke od funkcija koje će Vaš trud učiniti svrsihodnim.
Ovaj alat Vam nudi:
Potpune kontrole u stvarnom vremenu – kontrolišite sistem svog poslovanja i procese sa lakoćom.
Detaljne podatke – prikupite podatke i uvide o svim projektima, i centralizujte sve svoje aktivnosti.
Transparentnost – Clarizen omogućava praćenje svih projekata na jednom mestu.
---
Da li je alat za upravljanje projektima pravi izbor za Vas?
Ako ste novi u svetu digitalnih alata za menadžment, sve ovo će Vam možda delovati zastrašujuće, pa čak i kao bespotreban trošak.
Iako je vođenje uspešnog biznisa moguće bez ovih alata, oni itekako mogu biti od pomoći u pogledu prikupljanja podataka i praćenja napretka rada. Da ne spominjemo to da besplatni alati uglavnom nude ograničene funkcije.
Svako od nas želi da dobije što bolje rezultate uz što manje uloženog novca, ali ovih 5 sistema za upravljanje projektima nisu bez razloga na našoj listi najboljih alata.
Rešenje koje će unaprediti procese u Vašoj kompaniji i unaprediti Vaš i rad Vašeg tima, doneće smanjenje troškova, uvećati profit i dati Vam oduška.
Kada imate dosta podataka i mnoštvo projekata, od ključne je važnosti da budete u toku sa svim dešavanjima i informacijama. Zato bi svaki ozbiljno poslovanje trebalo da razmotri i istraži ove alate i izabere onaj koji najviše odgovora potrebama kompanije.
---
Još korisnih resursa: