Looking for a great project management system is a task that should be approached with caution, and more importantly, with a plan and with having your needs specified beforehand.
Why? Because these tools are pretty much the glue that helps to keep together a project, multiple teams, managers, and clients, and in some cases, it's the go-to report tool for project managers, brand development managers, and sometimes, even for those in upper-management.
As such, we decided to round up some of the best project management tools on the scene for digital marketers and giving you more insight so you can make an educated decision on which one to use.
How To Choose The Best Project Management System – The Criteria
When you're looking for the perfect project management tool, you should always take your time and look for the one that's not a one-trick pony.
If you've been on the digital scene for a while now, you know that you need a comprehensive system, that replaces the myriad of different tools you had to use to stay on top of your workflow.
Fortunately, nowadays, there are quite a few project management tools out there that can give you complete control over your projects and numbers all in one place.
Using a single compact tool with all the right features can highly improve your productivity, streamline the work process across all projects, and boost the results of the collaborative efforts within the teams that operate under your roof.
On the other hand, they can be a cost-effective alternative to the slew of different tools you've paid for each month.
You've probably used different communication tools, time-tracking programs, file-sharing, and finance software to keep everything in check. These costs can quickly add up, leaving you to pay a considerable amount of money each month, and more often than not, you'll find that these tools don't always work together perfectly, leaving you to copy and paste large amounts of data throughout different platforms and still ending up with incorrect numbers.
Using a single system can be a frightening idea since you're left with one platform you have to trust.  With that being said, you need one with great usability, integrations, a friendly interface, but also need the following imperative features:
Project management – task management and team collaboration features should include easy-to-use message boards, task lists, deadline reminders, and so on.
Track expenses and time – get on top of quoting and keep track of the time you spend on a particular project.
Reporting dashboards – see where you are sitting with a project, regarding timelines, budget, efficacy, and invoicing.
Managing resources – know if you are over- or under-staffing a particular project or project area.
Invoicing – easily turn project reports into estimates or invoices.
Updates – real-time notifications and updates regarding project statuses, task-changes, and deliverables.
Customization – enabling your or your team to customize the tool for specific project needs.
Overviews Of The Top 5 Project Management Systems
Below is our choice for the best project management tools that can help you boost your efficiency on all your projects.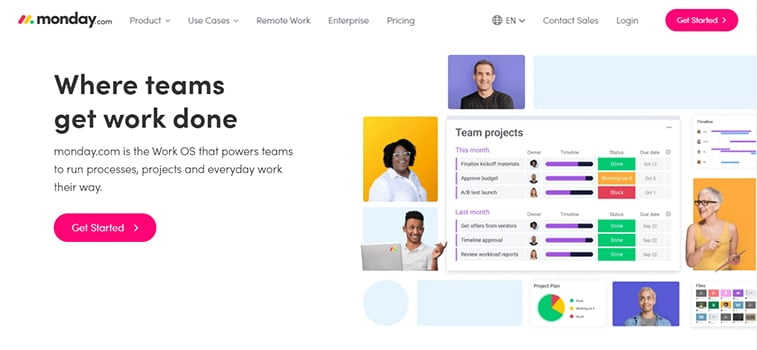 This visually intuitive tool is great for collaboration, tracking, and project planning.
What makes monday.com an ideal project management tool for agencies? It does a fantastic job of taking out the complexity associated with most management tools and focuses on layouts that are visually intuitive instead.
The main features of monday.com include project management modules and resource management with useful collaboration tools. Your users, for example, can simply upload and attach files, leave comments, tag and mention teammates, and so on.
The tool also sports a great reporting dashboard that can gather data from other dashboards as well, allowing you to gain even more insight and tracking abilities.
On the downside, this project management system offers no accounting and invoicing solutions, but it does a great job at tracking timelines, hours, and even invoices.
When assessing all of its characteristics, monday.com is a highly customizable piece of software that is flexible enough to support several work methodologies while fitting the essential needs of your team and project. There are also great automation tools within the software enabling you to skip the legwork with certain parts of your projects.
The system supports integration with Google Drive, Google Calendar, Gmail, Slack. GitHub, Trello, Typeform, Dropbox, Jira, and many more.
The tool costs from $17/month for a pair of users and their customer support is available 24/7 both via email or phone.
---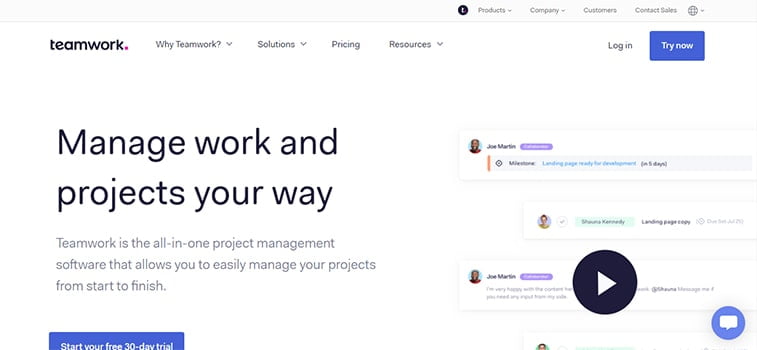 A work and project management system that improves collaboration, accountability, and visibility for your projects.
Teamwork Project is a widely-used system, being the to-go project management tool for over 20,000 companies. It has all the functions you'd require from such a piece of software, along with added options that help you meet specific goals, like reaching quarterly sales-goals, reporting along with often-used task list templates, and automated approvals.
Teamwork's strong side is undoubtedly the collaboration features that make it ideal for marketing teams. Things like task-specific convo channels real-time activity logs, dedicated social media content channels, and the "notebooks" feature for storing additional miscellaneous data that can be useful for a given project.
Teamwork can be simply integrated with Slack. Float, Numerics, Hubspot Gmail, timeBro, Easy Insight, Integromat, PieSync, Userback, and a myriad of other tools that can even help further simplify and improve your workflow and efforts.
While Teamwork Projects boasts a huge number of great features that make it a handy piece of software, the user interface can cause problems down the road, especially for new teammates or for new clients that have partnered up with you. More digestible data and more intuitive graphics would certainly help improve and shorten the learning curve that's required to master the system. Don't get us wrong, it's not rocket science, but it does need some getting used to. After the initial "warm-up" period, you'll find maneuvering through Teamwork simple but when compared to other project management tools, it can get difficult in the beginning.
Teamwork starts from $9 per month with paid plans offering a free 30-day trial. You can also grab a freemium version supporting up to 5 users and 2 projects.
---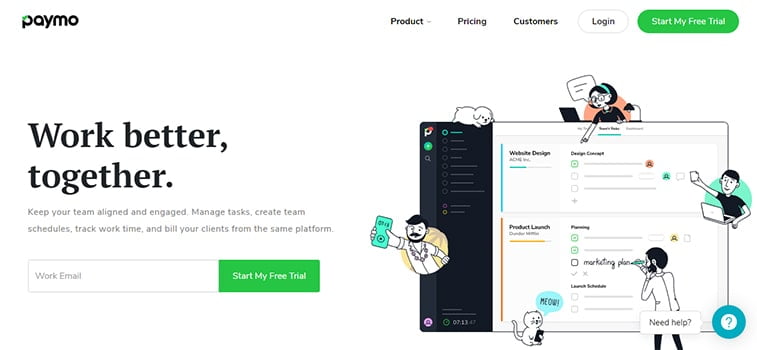 A collaborative project management tool to track progress and to collaborate in context with ease.
With Paymo, tracking your team's progress is a breeze since you have several modules at your disposal to organize projects and teamwork. Planning, time tracking, invoicing, and resource scheduling come all under a single roof, providing you with a neat list of essential features right out of the box.
Project statuses, notifications, and highly customizable workflows help you stay on top of every project and to sort out problems before they actually happen. The resource scheduler helps you to keep track of the team's workload, off-days, and even project budgets. It also allows for flexible time tracking, from mobile, through desktop to web app for which you can simply create an invoice and get paid accordingly.
The platform also works great with the majority of the tools you may use. Slack, Google Suite, Jotform. Adobe CC. Xero, and QuickBooks Online, for instance, are all a breeze to use with Paymo.
Paymo offers two paid plans, with the lower one starting at $11.95 after each user per month. Yearly subscribers can get a 20% discount and there's also a free trial you can try to see what's the hype about.
---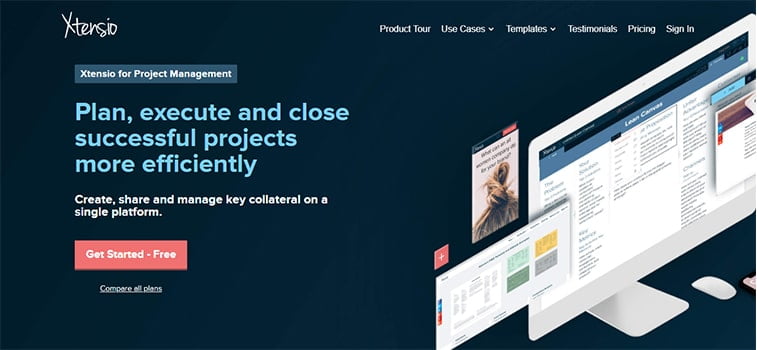 Inspire your team and simplify the workflow at the same time.
When you are trying to find the answer to which project management system is the best, you'll often get the answer "the one that suits your needs the best". And while this is as commonplace as it gets, it's still definitively true.
Xtensive is a collaborative project management system that makes the development and implementation of campaigns and new products simple and more efficient.
The features of Xtensio give you the ability to create smart documents and easy scaling as your projects evolve. Basically, it offers everything you need from defining the project to planning, actual management, testing, and budget handling.
Apart from the basic management tools and reporting, Xtensio really shines when it comes to strengthening branding in general. With its features, it's easy to lock branding standards with the entire team, leading you to build a cohesive brand without too much hassle. Xtensio also shines when it comes to presenting insight and results. With a simple click, the folio and the gathered data turns into a digital slideshow.
The content for your projects can be easily customized, the channels help you to meet tight deadlines, while the in-app notifications help you to keep track of everything that's happening around your projects.
Pricing starts at $50/per year with the pro package for freelancers and micro=teams, while enterprise firms can get a custom quote depending on their goals and needs.
---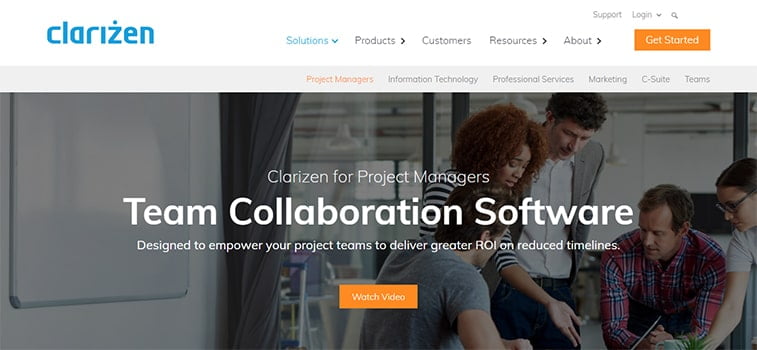 Manage your entire process with resource, workflow, and portfolio tools.
Clarizen is a single, cloud-based solution that helps marketing agencies overcome such serious obstacles like misaligned teams, working on multiple systems, and lack of visibility.
Clarizen makes the process of revitalizing your work management easy and smooth with a 360-degree view of your projects enabling the entire agency to improve efficiency. Automation and customization features can also make the transformation effortless and fruitful.
The tool allows:
Full control in real-time – control your entire business system and process along with your marketing projects with ease.
Intelligence – gather data and insights regarding projects and campaigns while you centralize all your activities.
Transparency – by making Clarizen the to-go platform for managing all aspects of your running projects, serving as the "single source of truth" for your team.
---
Is Project Management-related Hassling Worth The Effort?
If you are new to the world of these systems, you might find them intimidating and might even deem them unnecessary expenses for running a successful business.
All in all, you might get away with white-knuckling your way through projects, but chances are, you'll lose valuable data and insights. Not to mention, if you only want to use free tools, be prepared that you'll have to manage everything with a limited amount of space.
People tend to want to get the best results at the lowest cost possible, and there's nothing new about that. However, these 5 systems aren't the best project management tools without a reason in our book.
Looking for solutions that streamline your processes and helps your team work together can definitely help your efforts in the long run and can lead to significant cost reductions which give you more profit and breathing space.
When you have lots of data and multiple projects with different demands from clients, managing everything effectively is crucial for success. That's why it's important for every serious marketer to look deeper into these tools, research their features, and chose one that's the most aligned with their current agency-needs.
---
 Resources to help keep your business organized: