Pod sloganom Čuvari internet identiteta, deveta regionalna konferencija Dan internet domena Srbije (DIDS), u organizaciji Registra nacionalnog internet domena Srbije (RNIDS) održava se 6. i 7. marta u beogradskom hotelu Metropol Palace.
Prvog dana konferencije održana su tri bloka predavanja i panel diskusija, od kojih je svaki bio fokusiran na određenu temu značajnu za poslovanje na internetu, dok je drugi dan rezervisan za Regionalni TLD forum, stručni skup namenjen predstavnicima nacionalnih internet registara iz regiona.
Ispratili smo prvi dan konferencije i mnogo toga novog, korisnog i zanimljivog saznali, te vam ovom prilikom prenosimo ključne stavke o kojima je bilo reči, a koje mogu biti od značaja za vaše onlajn poslovanje.
---
Sajber ličnost: Kako zaštititi privatnost na internetu?
Postoji li, uopšte, privatnost na internetu i možemo li je zaštititi? Šta se sve smatra privatnim podacima? Kako možemo da sačuvamo svoj identitet onlajn i na koji način će Opšta uredba o zaštiti podataka o ličnosti (eng. General Data Protection Regulation, GDPR), koja će 25. maja 2018. godine stupiti na snagu u Evropskoj uniji uticati na poslovanje kompanija u Srbiji?
To su samo neka od pitanja pokrenuta tokom prvog bloka DIDS-a koji je održan pod nazivom Sajber ličnost. Uz moderaciju Vladimira Radunovića, direktora programa sajber bezbednosti Diplo fondacije, u panel diskusiji o ovoj temi učestvovali su:
Tomas Rikert (Thomas Rickert), predsednik Foruma za nazive i brojeve u Udruženju internet industrije Eco iz Nemačke
dr Kormak Kalanan (Cormac Callanan), direktor kompanije Aconite Internet Solutions iz Irske
Nevena Ružić, pomoćnik generalnog sekretara u Službi poverenika za informacije od javnog značaja i zaštitu podataka o ličnosti.
Fokusirajući se na novitete koje donosi GDPR, kako onima koji posluju u EU, tako i svima onima iz drugih zemalja koji svoje proizvode plasiraju na tržište EU, ali i onima čije je poslovanje upućeno na stanovnike i poslovne subjekte iz Evropske unije ili na bilo koji način povezano sa njima, Tomas Rikert je u uvodnom predavanju istakao značaj potpunog razumevanja propisa koje donosi GDPR.
Šta novo donosi GDPR?
Budući da je reč o uredbi, odnosno podzakonskom aktu Evropske unije, koji kao takav ima obavezujuću formu za sve članice i počinje da se primenjuje svuda podjednako od dana stupanja na snagu (za razliku od direktive koja omogućava period porilagođavanja i ne mora da bude obavezujuća), Opšta uredba o zaštiti podataka o ličnosti biće obavezujuća i važeća od 25. maja 2018. godine, kada zvanično stupa na snagu.
Kada je reč o zaštiti ličnih podataka, kako je objasnio Tomas Rikert, GDPR-om su mnogo preciznije definisane obaveze kompanija koje posluju onlajn. To znači da će svaka firma morati mnogo više računa da povede kada je reč o bezbednosti podataka koje prikuplja.
"Nije dovoljno samo preduzeti sve mere zaštite od krađe podataka od strane nekog izvan kompanije, već je neophodno obezbediti dovoljan stepen zaštite podataka i unutar same firme, kako niko od zaposlenih ne bi imao mogućnost zloupotrebe dostupnih podataka."

Tomas Rikert
Kompanije će ubuduće morati još jasnije i još preciznije svakom korisniku da ukažu na to šta se od njegovih podataka prikuplja, zbog čega, na koji način se čuva i koliko dugo, da li postoji mogućnost preuzimanja podataka o klijentima od strane trećih lica i na osnovu čega, kao i još mnogo toga.
Drugim rečima, GDPR podrazumeva:
veću transparentnost u upravljanju ličnim podacima klijenata/kupaca/korisnika
veću bezbednost podataka
veću odgovornost od strane kompanija koje prikupljaju lične podatke
pravo korisnika da njihovi podaci budu zaboravljeni
pravo na prenos sopstvenih podataka iz jedne kompanije u drugu
isključivanje podrazumevanog pristanka na deljenje podataka
privatnost na osnovu dizajna
Iako je većina navedenog u manjoj ili većoj meri važila i do sada, potpuno nova stavka je pravo korisnika na prenos sopstvenih podataka iz jedne kompanije u drugu. To znači da u svakom trenutku korisnici mogu da zatraže, recimo, od jednog mobilnog operatera sve podatke kojima ta firma raspolaže o njima, a zatim i da te podatke prenesu kod drugog operatera, bez dodatnih objašnjenja.
Novitet je i to što sada već prilikom izrade vebsajta jedne firme, što je posebno značajno za onlajn prodavnice, treba voditi mnogo više računa o implementaciji određenih elemenata već u programskom kodu. Na to se odnosi stavka o privatnosti na osnovu dizajna, a podrazumeva elemente koji na pozitivan ili negativan način mogu uticati na bezbednost ličnih podataka.
Još jedna novina u vezi sa tim jeste i činjenica da GDPR predviđa mnogo veću odgovornost i onih subjekata ili pravnih lica koja pružaju usluge, recimo, obrade podataka ili njihovog pohranjivanja na serveru ili takozvanom digitalnom oblaku (eng. cloud). Naime, sada će i oni moći da budu sankcionisani.
"GDPR je usmeren na povećanje odgovornosti svih učesnika u proizvodnji, prikupljanju i distribuciji podataka na internetu. To znači da će ubuduće moći da se podnese pravno osnovana tužba protiv onih pravnih subjekata koji se i sami bave zaštitom podataka na internetu."

Tomas Rikert
Sankcije koje predviđa GDPR nisu ni malo bezazlene. Za manje prekršaje propisana je kazna od 10 miliona evra ili 2% godišnjeg prihoda kompanije, dok će oni koje snose odgovornost za krupnije greške morati da izdvoje 20 miliona evra ili 4% godišnjeg prihoda kompanije.
"Prilično je jasno da su lični podaci kupaca proizvoda ili korisnika usluga važniji od samih proizvoda i usluga. Zaštita privatnosti korisnika mora da bude na prvom mestu po važnosti svima koji posluju onlajn."

Kormak Kalanan
Postoje naravno i izuzetni slučajevi, poput dozvole da policija ima uvid u podatke prilikom istraživanja kriminalnih radnji, ali GDPR bi svakako trebalo da postavi pravni okvir za veće poštovanje privatnosti na intrenetu.
Ubuduće, kako je istakao Kormak Kalanan, oni koji sami shvate da su greškom odali nečije lične podatke, možda neće biti prestrogo kažnjeni, ali ako jednu kompaniju, recimo, tuži neko ko je žrtva krađe identiteta, toj firmi se ne piše dobro.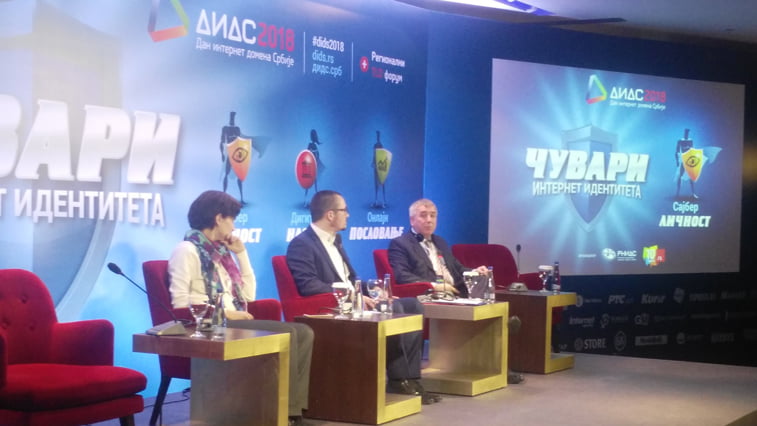 Šta to znači za poslovanje kompanija u Srbiji?
Iako uredba Evropske unije nije direktno obavezujuća za Srbiju, Nevena Ružić je ovom prilikom istakla da se od Srbije ipak očekuje usklađivanje sa evropskim propisima, kao i poštovanje novih pravila, posebno od strane onih pravnih subjekata u Srbiji čije je poslovanje na bilo koji način povezano sa EU.
"Čini se da zaboravljamo da je pravo na privatnost jedno od osnovnih ljudskih prava zagarantovanih Evropskom konvencijom o ljudskim pravima. Suština donošenja GDPR-a stoga se ne može posmatrati kao puko nametanje novih propisa kompanijama, već je osnovna ideja zapravo povećanje odgovornosti poslovnih subjekata u vezi za zaštitom ličnih podataka i poštovanjem prava na privatnost. Pojedinac je, dakle u fokusu ove nove uredbe, a ne kompanije."

Nevena Ružić
Za usklađivanje domaćih zakonskih akata sa evropskim biće potrebno vremena, napomenula je Nevena Ružić, ali od toga se neće odustati. Do tada, svi oni koji posluju sa EU biće samim tim obavezani novom evropskom uredbom, bez obzira na to što je firma registrovana u Srbiji.
Da li će svi naši lični podaci na internetu postati mnogo bezbedniji čim GDPR stupi na snagu?
Ne, to se ne podrazumeva samo po sebi, zaključio je Kormak Kalanan, budući da je to oblast koja se stalno menja i konstantno podrazumeva prilagođavanje zakonskih uredbi.
---
Digitalno nasleđe: Digitalizacija napreduje, ali još mnogo toga tek predstoji
Drugi blok konferencije DIDS održan je pod nazivom Digitalno nasleđe, a glavna tema bila je digitalizacija u kulturi i nauci. Moderator je bila dr Tamara Vučenović, urednica Obrazovne redakcije Radio Beograda 2 , a u diskusiji su učestvovali:
Matjaž Filo, rukovodilac Sektora za IT na Fakultetu društvenih nauka Univerziteta u Ljubljani
Nikola Božić, programski direktor Istraživačke stanice Petnica
dr Adam Sofronijević, zamenik direktora Univerzitetske biblioteke Svetozar Marković u Beogradu
Fokus diskusije bio je na očuvanju kulturne baštine i naučnih dostignuća kroz proces digitalizacije kulturnog i naučnog nasleđa. Kako smo mogli da čujemo od učesnika, proces digitalizacije je započet i u Srbiji i u Sloveniji, pri čemu su Slovenci možda malo i više postigli u toj oblasti do sada, budući da već poseduju ili rade na ostvarivanju nekoliko zvaničnih državnih digitalnih oblaka u koje će biti pohranjeni digitalizovani podaci.
Problem sa kojim se suočavaju u Ljubljani, kako se istakao Matjaž Filo, jeste to što ne postoji jasno definisana strategija, ali i činjenica da trenutno zapravo ne postoji ni dovoljno velik digitalni oblak, jer je količina digitalizovanih podataka meri u hiljadama terabajta.
"Samo u RTV Slovenija do sada je urađena digitalizacija koja iznosi nekoliko pentabajta, odnosno nekoliko hiljada terabajta, a procenjuje se da će digitalizovana arhiva brojati 30 pentabajta. To je, ponavljam, samo arhiva javnog medijskog servisa."

Matjaž Filo
I u Srbiji je do sada urađeno dosta na digitalizaciji, istakao je Adam Sofronijević, ali i dodao da, s obzirom na to da celokupan proces digitalizacije nije jednostavan, moglo bi se reći da je Srbija zapravo tek u početnoj fazi digitalizacije.
O tome koja se količina podataka u vezi sa kulturnim i naučnim nasleđem digitalizuje u drugim zemljama, najbolje govore podaci koje su izneli učesnici tokom diskusije, a odnose se na to da je u Južnoj Koreji pre 10 godina bila digitalizovana kompletna arhivska građa u državi, dok se, recimo, u jednoj univerzitetskoj biblioteci u Engleskoj digitalizuje 10 terabajta podataka dnevno.
Sa druge strane, broj prebačenih podataka iz analognih u digitalne medije u Univerzitetskoj biblioteci u Beogradu, kako je naveo Sofronijević, ukupno ne premašuje toliki broj terabajta.
Ipak, značaj digitalizacije, kako je tokom panel diskusije zaključio Nikola Božić, nemerljiv je kada je reč o budućnosti nauke i povećanju dostupnosti naučnih dostignuća svima koji su zainteresovani za nauku, te stoga i taj proces treba stalno unapređivati.
---
Onlajn poslovanje: Indeks digitalne vitalnosti preduzeća u Srbiji
Treći blok, a ujedno i zadnji na ovogodišnjem Danu internet domena Srbije, nazvan Onlajn poslovanje, bio je posvećen prisustvu uspešnih kompanija u Srbiji na internetu. Uvodno predavanje ovog bloka ticalo se izveštaja o digitalnoj vitalnosti koje su održali Milovan i Branka Matijević iz firme Mineco computers.
Naime, istraživanje prisustva srpskih mikro, malih i srednjih preduzeća na internetu i društvenim mrežama bilo je sprovedeno tokom decembra 2017. godine za potrebe RNIDS a podaci su prikupljeni od strane istraživačke kuće GFK i analitičke kompanije Mineco computers. Podaci daju sveobuhvatnu analizu broja, kvaliteta i uticaja digitalnih kanala u vlasništvu domaćih MMS preduzeća na njihovo poslovanje.
Indeks digitalne vitalnosti (eng. digital health index, DHI) prvi put je meren na srpskom tržištu, a u obzir su uzimani sledeći parametri: prisustvo digitalnih vidova komunikacije i njihov kvalitet (uspešnost i konkurencija), koji se zatim primenjuju na devet kanala komunikacije: vebsajt, Tviter, Fejzbuk, Linkdin, Jutjub, Blog (marketing sadržajem), aplikacija za mobilni telefon, opcija onlajn prodaje na sajtu, kao i prikupljanje podataka putem veb analitike.
Provera upotrebe digitalnih kanala 300 mikropreduzeća (koja imaju od jednog do devet zaposlenih) pokazala je da je veb stranica najzastupljenija – kod čak 45% firmi, dok je 92% potrošača izjavilo da očekuje od firme da ima vebsajt. Poslovnu stranicu na društvenoj mreži Fejzbuk ima 28% kompanija u Srbiji, dok je 60% potrošača izjavilo da očekuje da firma ima poslovnu stranicu. S druge strane, samo 1% mikropreduzeća ima kanal na Jutjubu ili mobilnu aplikaciju, dok čak 32%, odnosno 43% potrošača ima to očekivanje. Takođe, ogroman potencijal za razvoj predstavlja i podatak da mikropreduzeća ne koriste blog kao sredstvo komunikacije, dok 17% potrošača očekuje da im se kompanije obrate na taj način.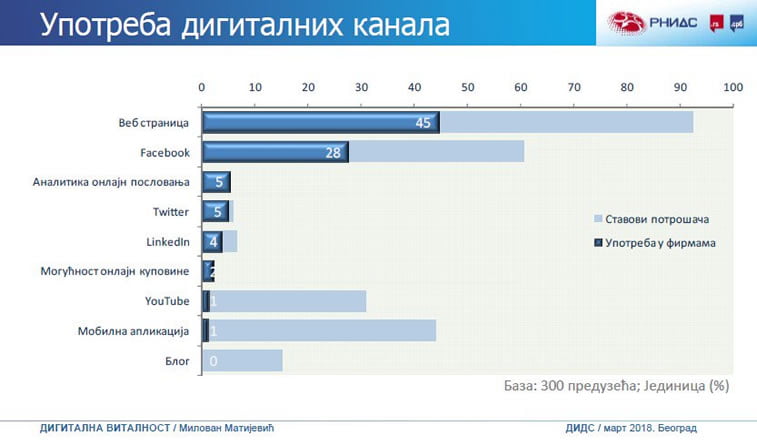 U pogledu broja digitalnih kanala, 34% firmi je izjavilo da koristi samo jedan digitalni kanal, 11% koristi dva, 5% tri, 4% četiri, dok iznenađujućih 46% uopšte ne koristi digitalne potencijale. Isto tako, kada je reč o zastupljenosti glavnog kanala, čak 45% preduzeća je izjavilo da koristi veb stranicu i još nešto u kombinaciji s njom, 46% ništa, a samo 9% Fejzbuk ili još neki drugi kanal. Tako se u više od 75% slučajeva analitika poslovanja (uglavnom Guglova) nalazi uvek u paru s glavnim kanalom komunikacije.
Sva preduzeća iz uzorka su takođe, usled prisustva na digitalnim platformama, povećala svoju produktivnost. Na osnovu finansijskih izveštaja iz 2016. godine 3000 srpskih mikro i malih preduzeća koja koriste veb stranice, podaci su pokazali da su mikro firme povećale svoj poslovni prihod, neto dobit i broj zaposlenih (+1), dok su male firme uspele da zaposle i do tri radnika više. Podaci o prihodima prikazani su u tabeli ispod.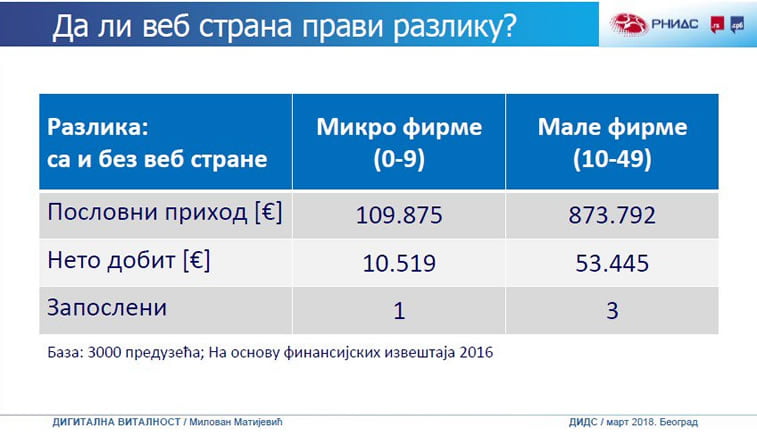 Istraživanje je takođe razmatralo i starost firme i upotrebu vebsajta, te se tako pokazalo da 58% firmi koje su registrovane u periodu od 1990. do 1999. godine ima veb stranicu, 2000-2009. – 49%, a začuđujuće mali procenat mladih firmi – samo 36% onih nastalih u periodu 2010-2016. godine. Postavlja se pitanje zbog čega je odnos ovakav. Možda zato što su starije firme stabilnije i veće? Možda se skoro 2/3 mladih firmi bez stranice na internetu oslanja na neki drugi vid reklamiranja, poput društvenih mreža ili preporuke od usta do usta?
Izbor internet domena pokazao je da sufiks .rs imaju vebsajtovi čak 79% firmi, dok 19% ima .com a 2% neki drugi. Ovo istraživanje je takođe pokazalo da 72% potrošača preferira domen .rs usled sigurnosti i poverenja u veb stranicu.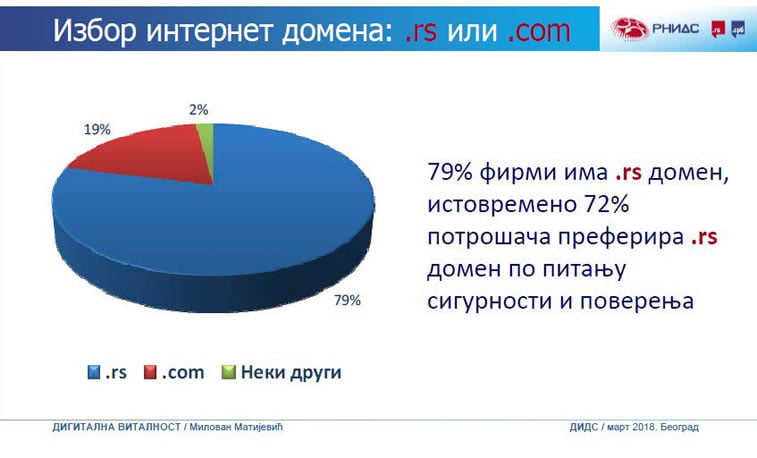 Kao razlog neposedovanja veb strane u firmama navodi se odsustvo potrebe za njom (85%) i ostali razlozi (15%) poput nedostatka vremena, finansija, posedovanje poslovne strane na FB, problemi s održavanjem sajta i sl. Takođe, skoro polovina ispitanika (46% preduzeća) izjavilo je da nema nikakvo onlajn prisustvo, dok s druge strane potrošači favorizuju preduzeća koja imaju vebsajt, što otvara vrata ka razvoju u oblasti veb dizajna i veb programiranja.
Nakon ovih korisnih informacija, usledila je diskusija predstavnika uspešnih firmi u Srbiji: prodavnice igračaka za decu Archiplay, turističke agencije Viva travel, onlajn prodavnice baštenskih proizvoda Garden, prehrambene prodavnice Tegla's i modne kuće Iskon mode. Sve ove firme potvrdile su kako je njihovo prisustvo na internetu značajno doprinelo razvoju poslovanja, pa čak i informaciju o tome da nikada ne bi mogli da dođu do tolikog broja kupaca bez digitalnih vidova promocije. Učesnici u diskusiji su takođe istakli i da samo prisustvo ne predstavlja kraj posla jer je vebsajt potrebno održavati i ažurirati, a povremeni redizajn sajta takođe je potreban i pokazuje da se poslovanje može unaprediti i do 1000%, kao u slučaju firme Tegla's.
---
Zaključak
Još jednu godinu zaredom konferencija DIDS uspela je da okupi veliki broj stručnjaka iz zemlje, regiona, Evrope i sveta kako bi pokrenula diskusiju o značajnim temama za poslovanje na internetu. I ovaj put bilo je reči o veoma aktuelnim i značajnim temama iz oblasti onlajn poslovanja i nadamo se da smo ovim tekstom uspeli da vam prenesemo barem deo onoga što je rečeno tokom konferencije.
Ne preostaje nam ništa drugo nego da se zahvalimo organizatorima iz Registra nacionalnog domena Srbije na pozivu za učešće i čestitamo im na još jednoj uspešnoj konferenciji.
Sa zadovoljstvom očekujemo DIDS 2019!
---
Izvor izdvojene slike: RNIDS
---
 Možda će vam biti zanimljivi i tekstovi: