Kada otvorite svoje elektronsko poštansko sanduče, koliko biltena za koje ste se prijavili zapravo i otvorite svaki put, koliko istinski pročitate, a koliko ih – nonšalantno i bez trunke griže savesti – odmah izbrišete za sva vremena? Iskreno? Najiskrenije?
Verujemo da vam se takav scenario ponavljao više puta (iz dana u dan) i sigurni smo da biste voleli da raskrstite sa velikim brojem biltena (eng. newsletter) koji dolaze na vašu adresu i stoje neotvoreni. Znamo, sami ste se za njih prijavili, pa se zato i nadate da vam možda neki put ipak mogu biti od koristi. Ali, zapravo primećujete da ima sve više onih koje retko čitate, pa čak uopšte više i ne otvarate.
Ne preporučujemo, međutim, da od njih potpuno odustanete. Imejl bilteni zaista mogu biti od koristi, posebno ako se bavite oblašću kao što je veb dizajn, jer poželjno je da ste uvek u toku sa trendovima, alatima, novitetima i dešavanjima u branši.
Ako vam je teško da razaznate koji bilteni nude kvalitetne informacije, a koji će vas samo zatrpati reklamama ili preterano čestim porukama bez adekvatnog sadržaja koji bi takvu učestalost potkrepio, ovaj tekst je pravo štivo za vas.
Predstavljamo vam odabir korisnih imejl biltena koji pokrivaju različite oblasti veb dizajna, a pritom donose kvalitetan sadržaj i zaista su vredni prijave i redovnog pregleda.
Imejl bilteni za veb dizajnere vredni prijave
1. Webdesigner news
Možete da odaberete da li želite da se u vašem sandučetu pojavljuju svakodevno ili danima koje vi smatrate adekvatnim, a za šta god da se odlučite, prijava na bilten portala Webdesigner news biće korisna za vašu karijeru veb dizajnera. Zašto? Zato što će vam redovno stizati mnoštvo značajnih i zanimljivih članaka o tipografiji, relevantnim izvorima, novim tehnologijama, dizajnu interfejsa i korisničkog iskustva (UI/UX), pa i o veb programiranju. Sve to će obuhvatati članke pažljivo prikupljene sa značajnih sajtova širom interneta, a biće objedinjeno na jednom mestu i lako pristupačno putem linkova.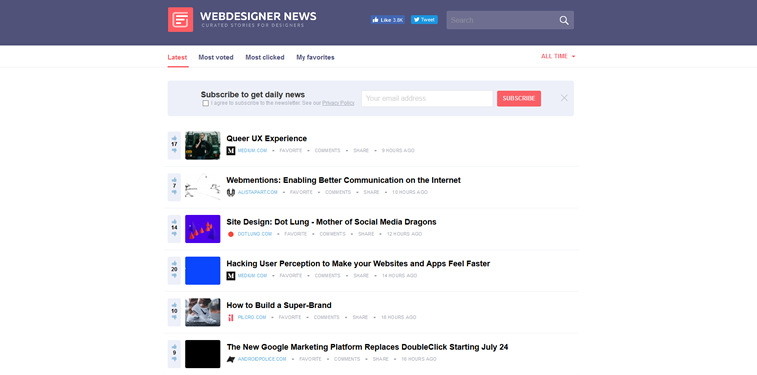 2. UX collective
UX collective, kao što možete i da pretpostavite, obuhvata tekstove koji se iz različitih uglova bave UX dizajnom (eng. user experience design). Ovaj svojevrstan kolektiv pokrenuli su veb dizajneri Fabricio Tejšejra (Fabricio Teixeira) i Kajo Braga (Caio Braga) iz Brazila, a postavili su ga na platformi Medijum. Tu svakodnevno objavljuju članke koji obuhvataju razne oblasti značajne za dizajn korisničkog iskustva, a pored osnivača tekstove pišu i drugi stručnjaci. Bilten šalju jednom nedeljno i u njemu ističu najpopularnije i najznačajnije članke objavljene u prethodnih sedam dana, kao i vesti, nove ideje i korisne tekstove sa drugih sajtova koji, kako ističu autori biltena, pripadaju dizajnerskoj onlajn zajednici.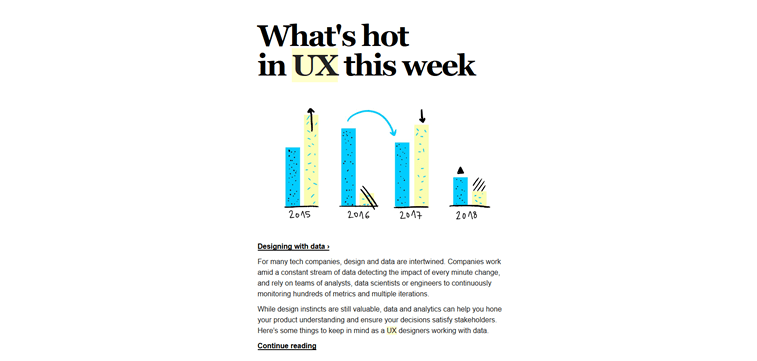 3. Veerle's weekly
Za ovaj bilten zaslužna je Virle Peters (hol. Veerle Peters), veb dizajner iz Belgije. Jednom nedeljno ona pravi odabir inspirativnih primera grafičkih ilustracija, animacija, tipografije i rešenja za veb dizajn, kao i selekciju linkova ka relevantnim člancima i tutorijalima o upotrebi novih tehnologija. Bilten je nastao kao rezultat prikupljanja velikog broja zanimljivih ideja tokom svakodnevnog rada i objavljivanja na njenom ličnom sajtu, što je želela da podeli sa drugim dizajnerima, bilo da su profesionalci ili amateri. Naišla je na veliki odziv, jer dodatna inspiracija nikad nije na odmet.

4. UI animation newsletter
Najbolji primeri animacije i dizajna elemenata u pokretu (eng. motion design), tutorijali, saveti, detaljni opisi tehnologija i brojni značajni članci o temama iz oblasti UI/UX dizajna, objedinjeni su kroz bilten pod nazivom UI animation newsletter. Animirani sadržaji svakako doprinose interesantnijem i kvalitetnijem korisničkom iskustvu i uvek su dobrodošli u projektima iz oblasti veb dizajna. Ako je kreiranje pokretnih elemenata za korisnički interfejs baš vaša specijalnost, verujemo da ste već i prijavljeni na bilten koji kreira Val Hed (Val Head), autorka knjige Designing Interface Animation i predavač brojnih onlajn kurseva o animaciji uz upotrebu CSS-a. Ako niste, vreme je da to učinite. Sigurno smo da će vam biti od značaja za svakodnevni rad.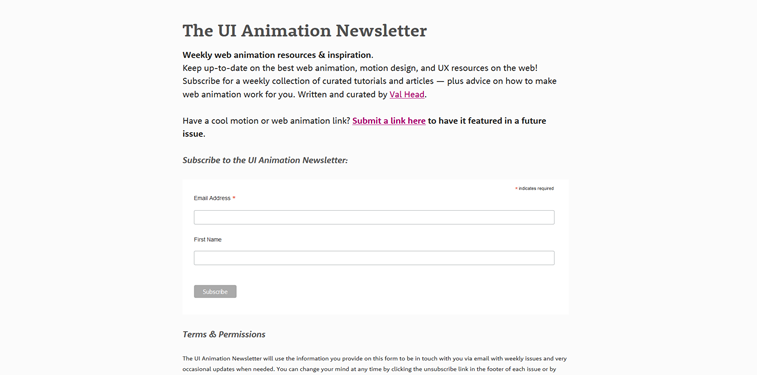 5. Layout land
Kada se prijavite na bilten Layout land, jednom mesečno će vam stizati koristan sadržaj, ali ne u formi tekstova i članaka, već objave o video snimcima postavljenim na istoimeni YouTube kanal. Vaš domaćin biće Džen Simons (Jen Simmons). Ona je dizajner i zvanični predstavnik programera u kompaniji Mozilla, a uz to je i vrhunski stručnjak za CSS Grid. Na kanalu Layout land redovno objavljuje tutorijale, komentare i nesebično deli svoje znanje o stilizaciji u veb dizajnu. Postala je prepoznatljivo lice u onlajn zajednici dizajnera i mnogi sa ushićenje dočekuju svaki njen novi video snimak, znajući da će ponuditi kvalitetvan sadržaj i da će moći nešto novo da nauče i bolje razumeju mogućnosti koje pruža CSS Grid.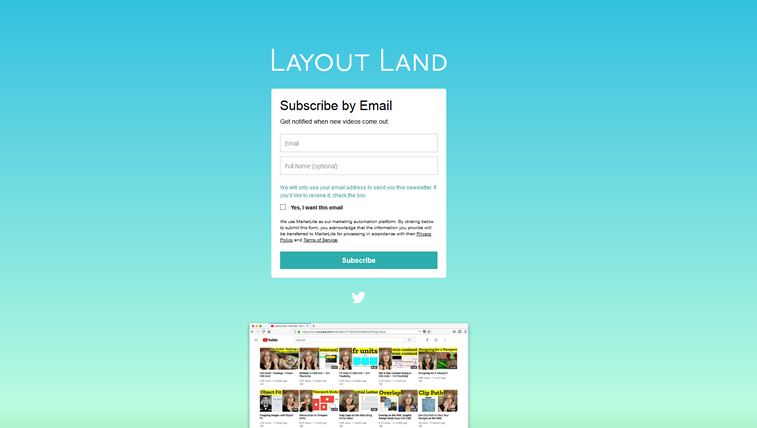 6. Smashing magazine
Jedan od najznačajnijih imejl biltena o veb dizajnu svakako je i onaj koji šalju urednici popularnog sajta Smashing magazine. Verujemo da će veliki broj autorskih tekstova o zanimljivim i korisnim temama, koje za ovaj onlajn portal pišu poznati svetski stručnjaci, kao i pregršt korisnih informacija o novim istraživanjima, dostupnim alatima za dizajnere i programere, pa i brojni tutorijali o upotrebi novih veb tehnologija, veoma brzo učiniti ovaj nedeljni bilten jednim od vaših omiljenih.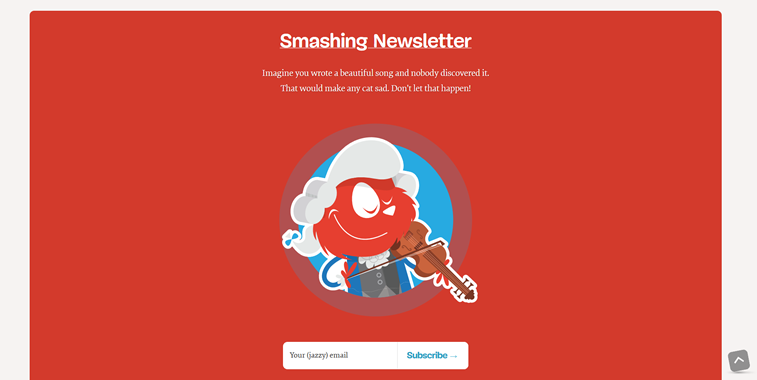 7. Jakob Nielsen's Alertbox
Džejkob Nilsen (Jakob Nielsen) je suosnivač grupacije Nielsen Norman Group (NN/g), zajedno sa Donom Normanom (Don Norman). Kao jedan od najcenjenijih svetskih stručnjaka za istraživanje UX-a, Nilson se brine o tome da svake nedelje u vaše elektronsko sanduče stigne bilten pod njegovim imenom u kojem objedinjuje najrelevantnije članke objavljene tokom prethodne nedelje na sajtu NN/g. Osim tekstova, u mejlu ćete dobiti i korisne video snimke, najave predstojećih konferencija o korisničkom iskustvu, kao i informacije o dostupnim onlajn seminarima. Teme najčešće obuhvataju dizajn aplikacija, informacionu arhitekturu, metode UX istraživanja, interaktivni dizajn i dizajn onlajn prodavnica.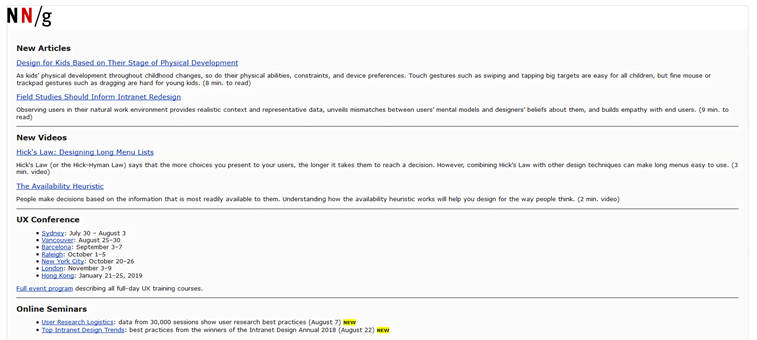 8. Adventures in typography
Ako biste sebe opisali kao avanturistu koji voli da istražuje polje tipografije i eksperimentiše sa tipografskim pismima, trebalo bi da se prijavite za nedeljni bilten pod nazivom Adventures in typography. Za sadržaj nedeljnih poruka koje će stizati na vašu imejl adresu zadužen je Robin Rendl (Robin Rendle) i, kako on opisuje, svaki bilten biće mešavina sadržaja o kaligrafiji, mikrofontovima, knjigama o tipografiji, posterima, slovima, literaturi, veb dizajnu. Sigurni smo da ćete u ovim avanturama uživati.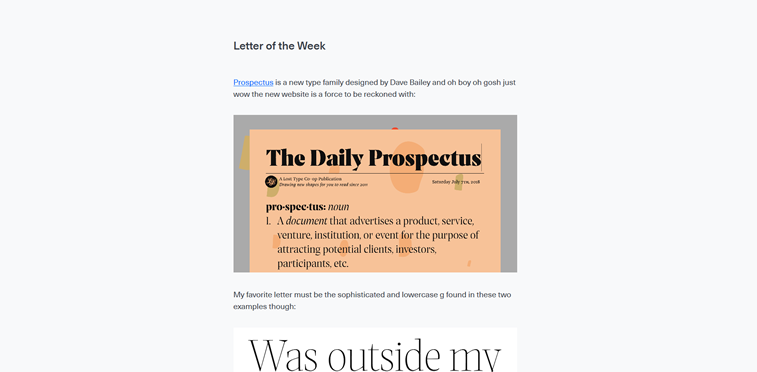 9. Neon Moiré
Za sve ljubitelje i česte posetioce konferencija o tipografiji, veb dizajnu i drugim oblastima kreativne industrije, bilten koji jednom nedeljno šalje Tomas Dam (Thomas Dahm), osnivač portala Neon Moiré, biće prava poslastica. Obedinjujući dešavanja sa konferencija širom sveta, uz detaljan kalendar za naredne događaje i redovno objavljivanje intervjua sa organizatorima i nekim od značajnijh učesnika, Tomas se trudi da svima koji su prijavljeni na njegov bilten redovno donosi kvalitetan sadržaj. I u tome uspeva.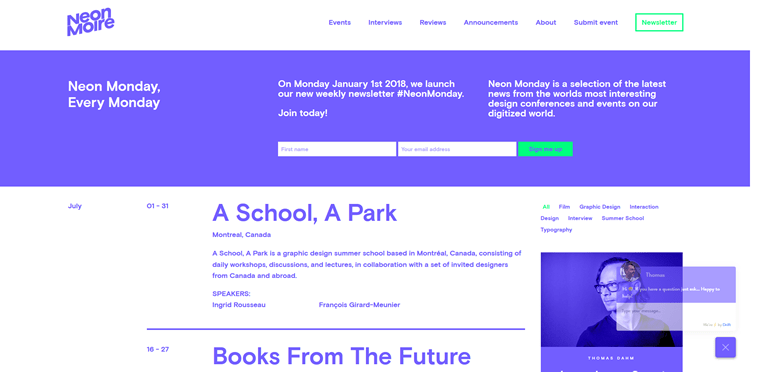 10. Sidebar
Svakog dana u vaše elektronsko sanduče dolaziće pet naboljih linkova ka člancima relevantnim za veb dizajn. Tako veb dizajner Saša Grif (Sacha Greif) ukratko opisuje Sidebar, portal koji je osnovao i na kojem je zasnovan bilten koji Grif sam kreira i za koji lično bira tekstove svakog dna. Poreklom iz Pariza, ovaj UI dizajner sada živi i radi u Osaki, Japan, gde je posvećen radu na sopstvenim projektima. Sidebar je jedan od njih i do sada je zaista korisnih pet linkova dostavljao putem biltena, pokrivajući teme poput testiranja prototipa, principa za kreiranja kvalitetnijih vizuelnih rešenja ili varijabilnim fontovima. Nema razloga da tako ne nastavi i u budućnosti.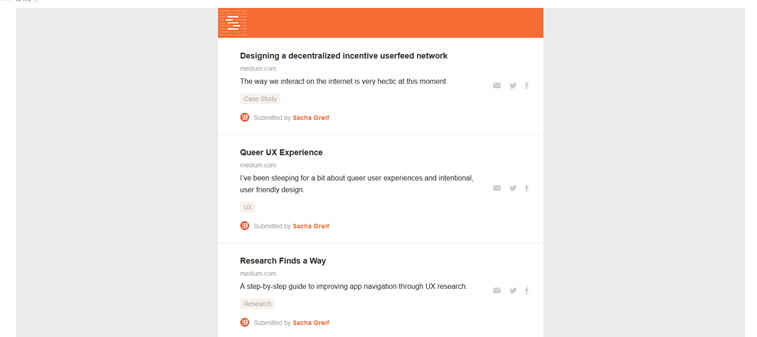 11. Versioning
Bilten Versioning prvobitno je bio formiran u sklopu portala SidePoint. Njegov kreator od samog početka je dizajner Adam Roberts, koji je nedavno počeo samo time da se bavi i Versioning je tako započeo solo karijeru. Sa ciljem da ne sadrži reklame, Roberts je odlučio da bude dostupan na osnovu pretplate, koja iznosi sedam dolara mesečno ili 70 dolara ako se plaća na godišnjem nivou. Biltene šalje svakog petka, a koncept je takav da za svaki mesec postoji odabrana tema u sklopu koje prikuplja članke i detaljno piše o određenim aspektima, polazeći od osnovnih pojmova i krećući se ka specifičnijem sadržaju namenjenom stručnjacima u oblasti veb dizajna. Verujemo da temeljan pristup ovog autora i neometanost reklamnim porukama mogu da opravdaju ulaganje u pretplatu.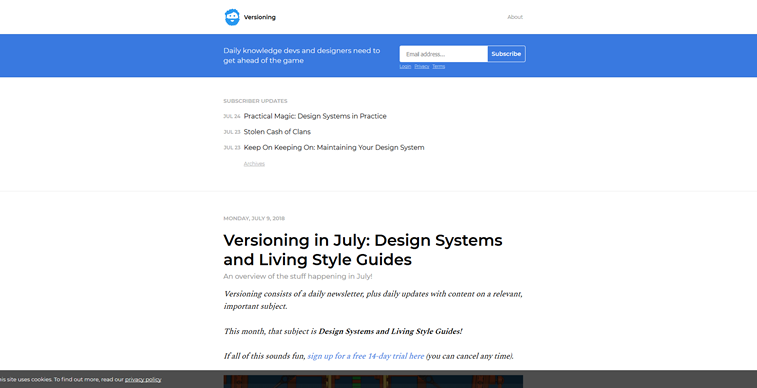 12. CSS-tricks
U početku je sajt pod nazivom CSS-tricks bio blog posvećen isključivo primeni CSS-a, ali danas obuhvata teme iz svih oblasti veb dizajna. Pokrenuo ga je dizajner i programer Kris Kojer (Chris Coyier). On i njegov tim počeli su ubrzo da kreiraju i nedeljni bilten, koji je postao jedan od najpopularnijih među veb dizajnerima i programerima. I ne čudi što je tako, budući da svaki bilten obiluje korisnim tekstovima i tutorijalima, video snimcima i savetima za različite trikove u oblasti izrade sajtova.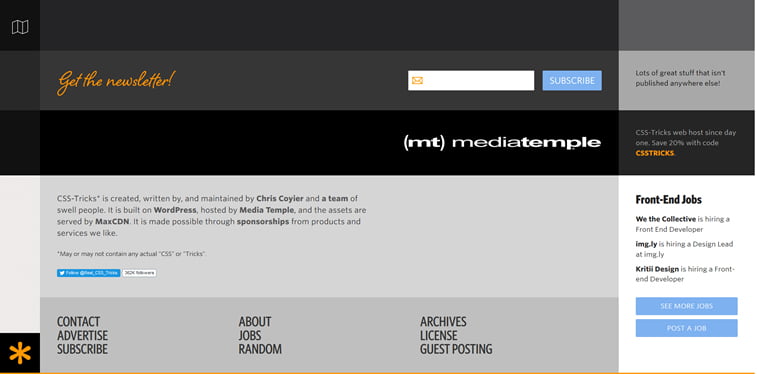 13. Responsive web design weekly
Ukoliko ste početnik i tek ste se prijavili za ovaj bilten, stići će vam inicijalni mejl koji će vas, za početak, odvesti ka grupisanim člancima za početnike u ovoj obasti koji objašnjavaju osnovne pojmove, početne dileme i različita rešenja. Bilten je povezan sa sajtom Responsive design, a autor mejlova koji će vam stizati je dizajner Džastin Ejveri (Justin Avery). Odlučio se da izdvoji tekstove za početnike jer u suprotnom, kako kaže, prečesto ponavlja osnovne teme. Ali pošto su to ipak jedni od najčitanijih tekstova odlučio je da ih objedini na jednom mestu i kao celinu ponudi kolegama na početku karijere. U sklopu ovog biltena jednom nedeljno dobijaćete vesti, stručne članke i primere kreativnih rešenja iz oblasti prilagodjivog (eng. responsive design) veb dizajna, i to prvenstveno namenjene dizajnerima sa srednjim i višim nivoom znanja. Kroz ovaj bilten imaćate priliku da mnogo toga novog naučite, ali i da preuzmete brojne elektronske knjige o prilagodljivom dizajnu.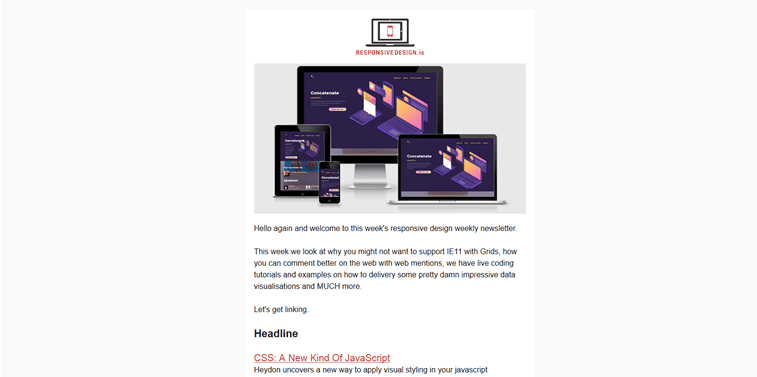 Verujemo da će vam ova lista imejl biltena (koja svakako ne predstavlja i konačan spisak onih sa kvalitetnim sadržajem) u velikoj meri biti od koristi i da ćete mejlove koji vam ubuduće budu stizali rado otvarati i detaljno pregledati i čitati, pa i uvek biti u toku sa najnovijim dešavanjima. Zato bilteni i služe, zar ne?
Da li ste već prijavljeni na neke od ovih biltena, da li ste zadovoljni sadržajem koji vam stiže u sanduče? Da li ih rado čitate i pratite? Ima li i drugih koje biste voleli da istaknete? Pišite nam o svojim iskustvima u komentarima ispod teksta ili na našoj Fejzbuk stranici.
---
Pogledajte i druge tekstove o veb dizajnu: