Kažu da je posao veb dizajnera najbolji posao na svetu. Zašto? Zato što omogućava istraživanje, skiciranje, testiranje, eksperimentisanje i realizaciju ideja, a uz to je inspirativan, veoma uzbudljiv i zahteva moć zapažanja na kakvoj bi i Šerlok Holms pozavideo.
Treba pomenuti i da se dizajneri korisničkog interfejsa i korisničkog iskustva (UI/UX) ne bave isključivo dizajnom. Oni vode računa i o psihološkim i emotivnim aspektima ponašanja korisnika na internetu, predviđaju korake koje će posetioci vebsajta preduzeti i razmatraju njihove kognitivne sposobnosti.
Tek tada, na osnovu kompletnog istraživanja i konceptualizacije, dolaze do realizacije svojih zamisli, čineći da finalni proizvod – vebsajt, veb aplikacija, onlajn prodavnica, digitalna biblioteka, veb direktorijum ili bilo koji drugi sistem – pre svega bude visoko funkcionalan i lak za upotrebu.
Sve to čini posao kreativnim i zanimljivim, ali ne i – jednostavnim.
Posebni izazovi javljaju se u današnjem digitalnom svetu – u eri proširene i virtuelne stvarnosti, novostvorenih svetova, animiranih likova i inteligentnih mašina. Pojavljuju se nova, uzbudljiva polja delovanja, ali vrtoglavo brz razvoj tehnologija i digitalnih trendova dovodi i do sve težih zahteva koji se stavljaju pred veb dizajnere.
Više nije dovoljno postaviti statički vebsajt i smatrati posao završenim (statički sajtovi se, doduše, vraćaju u modu, ali ipak ne preovladavaju). Naprotiv, treba uložiti mnogo vremena, truda i znanja, a zatim i mnogo pažnje posvetiti implementaciji novih tehnologija, poput pokretnih elemenata, interaktivnog, participativnog interfejsa i mnogih drugih.
Potrebno je da dizajneri nauče nove veštine, da poboljšaju tehničko poznavanje rada sa alatima za testiranje prototipa, kao i znanje o informacionoj arhitekturi i vizuelnoj hijerarhiji.
U nastavku članka razmotrićemo koje bi to sve oblasti trebalo da poznaje veb dizajner kako bi bio u trendu.
Posebne glasovne sposobnosti
Ovo ne znači da dizajneri treba istovremeno da budu i vrhunski pevači. Reč je o sve većoj upotrebi uređaja koji prvenstveno podržavaju glasovne komande. Statistika pokazuje da trenutno samo u Americi oko 30 miliona domaćinstva poseduje takve uređaje, a predviđa se da će do 2022. godine čak 50 odsto domaćinstava u SAD koristiti prvenstveno glasovnu pretragu.
Dizajniranje korisničkog iskustva trebalo bi da ide u korak sa inovacijama, a tokom narednih godina očekuje se da će vokalne komande postati standard, odnosno obavezan deo posla svakog veb dizajnera.
Da li to znači da dizajneri treba da kreiraju rešenja gubeći ekran iz vida (eng. screenless design)? Displeji, reklo bi se, ipak neće u potpunosti nestati, ali svakako se menja pristup upotrebi uređaja, a samim tim dolazi i do promene korisničkih iskustava.
Dizajn elemenata u pokretu
Efekat pod nazivom paralaks (eng. parallax) već je duže u upotrebi i veoma je popularan među veb dizajnerima. Kao specifičan način pokretanja pojedinačnih elemenata na vebsajtu podstaknut pomeranjem miša ili skrolovanjem, stvarajući iluziju dubine kao treće dimenzije, nastao je sa idejom privlačenja pažnje posetioca na sajtu i povećanog stepena interakcije.
Isti cilj imaju i drugi pokretni elementi u dizajnu (eng. motion graphics) koji svojim pomeranjem, rotiranjem ili animiranim vizuelnim efektima stvaraju utisak 3D prostora, iako je reč o 2D objektima.
Takozvani dizajn pokreta najčešće se koristi prilikom animacije likova i predmeta ili kreiranja video igara. U tom slučaju, različitim tehnikama crtanja i 3D modelovanja dolazi se do razrade koncepta, oblikovanja i vizuelizacije finalnih rešenja.
S obzirom na to da je animacija sve popularniji element veb dizajna, vladanje ovim tehnikama moglo bi da bude od velike koristi u svakodnevnom radu.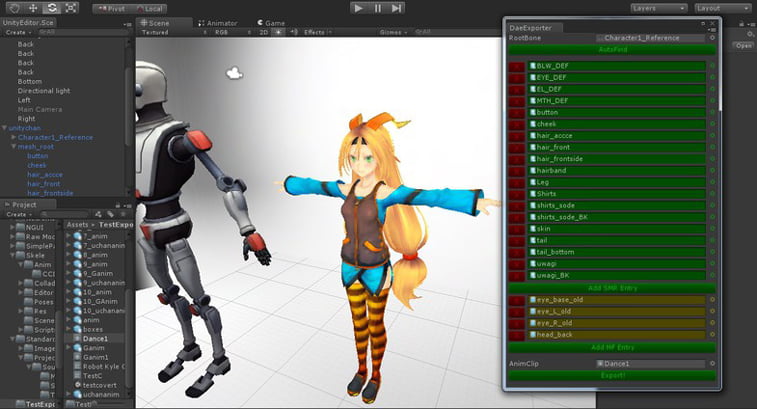 Proširena stvarnost: Magično realna
Polja takozvane proširene stvarnosti (eng. augmented reality, AR) inspirisale su promenu u načinu pristupanja digitalnom pripovedanju (eng. storytelling), čak i izvan virtuelnog prostora. Dizajneri stoga sve češće pokušavaju da imitiraju izgled i osećaj fizičkog kretanja u prostoru – podižući trend započet paralaks efektom na jedan viši nivo.
Cilj je kreirati iskustva koja su usredsređena na čoveka (eng. human-centered design) i utiču na emotivne reakcije korisnika. To su najčešće takozvana imerzivna korisnička iskustva (eng. immersive user experience), odnosno ona koja angažuju sva čula i potpuno okupiraju posmatrača, menjajući tok njegovih misli i utičući na njegovu percepciju okoline.
Inovativni načini korišćenja animacije i jedinstvene navigacije koje podsećaju na AR iskustva, najčešće se mogu videti u marketinškim kampanjama, prilikom čega upotreba video sadržaja i interaktivnih elemenata dodatno usmerava pažnju na proizvod koji se reklamira.
Tokom stvaranja jednog iskustva u proširenoj stvarnosti, kako u svom tekstu na platformi Medijum objašnjava stručnjak za AR Ejdan Vulf (Aidan Wolf), najznačajniji elementi su:
način prezentacije
pozicioniranje objekata u prostoru
vremenski sled
prilagodljivost nepredvidivim situacijama.
On podseća i na činjenicu da iskustvo proširene stvarnosti može delovati nestvarno i magično, ali ipak mora da bude povezano sa realnošću i treba da se stopi sa stvarnim životom korisnika.
Ako i dalje niste sigurni šta zapravo znači dizajnirati jedno AR iskustvo, možda je najbolji primer za to igrica Pokémon GO, koja na jedinstven način povezuje izmišljene likove iz video igre i stvarno okruženje u kom igrači nastupaju.
Svako takvo iskustvo trebalo bi da ima određenu radnju, da se odvija kao na filmu i da pomalo nalikuje dečjoj igri. Ipak, treba voditi računa da se dizajn poklopi sa vremenskim prilikama, godišnjim dobom, mestom odigravanja i svim elementima iz okoline koji mogu da utiču na priču.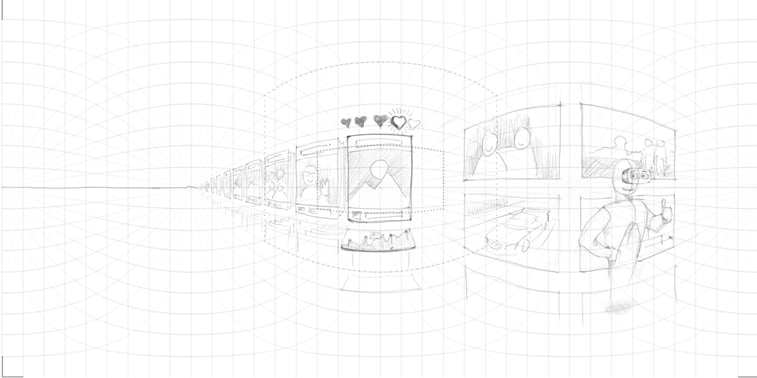 Personalizovani inteligentni interfejs
Intuitivno, inovativno, inteligentno – to su tri principa na kojima bi trebalo da bude zasnovan UI/UX dizajn koji prati trendove. Šta to znači i kako to postići?
Alati zasnovani na veštačkoj inteligenciji imaju sve veći uticaj na veb dizajn. Njihov glavni adut je personalizacija, to jest stvaranje digitalnog iskustva koje se na osnovu prethodnih saznanja prilagođava ponašanju korisnika i samostalno se menja kako bi omogućilo što veću upotrebnu vrednost veb aplikacija.
Veštačka inteligencija bi na taj način mogla u budućnosti i potpuno sama da kreira inteligentni interfejs za korisnika koji će se prilagođavati njegovim potrebama, i to u realnom vremenu. Sa druge strane, to bi veb dizajnerima ostavilo više prostora da se usredsrede na takozvani emotivni UX dizajn, a manje na grafiku i izgled sajta.
Usmeravanje korisničkog iskustva u određenom pravcu dok su korisnici u interakciji sa proizvodom često predstavlja veliki izazov. Uloga UX dizajnera u tom slučaju treba da bude usko specijalizovana, zahtevajući bližu saradnju sa grafičkim dizajnerima, programerima i timovima za korisničku podršku.
Ključ je da se identifikuje šta je relevantno za korisnika i da se uklone svi nepotrebni elementi, kako bi interfejs bio što čistiji, brži i funkcionalniji. Procenjuje se da takav pristup može dovesti do povećanja ličnog angažmana korisnika, što dalje može voditi ka povećanju procenta konverzije.
Virtuelna stvarnost: I nemoguće je moguće
Bez obzira na to u kojoj oblasti dizajna radite, verovatno ćete uskoro početi da kreirate rešenja i za virtuelnu stvarnost (eng. virtual reality, VR), ako se već niste oprobali i na tom polju.
Postoji veliki broj primera kreativne primene VR-a u veb dizajnu, počevši od izrade virtuelnih veb stranica, preko VR aplikacija i filmova, do pojedinačnih iskustava izrađenih po narudžbini klijenata.
Da biste se time bavili, potrebno je osnovno razumevanje pojma virtuelne stvarnosti, kao i sagledavanje mogućnosti koje ta oblast pruža. Projektovanje za VR je veoma specifično i podrazumeva napuštanje okvira ekrana i stvaranje potpuno novog okruženja. Na internetu su dostupni i brojni tutorijali o tome, uz pomoć kojih je moguće bolje se upoznati sa materijom.
U jednom od njih, tačnije u tekstu za časopis Wired, Met Sandstrom (Matt Sundstrom) je postavio pet ključnih principa za uspešan imerzivni dizajn:
razmišljajte kao čovek
koristite perspektivu u svoju korist
gledajte oko sebe, pratite okolinu
gradite prototipe i modele dizajna
fokusirajte se na iskustvo.
VR je nešto što već postoji i što se velikom brzinom razvija dalje kao polje u kojem se i nemoguće čini mogućim.
Dostupni su i određeni alati za kreiranje 3D objekata uz pomoć opreme za virtuelnu stvarnost, poput VR naočara. Jedan od njih je i Gravity Sketch, pomoću kojeg ručno crtane skice mogu da "ožive" u virtuelnom prostoru, mogu da se vide, dodirnu, pregledaju sa svih strana… Za sada, procenjuje se da će ovaj alat najviše koristiti arhitektama i dizajnerima enterijera, ali namenjen je svim kreativcima koji žele da se usavršavaju u VR dizajnu.
Veb dizajner = jednorog?
Da li na osnovu svega navedenog treba da zaključimo da su veb dizajneri mitska bića sa natprirodnim moćima koje će u budućnosti poprimiti neslućene razmere?
Da, moglo bi se tako reći.
Nije neobično da veb dizajnere već sada nazivaju jednorozima, posebno one čiji posao obuhvata čitav spektar različitih faza izrade vebsajta – od istraživanja ponašanja korisnika, preko razrade ideja i povezivanja koncepata, do izrade prototipa, testiranja i na kraju implementacije rešenja.
Može se reći i da su potrebni nadljudski napori kako bi se ispratili svi trendovi i svi novi zahtevi koje diktira tržište. Jer, ako se ne usavršavate i ne prilagođavate svoje znanje, rizikujete da postanete démodé.
Sa druge strane, ako čvrsto verujete da možete da postanete jednorog i zdušno se tome posvetite, jednorog ćete i postati. Učeći nove veštine i primenjujući svoje znanje u praksi, stalnim usavršavanjem i napretkom u radu, možete postati superheroj veb dizajna.
Zaključak
Kakva je, dakle, uloga veb dizajnera u eri virtuelne stvarnosti?
Redefinisana.
Uz sve češću upotrebu AR, VR i AI tehnika i saznanje da nećemo zauvek živeti u svetu horizontalne navigacije i padajućih menija, jasno je da se pravila stalno menjanju, kako u načinu prezentovanja, tako i u narativnim metodama i interaktivnom dizajnu.
Pravila zapravo i ne postoje.
Panta rei.
Sve se menja i pitanje je samo koliko je ko spreman da uči, usavršava se i prilagođava svoje veštine promenama koje nastupaju.
---
Ako vas zanima oblast veb dizajna, pogledajte i ove tekstove: