Lakoća korišćenja i upotrebna vrednost vebsajta dva su glavna atributa kvalitetnog veb dizajna i mogu da utiču na to da li će sajt biti funkcionalan ili ne. Nije važno samo da sve lepo izgleda, već i da se korisnicima pomogne da na što efikasniji način dođu do onoga što traže.
To, međutim, nije lako postići.
Pomoć mogu da pruže pitanja koja ističe Džejkob Nilsen (Jakob Nielsen), jedan od vodećih svetskih stručnjaka iz oblasti UX dizajna i suosnivač grupacije Nilsen-Norman (Nielsen-Norman Group, NN/g), a koja bi svaki dizajner trebalo da postavi prilikom izrade sajta.
U kojoj meri je korisnicima lako da postignu osnovne zadatke prilikom prvog susreta sa dizajnom, odnosno izgledom vebsajta?
Kada se korisnici upoznaju sa dizajnom, koliko brzo mogu da obavljaju zadatke?
Kada se korisnici vrate na sajt nakon dužeg perioda nekorišćenja, koliko lako mogu ponovo uspostaviti funkcionalnost?
Koje greške mogu da naprave korisnici, koliko su teške greške, kojom brzinom i na koji način ih mogu ispraviti?
Da li je i u kojoj meri prijatno koristiti vebsajt?
Drugim rečima, kada se bavite dizajnom korisničkog interfejsa i korisničkog iskustva (UI/UX) važno je uvek imati u vidu lakoću upotrebe raličitih mogućnosti na sajtu, efikasnost, lakoću pamćenja funkcija, mogućnost ispravljanja grešaka i zadovoljstvo prilikom korišćenja.
Treba zatim dobro promisliti na koji način je moguće povezati funkcije dostupne na sajtu sa načinom njihove upotrebe. Nije dovoljno da nešto bude jednostavno, ako to nije ono što zapravo želite da se desi tokom korišćenja. Isto tako, nije dobro ni ako je na sajtu moguće uraditi sve ono što ste zamislili, ali je preteško do toga doći.
U principu, nepisano pravilo ukazuje na to da ne bi trebalo više od tri koraka da bude potrebno da bi korisnici izvršili željenu funkciju ili došli do tražene informacije na sajtu. Vebsajt sa visokom upotrebnom vrednošću pružaće mogućnost za izvršenje svih postojećih funkcija i njih će biti lako i prijatno koristiti.
Priprema za UI/UX dizajn
Kada započinjete rad na izradi sajta, uvek je dobro početi od postavljanja teza o onome što vam je poznato – za koga je sajt, koja je ciljna grupa, koja branša je u pitanju, da li je reč o ličnom portfolio sajtu, onlajn prodavnici ili prezentacionoim sajtu za preduzetnika, kompaniju, nevladinu organizaciju, medijsku kuću, kulturnu instituciju ili bilo šta drugo.
Polazeći od početnih pretpostavki, dobro je odmah znati i na kojoj platformi će biti postavljen sajt i da li će se praviti samo za stone računare ili i za mobilne uređaje. Pritom ne zaboravite na nepisano pravilo koje važi poslednjih nekoliko godina – ukoliko želite da napravite sajt koji će ići u korak sa trendovima, biće to sajt koji je prilagodljiv (eng. responsive) desktop računaru, mobilnom telefonu, tabletu i svim drugim prenosnim uređajima.
Neminovno je da se tokom izrade sajta nailazi na probleme, greške, nedoumice, dileme. Ipak, za sve je moguće naći rešenje, potrebno je samo pažljivo se posvetiti ispitivanju svih mogućih opcija i iznedriti onu koja će biti najfunkcionalnija i najlakša za upotrebu.
Za dolazak do rešenja potrebno je iznova postavljati pitanja – zbog čega je do problema došlo, koje sve posledice to povlači za sobom, na koje sve načine problem može da se reši, kako je moguće ispraviti grešku, koje su pozitivne i negativne strane potencijalnog rešenja, postoji li alterantiva, kako će to sve uticati na korisničko iskustvo i mnoga druga.
Najbolji način da se sazna na koje budući korisnici sve probleme mogu naići jeste da se konstrukcija (eng. wireframe) vebsajta, veb aplikacije ili bilo koje onlajn prezentacije testira pre zvaničnog puštanja u rad.
Osim toga, moguće je i pustiti sajt u upotrebu, ali u takozvanoj beta verziji, što znači da je sajt u fazi onlajn testiranja i da korisnici mogu (i od njih se to očekuje) da šalju povratne informacije o svim elementima koji ne funkcionišu kako treba. Beta verzija, dakle, pušta se upravo s razlogom da se saznaju svi problemi na koje korisnici nailaze tokom upotrebe, a zatim i da se nađu rešenja i sve ispravi pre objavljivanja konačne i zvanične verzije sajta.
Glavni zadatak dizajnera jeste da na kraju nijedno pitanje ne ostane bez odgovora, da sve bude jasno, očigledno i samo po sebi objašnjavajuće. Krajnji cilj iznalaženja funkcionalnih rešenja jeste da korisnici ne treba mnogo da misle prilikom upotrebe sajta, već da se opcije intuitivno nadovezuju jedna na drugu, ali i da sajt bude bezbedan za korišćenje.
Ovom prilikom ističemo nekoliko grešaka i problema koje se često mogu javiti u veb dizajnu i uz to predlažemo potencijalna rešenja.

8 najčešćih problema prilikom izrade sajta
1. Bespotrebno komplikovanje
Često se dešava da se infrastruktura sajta dodatno zakomplikuje kada postoji veliki broj stranica ili različitih proizvoda, dosta kategorija i potkategorija ili više različitih grupacija navigacionih menija. Tada jeste reč o složenoj strukturi, ali upravo zbog toga trebalo bi je što više pojednostaviti, kako korisnicima ne bi bilo suviše opterećujuće da se kreću kroz takav sajt.
Što jednostavnije, to bolje – to bi trebalo da bude mantra svima koji se bave veb dizajnom. Čak i kada je reč o manje kompleksnom sajtu, trebalo bi pojednostaviti korake koje će korisnici praviti.
Dobar primer za to kako ne bi trebalo dizajnirati naveo je Vitalij Fridman (Vitaly Friedman), glavni i odgovorni urednik i pisac za Smashing Magazine u tekstu o funkcionalnim problemima na koje treba paziti, ukazujući na tekst o logou kompanije Gugl (Google) koji je objavljen na sajtu časopisa Wired i podeljen (bespotrebno) na osam stranica.
Kako Fridman navodi u tekstu, to može biti mogućnost za veći broj oglasa na svakoj od strana, ali čini članak teškim za čitanje. Osim toga, stvara problem i prilikom SEO optimizacije, jer kada je sadržaj rasprostranjen na osam različitih strana, ne može se tako lako internet pretraživačima ukazati da je reč o jednoj te istoj temi.
Zato, kada napravite skicu za vebsajt i na kraju kreirate prototip, savetujemo da:
kolegama dizajnerima date na uvid i zamolite ih za reviziju, uz odgovore na pitanja o tome da li je sve na svom mestu, da li je nešto višak ili nešto nije dovoljno jasno i ako bi oni nešto rešili drugačije kako bi to izgledalo – to možda oduzima malo vremena, ali može biti od velikog značaja za izradu besprekornog finalnog rešenja
ukoliko ste u mogućnosti (čitaj: ako rok ne ističe za minut, a vi završavate sve u poslednjem trenutku) ostavite kompletiranu verziju sajta da odstoji jedan dan i ponovo je sami pregledajte – da li sada uviđate neke sitne greške ili smatrate da nešto treba zameniti, promeniti, obrisati?
Ispravite sve što treba i uvek razmišljajte o značaju pojednostavljivanja.
2. Kopiranje drugih
Kada je reč o kreiranju veb aplikacija za koje na svetskom nivou postoji jaka konkurencija, često može da se desi da se svaki novi interfejs iz iste oblasti kreira po ugledu na već postojeće da bi bio prepoznatljiv, jer su korisnici "tako navikli".
To može da ukazuje na problem sa kojim se suočavaju mnogi dizajneri, plašeći se da iskorače iz rutine ili da probaju nešto novo, i to samo iz jednog razloga – straha od nepoznatog.
Uzmimo za primer aplikacije kao što su Viber, WhatsApp ili Skype – sve one manje-više izgledaju slično i imaju slične funkcije. To svakako i ima smisla, ali kada bi se neka nova aplikacija tog tipa pojavila mogla bi da postigne još veći uspeh ako bi se razlikovala, ako bi ponudila nešto novo, drugačije, neviđeno do tad.
Razumljivo ja da se svako najbolje oseća kada radi ono što najbolje ume i kada je siguran u to što zna. Ipak, ne treba se plašiti iskoraka van utabanih staza i kreiranja nečeg potpuno novog.
Kada dizajnirate vebsajt nemojte, naravno, gubiti iz vida šta rade konkurenti iz iste branše, ali nemojte ni samo kopirati ili praviti približno slična rešenja. Uložite malo više vremena i truda i osmislite nešto originalno, inovativno i nesvakidašnje. Isplatiće se.
3. "Korisnici će to razumeti"
Kada se naiđe na problem na sajtu, neki element koji ne funkcioniše kako treba ili stranicu koja se sporo učitava, može da se desi da dizajneri zanemare popravljanje takvih grešaka misleći kako "to nije ništa strašno", "korisnici mogu preko toga da pređu" i "sami će shvatiti šta treba da rade".
To su sve pretpostavke koje bi trebalo izbegavati. Ako znate da bi iskustvo korisnika moglo da bude nezadovoljavajuće, da postoji bilo šta što bi moglo negativno da utiče na celokupan utisak koji posetioci imaju o korišćenju određenog sajta ili aplikacije, popravite to. Rešenje uvek postoji.
4. "Korisnici to neće razumeti"
Veb dizajn treba da donese jednostavna i jasna rešenja, ali ako se, pak, previše trudite da pojednostavite i raščlanite postojeće elemente na atomski sitne delove kako bi bili što jasniji korisnicima, možete lako da upadnete u zamku potcenjivanja posetioca sajta.
Ako smatrate da niko ništa neće razumeti i neće umeti sam da se snađe na sajtu, bez detaljnih uputstava za upotrebu, dva su moguća razloga za to:
negativno razmišljenje o znanju i tehničkim sposobnostima korisnika
dizajn nije dovoljno dobro urađen i treba ga redefinisati tako da bude jasniji
Posetioci jednog vebsajta najčešće nemaju prevelika očekivanja. Žele da nađu ono što traže i ne žele da izgube mnogo vremena na to. Zadatak dizajnera jeste da to i omogući, ali i da svojim umećem doprinese što bogatijem iskustvu.

5. (Ne)etičke odluke
Da li će neka od funkcija ili mogućnosti dostupnih na sajtu dovesti korisnike u zabludu? To je pitanje koje svaki dizajner treba da postavi pre nego što kreira rešenje. Obmanjujuće opcije definitivno neće učiniti da se korisnici osećaju prijatno i lako mogu dobar dizajn pretvoriti u loš.
Kada kažemo obmanjujuće, mislimo na takozvanu mračnu stranu dizajniranja korisničkog interfejsa (eng. dark patterns), prilikom čega se na sajt postavljaju, recimo, formulari koji na prevaru prikupljaju imejl adrese korisnika.
Ostavljanjem svojih podataka, korisnici obično dobiju nešto zauzvrat, što može biti pristup određenim fajlovima, besplatna e-knjiga, popust prilikom onlajn kupovine, uvid u e-kurs ili bilo šta drugo. Međutim, niko od korisnika nije obavešten da se, na primer, ostavljanjem svoje adrese automastki prijavljuje na listu za dobijanje dnevnih, nedeljnih ili mesečnih biltena od strane kompanije čiji je sajt, ali i svih trećih lica povezanih sa njom, što može da podrazumeva veliki broj oglasa.
Samim tim što ne znaju pozadinu, korisnici nemaju priliku sami da odluče da li to zaista žele ili ne, a to može biti izrazito frustrirajuće i veoma negativno uticati na utisak posetioca o sajtu.
Prema opisu na portalu Dark Patterns postoji 11 različitih vrsta manipulativnih formi:
mamac i automatsko prebacivanje na neželjenu stranicu, funkciju ili opciju na sajtu
prikriveni oglasi
prinudni kontinuitet
spamovanje prijatelja korisnika
skriveni troškovi
namerno skretanje pažnje korisnika na određeni element, kako ne bi primetili nešto drugo
ukidanje mogućnosti poređenja cena
"Zakerovanje privatnosti" (nazvano po osnivaču Fejzbuka Marku Zakerbergu, budući da podrazumeva javno otkrivanje mnogo više podataka o sebi nego što je to namera korisnika)
"motel pun buba" – podrazumeva situaciju u kojoj se korisnici lako mogu naći, ali teško mogu iz nje da izađu
prikriveno dodavanje proizvoda u korpu korisnika prilikom onlajn kupovine
trik pitanja
U situaciji kada se dizajnira veb aplikacija ili sajt za klijenta koji zahteva da se na stranicama pojavljuju i takve opcije, dizajner možda nema veliku mogućnost izbora. Ipak, znajući koliko to loše može da utiče na korisničko iskustvo, na neki način je u moralnoj obavezi da upozori klijenta na sve loše aspekte takvih rešenja i proba da utiče na eventualnu promenu zahteva.
6. Iritirajuća obaveštenja
Jedno je sigurno – korisnici ne vole agresivne aplikacije, poruke koje se stalno pojavljuju, obaveštenja koja non-stop stižu i bilo koji sličan vid navalentnog pristupa.
Da biste tako nešto izbegli, prilikom kreiranja aplikacije ili vebsajta, potrebno je okrenuti se psihologiji i analizi ponašanja korisnika.
Naime, dobre aplikacije su one koje stvaraju trenutnu kognitivnu vezu između emotivne potrebe i rešenja koje određena usluga ili proizvod pružaju. Da bi se to ostvarilo, takozvani okidači, u vidu poruka ili notifikacija, treba da stignu u pravom trenutku.
Kako da znate kada je pravi čas da se plasira obaveštenje od strane aplikacije?
Dobar primer može se naći u tekstu pod nazivom Psihologija notifikacija, objavljenom na portalu Tech Crunch, u kom se navodi da oni koji između dva vezana leta imaju svega 40 minuta da čekiraju karte, odmah posle sletanja verovatno brinu o tome kako će doći do sledećeg leta i koliko će sve to trajati. Ali, ako se, čim telefon isključe iz avionskog režima, pojavi obaveštenje od avio-kompanije sa svim potrebnim i ažuriranim informacijama, to znači da je ono stiglo u pravom trenutku, kada putnici već postaju blago nervozni, pitajući se da li će stići na sledeći let.
U tekstu se objašnjava da su digitalni proizvodi koji na neki način stvaraju naviku korišćenja (eng. habbit-forming products) kreirani tako da umeju da prepoznaju trenutak kada nastaje unutrašnji okidač kod korisnika (emotivna potreba) i da baš tada pokrenu spoljašnji okidač (obaveštenje koje ukazuje na rešenje).
Problem kod loše dizajniranih notifikacija jeste da su često iritirajuće, neadekvatne i preterano česte. Korisnici takva obaveštenja jednostavno počinju da ignorišu, a neretko i potpuno prestaju da koriste neku aplikaciju upravo zbog frustracije izazvane agresivnim pristupom.
Sa druge strane, povezujući pažljivo osmišljene, korisne i dobro balansirane okidače koji su blisko povezani sa dubljim potrebama korisnika, dizajneri mogu da naprave obaveštenja koja ljudi zaista žele da dobiju i potrebna su im.
7. Neadekvatna navigacija
Ako se prilikom upotrebe sajta korisnici na neki način vrte u krug, ako popunjavaju formular koji ih vraća na početak, ako ne mogu da nađu put do željene informacije, ako postanu zbunjeni prevelikim brojem kategorija i potkategorija sličnog naziva ili namene, ako ne mogu u jednom koraku da se vrate na početnu stranicu ili bilo šta slično, to znači da navigaciona struktura na sajtu nije dobro postavljena.
Korisnici u svakom trenutku na sajtu treba da znaju gde se nalaze, kako su dotle došli, zašto su dotle došli i kako da se vrate nazad. Navigacija stoga mora da bude očigledna i logična. Čak i u slučaju da se korisnici "izgube" koristeći sajt, mora da postoji opcija koja će im pružiti pomoć da se vrate na pravi put (eng. breadcrumbs).
8. Pogrešna perspektiva
Može se desiti da, kao dizajner, i ne primetite da grešite u nečemu, budući da gledate iz svoje perspektive, znajući već šta će se sve nalaziti na sajtu i kako će izgledati, koja stranica se gde nalazi, postoje li prečice, šta koje dugme predstavlja i šta će se desiti kada se na njega klikne, kao i sve ostalo u vezi sa dizajnom i upotrebljivošću sajta.
Ono što, međutim, uvek treba da imate na umu jeste promena ugla posmatranja – iz svoje u perspektivu korisnika. Zato je potrebno obaviti detaljno istraživanje o navikama potrošača, klijenata i kupaca iz oblasti za koju dizajnirate, kako biste mogli da koračate koracima ciljne grupe i krećete se kroz sajt onako kako će se oni kretati. Tako ćete najlakše uočiti smetnje ili greške ako postoje i moći ćete na vreme da ih ispravite.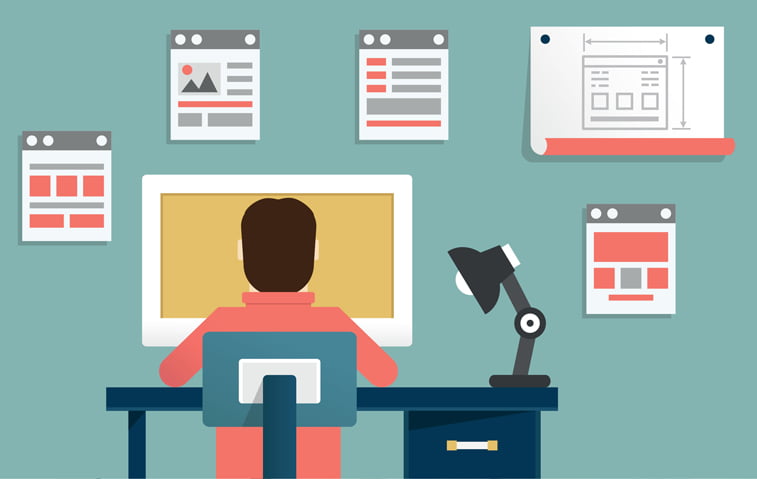 Šta još može da se desi?
UX dizajner Džon Kreb (Jon Crabb) sastavio je spisak od 100 problema za UX dizajn, koji kroz svakodnevne situacije upućuju na primere na kojima se može vežbati, ali i na moguća rešenja, potencijalne rizike i način razmišljanja koji vodi ka pravilnom donošenju odluka prilikom izrade sajta.
Neki od njegovih saveta uključuju sledeće smernice:
snađite se u potpuno nepoznatom gradu
ispunite trenutke dokolice nečim zanimljivim
organizujte stvari u ormanu
vodite računa o svim porukama sa svih platformi na koje treba odgovoriti
znajte šta, gde i kako bacate i kako da reciklirate
niko ne voli čekanje u redu, učinite nešto povodom toga
koristite štopericu
locirajte svoj zaključani bicikl i budite informisani ukoliko bude pomeren
sprečite krađu svog automobila dok ste vi na odmoru
učinite lakšim davanje donacija u humanitarne svrhe
Zaključak
Na kraju, još jednom ističemo ogroman značaj zadovoljstva korisnika pri upotrebi sajta i sumiramo savete za kvalitetan veb dizajn:
učinite vebsajt lakim za korišćenje, ali i funkcionalnim
istaknite sve moguće načine interakcije korisnika sa elementima na sajtu
obezbedite povratne informacije i pomoć ukoliko dođe do greške
koristite izraze koji su poznati ciljnoj grupi
izbegavajte obmanjujuće formulare
učinite da korisnički interfejs bude efikasan i na visokom estetskom nivou
I da zaključimo – nemojte se plašiti da probate nešto novo, eksperimentišite, učite na greškama, uvek sve posmatrajte iz ugla korisnika i nećete pogrešiti.
Voleli bismo da čujemo i vaše mišljenje, na koje vi probleme najčešće dolazite prilikom izrade sajta i kako ih rešavate. Pišite nam u komentarima ispod teksta ili na našoj Fejzbuk stranici.
---
Pogledajte i slične tekstove: