Programiranje je jedna od profesija savremenog, digitalnog doba, i sve više ljudi uči raznovrsne programske jezike. Jedan od njih je i PHP.
Ukoliko mislite da to nije za vas, varate se. Učenje programskih jezika donekle se razlikuje od učenja bilo koje druge profesije, ali svakako na duge staze nosi višestruke dobrobiti. Ovde vam nudimo neke smernice kako da postanete PHP programer.
Šta je PHP?
PHP, skraćeno od nekadašnjeg Personal home page tool, a danas od Hypertext preprocessor, već godinama je u svetu jedan od najpopularnijih programskih jezika, a takođe je i jedan od vodećih koji se koriste u reklamiranju, dizajnu, startapovima i malim preduzećima. Neki od najposećenijih sajtova na svetu, poput Fejzbuka, Jahua, Vikipedije, Vordpresa, rađeni su upravo u PHP-u, te dokazuju koliko je danas bitno poznavati ovaj programski jezik.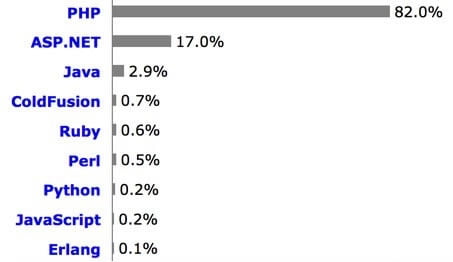 PHP je programski jezik predviđen za izradu dinamičnih veb stranica, mada se može koristiti i za izradu grafičkih interfejsa i konzolnih aplikacija i odvija se na serveru a ne na računaru korisnika. Premda se pripisuje da je začet 1995. godine, jezik iz te godine ipak nema mnogo sličnosti s današnjim PHP-om. Od zvaničnog objavljivanja 1997. godine do danas doživeo je mnogo transformacija. Iako je poslednja objavljena verzija 7.0, ona još nije zaživela jer je ne podržavaju svi serveri, pa se još uvek koristi v5.9. Postao je popularan zbog jednostavnosti upotrebe i zahvaljujući tome što koristi jednostavnu sintaksu programskog jezika C. Zajednica koja trenutno uređuje ovaj jezik broji na hiljade programera širom sveta.
Prednost PHP-a je u tome što ga odlikuje brzina programiranja, a mana što je podložan bezbednosnim ranjivostima. Podržava ga većina operativnih sistema, a ukoliko ga operativni sistem koji koristite nema instaliranog, moguće je besplatno ga preuzeti s interneta. Dobro je i to što podržava mnogo baza podataka, među kojima su i MySQL, mSQL, PostgreSQL, SQLite, Sybase, ODBC, Oracle, Microsoft SQL, DB++ i dBase.
Potrebno obrazovanje
U zavisnosti od toga u kojoj industriji želite da radite, potrebni su vam različiti nivoi obrazovanja.
Za rad u firmi uglavnom je potrebno fakultetsko obrazovanje u odgovarajućoj oblasti, ali praksa sve češće pokazuje da je to sve manje bitno. Fakultetski obrazovani programeri najčešće dolaze iz oblasti informacionih ili računarskih tehnologija, softverskog inženjeringa ili sličnih nauka, dok je za samozapošljavanje i slobodnjački rad najpotrebnije samostalno učenje. Nekada je diploma najmanje bitna, jer je prilikom zapošljavanja u firmi potrebnije iskustvo kojim možete dokazati nivo znanja ili prethodne poslovne angažmane, a svaka dodatna veština ili poznavanje drugih oblasti može vam samo pomoći.
Bitno je uvek biti u toku s najnovijim dešavanjima, te vam čitanje knjiga neće puno pomoći. Materijal od pre nekoliko godina, poput knjiga iz 2013. godine, za PHP v5.x, još uvek je koristan, ali je bitno nadograđivati to znanje i novijim verzijama. Uzimajući u obzir brzinu i učestalost promena vezanih za programiranje, internet, računarske tehnologije i virtuelnu zajednicu uopšte, najbolji izvor svežih informacija jeste sam internet jer izdavačka industrija svakako kaska za njim. Pronađite pouzdane blogove i aktivne forume, namenske sajtove o PHP-u, pratite diskusije, komentarišite i razmenjujte informacije s drugima, jer je to sigurnan način da ostanete u toku i doprinesete široj zajednici. Mitapovi (meet ups) su korisni za upoznavanje s drugim programerima i razmenu iskustava u vašoj oblasti – ukoliko je mitap prošao, uvek se možete povezati s njima na drugi način i pripremiti se za sledeću godinu.
Još jedan dobar način učenja pomoću kojeg i ostajete u toku sa novostima jesu i masovni kursevi za slobodno obrazovanje (Mass open online course – MOOC). Gotovo svi vodeći svetski univerziteti pokrenuli su sopstvene platforme i nude mnoštvo kurseva, a na nekima od njih moguće je zaraditi čak i diplome i potvrde o učešću.
Odakle krenuti?
Linux / Windows / Mac
Operativni sistemi koji su u upotrebi znatno se razlikuju jedan od drugog, te je bitno da se odlučite i u kom ćete raditi programiranje. Najpametnije bi bilo instalirati virtuelnu mašinu i u njoj koristiti Linux, jer je njegovo radno okruženje najsličnije onom koje se koristi u PHP-u, a poznavanje bar osnova rada u ostalim platformama svakako će vam biti plus.
CMS i framework
PHP je jezik koji se koristi na mnoštvu platformi, te nije lako odlučiti se za jednu ili dve za koje se specijalizovati. Da biste videli za kojim je platformama najveća potražnja, dobra ideja je uvek pretraga onlajn portala za traženje posla. Na taj način steći ćete uvid u to šta se traži na tržištu, ali i kakva vam je konkurencija.
Uvek obratite pažnju i na popularnost plaforme: što je platforma popularnija, znači da je lakša za upotrebu, ali i da je konkurencija veća. S druge strane, nepopularnije platforme znače da su teže za učenje, ali i da vam je konkurencija znatno manja.
Najpopularnije platforme za upravljanje sadržajem (eng. content management system, CMS) jesu WordPress, Drupal, Joomla; a od FW tu su Laravel, Symfony, Zend, YII, Silex, Slim, CakePHP, auraphp, Phalcon. Konačna odluka uvek je na vama jer svaki izbor predstavlja mač s dve oštrice, ali bitno je odluku doneti mudro kako biste sebi kasnije osigurali budućnost u programiranju.
A kad počnete da radite…
…ne očekujte da ćete za jedan vikend ili nedelju dana naučiti programiranje u PHP-u. Potrebno je uložiti mnogo više vremena, nekad čak i mesece, ali znajte da to nije proces koji možete jasno podeliti na faze i reći "danas ću programirati, sutra učiti o bazama podataka, prekosutra programirati, pa učiti o CMS-u, pa opet programirati". Pre će se desiti da ćete istovremeno raditi više stvari; kako budete nailazili na nejasnoće i nedoumice rešavaćete ih usput, a to podrazumeva i mnogo učenja naporedo sa samim programiranjem.
Najbolje je početi od malih zadataka. Razmislite o nečemu stvarnom i pokušajte to da predstavite u kȏdu. Prođite kroz osnovne tutorijale i postepeno pređite na nešto naprednije. Pre nego što se upustitie u učenje o naprednim funkcijama morate dobro poznavati osnove. Zbog toga je za snalaženje u PHP-u potrebno prethodno poznavanje HTML-a i CSS-a, s obzirom na to da su međusobno povezani. Neki programi kao obavezni deo kursa o PHP-u obrađuju upravo i CSS i HTML.
Kad god imate priliku, pokušajte da istražite postojeće projekte proučavanjem njihovih kȏdova. Uvek možete pronaći neki projekat, prekopirati ga u svoj računar i menjati kȏd istovremeno prateći do kakvih to izmena dovodi u programu. Najbolje je postepeno proučavati datotetku po datoteku i red po red kako biste shvatili šta koji radi.
Kada tražite projekte koje ćete proučavati, potrudite se da budu što noviji – samo zato što su najverovatnije rađeni u poslednjoj verziji PHP-a. Trebalo bi da poznajete osnove i starijih verzija, ali najvažnije je da se što pre upoznate sa odlikama najnovijih ažuriranja.
Iako je ponekad zamorno uložiti i vreme i energiju u put koji nepoznat leži pred nama, a da unapred ne znamo kuda će nas odvesti, važno je biti dosledan i ne odustati na prvoj prepreci. Učenje programiranja će se svakako u nekom trenutku isplatiti, a što pre počnete da učite – veće su šanse da ćete uspeti u pronalaženju željenog zaposlenja. Iako potrebe tržišta diktiraju drugačije trendove, najbolji savet je uvek da radite ono što vas zanima, ono što vam leži i ono što volite, jer ćete na taj način hobi moći da pretvorite u posao u kome ćete istinski uživati.
---
Zanima vas programiranje? Pročitajte i ovo: