U svetu u kome se tehnologije unapređuju i javljaju skoro svakodnevno, teško je ispratiti sve promene i iznaći konačno, najbolje rešenje. U tome je možda i najveći problem (a i lepota) programiranja – uvek se može unaprediti.
Istraživanje objavljeno na sajtu CSS tricks bavilo se analizom preko 8 miliona indeksiranih strana prikupljenih preko pretrage 30 miliona ključnih reči iz prvih 20 rezultata na pretraživaču Gugl (Google). Podaci su prikupljani jednom u tromesečju i najsvežiji podaci su od 20. maja.
Da li ste znali? Od avgusta 1991. godine – kada je nastao projekat WWW (eng. World wide web project) pa do danas na vebu je pokrenuto preko milijardu sajtova. Tačnije, prema podacima internet sajta koji uživo prati statistiku na vebu, svakog trenutka se povećava broj sajtova koji se trenutno puštaju – i taj broj je u trenutku pisanja ovog članka 1.068.039.229. Napišite nam na našoj Facebook stranici koji broj vam trenutno prikazuje i čeka vas iznenađenje!
S ciljem unapređivanja HTML kôda na svojim projektima, istraživači su postavili sledeća pitanja:
koji je najbolji način za strukturiranje tog jezika?
kako to drugi programeri rade?
---
Prethodna istraživanja
Gugl je 2005. godine objavio statističku analizu uzorka koji je sadržao preko milijardu dokumenata s ciljem davanja odgovora na pitanje: od čega se veb sastoji? Do dana današnjeg, ovo istraživanje, premda ne jedino, najsveobuhvatnije je do sada.
Godine 2008. tzv. veb-indekser (eng. web crawler/spider/ant) MAMA, aplikacija za analiziranje i iskopavanje metapodataka (eng. Metadata analysis and mining application) analizirao je oko 3,5 miliona URL-ova.
Rezultat ova dva ogromna istraživanja bilo je unapređenje jezika HTML5. Iako dosta skromnijeg intenziteta, čini se da i najnovije istraživanje može doprineti usavršavanju pisanja sajtova i imati dalekosežnije posledice po razvoj veba.
---
Pregled prosečne veb stranice 2016.
Na osnovu istraživanja koje je obuhvatilo 8.021.323 veb stranice, odabrano je prvih 20 rezultata/vebsajtova za 30 miliona pretraženih ključnih reči (uklonjeni su duplikati) i pokazalo se da njihova prosečna veb stranica u proseku sadrži 26 različitih tipova elemenata.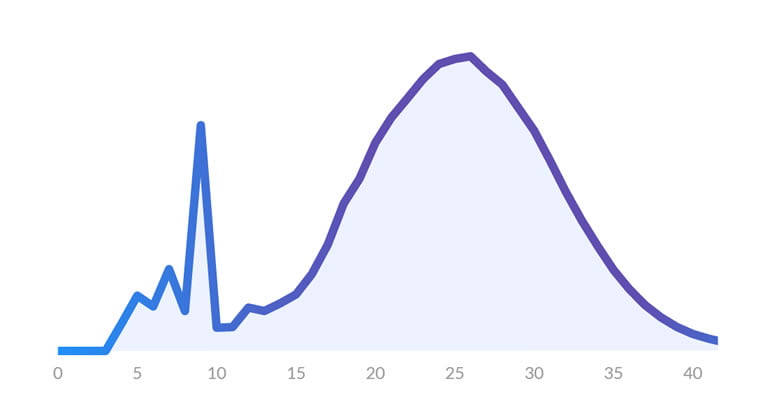 ---
Prosečan broj HTML elemenata
Ti elementi su sledeći, izlistani prema učestalosti: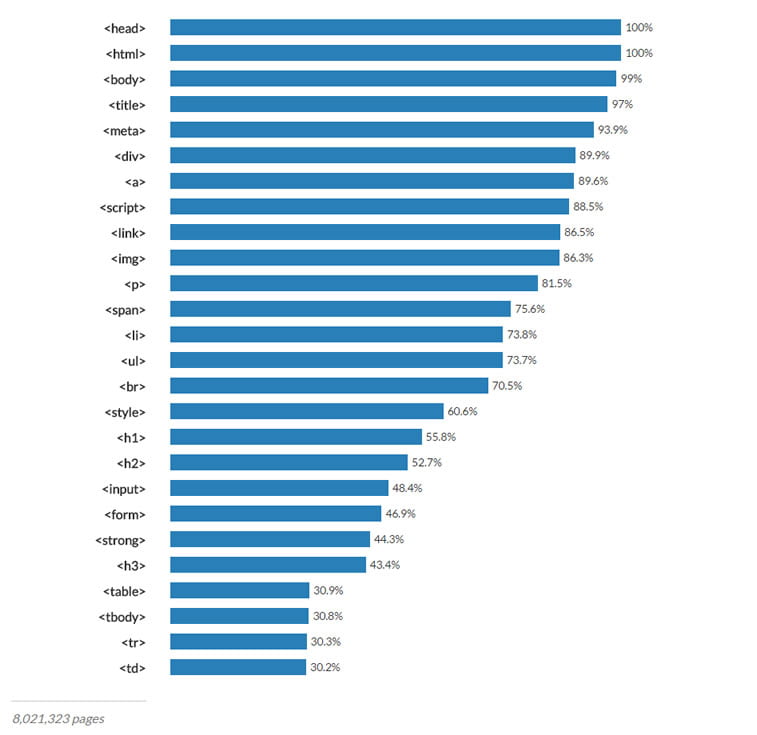 Elementi <head> i <html> korišćeni su na svim sajtovima, što nije iznenadilo istraživače. Zanimljiv podatak je to da je element <body< bio zastupljen na 99% sajtova – što je navelo na zaključak da je možda u pitanju sajt s nekom velikom greškom.
---
Tip dokumenta
Skoro dvotrećinska većina sajtova analiziranih u istraživanju deklariše tip dokumenta HTML5: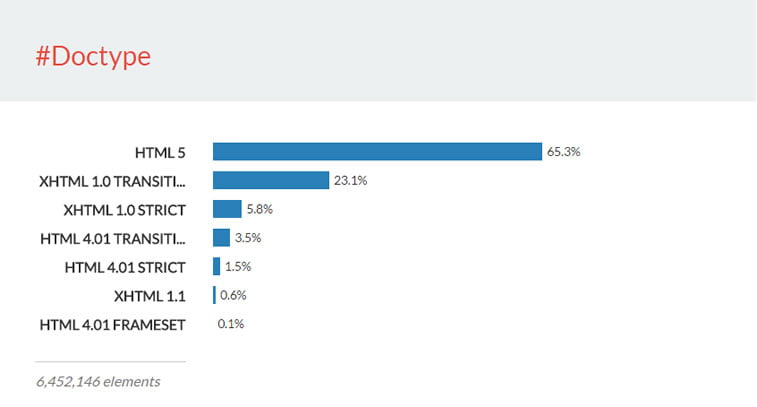 ---
Osnovni elementi i metapodaci
Uzevši u obzir sve elemente koji veb pregledaču ili pretraživaču kazuju o sajtu i njegovom stilizovanju, skoro 175 miliona elemenata sadrži sledeće osnovne elemente i metapodatke: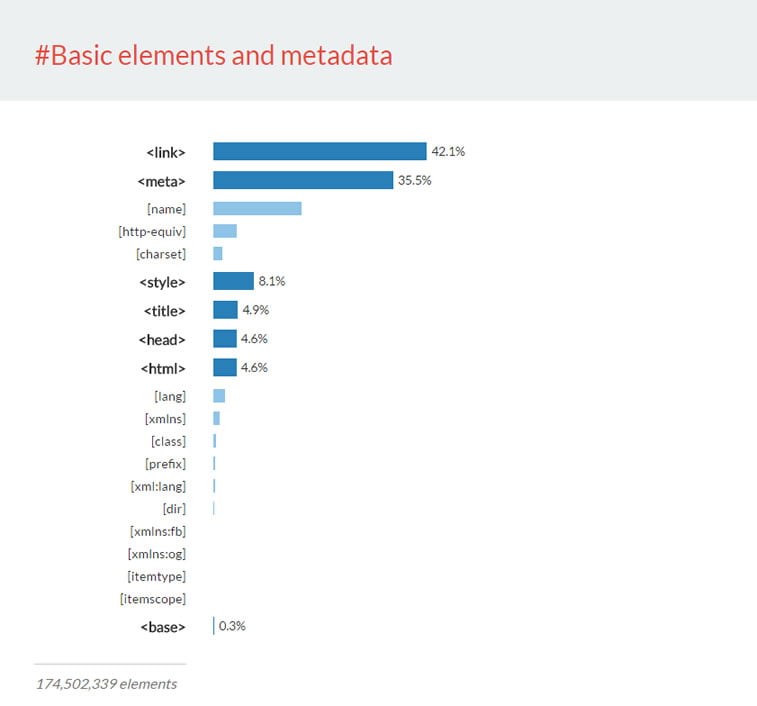 ---
Sekcije u sadržaju
Podela preko 105 miliona elemenata prema sadržinskim sekcijama izgleda ovako: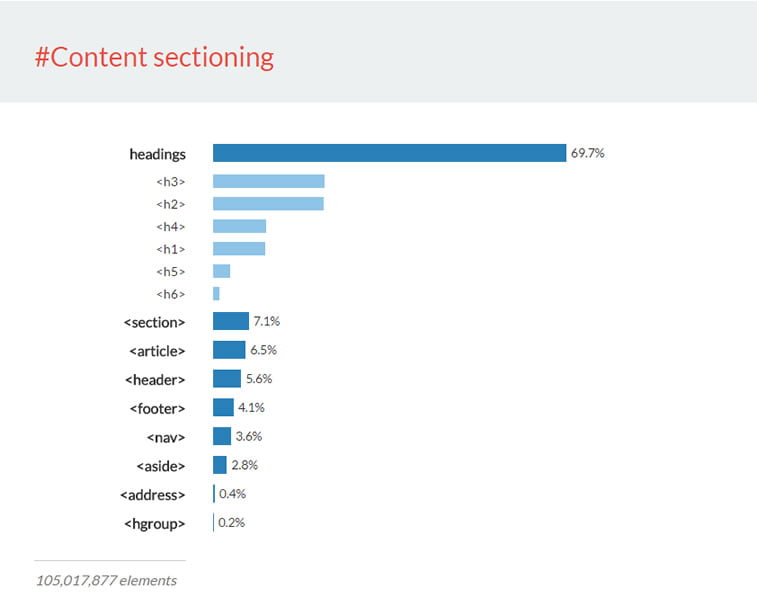 Naslovi zauzimaju 69,7% sekcija u sadržaju. Najpopularniji element od svih podnaslova je <h3>.
---
Tekstualni sadržaj
Od preko milijardu elemenata tekstualnog sadržaja, 55,8% su elementi <div>, 25,6% su spiskovi <li>, a 12,1% pasus <p>: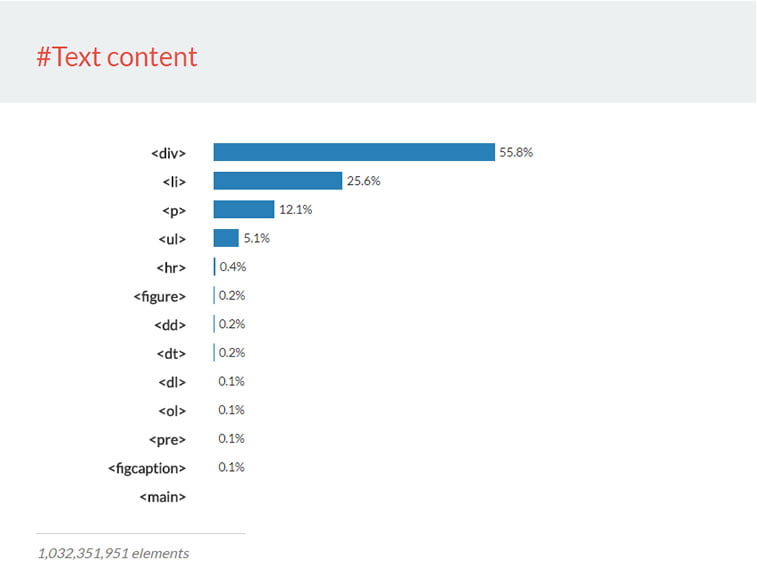 ---
Šta nam ovo govori i kakva se budućnost smeši vebu?
S obzirom na to da se veb eksponencijalno širi i da to utiče na veb programere, dizajnere i pisce sadržaja, sasvim je prirodno interesovanje za ovakve podatke i ne čudi što su upravo najbrojnije oznake elemenata otkrivene u istraživanju upravo vezane za pisani sadržaj.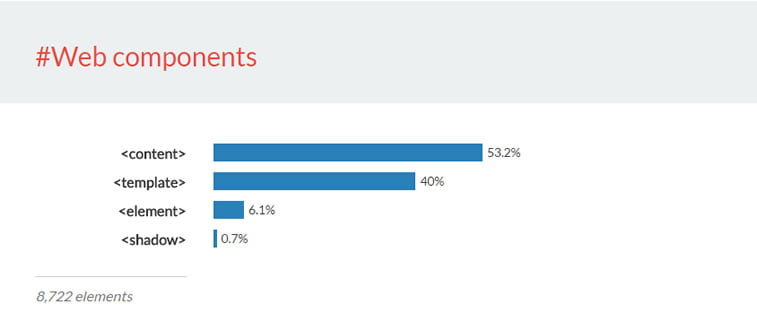 Premda smo svedoci promena utiču na naše svakodnevno poslovanje, svakako je zanimljivo uporediti ove podatke s istraživanjem objavljenim pre 10 godina i videti kako se izgled veba promenio. Uostalom, ovi podaci mogu poslužiti i kao referentna tačka za neko buduće istraživanje veba.
---
Izvor: CSS tricks
---
Sviđa ti se ovaj članak? Pročitaj još: