Iako postoje brojne platforme za upravljanje sadržajem na internetu, WordPress je definitivno jedna od popularnijih i omiljenijih, i to s razlogom.
Čak 26,4% svih sajtova na internetu ga koristi (izvor: w3techs) zbog brojnih pogodnosti koje pruža – besplatan je, lako se održava, intuitivan je, služi za razne projekte i lako se koristi. Blog, forum, portfolio radova – može sve!
Ukoliko se tek upoznajete sa ovom platformom i niste sigurni odakle da počnete, pripremili smo nekoliko saveta koji vam mogu pomoći da naučite da koristite Vordpres za 10 dana.
---
Kako da naučite da radite na CMS platformi WordPress:
1. dan: istražite što više o platformi WordPress
Obrazovanje je stub svakog posla (ne nužno formalno, naravno). Da biste radili na ovoj platformi, morate imati solidno znanje o tome čemu služi, kako funkcioniše, kako izgleda i gde šta stoji. Zbog toga bi najbolje bilo krenuti od Vikipedije ili samog zvaničnog sajta WordPress.org. Ukoliko se ne služite engleskim jezikom dovoljno dobro, obradovaće vas informacija da je Vordpres lokalizovan za srpski jezik, odnosno da je preveden i prilagođen govornicima sa ovog govornog područja. Saznajte više o posrbljavanju i latinizaciji Vordpresa na njihovom zvaničnom sajtu sr.wordpress.org.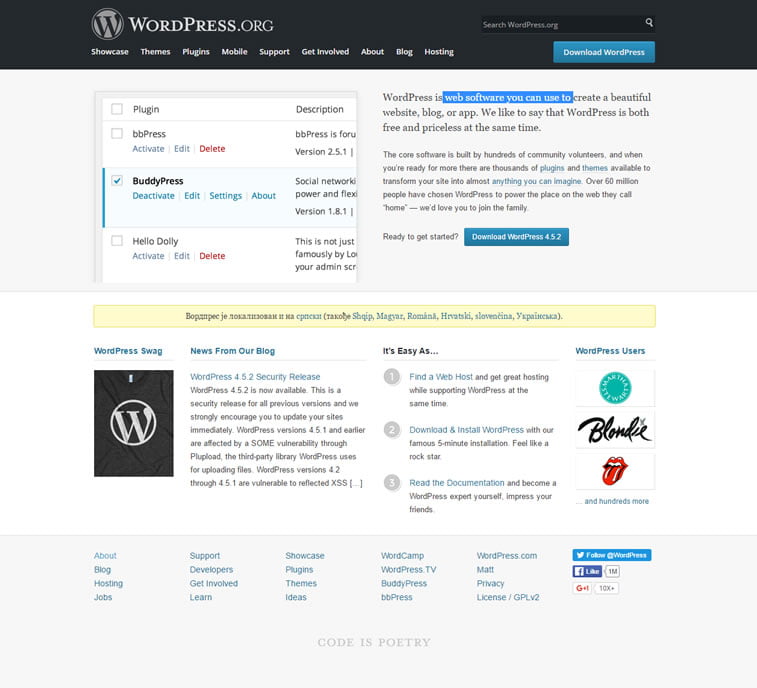 Premda je ovaj prvi korak i najznačajniji, najverovatnije neće trajati samo jedan dan (biće to previše novih informacija odjednom). Zato bi najbolje bilo da odvojite dovoljno vremena ako ste potpuni početnik u veb dizajnu i programiranju. Ako niste (ako imate bar osnovno znanje o HTML-u i CSS-u), onda ćete ove informacije saznati mnogo brže (mada ni to ne mora biti slučaj).
Dakle, prvi korak: učenje. Setite se da vam Gugl može dati odgovore na mnoga pitanja, te se ne ustručavajte da ga pitate za bilo šta što vas zanima. U dnu ovog teksta takođe možete pronaći dosta korisnih informacija i saveta o platformi Vordpres (skrolni do dole).
2. dan: definišite svrhu sajta
Naredni korak uticaće na tok čitavog procesa i prilično je jednostavan: odredite čemu će služiti sajt koji pravite. Da li vam treba blog? Portfolio radova (fotografije, aplikacije, itd.)? Onlajn prodavnica? Da li treba da ima dodatke za onlajn kupovinu, poput WooCommerce? Kako želite da vam izgledaju objave? Da li želite integraciju sa društvenim mrežama? Da li želite da se sajt dobro vidi na mobilnim uređajima? Naravno da želite, ali se nemojte mučiti da to sve odjednom naučite jer za sada samo treba imati u vidu i te opcije i znati šta vama konkretno treba.
3. dan: odaberite naziv domena
Pre nego što se dalje upustimo u vode Vordpresa, treba odabrati naziv domena na kome će biti smešten vaš sajt. Postoji velika verovatnoća da je vaš domen već zauzet, ali ko zna – možda i nije. Dostupnost domena možete proveriti na sajtu Domainr koji vam daje tu mogućnost. U ovom koraku morate biti taktični i veoma precizni: odabir imena brenda, pa i ključnih reči, posle vam mogu biti od pomoći u rangiranju sajta. Zapamtite, domen mora biti upečatljiv i lako upamtljiv.
4. dan: odaberite hosting provajdera
Svi sajtovi na internetu smešteni su na nekom serveru, pa će tako biti i vaš. Zbog toga je potrebno pronaći hosting. Dobar hosting provajder treba da bude pouzdan, na dobrom glasu i da nema istoriju problema – ako server nije dostupan duže vreme, to može napraviti probleme i u samoj optimizaciji sajta. Lokalni serveri su dobro rešenje za mala i srednja preduzeća, tako da se raspitajte koje su vam opcije dostupne. Ukoliko želite da se usredsredite na strano tržište, bolje bi bilo potražiti strane servere. Ipak, za početak će vam biti dovoljan i besplatan hosting koji nudi sam sajt WordPress.org, pa treba uzeti u obzir i tu mogućnost.
5. dan: odaberite temu
Izgled sajta nekad je najbolje poveriti temi. Vordpres ima čitav sijaset i besplatnih i plaćenih tema, a na vama je samo da se odlučite za onu koja je u skladu sa vašim potrebama. Ako želite da predstavite svoj portfolio ili onlajn prodavnicu, mi vam možemo preporučiti odličnu novu temu Minelight.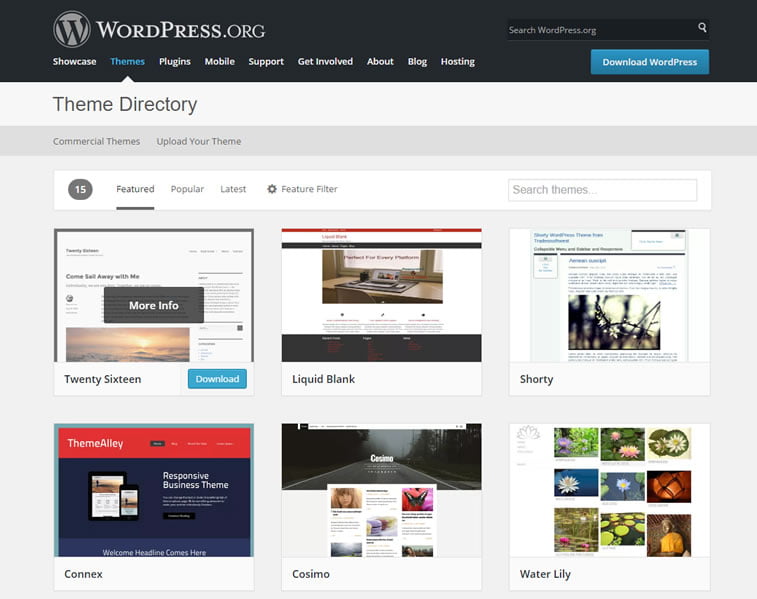 6. dan: instalirajte WordPress
Kada odaberete temu, sledeći korak je instalacija same platforme. Navedeni sled koraka veoma je važan jer odabir hosting provajdera može uticati na samu instalaciju. Mnogi provajderi će vam poslati uputstvo za instalaciju – najčešće se to radi pomoću čarobnjaka za instalaciju koji vas u nekoliko klikova upućuje i usmerava ka cilju. Usput ćete smestiti svoj sajt u korenski direktorijum (da bi korisnici mogli da vas lako pronađu), inspisati ime sajta i opis (koji se posle može promeniti), zatim ćete napraviti administratorski nalog, lozinke i podesiti kontrolnu tablu, itd.
7. dan: napišite prvu objavu
Najteže ste prošli. Sada možete preći na malo lakše stvari. Iz kontrolne table možete upravljati sadržajem koji će se pojavljivati na sveže napravljenom sajtu. Ne treba da odmah klikćete na svako dugme koje vidite – strpite se i naučite da se snalazite redom i sistematično.
Za početak možete probati da napišete prvu blog objavu. Već je rečeno da je Vordpres veoma intuitivan te će vas njegova kontrolna tabla podsetiti na programe za obradu teksta, poput Vorda ili Guglovih dokumenata. U levom meniju se nalazi opcija Posts – mišem pređite preko nje i pojaviće se meni u kome ima dugme 'Add New' – kliknite na njega i pojaviće se polja za unos teksta. U njima treba upisati naslov, sam tekst (i slike ili video snimke), smestiti ga u kategoriju, dodati oznake i ključne reči za lakšu pretragu. Kada sve ovo sredite, pritisnite dugme 'Publish'.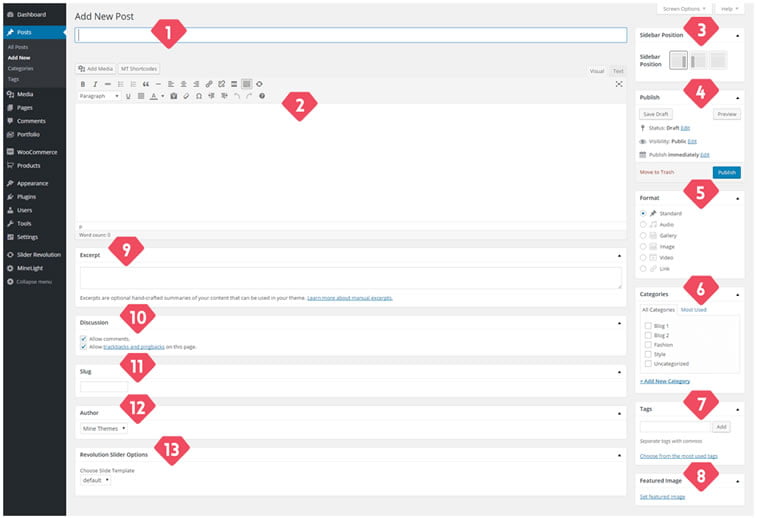 8. dan: napravite stranicu
Druga uobičajena stvar na sajtu, pored objava na blogu, jesu strane. Za razliku od članaka na blogu kojima se zna datum objave i autor, stranice su uglavnom statične i na njima se sadržaj ređe menja – bez podataka o piscu ili raznih drugih funkcionalnosti. Za početak, vama je potrebna stranica 'O meni' ili 'O autoru' ili 'Kontakt'. Što je najlepše, pravljenje stranice biće isto tako jednostavno kao pravljenje članka – samo pređite preko opcije 'Pages' u levom meniju na kontrolnoj tabli i kada se pojavi meni pritisnite 'Add New'. Dodajte naslov, sadržaj i objavite stranicu kada budete sigurni da je sve sređeno.
9. dan: instalirajte dodatke
Prednost Vordpresa je to što se neke opcije mogu upravljati pomoću dodataka (eng. plugin) koji ne moraju, a mogu, biti kompatibilni sa određenim temama. Tako npr. možete koristiti opciju komentarisanja preko dodatka Disqus, ili ako želite da optimizujete sajt – koristite npr. dodatak All-in-one-SEO. U zavisnosti od potreba, možete odabrati one koje vam najviše odgovaraju, i to na njihovom zvaničnom sajtu: WordPress Plugins (dostupan je i na srpskom).
10. dan: sredite sajt i nastavite da radite na njemu
Što više vremena bude prolazilo, to ćete više saznavati – kako slučajnim otkrivanjem i učenjem, tako i iskustvom u radu na platformi Vordpres. Verujemo da će ovo biti dovoljno za početak, ali treba imati na umu da se ne može sve naučiti za jedan dan i da ćete najverovatnije svakodnevno razvijati svoje veštine.
Puno sreće u radu!
---
Sviđa ti se ovaj članak? Pročitaj još: