What happens when people search for your company on Google and they cannot find it? You miss customers. There are numerous opportunities you can lose if you do not pay enough attention to local SEO. Having a Google My Business profile can help you with that.
---
What is Google My Business?
My Business is a service Google offers to companies which want to be found in the offline world. It developed from Google Places and is now connected with your Google+ account/profile and Google Maps. It was launched in 2012 under the name of Google+ Local, which was renamed in 2014 into what we know today as Google My Business.
Google My Business is basically a listing of local companies which can be easily found in the real world using city name, physical address, and ZIP code or even geographic coordinates. There you can provide them with data about your website, area of work, enlist working hours (including holidays!), etc. Additionally, your happy customers can even leave a review on your business profile and help your future customers in making the decision of hiring you or buying your products.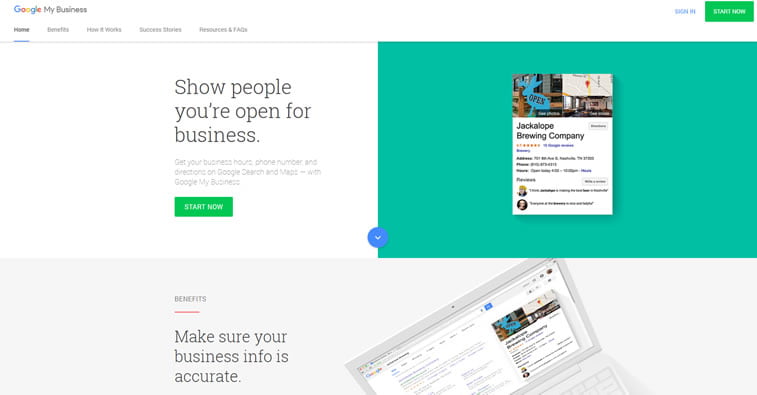 In order to attain higher rankings in local search, you can combine AdWords to announce your company's existence and get more neighbors visit you.
---
Benefits of Google My Business
The benefits of My Business listing are numerous:
Customers will be able to find you directly via Google Search and Maps
When you connect your site with My Business profile, your customers can learn more about your business
Searchers will know what your website is
They learn what your working hours are
They can contact you directly via website or email
They can call you when you are at the office
They can see your company's pictures and see what's so unique about you
No matter if they loved your service (or hated it, but we hope they did not), they can leave a public review of your company which will do the talking for you
Only until recently, searchers are able to see a virtual tour of your business – of course, if you include a 360-degree photo of your office
---
How to Create your Company's My Business?
All you need to do in order to register your company on My Business is to visit Google's web page and then click on SIGN UP.
To start your account, you need to fill in all the fields, including business name, country/region, street address, city, state, ZIP code, main business phone, the category of your business, and website URL.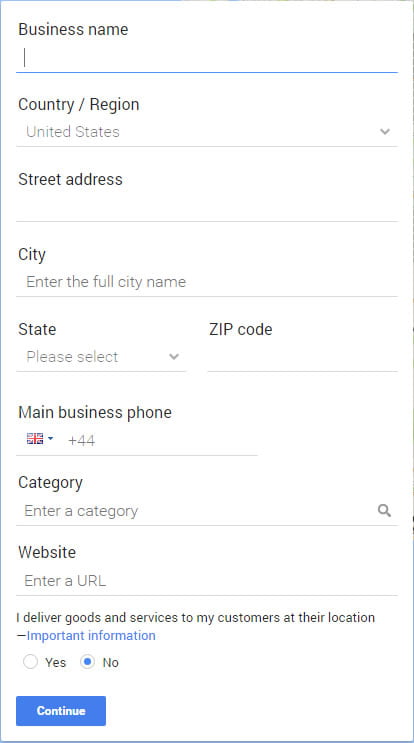 After you have checked the "I deliver goods and services to my customers at their location" field (if it applies to your business), the form will take you to a verification field where you confirm your address and state that you are "authorized to manage this business and [you] agree to the terms of service."
When you click on the CONTINUE button, you will be able to edit your information in your business' Dashboard. Mind you that your account needs to be verified physically, which means that Google will send you a letter with a code which confirms that this is your address. Depending on the location of your business, it may take some time for the letter to arrive (in USA – about a week, in Europe – approximately three to four weeks, in Asia and Australia – two to three weeks).
If you do not submit the code from the letter during the following 30 days, your profile will not be deleted – just prone to misuse. However, when you do verify your account, you will be able to add photos and enable reviews which can make your company look more reliable. Make sure to submit the right address and check your mailbox regularly.
But it does not end here. In order to help Google understand what's what on your website and get the right data, you should add Schema.org structured data and optimize it as best as you can. If you are not sure if your website is optimized for Google, you can ask us to check it for you. We would love to help!
---
And lastly, remember that having a well-maintained My Business profile can bring you a lot of benefits – but even more to your customers. Only when you see your company through their eyes will you understand how important this information is. Keep your information updated and enjoy!
---
Like this article? Read more about SEO: