Many people think SEO and content marketing belong to two separate industries. But they do not, and they should not be separated. Search Engine Land columnist Trond Lyngbø suggests they overlap, and one would be incomplete without the other.
Gone are the days when black-hat SEO gave results (and thank G for that), but what remains are keywords and links. Rules are different for link building today and the odds are that you will probably not be able to obtain a link as easy as you would have in 2012. This is where content marketing comes in.
---
Start Optimizing Content Early
When starting a web project and the time for content writing comes, Lyngbø's recommendation is that these two teams start working together early on in the project.
"SEO isn't about keywords or phrases alone and effective content marketing is more than just crafting articles and other forms of online content around high-volume keywords that will drive a lot of traffic.

"Keyword analysis should be used as a way to study and better understand your customers. The goal should be to know them — their needs and preferences, their problems and worries — on an individual level," he says for Search Engine Land.
Instead of building content around keywords you want your site or blog to rank for, you should go the other way around. If you have a product (and a set of keywords you like), try walking in your audience/target group's shoes and see what they might be searching for.
Lyngbø also suggests discovering the following:
"What are prospective buyers really looking for?
"What problems do they want you to solve for them?
"What are they revealing about their situation or needs?"
Online tools, such as Google AdWords' Keyword Planner, can help you with finding search phrases and alternative keyword clouds which may contribute to answering intent behind their questions in context and engage your readers.
---
Content Develops Relationships
Many brands and new Internet website owners fall into a trap and say everything they know about a subject to their potential customers. In fact, Lyngbø believes that they talk at their visitor, instead of conversing with them.
Page visitors need to know you empathize with them so you need to show them that you know how they feel about their problems. Which is why you are there to communicate with them and offer a solution.
An SEO expert can optimize your page, but what is written on it is the only thing that can draw the attention of the reader, build confidence and encourage action. At this point, your web content writer should not bother making it the best possible optimized piece of writing – for as long as it is down-to-Earth and target-group oriented.
If they understand you, they will come to you and stay.
---
SEO + content marketing = magic
Neil Patel from Kissmetrics once said that
"SEO demands content. Content marketing is content."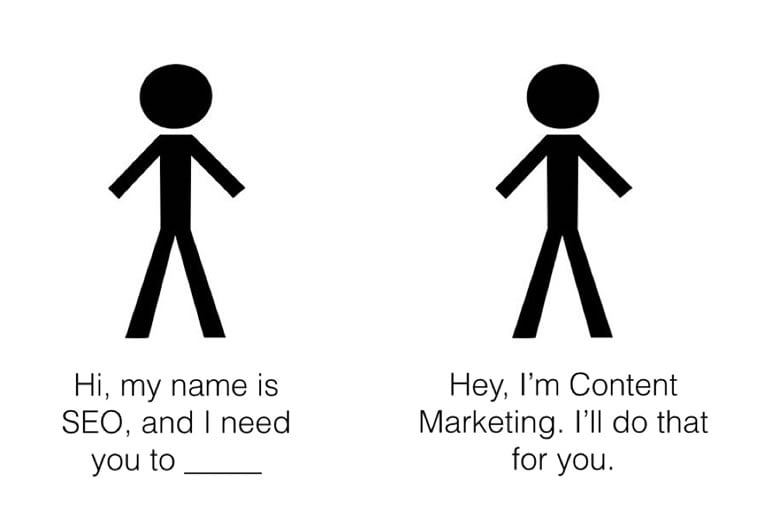 According to him, content – the very substance of content marketing – is the practical application of SEO. When these two things are combined, magic happens. SEO needs keywords – CM provides them in context. SEO needs links – CM makes links. SEO needs constant output – CM provides fresh, constant content. And the story goes on and on…
SEOs need to work with content marketers to create compelling content.
And how do they do that?
---
How to optimize content for keywords
Depending on the CMS you are using, the market offers a wide range of plugins to help you optimize your content. For example, if yours is a WordPress website, you can use Yoast or All in One SEO Pack that make sure all of the below fields are filled in.
1. Headline

Your article or page headline (H1 tag) should contain the keyword you want it to rank for.

2. Title

Your article or page title (the text that shows up in a browser tab and Google search listing) should also write your preferred keyword. You can preview it on, e.g. SEO mofo snippet preview.

3. URL

The slug of your URL (the part of the URL which comes after your domain) should have your keyword, and as close to the beginning as possible.

4. Content

Page or article body, i.e. content should contain your keyword(s), but you need to watch for context. Having it in sub-headlines is a bonus (H2, H3, H4 tags).

5. Meta description

Meta description is a short summary of your article or page that is previewed on SERP (use SEO mofo to preview this as well). Even though some say it should be 156 characters (with spaces) long, there is a tendency to keep meta shorter shorter, for about 120-130 characters, because the new mobile algorithm may cut off the rest.
Additionally, all images need to be optimized for your keywords and their Alt text filled in. Make sure to use minuses (-) instead of spaces.
---
In the end, content marketers need to remember that they are not SEO strictly speaking, and likewise – SEOs are not content marketers, but they complement each other. Only if they work together, as friends and coworkers, just like Mr. Lyngbø said, magic can happen.
---
Like this article about SEO and Content Marketing? Read more: