Knjiški moljci osim što paze na to šta se nalazi među koricama knjiga, često veliku pažnju posvećuju i njihovom izgledu. Stara poslovica kaže da ne sudimo o knjizi po koricama, ali zašto bismo žrtvovali lepotu naše kućne biblioteke manje privlačnim izdanjima kada danas na tržištu ima toliko izbora. Dizajn korica knjiga je ipak ono što nam prvo privuče pažnju, naročito kad se susrećemo sa novim i nepoznatim autorima.
Izdavaštvo ne čine samo lektura, prelom stranica i grafički standardi, već uključuje i kreativan način predstavljanja sadržaja napisanog. Ne kažemo da pravopis i prelom teksta nisu važni, ali kolekcionarima je bitna i primamljivost grafičkog koncepta korice knjige. Posedovaće čak i nekoliko izdanja jedne te iste knjige ukoliko su ona vanredna po svom izgledu.
Nekoliko domaćih izdavačkih kuća istaklo se kako odabirom kvalitetnog štiva, tako i njegovim originalnim dizajnom. Kao što je Ostin Felps (Austin Phelps), američki ministar, jednom izjavio – "Nosi stari kaput i kupi novu knjigu", tako se i mi nadamo da ćemo vas možda podstaći da se neka od ovih knjiga nađe i na vašim policama ili ako se bavite dizajnom – da vas inspiriše.
1. Areté
Na oko nehajnim rukopisom ispisani naslovi i imena autora, propraćeni su ilustracijama koje podsećaju na crtkanja u marginama sveske tokom višesatnih telefoniranja. Za izgled knjiga ovog izdavača pobrinula se Jana Vuković – ilustrator, crtač i grafički dizajner. Na sajtu izdavača Areté stoji opis Janinog umetničkog izraza sumiran u dve rečenice: "Njen rad postao je prepoznatljiv kada je odlučila da se otrese svih suvišnih boja i linija, pa je trenutno nešto sasvim blizu minimalizma. Sasvim blizu, jer minimalizam nije okvir u kome radi, nego rezultat posvećenosti."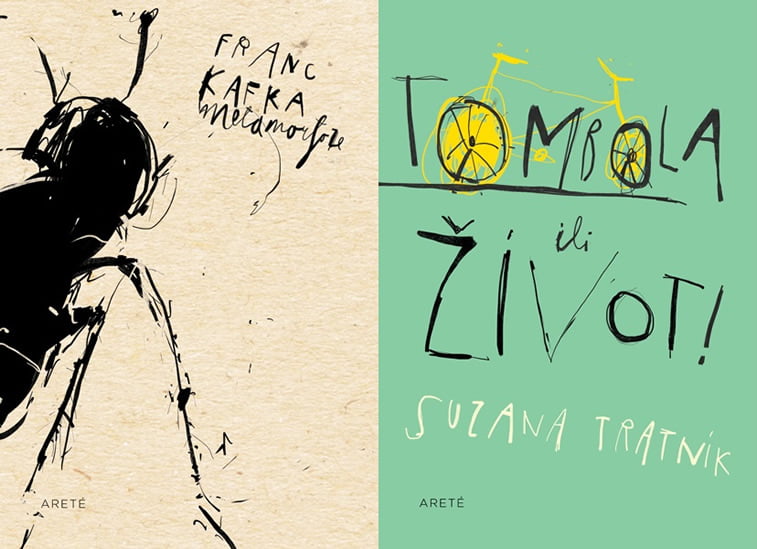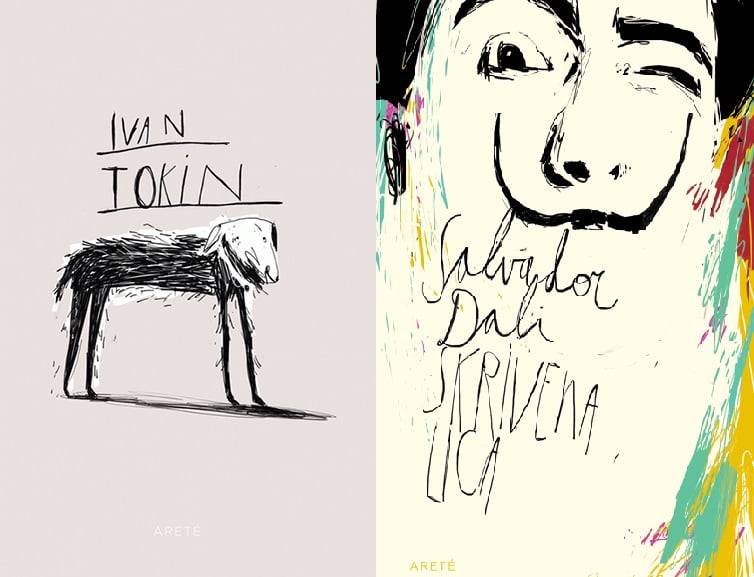 2. Kontrast izdavaštvo
Jelena Lugonja se, takođe, okrenula minimalizmu. Kroz suptilne ilustracije daje naznake o temi knjiga Kontrasta. Crteži ponekad deluju kao da su na korak od apstrakcije, ali samo jedan tanušan detalj dovoljno govori – dve tačke na silueti vrata jasno predstavljaju ugriz Drakule na koricama knjige Brema Stokera. Jelena se bavi grafičkim dizajnom, dok joj ilustracije okupiraju ostatak vremena.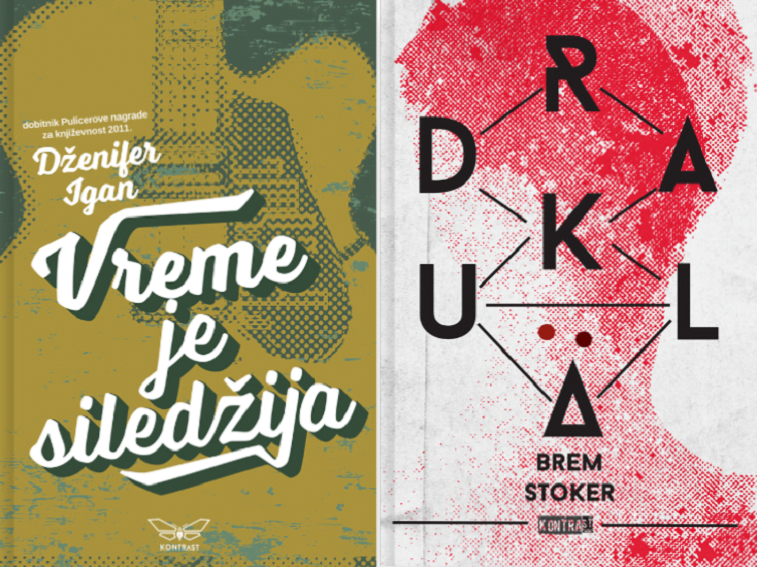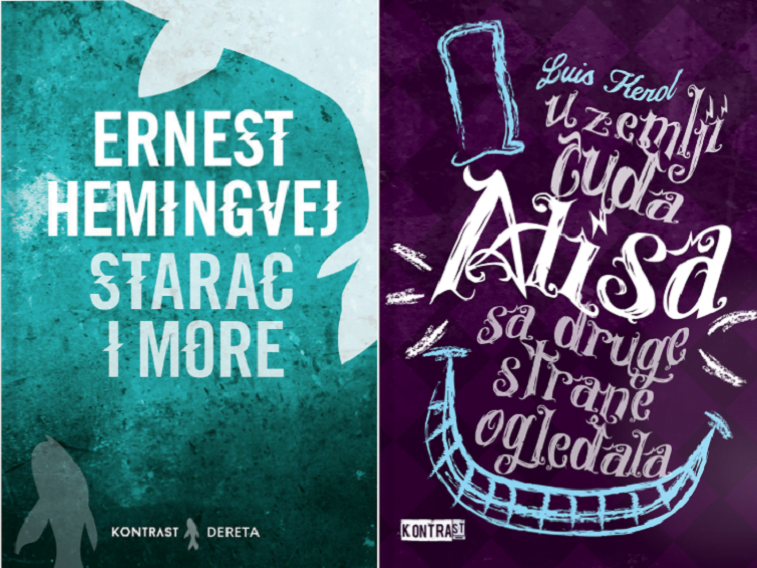 3. Štrik
Izdanja izdavača Štrik sigurno ste primetili po knjižarama. Uz jednu boju koja zauzima celu površinu, tu je i tekst koji "boji" jedan izabran deo, da li suknju devojke iz Sao Paula ili vrata stana gospođe Berg. Jednostavan crtež Dragane Nikolić bez viška linija dočarava radnju romana taman toliko da vam zagolica maštu da poželite da se nađe u vašim rukama.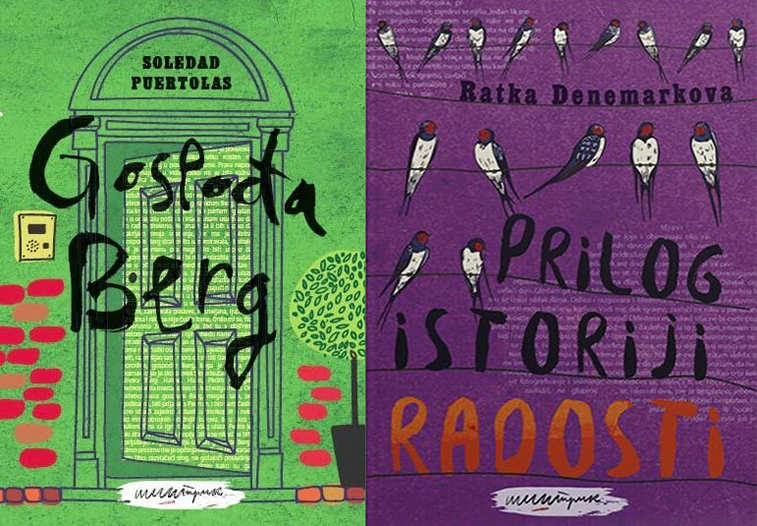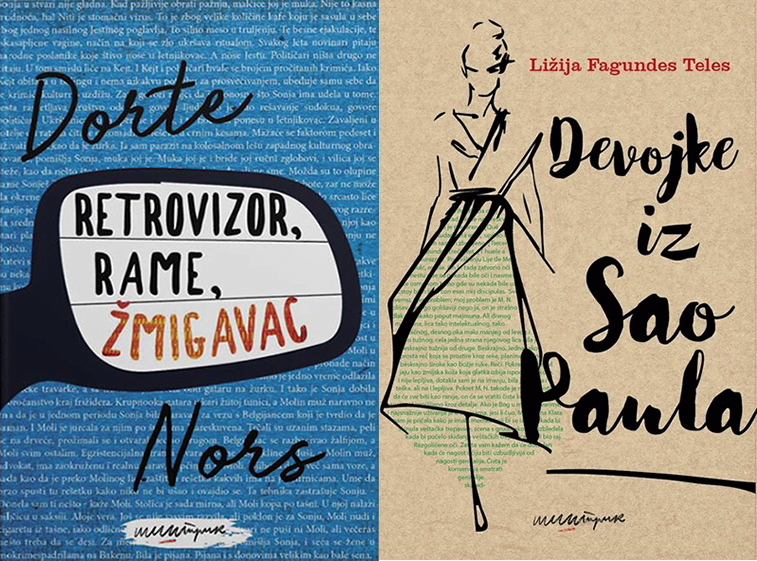 4. Booka
Za Moniku Lang ne važi staro pravilo iz doba školskih klupa – "ne boji izvan linije". Jer kod Monike nema linija. Forme se slobodno razlivaju i formiraju obrise likova. Edicija "Zapadno od sunca" izdavača Booka je prepoznatljiva upravo zbog Monikinog sanjalačkog stila.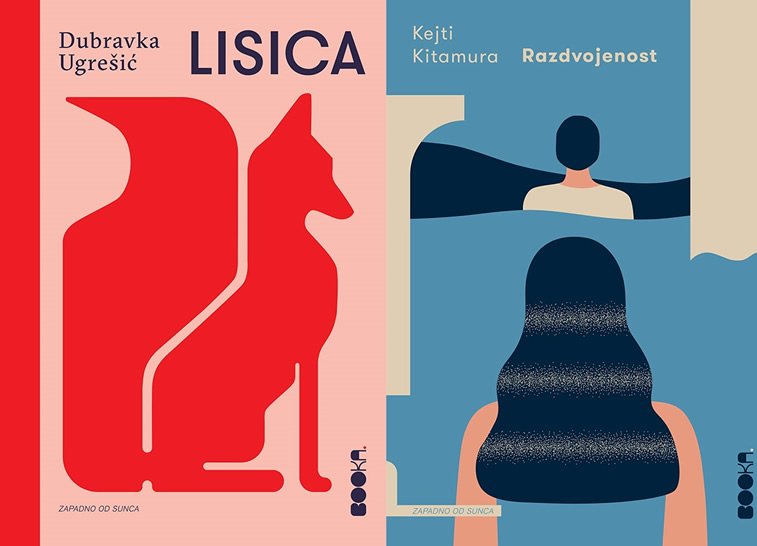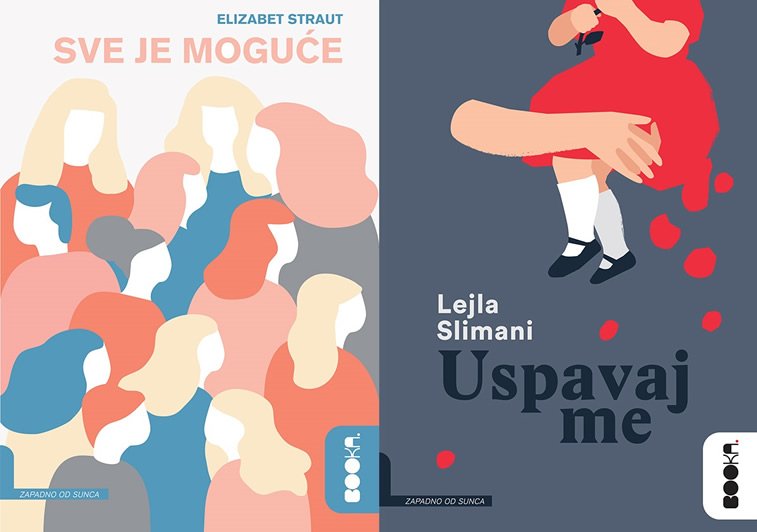 Edicija "Žanr" ovog izdavača takođe privlači pažnju svojim dizajnom. Horor priče su obučene u korice jarkih boja uz malu naznaku u gornjem desnom uglu o tome šta se odvija unutar njih.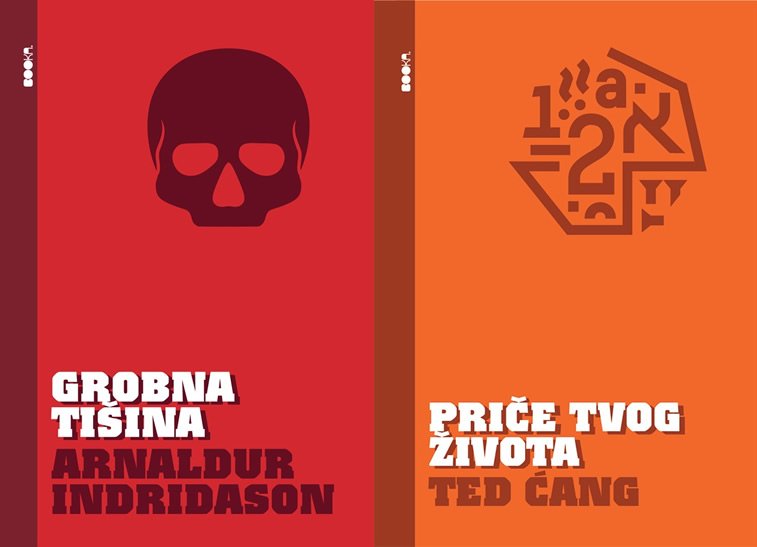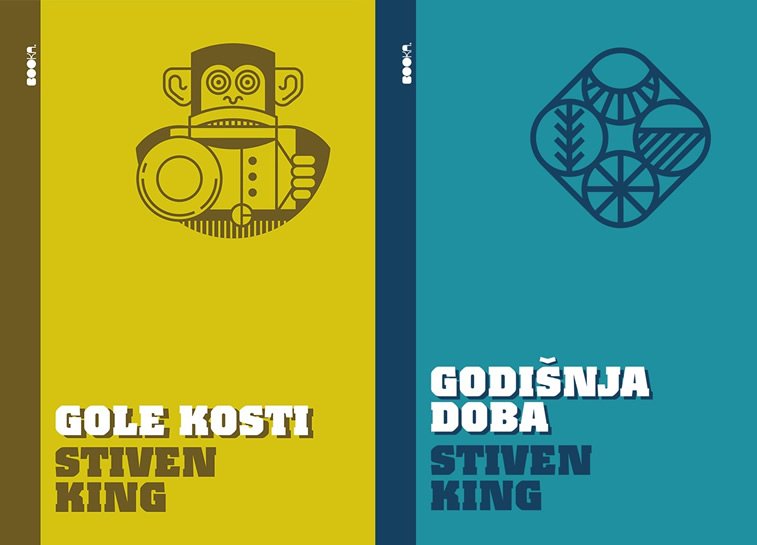 5. Treći trg
Art direktor, Dragana Nikolić, bavi se još i grafičkim dizajnom, ilustracijom i video artom. Kako je Dragana to istakla na sajtu ovog izdavača ona se "bavi lepotom knjige, kako ume da kaže Bole Miloradović, smatra da je dizajn aktivizam, da si zauvek odgovoran za ono što si pripitomio". Dva stila se mogu primetiti na izdanjima Trećeg trga – apstraktan dizajn jarkih boja za koji je zaslužna Dina Radoman i veoma minimalistički pristup izražen kroz crtež Dragane Nikolić u svojoj najjednostavnijoj formi.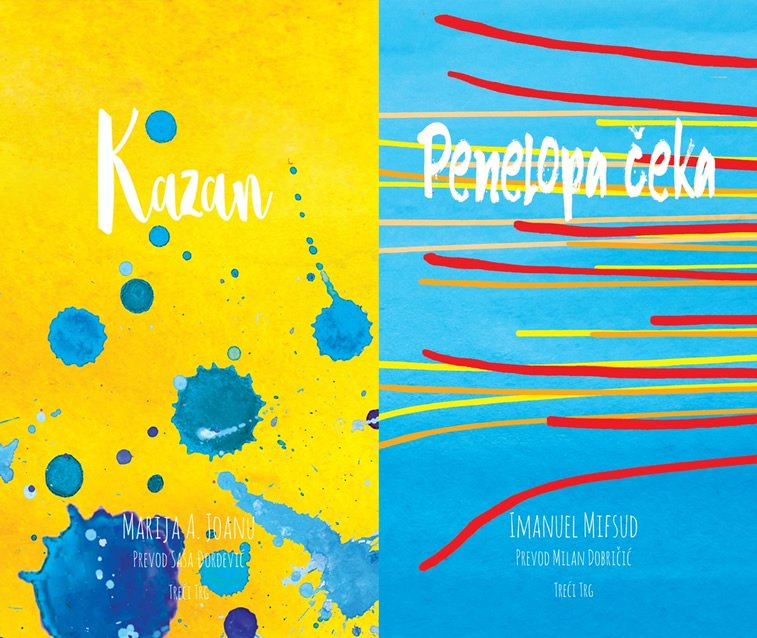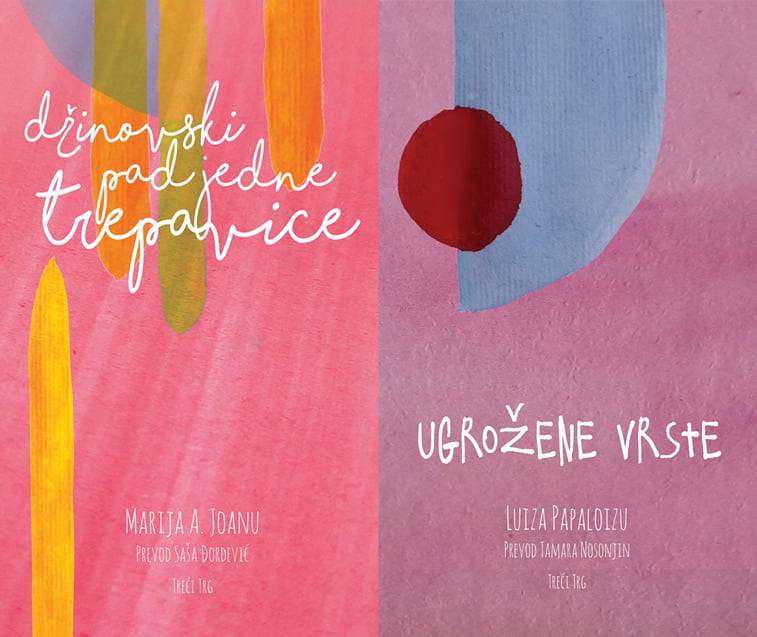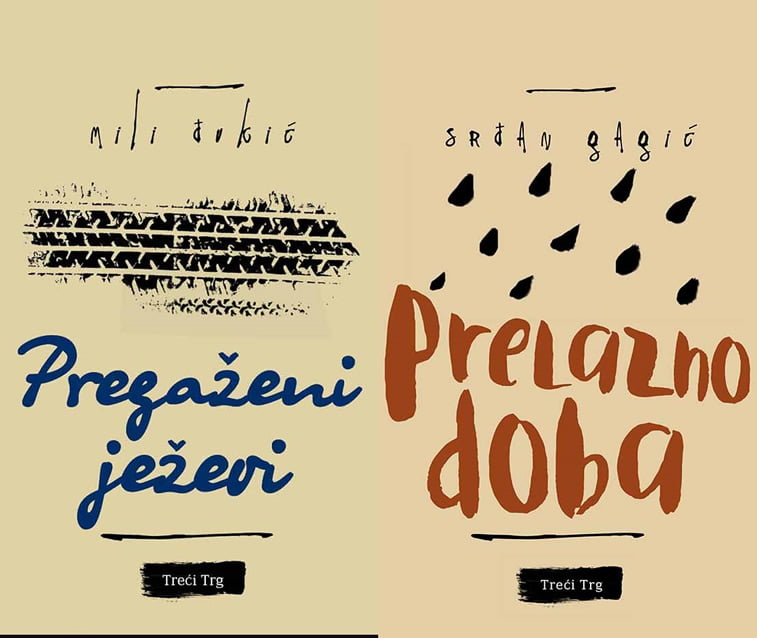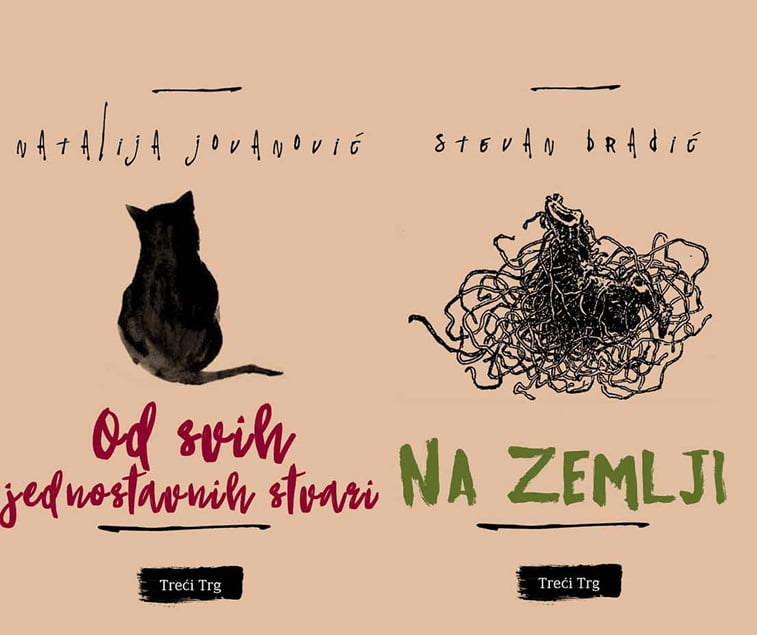 ---
Da li kojim slučajem planirate da izdate knjigu? Sami ili unutar svoje firme? Možemo vam u tome pomoći. PopArt Studio među svojim uslugama nudi i kompletan dizajn knjige, uz prelom i izradu izgleda omota. Naš kreativan tim dizajnera pobrinuće se da prenese srž vašeg teksta i na njegove korice.
---
Možda vam se dopadnu i sledeći tekstovi: