Sve više kompanija shvata potencijal Instagrama kao digitalnog marketinškog prostora. Ova društvena mreža smatra se najbrže rastućim društvenim medijem, a uvođenjem opcije da se lični profil nadogradi u biznis profil, Instagram je postao zanimljiv i profesionalnim korisnicima.
Mreža je brzo napredovala, pa je pored objava fotografija i video snimaka u trajanju do jednog minuta uvedena i opcija koja je vrlo brzo postala najpopularnija mogućnost na ovoj društvenoj mreži – Instagram priče (eng. Instagram Stories).
Inspiracija za priče potekla je od jednog drugog servisa za deljenje slika – Snapchat-a. Osnovna ideja te društvene mreže bila je kratkotrajnost sadržaja i njegovo nestajanje nakon 24 časa. Isti je slučaj i sa Instagram pričama, koje takođe nestaju zauvek nakon 24 časa. Ubrzo je i društvena mreža Facebook pokrenula Facebook Stories po istom principu, ali priče na Instagramu su se pokazale kao mnogo uspešnije i mnogo popularnije.
Osim toga, Instagram pruža i dodatnu mogućnost da se priče arhiviraju. Na taj način mogu se ponovo pogledati u bilo kom trenutku, pa i ponovo podeliti sa pratiocima. Jedno od skorašnjih ažuriranja Instagrama donelo je i opciju da se priče grupišu i prikažu u izdvojenom delu na profilu korisnika, čime se izdvajaju kao istaknut sadržaj (eng. Highlights).
Zašto su Instagram priče moćan marketinški alat
Priče na Instagramu omogućavaju direktnu interakciju sa pratiocima. Uz pomoć njih stvara se neposredna i dvosmerna komunikacija u stvarnom vremenu (eng. real time) između onih koji nude proizvode/usluge i onih koji te usluge traže. Uklanjaju se barijere poput pisanja mejlova, obavljanja telefonskih poziva i slanja upita putem neefikasnih kontakt formi na vebsajtu. Na ovaj način se brže i jednostavnije dolazi do željenih informacija.
Naravno, ovakav oblik neformalnije komunikacije sa (potencijalnim) potrošačima nije idealan za svaki brend i kompaniju.
Kako je Instagram trenutno najzastupljenija mreža među mlađom populacijom, u skladu s tim treba organizovati istraživanje kako bi se došlo do zaključka da li je vašoj firmi, prodavnici, agenciji, restoranu, hotelu, organizaciji neophodno prisustvo na ovoj društvenoj mreži i da li se vaša ciljna grupa tamo nalazi.
Ukoliko je odgovor potvrdan, nakon pravljenja Instagram profila i aktiviranja biznis profila, vreme je da posvetite pažnju izradi strategije za Instagram priče. One pružaju mnogo mogućnosti da se napravi vrlo kreativan poziv na akciju i da se stvori zanimljivo i interaktivno korisničko iskustvo za publiku koja će poželeti više da sazna o brendu, proizvodu ili kampanji, a ne samo da "preleti" preko vaše informacije na sledeću.
Privući pažnju publike danas je pravo umeće i ako to uspete da ostvarite, ljudi će tražiti od vas još sadržaja istog ili barem sličnog kvaliteta. Zato je neophodno da imate razrađen plan u zavisnosti od onoga što želite da postignete a tiče sadržaja na vašem profilu, kao i sponzorisanog sadržaja.
Kako da zainteresujete ljude za ono što nudite? Tu na scenu dolaze Instagram priče i njihove mnogobrojne opcije.
Šta sve možete da postignete Instagram pričama
1. Direktna interakcija sa pratiocima
Lako možete saznati kakvo mišljenje preovladava među vašom publikom tako što ćete "organizovati" glasanje u sklopu vaše priče. Izaberite nalepnicu (eng. Sticker) pod nazivom Anketa (eng. Poll) i personalizujte moguće odgovore umesto unapred predviđenih "Da" i "Ne". Možete se i našaliti sa pratiocima i staviti dva "Da" ili slično. Pustite mašti na volju.
Ukoliko želite ipak malo duže i bolje razrađene odgovore, tu je nalepnica Pitanja (eng. Questions). Postavite željeno pitanje u sklopu priče kako biste dobili odgovore svojih pratioca o vašem novom proizvodu ili bilo čemu drugom. Takođe možete da podelite sve odgovore u vidu novih priča, samo pazite da ne preterate i da ne zamorite ljude postavljajući veliki broj priča. Može se desiti da zbog toga prestanu da vas prate ili blokiraju notifikacije sa vašeg profila (eng. mute).
Dizajnirajte upitnike. Napravite priču koristeći kolone Ovo ili ono (eng. This or That), što će pratioci moći da snime na svoj uređaj. Nakon toga moći će i da podvuku ili zaokruže svoje odgovore, a zatim podele to na svom profilu uz oznaku (eng. tag) koja će ukazivati na to da je reč o vašem šablonu upitnika.
Uskoro lansirate novi proizvod ili novi vebsajt? To je odlična prilika da iskoristite nalepnicu Odbrojavanje (eng. Countdown) kako biste na interaktivni način obavestili sve pratioce o novostima u vašoj firmi.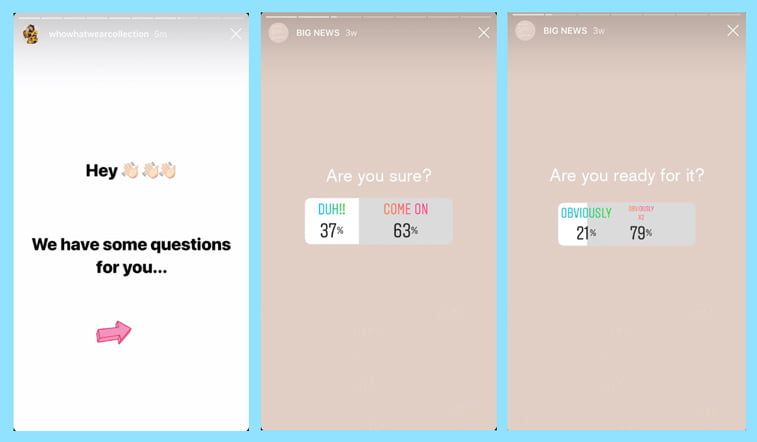 2. Poziv na akciju
Objavili ste novi blog članak? Pozovite svoje pratioce da ga pročitaju uz pomoć opcije Povuci gore (eng. Swipe up). Na taj način će vaši pratioci moći da prate link i jednostavno stignu do vašeg članka tako što će povući prstom na gore u vašoj Instagram priči. Jedina negativna strana ove opcije jeste to što je moguća samo za profile koji imaju više od 10.000 pratilaca. Ipak, ako niste među njima, ne očajavajte. I dalje možete smestiti link do svoje objave ili željene stranice u odeljku Biografija (eng. Bio) na vašem profilu i pozvati ljude putem vaše priče da kliknu na taj link.
Možete uvek organizovati i snimanje uživo (eng. Live) na svom profilu kako biste u isto vreme pozvali svoje pratioce da urade nešto, preneli im novine, dešavanja sa značajnih konferencija, predavanja ili promocija i odgovorili na pitanja. Ukoliko želite podrobnije da kontrolišete aspekte svog javnog nastupa, tu je i IGTV kanal na kom možete dodati prethodno snimljene video klipove, kao i snimke u trajanju od najviše 60 minuta.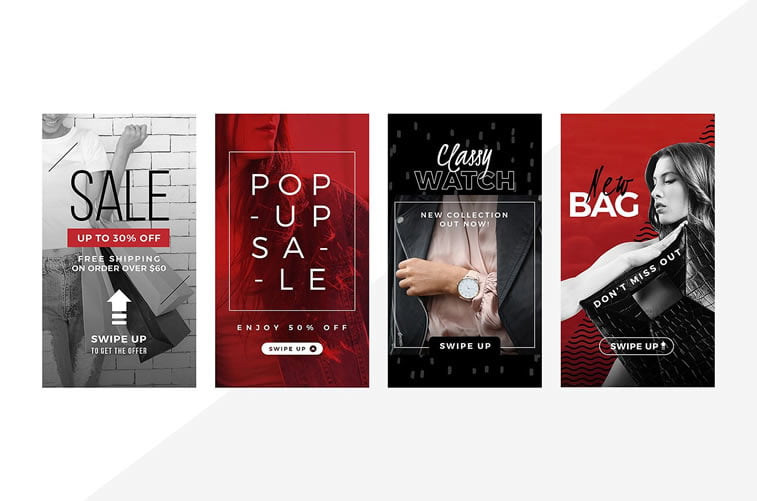 3. Jedinstven dizajn
Brendirajte prisustvo svoje kompanije na Instagramu kako bi ljudi odmah znali da ste to vi. Dodajte svoj logo ili jednostavno negujte svoju estetiku širom svih kanala komunikacije. Možete da koristite i, recimo, određenu paletu boja ili odabrane fontove za svaku priču. Logo ili naziv vaše firme treba da bude diskretan, da ne zauzima celu fotografiju, ali da ne bude ni previše sitan jer potrebno je da ljudi mogu da ga razaznaju.
Istaknute priče grupišite u kategorije i dizajnirajte ikonice za svaku kategoriju. To će dodatno ulepšati vaš profil i definisati vaš vizuelni identitet.
Prigrlite minimalizam. Okruženi smo nemerljivom količinom virtuelnog sadržaja svakog dana, kako vizuelnog, tako i tekstualnog. Zato se odlučite za suprotan pristup – jedna jarka boja i što manje teksta su dobitna kombinacija za ovu mrežu.
Imajte u vidu da je Instagram zamišljen kao prvenstveno aplikacija za mobilne telefone, te pazite da vam dimenzije slika i videa za Story budu 16:9. I ne zaboravite da video snimate u vertikalnom formatu.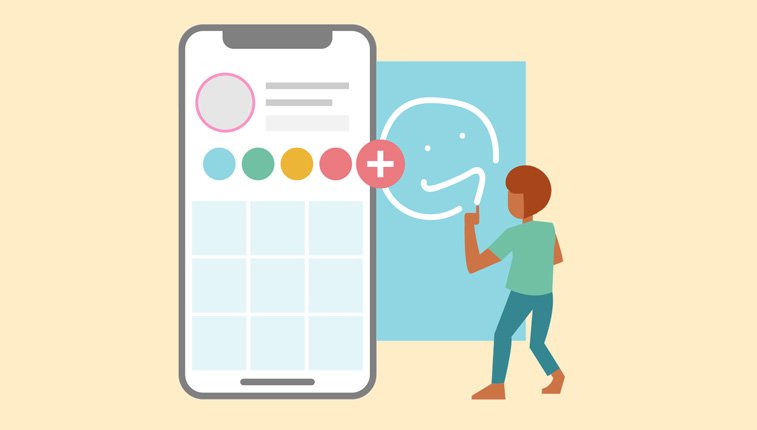 4. Koristite razne trikove
Dizajnirate nešto? Ili pišete savete? Najavite svojim pratiocima da zadrže Story kako bi ga detaljnije pročitali (eng. hold to read) ili da se spreme da naprave sliku ekrana (eng. screenshot). Na taj način ćete jednostavno podeliti svoj rad ili znanje sa drugima, koje oni mogu lako da sačuvaju i da pogledaju kasnije na svom mobilnom telefonu.
Koristite nalepnicu Uključi zvuk (eng. Sound on) ako želite da najavite pratiocima da imate nešto važno da im saopštite kako bi oni znali da treba i da čuju vašu priču, ne samo da je pogledaju.
Ukoliko nemate osobu zaduženu za kreiranje jedinstvenih priča, možete naći aplikacije za tu svrhu.
Organizujte preuzimanje i upravljanje pričama od strane nekog drugog (eng. Instagram Stories takeover). Drugim rečima, organizujte da neko na 24 časa preuzme vaš nalog na Instagramu i dozvolite mu da objavljuje sadržaj iz svog ugla. To mogu biti vaši zaposleni, poznate i uticajne ličnosti, poslovni partneri ili određeni stručnjaci iz vaše branše.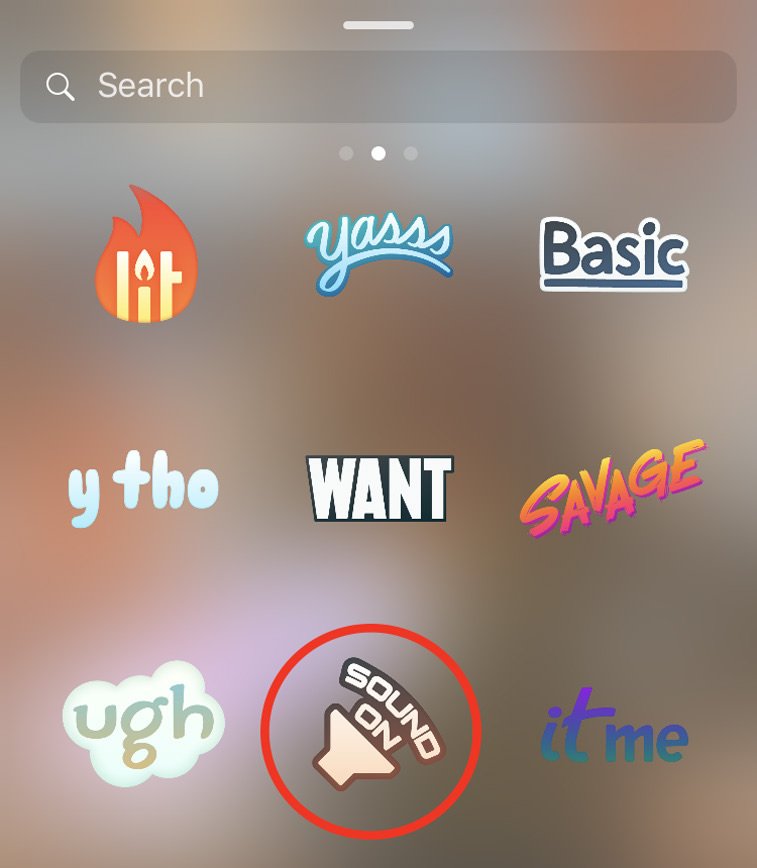 5. Saveti za uspeh
Ne morate da koristite baš svaku opciju koja postoji. Verujemo da kao poslovni korisnik nećete koristiti filter sa psećim ušima i njuškom. Mada, ako ste veterinar ili prodajete hranu za pse, zašto da ne? I to može da se uradi sa stilom. U svakom slučaju, trudite se da sve uklopite sa merom i sa smislom.
Pazite kod objavljivanja video zapisa (koji traju do 15 sekundi) i uvek proverite da li su kompletno učitani i kakav im je kvalitet.
Tu su i gifovi kao dodatni zabavni element, ali savetujemo vam da ih ne koristite ako ne morate jer drastično smanjuju kvalitet slika i videa. Dok se ova opcija ne bude poboljšala, ne želite da rizikujete i da okačite sadržaj slabijeg kvaliteta.
Budite u toku sa trenutno aktuelnim trendovima i viralnim dešavanjima na Instagramu. Možda možete na neki način da ih iskoristite za promociju svog biznisa. Ako je ljudima nešto zanimljivo u datom trenutku, želeće što više sadržaja na tu temu. Takođe, gledajte da delate brzo kad je ova društvena mreža u pitanju. Već sutra će nešto drugo zaokupirati pažnju njegovih korisnika.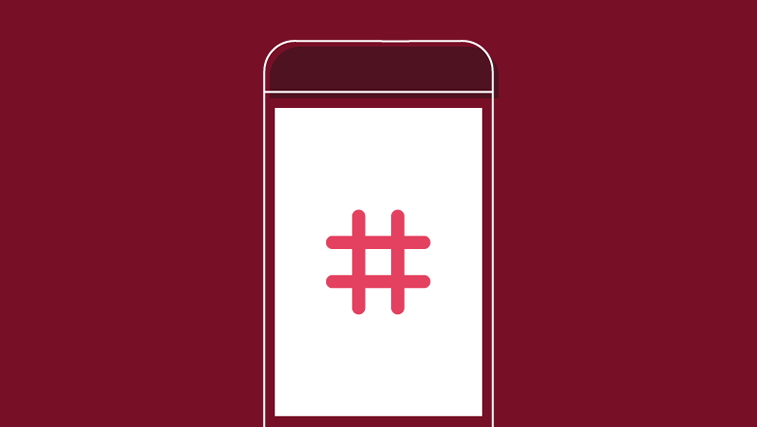 ---
Zaključak
Došlo je do zasićenja sadržajem na internetu i svako danas može nešto da napiše, dizajnira ili snimi. Cilj je da privučete pažnju publici koja je maltene sve već videla i čula. Problem je ugoditi takvoj publici i animirati je u dovoljnoj meri da se ona zainteresuje za ono što nudite. Zato se originalnost i kreativnost i te kako cene na društvenim mrežama, jer će vas ljudi na taj način zapaziti i eventualno podeliti vaš sadržaj sa drugima.
Vaša misija na Instagramu, ali i drugim društvenim mrežama, jeste da podignete svest o postojanju vašeg brenda (eng. brand awareness) i steknete što veći broj vernih pratioca. Možda neće svako od njih odmah i kupiti vašu prirodnu kozmetiku, posetiti vaš restoran ili zakazati šišanje u vašem salonu, ali znaće da postojite, steći će poverenje u vaš brend i možda će vas preporučiti nekome ko traži proizvod ili uslugu koju nudite. A možda će u skorijoj budućnosti i njima samima to isto zatrebati i setiće se vas.
Verodostojne informacije su ono što danas ima vrednost i ako ljudi steknu utisak da nudite kvalitetan proizvod ili uslugu, a uz to na kreativan i zanimljiv način prezentujete i reklamirate svoju ponudu, želeće da znaju više o vašem brendu i najverovatnije će se odlučiti na kupovinu, pa i preporučiti vas svojim poznanicima i pratiocima.
---
Kakva su vaša iskustva sa ovom društvenom mrežom? Da li koristite Instagram i Instagram priče pri promociji svog brenda? Ostavite komentar ispod ili se priključite diskusiji na našoj Facebook stranici.
---
Ako vam se dopao ovaj članak, možda vam budu zanimljivi i sledeći: