Potraga za idealnom nekretninom trebalo bi da bude uzbudljiv poduhvat, bilo da je reč o kupovini nove kuće, iznajmljivanju stana na određeni period ili preseljenju u novi poslovni prostor. Ipak, taj proces se lako može pretvoriti u beznadežno lutanje, jer potrebno je pregledati na stotine oglasa i dobro se informisati o svim detaljima u vezi sa novim životnim ili poslovnim prostorom. Zbog toga je od izuzetnog značaja da agencije za nekretnine svoju ponudu učine jednostavnom za pregled i lako dostupnom svima.
Odavno je prošlo vreme kada su oglasi u novinama bili primarni za pregled ponude i potražnje na tržištu nekretnina. Ponuda se u najvećoj meri preselila na internet i oni koji su u poslu sa nekretninama trude se da na najbolji mogući način predstave ponudu na svom sajtu. Nije, međutim, dovoljno imati bilo kakav vebsajt. Potrebno je da sajt bude kreiran namenski i pažljivo osmišljen kako bi bio što pregledniji i funkcionalniji.
Šta čini dobar sajt za nekretnine
Preglednost i funkcionalnost sajta jedne su od glavnih stavki kada je reč o izradi sajta agencije za nekretnine. Posetiocima sajta, odnosno onima koji su zainteresovani za kupovinu ili iznajmljivanje nekretnina, potrebno je obezbediti:
jednostavan pristup kompletnoj ponudi
laku pretragu po ključnim rečima
filtriranje sadržaja po određenim kriterijumima
detaljan opis nekretnina, njihove opremljenosti i pratećih sadržaja
kvalitetne i autentične fotografije
video snimak enterijera ili prikaz koji omogućava pregled od 360 stepeni
uvid u nacrt stana/kuće/poslovnog prostora
transparentan uvid u cenu i dodatne troškove
prikaz lokacije nekretnine na mapi
kontakt podatke agenta/stanodavca
lako zakazivanje pregleda
kvalitetnu onlajn korisničku podršku
Ako ste vi vlasnik agencije za nekretnine i želite da imate kvalitetan, brz i funkcionalan sajt kojim ćete omogućiti korisnicima uvid u vašu ponudu, trudite se da prilikom izrade sajta ispratite svaku od pomenutih stavki.
Sa druge strane, ako vodite agenciju za nekretnine, nemojte izgubiti iz vida da su vaši korisnici ujedno i prodavci nekretnina. Važno je da i za njih obezbedite kvalitetno korisničko iskustvo. Ukoliko želite prodavcima da pružite mogućnost sa sami oglašavaju svoju ponudu putem vašeg sajta, potrebno je da:
obezbedite detaljna video uputstva o postavci i unosu novih oglasa
jasno naznačite kriterijume koji se moraju ispoštovati prilikom postavke
navedete pravila o objavljivanju isključivo originalnih i autentičnih fotografija
istaknete pravni okvir saradanje sa prodavcima, što može da podrazumeva, recimo, objavu primera ugovora koji sklapate
jasno istaknete politiku vaše kompanije o naplati provizije, kao i o pravnim obavezama koje prate naplatu
obezbedite stručnu pomoć agenata i adekvatnu tehničku podršku prilikom saradnje sa prodavcima
I na kraju – ili pre svega – kako bi vaš sajt bio što bolje pozicioniran prilikom onlajn pretrage, vodite računa i o SEO optimizaciji, jer će sajt koji je optimizovan za pretraživače biti vidljiviji većem broju ljudi, a samim tim i većem broju potencijalnih korisnika. Prilikom optimizacije sajta za nekretnine, s obzirom na veliku količinu fotografija, važno je slike dodatno optimizovati prilikom postavke na sajt kako ne bi usporavale učitavanje stranica i kako bi i fotografije pozitivno uticale na korisničko iskustvo na mobilnim telefonima.
UI/UX dizajn sajta agencije za nekretnine
Korisnički interfejs (eng. user interface, UI) ono je na šta će vaši korisnici prvo naići kada dođu na sajt vaše agencije. To podrazumeva celokupan izgled vašeg sajta, vizuelnu privlačnost i estetski karakter. Ukoliko je UI dizajn vešto osmišljen, ne samo što će sajt izgledati lepo i atraktivno, već će i navesti posetioce da sa uživanjem borave na njemu i prođu kroz vašu celokupnu ponudu. Pri tome će, naravno, jednu od glavnih uloga igrati detaljni opisi i profesionalne fotografije ili video snimci.
To možda zvuči logično i možda ćete pomisliti zašto se uopšte postavlja pitanje oko toga da li će na sajtu biti fotografija ili opisa same nekretnine. Ipak, primetno je da nisu baš svi na tržištu nekretnina uvažili takav način razmišljanja, te da sajtovi često bivaju nepregledni, nudeći šture informacije, dok fotografija nema ili su premalog formata, mutne i nedovoljno precizne. Sve to lako može biti razlog da posetioci sajta u vrlo kratkom roku odustanu od pregleda i pređu na sajt konkurencije. A to je ono što niko ne želi, zar ne?
Kada kažemo da posetioci treba da uživaju dok pregledaju vaš sajt, mislimo na to da treba omogućiti kvalitetno korisničko iskustvo (eng. user experience, UX) dok borave na vašoj veb lokaciji. To između ostalog znači i da funkcije treba da prate logičan sled, da se koraci prilikom pretrage i pregleda intuitivno nadovezuju jedan na drugi, da korisnike neće jedan pogrešan klik vratiti na početak, već ukoliko i greškom odaberu određenu stavku, mogu zatim lako da nastave tamo gde su prethodno stigli sa pregledom.
Kao dobar primer vebsajta na tržištu nekretnina možemo navesti sajt kompanije City Expert, koja je počela kao start-up platforma za nekretnine, želeći da pruži mogućnost zakupa ili kupovine bez provizije, a razvila se u prvu onlajn agenciju za nekretnine u Srbiji. Vodeći računa o transparentnosti informacija, detaljnim opisima svake nekretnine, njene opremljenosti i dodatnih troškova, ali i fotografijama i video snimcima koje zaposleni u ovoj kompaniji kreiraju tako što svaki stan, kuću ili poslovni prostor u ponudi lično obiđu pre nego što ih učine dostupnim za pregled na sajtu, podigli su korisničko iskustvo na viši nivo.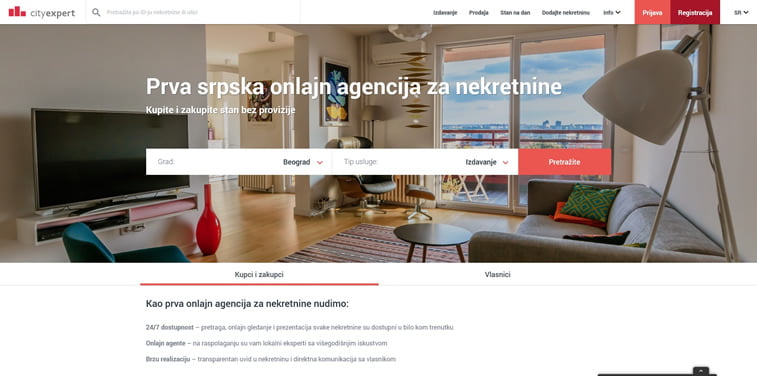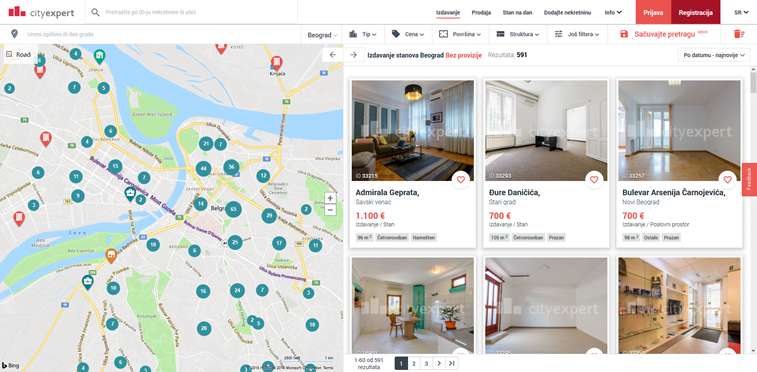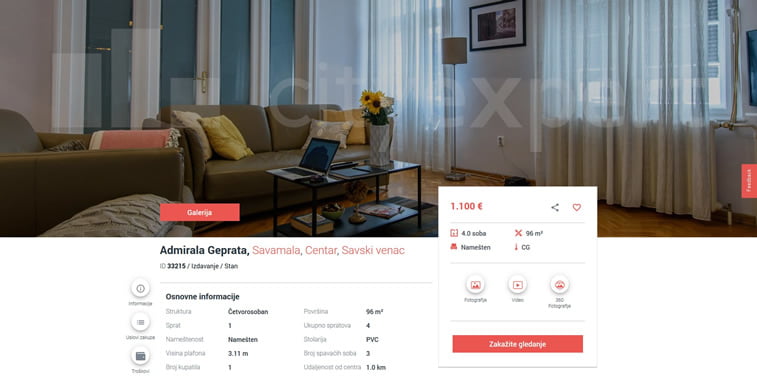 Trendovi u izradi vebsajta za nekretnine u 2018.
Neke od stavki koje smo naveli kao značajne prilikom izrade sajta za oblast prodaje ili izdavanja nekretnina, na neki način postale su standard, ali postoje i izvesni trendovi koji utiču na izmenu ili unapređenje izgleda sajtova. Predstavljamo vam ovom prilikom neke od najznačajnijh trendova primetnih u ovoj branši.
Dizajn u stilu minimalizma
Jednostavna, prečišćena forma dizajna, svedena na najpotrebnije elemente koji će korisnicima istinski biti korisni prilikom pretrage dostupnih nekretnina i njihovog pregleda. Veb dizajn zastupljen na minimalizmu podrazumeva i skraćivanje tekstualnog dela sadržaja ostavljajući samo najpotrebnije detalje, dok je akcenat na fotografijama i video snimcima.
Kompletna ponuda na interaktivnoj mapi
Osim što je za svaku pojedinačnu nekretninu u ponudi poželjno postaviti prikaz na mapi, trend je da se posetiocima sajta omogući i pregled celokupne ponude uz pomoć interaktivne mape. Na taj način, umesto ukucavanja željene lokacije u formular filtera, omogućen je mnogo brži i jednostavniji pristup željenim delovima grada ili preciznim lokacijama.
Pojednostavljen navigacioni meni
Navigacija na sajtovima za nekretnine u poslednje vreme sve je češće uprošćena tako da se pažnja korisnika fokusira na ono što je važno, bez nepotrebnih distrakcija. To podrazumeva samo osnovne stavke u meniju, dok se drugi elementi prenose najčešće u filtere za pretragu. Ovaj trend usklađen je i sa trendom sve češćeg pregleda sajtova na mobilnim telefonima. Stoga je prilagodljivi (eng. responsive) veb dizajn zlatno pravilo koje će učiniti da vaš sajt podjednako dobro funkcioniše na svim uređajima.
Detaljni filteri za pretragu
Imajući u vidu da većina posetioca unapred zna određene parametre koji su im značajni za pretragu nekretnina u ponudi, važno je na sajtu omogućiti podešavanje što većeg broja filtera kojima se pretraga može konkretizovati. Osim filtera za preciznu lokaciju, raspon cene i kvadrature, sve se češće nude i filteri za opremljenost, dodatne sadržaje, pa i za mogućnost boravka kućnih ljubimaca.
Impresivne fotografije visokog kvaliteta
Kada je reč o fotografijama, one su bile i ostale trend u izradi sajtova u oblasti prometa nekretninama. Imperativ je da kompletan vizuelni prikaz stanova ili poslovnih prostora u ponudi bude predstavljen na profesionalan način, praćen impresivnim fotografijama visoke rezolucije koje prikazuju nekretninu iz svakog ugla.
Dobri primeri vebsajtova agencija za nekretnine
Trendovi su jasno uočljivi i na brojnim sajtovima iz oblasti prometa nekretninama pokrenutim širom sveta. Donosimo vam stoga i nekoliko odličnih primera dizajna sajtova za nekretnine koji vam mogu poslužiti kao inspiracija.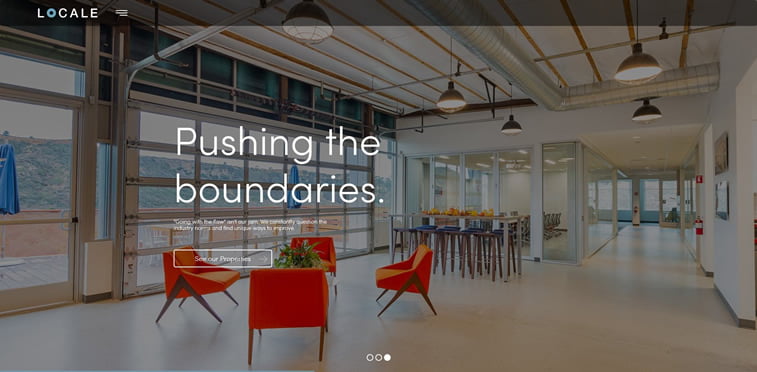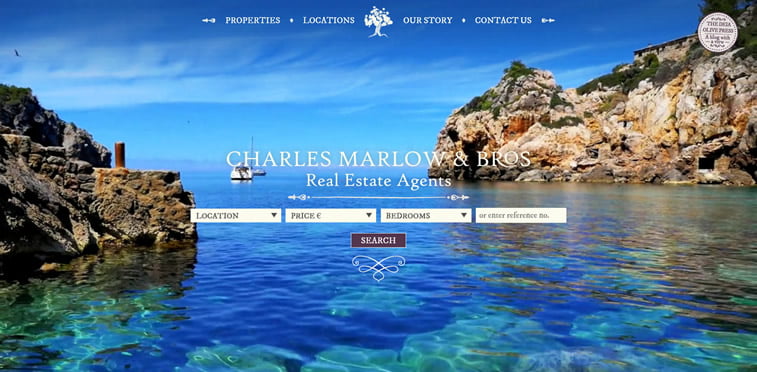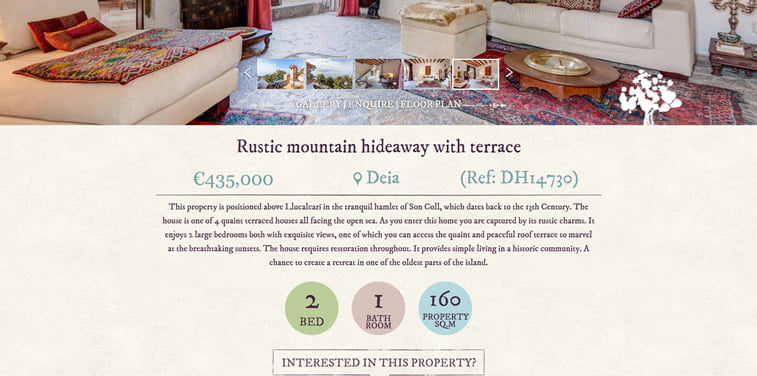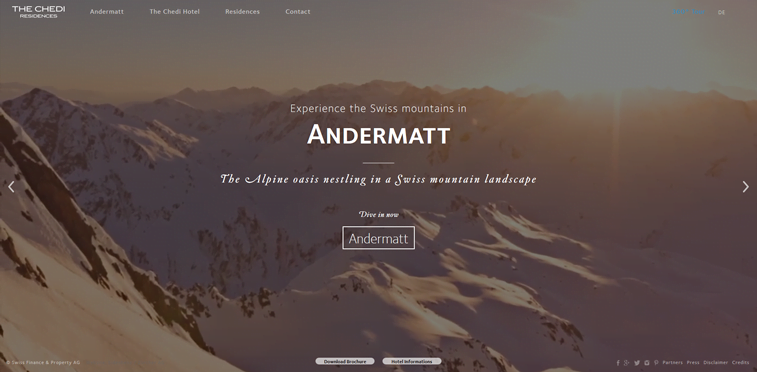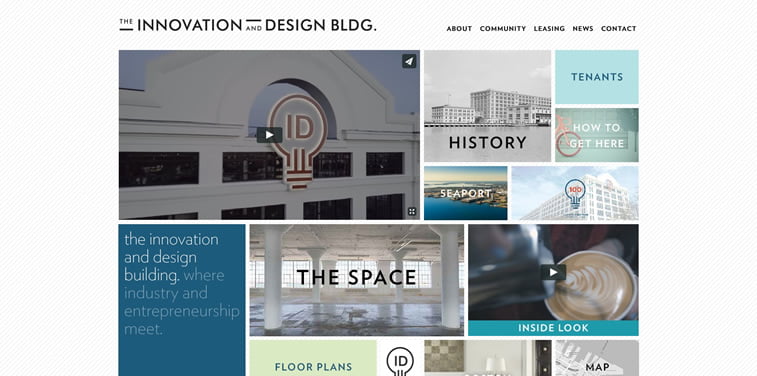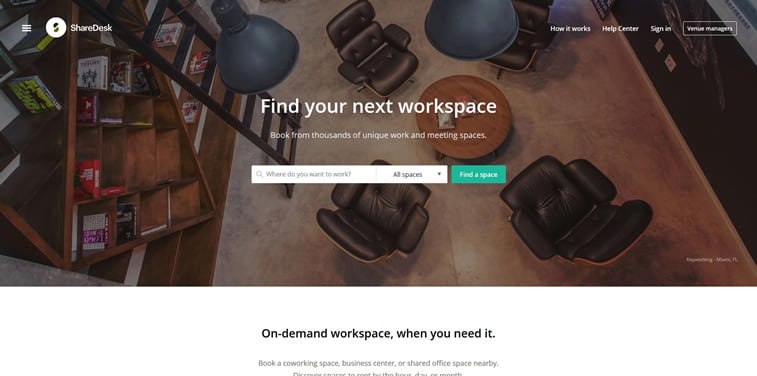 Zaključak
Da sumiramo, kada je reč o dizajnu i izradi sajta agencije za nekretnine, važno je da sajt bude:
pregledan
funkcionalan
vizuelno atraktivan
interaktivan
intuitivan
optimizovan za pretraživače
prilagođen pregledu na mobilnim uređajima.
Ukoliko ste zainteresovani za izradu sajta za izdavanje, prodaju i potražnju nekretnina, više informacija možete pronaći na sledećem linku. Ako se bavite prometom nekretnina, kakva su vaša dosadašnja onlajn iskustva, smatrate li da postoji još nešto što bi svaki sajt iz te branše trebalo da ima? Podelite svoje ideje sa nama u komentarima ispod teksta ili na našem profilu na društvenoj mreži Facebook.
---
Pogledajte i slične tekstove: