Iako se češće bavimo lepšim stvarima u veb dizajnu, zaštita vebsajtova nekako dođe na red tek kad se za njom pojavi potreba, odnosno kada je već prekasno. Ako ste se pitali kako na vreme da uočite upozoravajuće znake da vam je vebsajt možda hakovan, ovo su neki od njih.
10 znakova da vam je vebsajt u Vordpresu hakovan
#1: Iznenadan pad posećenosti
Ako redovno pratite statistiku i analizirate posećenost sajta u Guglovoj konzoli, i primetite iznenadan pad posećenosti sajta koji traje neko vreme, postoji mogućnost da vam je sajt hakovan.
Jednostavno, mnoštvo malvera preusmerava saobraćaj sa vašeg vebsajta na spamerske sajtove, a uspevaju dugo da opstanu neprimećeni jer ne preusmeravaju registrovane već slobodne posetioce.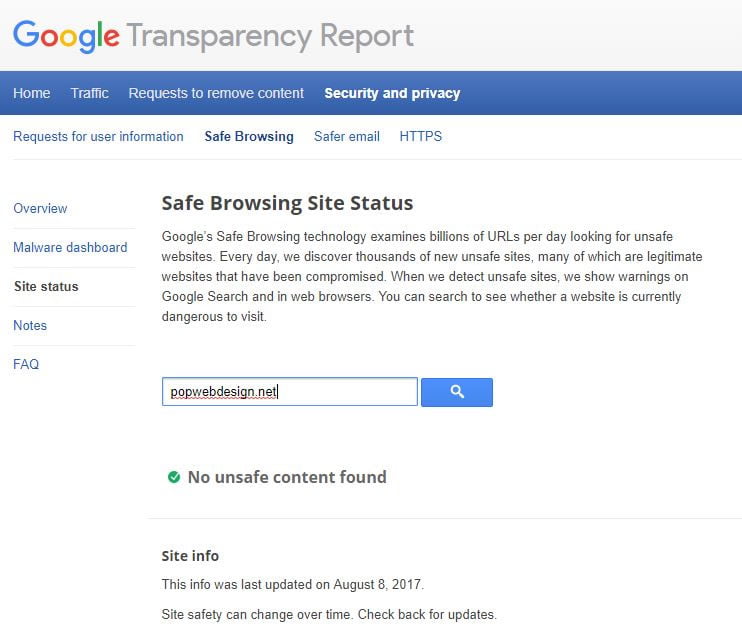 Zbog toga pad posećenosti neće biti potpun, ali ako ipak primetite neobjašnjive oscilacije, proverite svoj sajt u Guglovom alatu za besplatnu proveru statusa sajta (eng. Google Transparency Report – Safe Browsing Site Status).
---
#2: Pojava loših linkova na sajtu
Jedan od najčešćih znakova da je sajt hakovan jeste iznenadna pojava loših, zlokobnih linkova na sajt.
Neki od njih su linkovi ka spamerskim sajtovima, i najčešće se pojavljuju u podnožju sajta, ali isto tako mogu biti bilo gde. Čak i da ih otkrijete i izbrišete, to nije garancija da se neće vratiti, ili da ih nema još.
Najbolji lek je uvek da se otkrije izvor ovih linkova, tj. propust na sajtu koji je hakerima omogućio pristup sajtu, a to nije uvek lako kao što se čini.
---
#3: Promenjena početna strana
Najočigledniji znak da vam je sajt hakovan jeste promenjena početna strana.
Međutim, hakeri koji žele da prođu neprimećeno najčešće vam neće ostaviti ovako otvorenu poruku, već će na drugi način naškoditi sajtu.
Hakeri koji žele da vam iznude novac, ili da vam otvoreno kažu da više ne upravljate sajtom, promeniće početnu stranu i staviti svoju, ostaviti vam poruku o hakovanju ili smisliti nešto drugo.
---
#4: Ne možete da se ulogujete na sajt
Na sajtove u Vordpresu najčešće je lako ulogovati se izmenom linka početne strane, i to svi znaju. Bar oni koji se bave svojim sajtom.
Ako iznenada više ne možete da se ulogujete na sajt, ili dobijate obaveštenje da vam je nalog nepostojeći, vrlo verovatno je izbrisan i možete se pomiriti s tim da sajtu više nećete pristupiti. Naravno, uvek je moguće pristupiti sajtu kroz FTP, ali za to vam je potreban iskusan programer koji neće napraviti još veću štetu.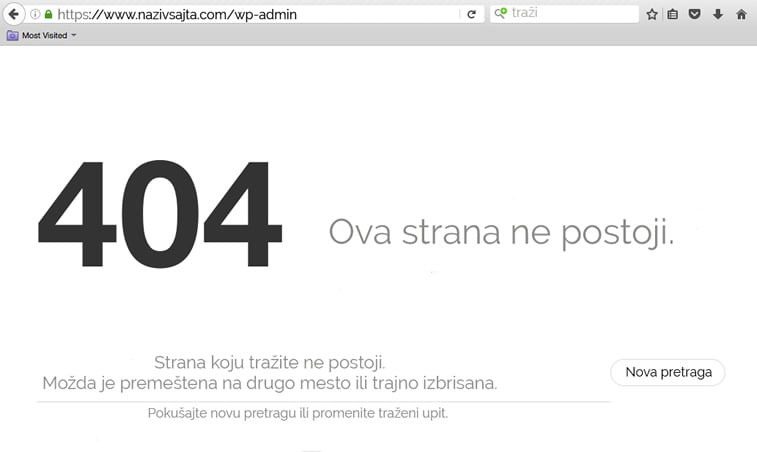 Jedan od načina da sprečite ovu vrstu hakerskog napada jeste da sami promenite pristupni URL nazivsajta.com/wp-admin/ u nešto što hakeri neće lako otkriti, poput nazivsajta.com/moja-soba/, ali to možete samo ako imate profesionalni, poslovni vebsajt. Besplatni domeni, nažalost, ne nude ovu mogućnost.
---
#5: Sumnjivi korisnički nalozi u kontrolnoj tabli
Ako je na vašem vebsajtu dozvoljena registracija korisnika i ne nudite nikakvu zaštitu od spama, nepoznati nalozi su običan spam koji možete bez problema izbrisati.
Ali, ako nemate registraciju korisnika a primetite da se pojavila, i da se kontrolisanje vašeg sajta poverava sve većem broju sumnjivih naloga, velika je verovatnoća da vam je sajt hakovan. Takvi nalozi najčešće imaju administratorski pristup sajtu, te ih je teško izbrisati.
---
#6: Nepoznati fajlovi i skripte na serveru
Da biste pronašli nepoznate i sumnjive fajlove i skripte na serveru, potreban vam je neki skener dodataka i plaginova. Oni će vas obavestiti o svemu sumnjivom.
Ali, ako takav skener nemate, teško ćete otkriti pojavu zlokobnih fajlova, osim ako "peške" ne prođete kroz folder /wp-content/ i ne znate šta tražite. Naime, fajlovi i skripte s nepoznatim ekstenzijama najčešće su upravo ono čega treba da se rešite, ali ni brisanje nije uvek rešenje, jer ne znate da li će se i kada ponovo vratiti.
Tada je potrebno podrobno ispitati sajt da bi se utvrdila struktura fajlova i direktorijuma.
---
#7: Sajt vam je usporio, puca ili ne reaguje
Spori sajtovi koji često pucaju ili ne reaguju na aktivnost korisnika ne moraju uvek biti rezultat hakerskih napada. Takođe se može desiti da su, jednostavno, zastareli, i da im je potreban redizajn.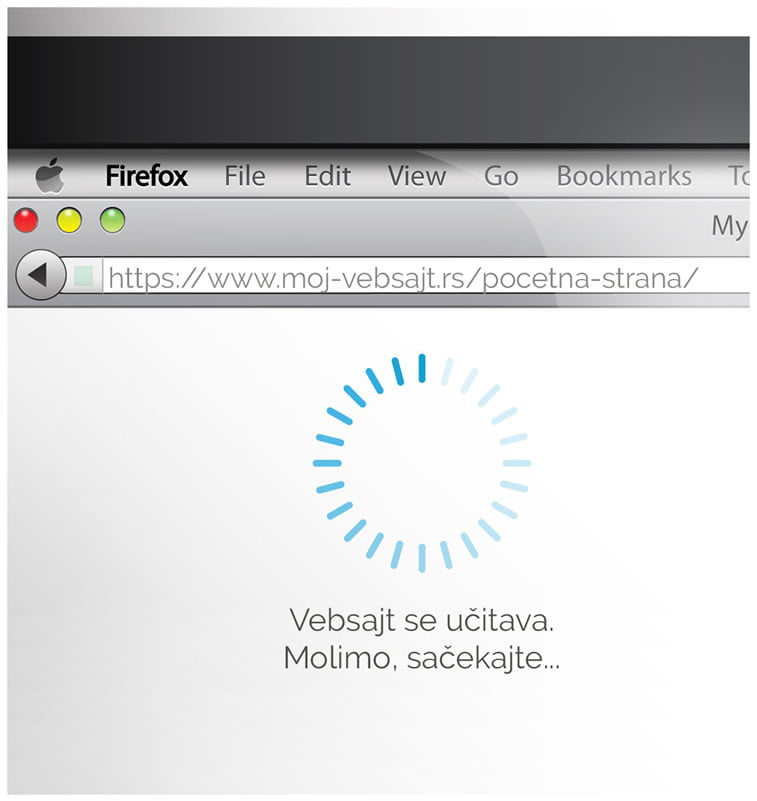 Ali, ako vam je sajt relativno nov, i donedavno je radio bez problema, a iznenada počinje da puca i nije vam jasno o čemu se radi, vrlo je moguće da je hakovan.
U svakom slučaju, redizajn vebsajta može poboljšati brzinu i korisničko iskustvo, ali i znatno popraviti sigurnost i pouzdanost sajta.
---
#8: Ne možete da primate ili šaljete mejlove
Većina sajtova u Vordpresu ima mogućnost besplatnih naloga za slanje i primanje elektronske pošte, te skoro svi takvi sajtovi mogu slati mejlove preko servera.
Ali, ako vam je sajt hakovan a server korišćen za slanje spamerskih mejlova, dalje slanje mejlova je onemogućeno. Dakle, ako primetite da više ne primate mejlove, a znate da bi ih trebalo biti, ili ne možete da ih pošaljete, postoji mogućnost da vam je server hakovan i da su sa njega slâni spamerski mejlovi.
---
#9: Sumnjivi zakazani zadaci
Vordpres je sjajan jer omogućava zakazivanje objavljivanja članaka, promenu statusa članka i mnoštvo sličnih mogućnosti.
Ako primetite zakazane zadatke koji deluju sumnjivo, spamerske komentare koji se pojavljuju bez vašeg odobrenja, duplirane tekstove, i slične aktivnosti, to je siguran pokazatelj da vam je vebsajt hakovan.
---
#10: Sumnjivi oglasi ili iskačući prozori
Većina savremenih vebsajtova novim posetiocima ponudi mogućnost upisivanja na mejling listu ili neku vrstu drugih povlastica u okviru iskačućeg prozorčića (eng. popup) koji nestaje nakon što posetilac uradi šta se od njega traži ili klikne negde van polja prozorčiča.
Ako primetite pojavu ovakvih prozorčića koji iznuđuju novac, imaju poruke koje sigurno niste postavili ili ne reaguju ni na kakve klikove, ili se pojavljuju samo neregistrovanim korisnicima, vrlo je verovatno da vam je sajt hakovan.
Čišćenje hakovanog vebsajta u Vordpresu može biti dugotrajno i zamorno. Ako niste dosad imali iskustva s tim, preporučujemo vam da se obratite profesionalcima koji to znaju da urade.
Ipak, da do napada ne bi došlo, treba redovno raditi na sajtu i ne zapuštati ga na duže od nekoliko dana. Na taj način u etar šaljete signal da ste tu, da niste zaboravili svoj sajt i da posvećeno radite na njemu.
Zanima vas izrada i zaštita vebsajtova? Pogledajte povezane članke: