How to ensure a secure, reliable, and user-friendly financial services website?
Pictures that first come to mind associated with finances are probably stuff like padlocks, keys, bank vaults, and piles (best case scenario) of money. Elaborating these mental images into phrases leads to the principal elements of financial services - security, protection, and sparing no expense in providing these for the customers. 
Financial service companies should naturally highlight the concept of trust on their website as in their service itself. The key associations that customers expect when it comes to their finances are safety, proper organization, and professionalism. This applies to the websites of these services as well. As financial security experts deal with finances and not with web design and web development, it is pivotal to hire the proper agency with successful experience in this field to take care of that part of the job for them.
Modernization and digitalization nowadays make it necessary for any type of service to provide a pleasing digital experience tailored to the needs of its customers. The financial service industry is no exception – this is a factor that allows not only the satisfaction of existing customers but the potential accumulation of new ones as well. It is therefore pivotal to choose a high-quality website development and design company that can meet all of the conditions.
The main advantages of a financial service website
A professional and trustworthy website is and will be a necessity for financial services. Three main advantages for the website to have in order to ensure this for the users are precise navigation, speed, and simplicity of usage. A website that is too complicated to manage, confusing, and/or slow will inevitably lead to dissatisfaction among the customers – the precise opposite of the service's goal.
Considering the right questions while developing a financial service website is substantial – as the answers allow the creation of the appropriate design. These questions regard the particular target audience, specifying the type of service, the role of the website in the overall business plan, and the expected results regarding the website.
The matter of the mobile-friendliness of a website is also growing in relevance. People are now browsing from their smartphones more than they do from their PCs, and it is therefore unacceptable to offer users a website that is unfunctional on mobile devices. Instead, the financial service industry should provide their customers with a responsive website through website development and design which can ensure automatic adjustment to the screen of the device.
a This is a relevant aspect of any website design, but especially of financial services websites since these companies are legally obliged to make their services available to all clients, including individuals with disabilities.
Website designs are tailoring the future of financial services such as banking
Digital banking is lately becoming a growing trend, meaning that people are increasingly using online banking services. This is why the design of banking websites is becoming increasingly important. Moreover, the quality of website design affects the level of possibilities for cyber-attacks and other security breaches, which can compromise customer data and damage the reputation of the bank. Thus poorly designed websites will inevitably lead to the loss of customers in financial services. Banks that choose their website designers carefully, ensuring high-quality user experience and security, tailor a successful future for themselves.
Banks deal with a significant amount of sensitive information, such as customers' financial transactions, personal details, and other confidential data. Due to the high risk associated with such information, banks need to implement additional security measures to safeguard their customers' data from unauthorized access or potential data breaches.
Security measures for the financial services website
Some specific measures of ensuring the security of the financial services customers' data include implementing multi-factor authentication, which requires users to identify themselves using more than one method, such as a password and a token or a biometric scan. Furthermore, regular updates of software and systems and regular security audits are necessary to ensure any vulnerabilities and risks are fixed immediately. Limiting access to sensitive data and encrypting sensitive data helps in protecting customers' data from unauthorized access or potential human error. Of course, it is never completely up to the website to keep the customers satisfied – the employees of the financial service companies need to be trained on security best practices as well.
The key elements of a desirable website design for financial services business
Precision and simplicity of the website navigation: As previously mentioned, the website should be easily navigated, with clearly labeled and organized information that enables users to quickly find what they are looking for.

Accessibility to disabled people: Financial services websites must prioritize accessibility for individuals with disabilities, which is achieved through website development and design by implementing alternative text for images, descriptive headings and subheadings, closed captions for videos, keyboard accessibility, and/or color contrasts.This not only benefits individuals with visual or hearing impairments or physical disabilities but also improves the user experience for all users.

Mobile optimization: With the expanding use of smartphones and other mobile devices, it's important to once again highlight the optimization of financial services websites for mobile viewing and the responsiveness of their design for different screen sizes.

Personalization: Financial services websites should be designed to cater to individual user needs and preferences, which can include personalized recommendations, customized user interfaces, and targeted marketing.

Security features: With the increasing threat of cyber attacks and identity theft, security features of website development and website design such as secure login processes, encryption of sensitive data, firewalls protecting networks from unauthorized access, and regular security updates should be a top priority in website design for financial services.   

Concise and clear communication: The website should be designed to clearly communicate important information to users and the language style should be easily understandable and devoid of technical jargon.
Incorporation of these elements into website design with the help of a web development and web design company allows financial services businesses to provide a smooth and safe digital experience for their customers, helping to build trust and increase the adoption of digital financial services.
AI plays a significant role in the financial services future
Papers and manual work have already become outdated, unmanageable, and unprofitable, so financial institutions are increasingly automating their processes, and this is something that will only evolve further in the future. Financial services able to offer hyper-personalized experiences to their customers through website development incorporating chatbots, self-service portals, and digital forensics will definitely have a considerable advantage compared to the ones using outdated technology. As in any other field, artificial intelligence will therefore serve the purpose of simplifying and speeding up the data processes, enabling human workers to focus on tasks of higher importance and providing a better user experience.
The use of AI technologies such as machine learning, natural language processing, and robotics is already transforming the way financial services are delivered, from customer service to risk management to investment advice. Some specific examples of how AI is being used in the financial services industry are:
Fraud detection: Backend developers can incorporate AI to provide robust security measures and detect fraudulent activities and transactions in real-time, improving the accuracy and speed of fraud prevention.

Customer service: AI-powered chatbots and virtual assistants implemented by website developers can provide continuous customer support, answer frequently asked questions, and resolve issues, freeing up humans to focus on more complex tasks.

Personalized marketing: Website development can incorporate AI to analyze customer data to provide personalized service recommendations, improving customer loyalty and engagement.

Investment advice: Through collaboration between frontend and backend developers AI can provide personalized investment advice based on individual customer goals and risk tolerance. 

Risk management: Backend developers are responsible for integrating the AI-powered analysis of expansive amounts of data to identify potential risks and opportunities, enabling financial institutions to make informed decisions and ensure better management of their portfolios.
As AI technologies continue to evolve and improve, they are likely to play an even greater role in shaping the future of financial services. However, in order to properly incorporate these AI elements in the business and maximize their benefits, as well as circumvent their shortcomings and limitations financial services should leave that job to the website development and website design experts.  
Expansion of the usage of digital payment through financial services websites
The events in the previous years increased digital payments on a global level and that process is now only continuing worldwide. Financial services will have to upgrade payments data infrastructure for modern customers who are already getting used to personalized and secure real-time payment experiences.
According to statistics on digital banking, about 60% of consumers are interested in using a digital bank in the next year, and 43% of them state improved transfers as their primary motivator. Moreover, about 27% of Americans use an online-only bank, and 88% of them are satisfied with this form of service, while only 66% of consumers using traditional banks report usage satisfaction.
These statistics announce increased digitalization of financial services and possibilities for a complete overthrow of traditional financial institutions in the future, which means that it is high time financial services start to pay great attention to their websites. 
Frontend and backend developers can incorporate complex online payment systems necessary for the financial services industry websites, with frontend developers focusing on the UI design and user experience, while backend developers focus on the system architecture, payment processing, and integration with other systems. This once again highlights the importance of choosing the right experts for website development and design.
Financial service website examples
It is crucial for a financial service website design to reflect their professionalism, reliability, and practicality. A financial services company's website is frequently the first interaction a potential customer has with the company. A well-designed website can make a positive initial impression and contribute to the establishment of trust and credibility. This is why elements such as color schemes, animations and interactive elements, search features, friendly tone, and easily accessible menus and contact information should all be taken into account.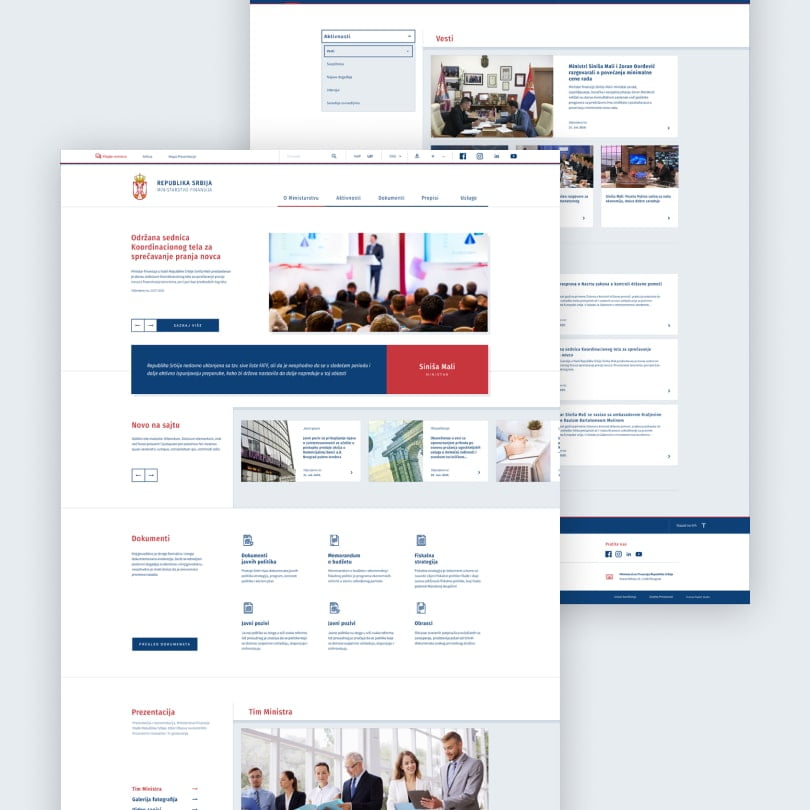 Banks, money transfer platforms, investment firms, or even The Ministry of Finance could exemplify a satisfactory financial service website. PopArt Studio designed a website for The Ministry of Finance of the Republic of Serbia. This website is carefully designed to fit its purpose, from the combinations of colors red and blue with the white background so as to represent the Serbian flag, but also to provide a clean user experience and emphasize the text, to navigation that is simple and precise, adapted to potential visitors of this site of various ages and computer skills. For those saving their time and eyesight, a search bar is also offered. Their social links (Facebook, Instagram, LinkedIn, and YouTube) are easily noticeable at the top bar and the overall design of the website is serious and professional, fitting their service.
Of course, these design elements will always vary depending on the previously mentioned questions regarding the target audience, the type of service, the function of the website in the business plan, and the expected results regarding the website.
Thus for example a bank website will offer some other priorities and advantages when it comes to the design. As shown below, Country Bank offers a functional design because it is people-centered, it shows humans in regular daily life experiences creating an overall positive domestic atmosphere, providing clear and simple calls to action at the bottom of the home page and visually appealing content organized in chunks combined with the color green, symbolizing, of course, the dollars on the users' mind.
Maybe the best option to find inspiration when it comes to the latest trends for financial services websites is to check out the Awwwards winning websites which recognize and promote the best of the best when it comes to innovative and talent-driven ideas. 
Having a well-designed website is essential for financial services companies to create trust with their customers, increase brand awareness, and ensure a positive user experience, therefore the design and the quality of the website development are and will be crucial for a successful financial service, but if finance professionals are willing to hire IT professionals to take care of this job for them, they can use that to their advantage and elevate their business. Make sure your website is the embodiment of your professionalism and your credibility in keeping the customers' piles of money safe, be that in the safe itself or online.