Online shopping is a booming industry. This year it has reached its climax, with 96% of shoppers (from the US) making their purchases online. In order to enable a good user experience, your webshop needs to have an implemented online payment gateway.
Let us see what it is and what are the most prominent merchant services for e-commerce applications.
---
What is a payment gateway
In the online world, 'payment gateway' refers to a third-party application which connects your website directly with a bank to process payments made by users at the checkout. This merchant service facilitates credit card payment transactions by transferring payment information from a website or app  (online shop) and the bank.
Not all online gateways are created equal, so when choosing one for your website, there are certain parameters you need to take into consideration.
The first and the most important one is security. This is a no-brainer because transactions need to be kept safe against intrusion from unwanted parties. Avoid shady sites and make security your top priority.
The second one is, like in any other service, the cost. There are different gateways and not all of them will fit your needs, so you need to find one whose costs you can cover. Always watch for hidden costs and check twice before you say yes.
The third is platform compatibility. If you are using, for example, a Wix website it may not have all the integration options you need, so you would probably have to either switch to WordPress or choose a suitable gateway.
And the last, but not the least parameter, is payment location. You have to make sure that it is enabled in your country because not all cooperate on a wider market.
Here is our choice of seven most widely used payment platforms to choose from.

---
1. Amazon Pay
Amazon Pay is the leader in the US market in terms of e-commerce transactions. The platform simplified the buying experience and now offers trust and security measures which allow users to spend more time shopping and less on checking out. With this gateway implemented on your website, you can rest assured than transactions and personal information will remain secure because of the Amazon A-to-Z Guarantee.
Price: Amazon charges no monthly fee, supports all major credit card types, the setup fee is zero, whereas they charge 2.9% per transaction for more than 100 currencies.
---
2. WePay
WePay was created exclusively for unique, POS, and omnichannel needs of software platforms. It enables payment acceptance within minutes with as little as an email address. The platform offers a unique user experience, scalable integration and protects both users and your website from risky transactions.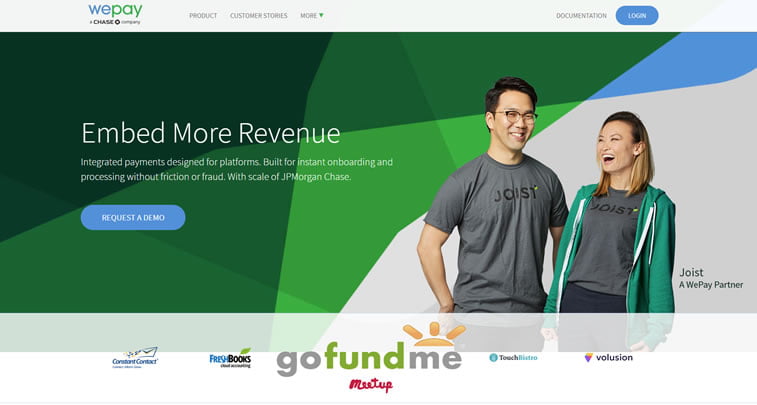 Price: WePay costs include a standard 2.9% per transaction fee, zero monthly and setup fee, they accept all major card types. Unfortunately, there is no information on the number of currencies, so it would be best to contact their sales team and check availability.
---
3. PayPal Payments
PayPal is a payment platform intended not only for individuals but also for businesses and developers. More than 7 million businesses have decided to work with this gateway service provider due to their numerous benefits: fast payments, easy integration with e-commerce solutions, 24/ monitoring and advanced revenue protection against fraud, as well as the global reach of more than 200 countries and 25 currencies.
Price: PayPal charges 2.9% fee for transactions, accepts all major types of cards, and there is no monthly or setup fee.
---
4. Authorize
Authorize.net is a Visa solution created with the intention to simplify the payment process. Although they accept international transactions, keep in mind that your business must be based in the United States, Canada, United Kingdom, Europe or Australia. This API is described as "flexible, secure, and easily integrated" and enables payments within minutes – just what developers need.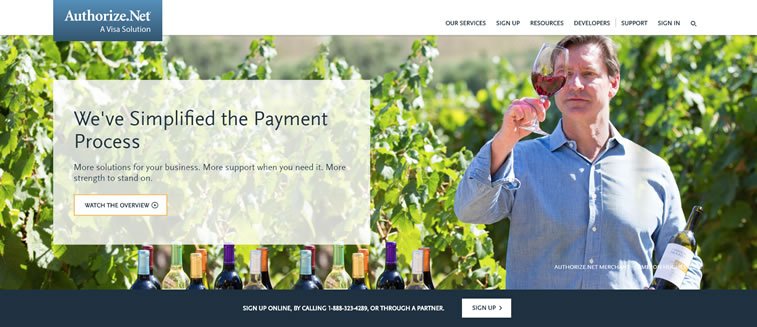 Price: If you have a large online shop with a big turnover, Authorize is the right option for you. With a $25 monthly fee and a $49 setup fee, this platform also charges a 2.9% transaction fee and accepts all major card types but does not offer information about the
---
5. 2Checkout
2Checkout offers simple site integration and various customizable options to tailor this payment gateway for your business needs. There is a demo of buying experience available, so your customers are going to be grateful for letting them know how it works before they get to use it. With advanced fraud protection, acceptance of both credit and debit cards along with 87 currencies and options available in 15 different languages, your business can easily go global using 2Checkout.
Price: 2Checkout is charging no monthly fee, and there is no setup fee, but it does come with 2.9% transaction fees. The payment is possible in 87 currencies and this gateway accepts all major credit card types.
---
6. Dwolla
Dwolla is a payment gateway created with an e-business in mind. Whether you are an owner of a mobile app, rental platform, online shop or savings application, you are going to embrace the simple and well-rounded experience Dwolla is offering. Appart from the instantly verified bank accounts, tracking activity and managing customers, there are some advanced solutions available as well, such as shopping cart plugins, website integration or same-day AHC payments. Besides that, Dwolla prefers not to take any risks when it comes to security, so the rigorous monitoring and strong cryptography is constantly on the run.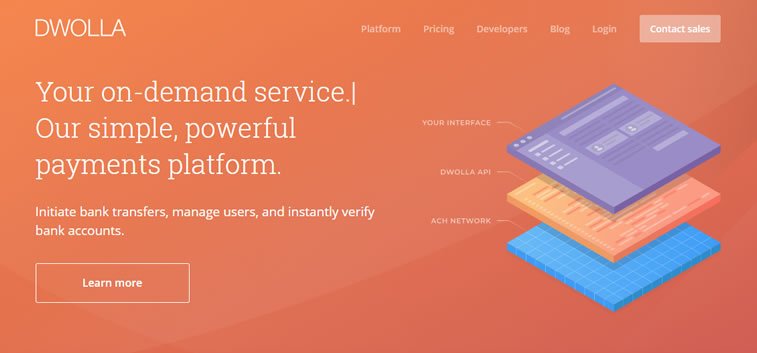 Price: Dwolla charges transaction fees ranging from $0.5 to $5 for the out-of-the-box payouts solution and API, as well as a custom pricing plan for more sophisticated solutions. There is no monthly fee and all of the payments go through the Automated Clearing House (ACH) Network.
---
7. Stripe
If your business relies on online selling, Stripe might be the best fitting payment gateway for your needs. It is an innovative, customizable, and quick solution made specifically for e-commerce platforms. If you use this gateway, you get access to some extraordinary features. For example, you can make possible for your customers to buy directly from a tweet or to take benefits from one-click checkouts. Besides traditional credit card payments, Stripe offers the ability to accept other forms of payment as well, such as Alipay or Bitcoin. It provides an insight into relevant data and allows real-time analytics.
Price: Stripe asks for a 2.9% fee per transaction, but charges neither a monthly fee nor a setup fee to its users. It accepts all major credit card types and payment in more than 135 currencies.
---
What about you? Have you used any of these payment gateways on your online shop? Do you have another one to add? Please tell us in the comments below.
If you are in need of payment gateway integration for your webshop or web app, we can help.
---
Like this article? Read more about web development: