In a technology-driven world, businesses always try to go that extra mile to please their consumers and offer not just a product or service but an experience, an enjoyable user journey, where everything is tailored to their needs, and all their questions are answered – and answered fast.
No doubt, we're living in the "Age of The Consumer" in which overall company success is more or less measured by the success of consumer engagement and satisfaction with the main idea of improving conversion rates while lowering running costs and minimizing the chance of error. And while these goals look easy to achieve in theory, in practice, they can be difficult to get right.
Fortunately, B2B website development and artificial intelligence have made a significant impact on how B2B sales teams operate and how the results of B2B web development can help with conversion rates right off the bat. Take chatbot technology, for instance. Around 58% of companies in the B2B sector will actively use them in 2023, and the technology is estimated to save around 2.5 billion hours of work for these companies by the end of this year alone. 
In this article, we'll touch base on chatbot technology and how you will be able to make the best out of the tech with a reliable B2B website development agency by your side.
Chatbot Tech: a Brief History Lesson
Before we begin with the benefits of chatbot-focused B2B website development and sales, it's important to understand what chatbots actually are. They are AI-powered computer programs simulating human complications that automatically engage in conversations with people to answer common questions, give customer support, or promote a service/product. 
Essentially, in a B2B setting, these bots mimic human conversations, programmed to understand human language and address queries. To make this happen, these bots use machine learning, natural language processing, and several other techniques.
Many business owners may think that the first chatbot was invented by a B2B website development agency, but that's the farthest from the truth. The first bot, named ELIZA, was invented back in 1966 by Joseph Weizenbaum, a respected MIT professor. The bot got its name from Shaw's character from the play Pygmalion. ELIZA's main intent was to patient-therapist conversation simulations and is regarded as the ancestor of all AI chatbots of the modern age.
Then onward, several chatbots have emerged, such as Jabberwacky, A.L.I.C.E., Dr. Sbaitso, Siri, SmarterChild, Google Assistant, Alexa, Cortana, and the one and only ChatGPT. 
The latter is considered one of the most advanced bots, using GPT-3 language model development, which makes it able to generate human-like responses based on user input. It's among the most advanced showcases of AI currently in the digital sphere. 
Needless to say, these chatbots managed to evolve tremendously over the years, now boasting impressive capabilities for natural language processing, which allow them to understand and respond to people in more sophisticated ways. Also, they are now capable of holding down relatively complex conversations, especially in the domain of sales, marketing, customer service, and even healthcare.
In terms of B2B website development, these AI-powered tools can be excellent for automating customer service processes, like providing accurate and reliable customer support or routing visitors to the right departments. They can also be used for order processing and are able to carry out financial transactions.
Why Chatbots are a Game-Changer for B2B Websites
Research and statistics show that chatbots are among the most relied-on communication channels, especially among brands that want to engage with their customers. They are becoming more and more accepted across every industry, and for B2B websites, they just seem to make perfect sense. 
When it comes to B2B marketing, businesses are wary of accepting anything promptly until the new technology has proven its benefit for the business. On that end, chatbots have quite a lot to offer to the traditional B2B company/website setting:
Chatbots can provide faster access to all types of customer care services

They respond to user questions immediately

They can reliably and quickly resolve recurring issues with simple scripts

They can offer true 24/7 support

They can be highly beneficial for lead generation as they collect data non-intrusively

It can be a significant B2B marketing tool as it can easily distribute marketing content material, like blogs and case studies

Nurturing leads also becomes easier, as bots can always provide them with relevant information

They can help with lead screening or lead qualification and can prevent less-interested leads from entering the sales funnel just to abandon it later on

In B2B websites development, chatbots are essential in engagement boosting – they increase the time spent on the page, which can positively affect rankings

They can also help build better brand awareness and can act as a highly effective medium for connecting leads to marketing or sales teams

They are easy to implement and set up

They can also be highly customized to make account-based marketing decisions to better suit the needs of potential clients and/or partners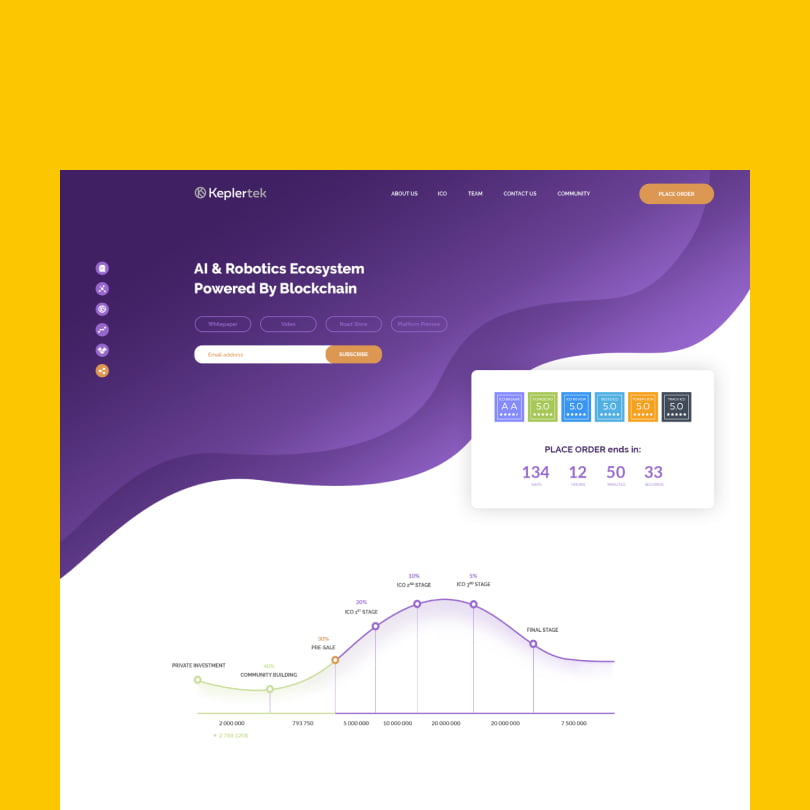 Improved Conversion Rate With Chatbots: A Match Made in Heaven
Ask any B2B website development company, and execs will tell you that chatbots are a surefire way to boost conversion rates.
As a matter of fact, we can take a look at Botco.ai's study from last year. According to them, more or less ALL B2B respondents (99%) said that chatbot usage helps them improve their lead-to-customer conversion rate. In more than half of cases (56%), the improvement was at least 10%. In 17% of cases, that conversion rate was boosted by 20% or more, and in 14% of instances, the increase was at least 30%.
How does this happen? Typically, website visitors land on a page looking for something that meets their needs or solves their problems.  
Typically, they will start by either turning to the search bar or begin scrolling pages manually. Chatbots eliminate these processes and give instant answers. They also save time for the user, which means that potential conversions happen faster and with higher probability. 
Also, chatbots give off a more personal feel when visitors look for assistance. They are capable of greeting the customer visiting the website just like a salesperson would greet a potential customer walking into a brick-and-mortar store. Customers feel more welcomed on the internet, which is rather an impersonal place, with different usernames, pseudos, and people hiding behind different hashtags.
In this wasteland of impersonality, consumers have found a human touch in artificial intelligence, even though they are aware that their sentences are more or less scripted. 
Lastly, using chatbots is simply just a more convenient way to reach out to a brand than having to call them on the phone or send out emails.
Real-World Chatbot Use Examples
So far, we've talked about the advantages of chatbots more or less from the standpoint of B2B website development, churning out a few theoretical examples and a couple of numbers. Now, let's look at a couple of real-life practical examples where B2B brands took their business to the next level.
HubSpot and Site Navigation
One of the most renowned companies for CRM software and inbound marketing tool development, HubSpot has implemented a chatbot on their homepages to help users find specific content and pages faster. 
Their chatbot also offers educational content about their products and services. This way, users can find answers to specific queries, general blog posts, or educational courses.
Alive & Kickin' Pizza Crust
The company is among the number one dough supplier for restaurant chains, food services, and manufacturers in the US. Their site uses bots to promote exclusive content to their customers.
Grande Custom Ingredients Group
The company leads the market for innovative dairy-based ingredients for solving formulation challenges for beverage and food manufacturers. Their chatbot aims to help visitors with the customer journey, as it provides users with pieces of additional information that enable them to reach the next step in the sales funnel or to find out more about specific product lines.
Expensify
This software development firm automates travel arrangements and expense reports for businesses in every industry. Their chatbot, called Concierge, helps users through the set-up process and helps with troubleshooting issues in the process of submitting expense reports. The bot can easily detect what causes problems and what might lead to report rejection and gives instructions for easy fixes. 
The bot also has access to real-time travel pricing, helping users find the best value. It can interact with users on the website, it's Slack-compatible and interacts with users via mobile devices.
According to their case study, Concierges managed to help reduce banking issues by a staggering 75%. End the best part is that the bot isn't an intrusive or preventative tool. It only helps diagnose problems that may have occurred during the submission process. On that end, it can save a lot of time both for employees and managers who want to submit express reports as fast as possible without any hiccups.
Implementing this Digital Assistant into Your Workflow
If you want to implement a chatbot, the following short checklist can help you:
Choose the bot that's best for your business goals: Are you trying to increase conversions? Do you want a customer support bot? A multipurpose option? A reliable B2B website development company can help you with getting a custom solution for any case.

Determine chatbot KPIs: This will allow you to measure the effectiveness of your chatbot strategy, helping you to stay aligned with your goals. 

Cater to user needs: What is the goal of your clients/users? Based on the needs and goals of your visitors, create a chatbot persona that will help them solve their issues without interrupting their workday or workflow. On that note, you should still consider adding your bot some personality to create a more welcoming atmosphere. 

Create the scripts/conversation flows: Think about the most prevalent questions your users are asking and what they are generally looking for on your website. Once you have your "openers," create content for multiple-choice response options. Naturally, this is easier said than done; you will also have to think about design, coding, and so on. That said, configuring the bot would be best left to an experienced B2B website design company. 

Designing the bot itself

Testing 

Setting up target rules for the chatbots: This will help build automation triggers that will activate the bot.

Optimization and measuring effectiveness: Once the bot goes live, it's time to see how well it performs and whether it needs a few additional tweaks to function at maximum capacity.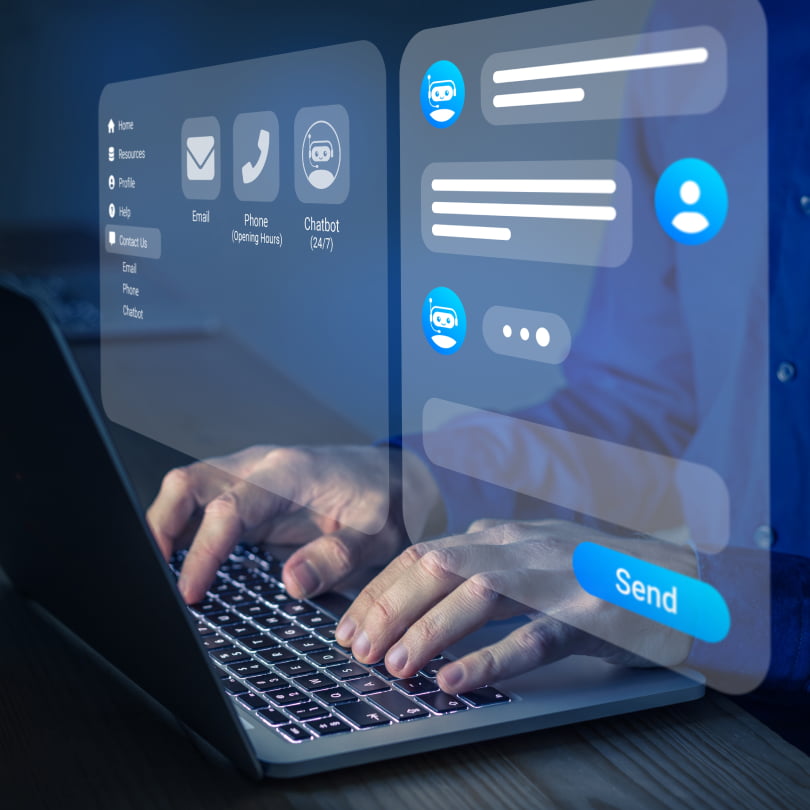 Generating Quality Leads with AI Tech
As mentioned above, chatbots are able to help B2B companies identify potential leads and create interest in the offered services/products, along with nurturing leads and capturing user data.
On that end, there are several lead-generation chatbots that can help with that:
Lead magnet chatbots collect visitor info by providing content in exchange for user data. These are mostly used to distribute blogs, case studies, e-books, and whitepapers. Typically, they are considered the best for lead generation. 

Appointment-booking chatbots help with scheduling initial meetings, demo booking, or deal-closing discussions. 

Promotional chatbots advertise services or products during special offers to boost sales.

FAQ chatbots help visitors receive answers to common questions without the need to call customer support, saving time in the process. 

Newsletter chatbots help with broadening subscription numbers and can be used as a stellar brand awareness tool.
So, how can the different bot types help with generating and nurturing leads? Experts marketers usually point out the following essential aspects:
Providing responses immediately. Nowadays, customers want instant answers, and even the slightest delay can make them abandon a website. Instant engagement and instant answers help create a positive appeal toward brands. On top of that, bots can work around the clock without downtime, providing answers no matter the time of day and helping drive interest in your products and services.

Capturing data: Without quality data, there's no lead generation. Chatbots help with engaging with your visitors efficiently, giving you opportunities to allure them to provide their basic info in exchange for something free but valuable. A name and basic contact information are enough for the distribution of quality marketing collateral and can boost sales results almost directly.
Nurturing leads: By distributing high-value, educational content and other quality pieces of information, you can nurture leads and help them establish a closer relationship with your brand, boosting the likelihood of them becoming actual customers.
Qualifying your leads: With chatbots, classifying your leads is also more efficient. Bots can analyze responses, track their behavior, and can segment your leads into several categories. Those more interested will get sales demos or even get forwarded to sales reps.
Chatbots are The Future of Digital B2B
All in all, chatbots are becoming a MUST for B2B businesses as their clientele has developed a preference for these handy little AI tools. They take away the hassle both from website owners and visitors. Whether that be customer support, troubleshooting processes, or content promotion, chatbots can work effectively and tirelessly to generate leads and boost conversions.