We say this way too often, but it will remain inherently true: the internet has had a massive impact on our everyday lives, touching and remolding almost every aspect of it. In this respect, the way we approach our own health and satisfy our healthcare needs and requirements is no exception.
Still, even so, many years after the so-called "digital big bang," we still see that most medical practices struggle with being effective when it comes to digital healthcare marketing and high-quality healthcare website design.
And even though effective healthcare marketing isn't rocket science or brain surgery (pun intended), it can often be challenging to determine those website elements that really matter and those that actually help with online visibility and conversions.
That said, this article will highlight some of the best healthcare website design practices, together with a few stunning website ideas that can help any practice improve its online presence and give a more engaging experience to its current and future patients.
Healthcare Website Design – What's The Deal?
To get a better idea of why web design for healthcare is utterly important, let's explore the latest numbers: According to different sources, roughly seven percent of all Google searches are related to health, which means around 70,000 searches per minute.
Furthermore, the healthcare system is becoming more and more digitized. For instance, even after the pandemic in 2021, 51% of the surveyed patients said that they still preferred digital channels to create key healthcare connections.
As you can see, a healthcare platform is a very intricate digital ecosystem where people communicate their concerns, educate themselves about specific conditions, and manage their own and their loved ones' healthcare needs.
These actions and duties can evoke a wide range of emotions from the user. As such, the best healthcare website design concepts should be easy to navigate, calming, reliable, and above all, user-centered.
How to achieve all this? The best practices below might be able to help.
Don't Skimp on Quality Content
When the average user goes to a healthcare website, they will mainly do it for two things: either to schedule an appointment/make a transaction, or to gather useful information.
To help them in these actions, your healthcare website should support a wide range of content management features. Apart from having an extensive and comprehensive blog section of peer-reviewed and medically accurate blog posts, you can also make excellent use of video content that covers specific health-related topics.
Look at the best healthcare website design concepts on the market, and you will see that all the best websites also double as platforms for patient-centered care and medical education.
On that end, your tone of voice and overarching style as a medical brand should be knowledgeable and come off as experienced and reassuring. Healthcare content should avoid marketing fluff and focus more on showing visitors how they can solve their own or their loved one's health issues.
Having a comprehensive blog section with up-to-date, professionally written blogs with accurate information, written in a friendly and reassuring tone, is also a must if you want to establish yourself as a reliable practice in the digital world. High-quality blog posts can be used for marketing purposes while also educating your visitors. They build trust and credibility as well.
Also, when talking about content, don't skip patient reviews and testimonials. You can use written content or video of satisfied, happy, and healthy patients to talk about their experience with you and talk about how they've made a full recovery. This can help calm down visitors, showcase your professionalism and compassion, and above all, helps with resting a more engaging and pleasant patient journey.
Accessibility and Responsiveness Are Top Priorities
It's 2023, so talking about having a responsive website is pretty much pointless since it's pretty much a MUST in web design for healthcare.
On the other hand, accessibility is something that site owners, even in the healthcare industry, forget to consider properly. According to Annual Report on People with Disabilities data from 2021, in the US alone, 44 million people have a disability, which can make it more challenging or even impossible at times to use websites and perform simple actions such as filling out forms or scheduling appointments. When people can't use a website because of disabilities that affect their physical capacities, vision, or hearing, the site isn't meeting basic accessibility standards.
Today, every website should be following inclusivity, but in the case of healthcare website design, this is even more important. These organizations have two main reasons for enforcing the latest inclusivity concepts:

Potential privacy issues.

For example, if patients can't access or enter their medical records alone or pay their medical bills on the platform, they will need to ask for assistance when they're entering personal and sensitive info. Apart from being a major privacy concern, the website's inaccessibility will also take away the person's independence and autonomy.

Higher Stakes.

Finding emergency phone numbers easily, location info, the inability to schedule appointments, or researching symptoms can actually be a matter of life or death. Healthcare carries high stakes in several aspects, and website accessibility is no exception.
And, apart from being a must in all healthcare website ideas, not adhering to accessibility and inclusivity standards can have serious legal ramifications as it's even mandatory in some cases.
Reassuring the User and Focusing on the Patient Journey
Building trust is a crucial aspect of web design for healthcare, and you need to create calming effect from every aspect. Your content should reassure the reader that not every symptom points to something severe, and you shouldn't jump to immediate conclusions in your blog posts.
Also, including short bios of your practitioners with professional headshots can help future patients feel more at ease when visiting your website and scheduling their first appointment.
On the other hand, all great healthcare website ideas consider the patient journey and overall digital patient experience. What does this mean?
A well-designed healthcare website should consider:
The emotional state of the patient

when creating content, especially for more serious medical conditions.

Accessibility.

As mentioned above, uninclusive sites can cause frustration and may even lead to privacy problems.

Family context.

Family members will play a crucial role in their loved one's healthcare needs. Designing a platform that gives caregivers a chance to communicate with doctors effectively can lower stress, streamline the home care process, and can potentially lead to better patient outcomes.

Easily accessible information: Patients should find every piece of info quickly. Having simple and effective navigation with clear and simple language can help them find what they need whenever they need it.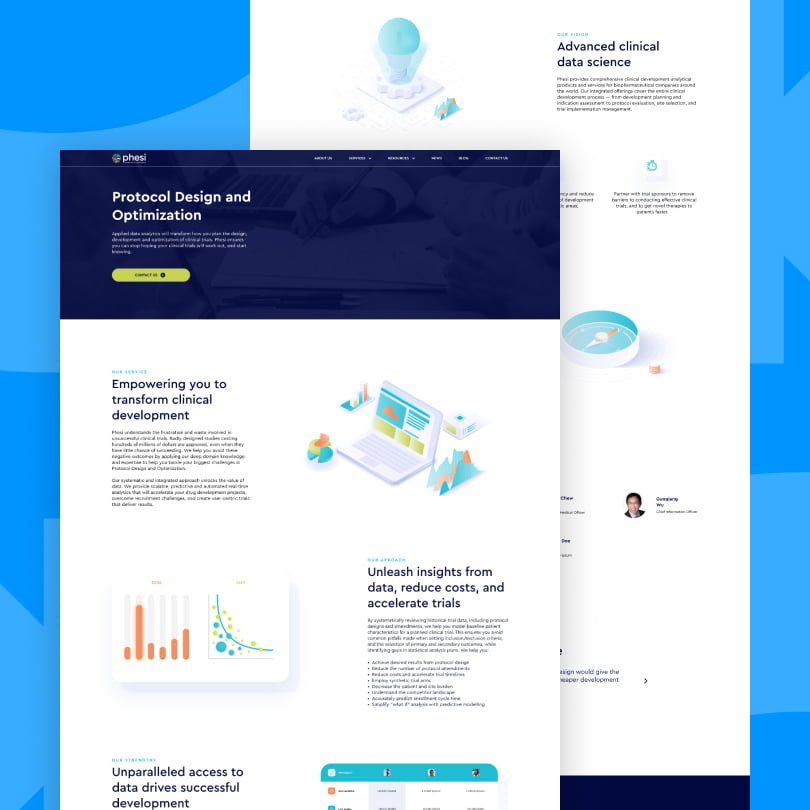 Simplistic Designs and Relaxing Color Schemes
The best healthcare web design ideas have another thing in common: they all focus on simplicity, exuding a sense of calmness.
When visitors land on a healthcare platform, they are often in stress. Health issues can lead to anxiety, and the added frustration of a slow, complex, and overly busy website can distract the visitor even further, leading them to abandon the website and look elsewhere.
The concept of simplistic design should be an overarching idea:
The content should be written in a simple and understandable tone, without too much medical jargon. The pages shouldn't be overly text-heavy and easy to grasp.

From a design standpoint, it's a great idea to include expansion options where users can click if they prefer to read more about something. Also, providing quick links to your most-viewed pages and resources can help users find what they want quickly.

The navigation should also be simple, with well-organized pages and structure. Get the most crucial page links and info above the fold, and make sure that contact links and schedule buttons are visible. The navigation menus should be consistent and clear to avoid confusion.

Also, you should never underestimate the UX power of a great footer. You can divide your content by audience or in other ways that can help visitors get to the pages they want to visit faster.

 

Lastly, you should also consider your color patterns. Web design for healthcare should focus on relaxing colors; light colors, especially blue, green, and pink, with white backgrounds work the best, as they can help exude a sense of calmness, harmony, balance, reliability, love, and nurturing, which will all make the patient journey and experience more intimate, compassionate, and inviting.
Understand HITECH and HIPAA – Ensure Patient Security
The HIPPA (Health Insurance Portability and Accountability) security and privacy rules aim to protect patient privacy and ensure the availability, integrity, and confidentiality of protected health info.
The Health Information Technology for Economic and Clinical Health Act (HITECH) gave governing bodies more control over enforcing HIPAA compliance from both healthcare institutions and their business associates.
Remember, only those websites need to be HIPPA compliant, which display, store, collect, process, or transmit protected health information. This means you don't have to worry about HIPAA requirements if your site is simply for informational and marketing purposes, listing your services and contact information.
On the other hand, your site needs to comply with HIPAA if:
The platform provides forms for collecting and submitting info that's health-related

The site has patient portals

Has a live chat feature

Offers to schedule appointments online

If your patients can submit emails via your site
Needless to say, collecting and storing all this sensitive data translates into high-level data protection as well. All appointment services, contact forms, and chatbots should be encrypted.
Naturally, the website should also have an SSL certificate to ensure that the entire site is encrypted.
These should all be mainstay features. Not to mention, data breaches can cause healthcare websites dearly – both their rep and revenue.
Voice Search and the Future of SEO
Love it or hate it, voice search is growing in popularity, and if you consider the fact that visitors want fast answers (especially health-related answers), then embracing voice for your healthcare web design ideas isn't far-fetched. 
On that end, even Amazon's Alexa became HIPPA-compliant which goes to show that the way users engage with search engines to find health-related answers is shifting.
SEO experts predicted that some time ago that voice would gain more dominance over the years, and its trajectory doesn't show any signs of slowing down.
As such, focusing on voice-centered SEO strategies that affect healthcare website design should be a main priority whenever developing a website.
That said, there are several things site owners can do to help create a more optimized, voice-enabled data structure that can help with their rankings:
Using the best general SEO practices

Adding Schema tags to your HTML

Optimizing for major search engine listings

Keep your Google My Business directory up-to-date

Aim to get your services/articles/product features as snippets.
Stellar Healthcare Website Ideas
Now, after that, we've discussed the best practices in healthcare web design; it's time to put those practices into action.
Below, we'll list a couple of excellent healthcare website examples that managed to stand out of the crowd and really did make a difference to their patients.
The Power of SEO and Quality Content – Mayo Clinic
No matter whether you've just coughed weirdly or your pinky feels a bit funny, chances are, you've googled your symptoms and ended up on Mayo Clinic.
Mayo Clinic couples the essence of good SEO practices by answering their users' most common questions with accuracy and professionalism. Also, they also make a statement about why they are the best providers for seeking medical help.
Considering Patient Values – One Medical
Knowing your patient means knowing your audience in healthcare marketing. One Medical embraces the patient journey with professional imagery of pleasant human faces, sleek offices, and with a copy that emphasizes the positives of the provider, all blended together with a soft and calming color scheme. They wish to appeal to a specific audience who want all-hour access to medical advice, patient portals, and resources.
Synergy Private Health – The Power of the Human Aspect
We're social creatures. We seek human contact, even in a digital setting. We connect better with pages featuring human faces.
Again, professional headshots and photos of patients and medical experts can humanize the patient experience and can help with building trust. Stock photos can have the opposite effect, so experts recommend using actual photos.
Synergy Private Health has done a marvelous job with its images from doctors through patients to calm exam rooms, tidy offices, and more.
Web Design Isn't a Fly-By-Night Process
Designing a website can pose many challenges, and this is exceptionally true in the case of healthcare. Providers should embrace the digital realm and should start catering to those audiences who prefer to conduct their health-related business online. The more they embrace what the internet has to offer, the more effective they will become in what they do best – helping their patients.