"They helped me create a site that's much better than I ever imagined. They were very talented and professional."
"They offer reasonable prices, delivery in time, quality products, and service on a global level."
"Our developer had a lot of experience and was able to guide us."
"They were thoughtful, communicative, and clear in their progress reports and their requests for information."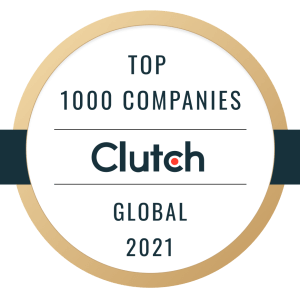 This is what 2021 was all about for us – transforming creative ideas into efficient, thriving, and interactive online experiences that meet the needs of our clients – and their clients as well.
As a digital agency that provides some of the most sought-after services in today's tech-focused market, we find it essential to connect and work together with a reliable and acclaimed B2B partner trusted by thousands of businesses across the globe. We've discovered that partner in Clutch.
PopArt Studio is a full-service digital agency that offers a full scope of services that blend technology and art, such as web development, web, graphic design, SEO, and digital marketing. We predominantly partner with small businesses and midmarket clients from an array of industries, including IT, marketing and advertising, eCommerce, retail, real estate, medical, and many others.
Clutch understands the B2B landscape and has rightfully earned its position as a credible source for validating other companies and businesses.
Clutch is a platform for B2B reviews to showcase our website design and development projects to potential clients in a well-organized, in-depth, and informative way.
We are genuinely proud of our newest achievement as one of Clutch's Top 1000 companies. Companies must exhibit an unusually high ability to deliver top-tier work to their clients to be eligible for this award. Receiving this award is no small feat, and we're incredibly appreciative of this recognition.
2021 was truly a unique year for us – the year in which Clutch recognized our work and creativity across an incredible five different domains:
Top Developers & IT Services Firms
Top Creative & Design Firms
Top Marketing & Advertising Firms
Top Business Service Firms
Clutch 1000
The awards come as a huge nod to each and every member of our team – from developers building websites using PHP, JavaScript, and ASP.NET technologies, our designers that create amazing UI/UX, graphic solutions, and branding designs, to our SEO and digital marketing experts who develop promotion strategies and build our client's brands in the online realm.
Our primary focus is creating custom CMS solutions – websites or unique WordPress themes that are 100% responsive across devices. Web development services we provide, including Laravel, WordPress, and .NET solutions – are completely synchronized with design – striving for a pixel-perfect final digital solution. Of course, no website is ready to go live without basic SEO optimization, which is an indispensable element of every web development project.
Focus on quality, personalized approach to every client and punctual and precise transformation of ideas into final products is what makes our designers stand out from the rest.
In the domain of SEO, we offer services of optimizing websites for the local and international market practicing techniques strictly approved by Google.
"Being listed among Clutch's top 1000 companies proves to potential clients interested in our services that we are a reliable, trustworthy, and transparent company that provides quality and expertise. Moreover, being among Clutch's Top Developers & IT Services Firms, Top Creative & Design Firms, Top Marketing & Advertising Firms, and Top Business Services Firms opens our doors to longstanding partnerships with a myriad of high-level, renowned companies across the world. It means our work, talent, and expertise in the digital landscape are recognized and valued, and it is a motivation and inspiration for us to advance our cooperation with Clutch and receive many new leads via their platform." – Srdjan Spaic, CEO, PopArt Studio

Words could not express how thankful we are to our clients. Without them, we couldn't have won this award, and we are incredibly appreciative to those who took the time of their busy day to leave us a review on our Clutch profile.
We are extremely proud of the fact that 13 out of 14 clients were 100% willing to refer PopArt Studio as their go-to digital agency – not to mention that our average review rating on Clutch hit the maximum five this year!
On behalf of our entire team, we are very grateful to have met and worked with all our clients and we look forward to confirming these amazing numbers with future projects in 2022.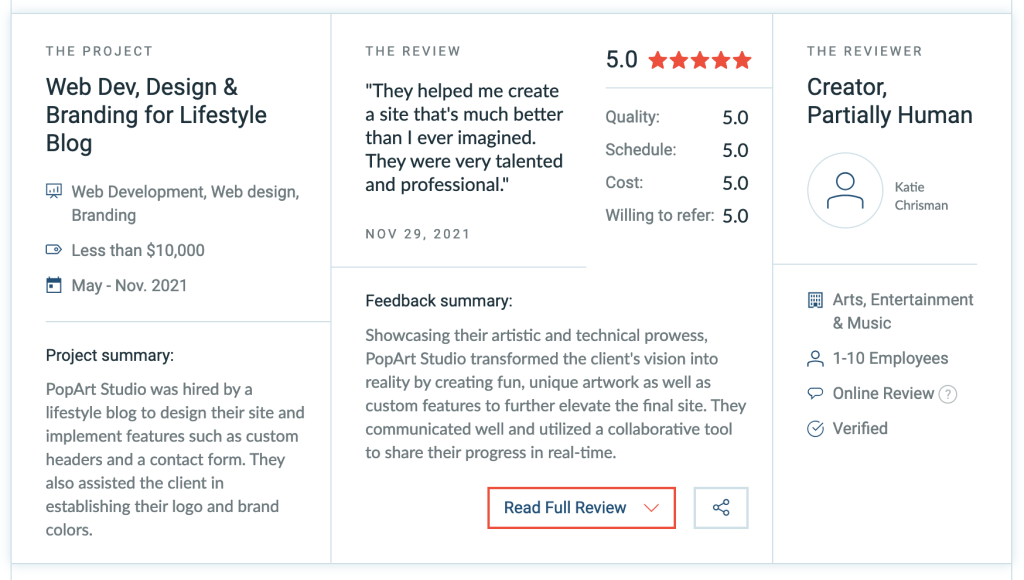 Do you have a project in mind? 
Send us a message today!