At PopArt Studio, we are a professional, global, full-service digital agency that offers interactive storytelling website development with rich user experiences. We are proud to cooperate with over 100 digital agencies with whom we ease the development, design, and digital marketing process by creating custom-made websites tailored to your customers' needs.
With that said, we are thrilled to announce that we've been recognized on Clutch's 2022 list of the best companies globally and a leading web development company in Serbia.
What is Clutch?
If you're unfamiliar with Clutch, it's a B2B ratings and reviews platform based in Washington, DC. They evaluate technology service and solutions companies based on the quality of work, thought leadership, and client reviews. A rapidly expanding startup, Clutch has become the go-to resource in the agency space.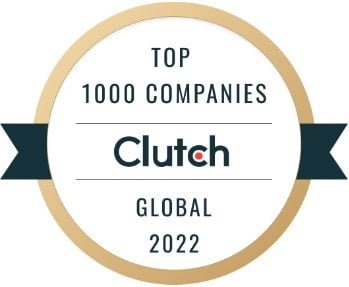 Clutch highlights the top 1000 firms across industries and locations. The Clutch 1000 Awards recognize companies' commitment to building their expertise, providing stellar customer service, and producing high-quality results for clients.
"Being recognized among Clutch 1000 indicates that our work is quality, modern, relevant, and invaluable to our clients – even twelve years since our inception. Whether it's mastering the latest development technologies, crafting state-of-the-art UI/UX designs, or mapping out tailored and effective digital marketing strategies, our company strives to stay on top of the game across the board." – Srdjan Spaic, CEO, PopArt Studio
We are truly grateful and proud of this recognition, as this validates our hard work and skills in tackling every project we encounter. We are also thankful to our clients for their continued support and trust. Here's what they had to say about working with us:
"From the very beginning, we have been extremely satisfied with the communication with all members of the PopArt team, especially with the project manager." – Nebojša Trajković, Digital Projects Expert, NIS a.d.
If you want to know more about us and our past projects, please visit our profile on Clutch. Do you have a project you think we will love, or maybe you want to say hello to us? Send us a message.