Buying a home or a property to start a dream business is a thrilling and time-consuming journey. People hope to find estates that match their vision, standards, and needs, and most choose the internet to start their search. 
According to Fit Small Business, 97 percent of buyers search for a home online, and that pursuit results in a successful purchase for approximately 51 percent. They all look for accurate information, credible pictures, and an easy-to-navigate platform. 
As a result, over 90 percent of agents say their websites are the most revered marketing channel. But if potential buyers form a negative impression in the first milliseconds, they will likely exit the website. 
For instance, bounce rates for commercial real estate (CRE) websites are the highest on the property details page (55 percent), contact us (51 percent), and property listings (42 percent). The synergy of elements should attract and retain visitors, ultimately turning them into buyers.
A top-notch design will help you inform your target audience, convert leads, and close sales. Here's everything you should know to achieve that.
Top 6 Tips on How to Elevate Your Real Estate Website Design
This is an industry that receives billions of dollars in investments every year. The increased demand resulted in real house prices rising by 4.6 percent in the first quarter of 2022.
Hence, missing out on a potential client or deterring them with a poor website experience could cause you to lose thousands of dollars. Every detail counts in this industry, including how you present your business online. 
Here are the six best tips for 2023 on how to improve your real estate website design. 
Prioritize User-Centric Approach
Many websites have an overwhelming number of texts. That can smother the call the action and imagery, making it unclear what you want visitors to do. 
Focus on talking through the objectives of each web page. Clarify what you expect potential buyers to do on your homepage, and carefully craft their visual experience. 
Research your competition and pay attention to how they build their web pages, treat customers, and their aesthetic and content priorities. That should give you an idea of what you should aim to achieve and what it takes to outperform them in real estate agent website design.
Refrain from dumbing down the message you want to convey with unnecessary visuals and text. Since homepages are the usual starting point of user journeys, you must ensure they have a compelling call to action.
Most websites focus on listings, but there is a heap of other helpful tools to make your website more valuable to potential renters, buyers, and sellers. Consider adding a mortgage calculator, "Discover your ideal house" surveys, and map guides with prices and other relevant identifiers.
Use captivating and accurate visuals and photos. Pictures should match the property area and characteristics. 
Because of that, it's recommended to avoid stock photos or leverage collages and carousels to make them more unique. But also ensure that copy aligns with your business and objectives, and use text that reinforces the authenticity of pictures.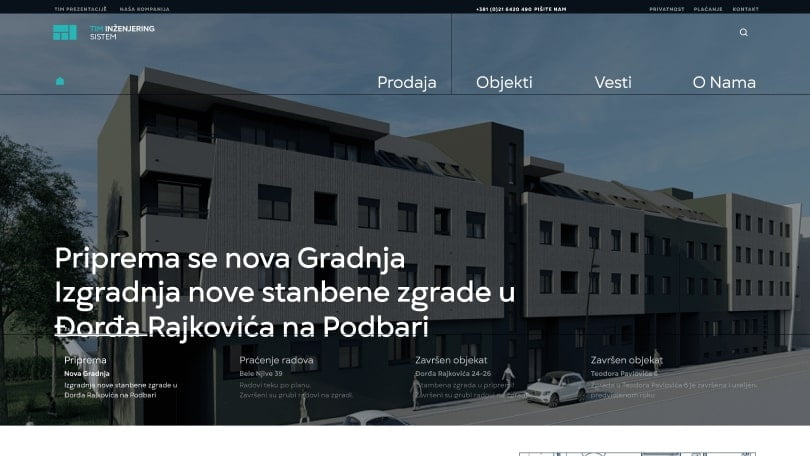 Leverage Long Tail Keywords
Search engines can only find websites if they provide consent that allows, for example, Google to determine whether they match a specific search query. Your website can only appear in searches if you leverage search engine optimization (SEO).
Therefore, you must research and use relevant keywords throughout the website; otherwise, your real estate website design could fall short. But don't refrain from long tail keywords, as they are specific and can help you reach your target audience.
For example, "new apartments for sale in New Jersey" or "properties with a swimming pool in Tampa" will attract more compatible leads, even if fewer. But the goal is quality and targeting your ideal audience, as that gives higher odds of conversion. 
Add Many CTAs
Call-to-actions are your safest method to spark your visitors' attention and turn them into clients. Integrating eye-grabbing and effective CTAs in your real estate agent website design will help boost conversion but consider where you place them. 
Although every page should have an uncluttered and captivating CTA to prompt visitors to buy or rent, be strategic about the position. For instance, the click-through rate increases by 25 percent if you include them in the welcome gate. 
Also, consider the following when designing your CTA form, button, or link:
Make them clear and brief.

Leverage stimulating and prompting verbs.

Evoke positive emotions and feelings when possible.

Use RE industry-specific terms and language patterns.
Balance Usability and Aesthetics
Multiple flashy and trendy animations will likely cause a website to fail usability testing. Commercial real estate website design should contribute to the objective of the business. 
Remember that people look for property information and data, not masterpiece visuals. Make the website look good without overloading it with clutter, complex navigation, and preposterous menus. 
Prioritize fast loading speed and remove bugs, glitches, and broken links. Choose a responsive, mobile-friendly layout and template that suits the industry. 
Create Top-Notch Search Tools
People who visit your website look for relevant property listings. Your commercial real estate website design must include a stellar live search feature that provides an engaging shopping experience. 
Since your visitors expect to find details (e.g., the year a house was built, the neighborhood, and the number of bathrooms), you must ensure your search offers additional filters. But go the extra mile by creating personalized parameters, such as lifestyle type or whether a property includes a garden. 
Ensure Intuitive Navigation
Property brokers, buyers, and landlords want website navigation to be their compass and guide them through the user journey. If your real estate website design is confusing, they will likely leave.
Keep it simple. Create a structured navigation that's easy to follow and ensure visitors can find the content they need in only three clicks.  
Leverage sticky menus and provide a breadcrumb trail. Prioritize bold buttons, use the business logo as a homepage link, and create clear titles.
To Wrap Up
Creating a captivating real estate website design that converts leads can be time-consuming and challenging. But you can make it happen by keeping in mind what your target audience is looking for and weaving their needs and expectations into every thread of your website pages. 
However, if you feel safer giving this undertaking to professionals who can help you create the best real estate web design, choose those that match your objectives and have relevant experience to back up their promises.