In the real estate and construction industries, finding and satisfying the next customer is the focal point. It's not just a buy and sell game, it's more about either finding or creating a new home for people and families where their life story can continue to unfold happily.
If we'd like to be a bit far-fetched, we can say that these industries even carry a sense of hope – hope for a better, more convenient future.
As such, there should be a couple of important things that people in the real estate or construction business should keep in mind when they're thinking about launching a new website, and to make their job a bit easier, here are a few pieces of advice that can help them create and give value to customers while improving their own business.
Real estate and construction website essentials
Conversion above all
When talking about construction and real estate, we can say that creating a website that's centered on conversions should be the primary route to take. Due to the nature of the industries, most real estate and construction professionals will most certainly benefit from a website that lets customers engage with it and prompts them to take action.
For years now, more and more people have turned to the web both to buy and sell homes, and as a response, agencies have started to shift their views regarding their websites and instead of rather static online surfaces, they've started to focus on offering more immersive platforms both to sellers and buyers to improve user experience.
As the website is the publishing platform for the seller, the source of information, the main communication portal between agents, sellers, and buyers, site owners should aim to create a web application that gives clients more than a newspaper ad could ever give.
The scenery is similar in the construction industry too, with more and more people looking for professionals online.
Visitors no longer have to rely on offline recommendations, business cards, and newspaper ads. Great construction business websites showcase not just what the business is, but its work too, along with valuable reviews.
Keep features at the forefront
We've already mentioned above the importance of your website being immersive. The longer prospects stay on your website, the better your chances are of closing a deal, let that be selling or buying a home, or hiring you for a project. However, in order to make that happen, you also have to provide your potential clients with immersive features on your website that will help them choose you.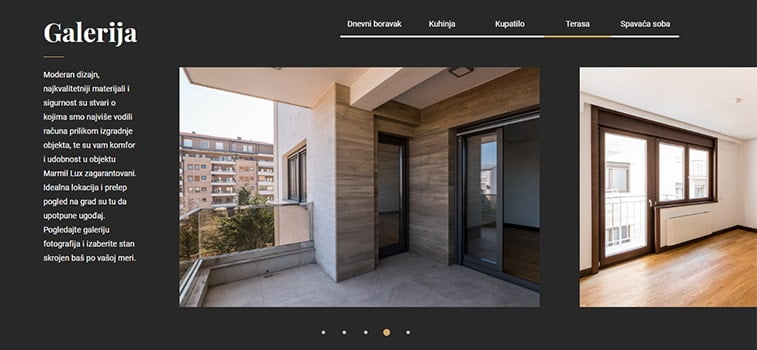 For real estate businesses, your website should be dynamic with interactive features like professional, beautiful imagery, home tour videos, mortgage calculators, property maps, local places of interest, area maps and more.
These features should come in layers one following another making sure prospects will spend a considerable amount of time on your site. Starting with a property map that leads to the photo gallery and ends with a video tour is a solid way to go about it.
On the other hand, it may seem far-fetched, but you can also incorporate VR technologies. Listings in Virtual Reality have been around for some time now, however, they've yet to come to the forefront of real estate features. VR can make the purchasing process more streamlined and seamless while giving buyers a better idea of how the actual property looks and feels like before even setting foot in it.
Construction websites can also highly benefit from such immersive features. VR technology, for instance, can help them showcase a finished home even before the work has started. Also, it can give clients a better understanding of the entire work process.
Also, using high-quality detailed photos of finished projects should be a must on these websites. Think about it as an online portfolio for your business. Showing your work in the best possible light can attract more customers, bringing you more business.
SEO for visibility
When it comes to conversions, there's one thing you should always secure first, and that's traffic. A site build for the conversion is only as good as the traffic it gets, so let your web development team know that your primary objective with your web application would be to have people visit your website and then take action.
There are lots of steps you can take to optimize your real estate website (even later on) and one of them would be to use organic listings. These are IDX listings that are easily detectable by search engines and can rank you higher making it easier for potential clients to find you.
Backlinking can also help you stick out from the crowd, so ask your web development and SEO team what's the best way to create these backlinks that point back to your site.
Registering your business online on business databases (like LinkedIn and Yelp) is a good start. Also, posting in business groups related to your industry can be fruitful.
Cross-posting on related blogs can be a good idea too. On the other hand, keeping a strong online presence on your social media channels (which, by the way, should also be integrated with your website) can also help your backlinking efforts, especially if you encourage people to share your material on different social channels.
Internal linking can also help you with this since after attracting users, you can give them a reason to stay and keep browsing. The simplest way to do this is with linking to your older website content, allowing not only for your potential clients to spend more time on your website (and upping the chances of a conversion) but also search engines to index old content helping you drive more traffic.
While most of these steps are geared toward real estate agencies, construction businesses can also use the same analogy to apply them.
Keep the content relevant
Content is the bread and butter of every great online marketing strategy and providing your prospects with lots of quality content should be a must.
So when mapping out your website, make sure to create room for blog posts and other handy pieces of content that will help you to add customer value as well.
Great topics like buyer's guides, industry trends, news, and best practices can help you with that a great deal.
Also, this might not be directly linked to classic content marketing practices (like blog post writing), but make sure to have a review section as well enough space for users to interact with your business. Reviews can also serve as "social proof" that you are a professional and a reliable person to work with.
Content can be especially valuable for construction websites. By adding details about certain projects and work processes, your visitors can get a better idea of how you work and compare your workflow with that of others.
Listing your services
By showcasing your services, potential customers can get a better idea of who you are and what you do. This tip can be extraordinarily helpful for construction companies since by listing the various services they provide, the better their chances are for closing a deal even for minor projects.
On the other hand, service listing gives construction companies a great opportunity to give prospects a better picture of what they are all about.
In these sections, they can address their qualifications and experience, along with an impressive past client list (if there's room for it. Otherwise, they can go to the About page). These service pages are also great places where professionals can give their value propositions – why choose them instead of the competition.
Site owners can also include their high-quality, detailed photographs on these pages too, only further enhancing their professionalism. Case studies can help here as well.
Detailed search features
Since prospects will be mostly looking for homes to buy, you should have a comprehensive search option at your disposal where potential customers can browse based on their highest criteria.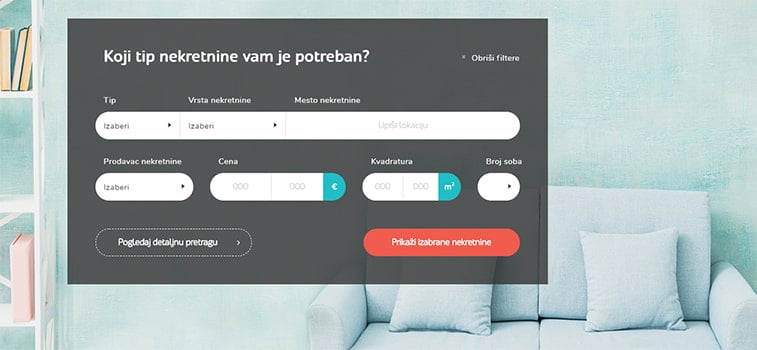 This isn't only a great way to help them find their dream home, but it also helps build trust between the user and your brand. As such, the likeliness of them recommending you to others who are buying a home will be higher.
That being said, apart from common criteria, like descending or ascending listing prices, the number of bedrooms, location, and square footage, there should be included other parameters like fireplace, pool, master bath and so on.
General features
Apart from more industry-specific features and practices, there are a lot of other features you should include on your website in order to give more value to your customers, drive more traffic, and improve your conversion rates.
Easy to use and modern
This one shouldn't come as a surprise. Having a website that's easy to understand and to use should be essential for every business owner who uses their website as a place for business. Users tend to flock away from sites with complicated navigation that's not streamlined. That being said, go with a straightforward solution as far as ease of use is concerned. Don't try to reinvent the wheel.
Also, you should aim to stay on top of current web design trends and use a sleek and modern design for your website. People tend to distrust outdated features since it makes them feel that the site owner is unprofessional. Scratch old designs and go with the latest trends.
Responsiveness
Having a responsive website that performs outstandingly on every platform is an essential feature. Your website should be easy to navigate and should display beautifully on all devices, from desktops to tablets and phones.
As mobile-use is ever more prominent in online surfing and browser searches, you don't want to be left out.
Let them reach out to you
Having a dedicated contact page should be a must on your website. Both in the construction and real estate business, making calls and scheduling meetings is essential so you want to leave your contacts on a clearly visible surface.
On the other hand, you should optimize your other digital channels as well either by directly leaving your contact information on them or by linking to your contact us page. 
Pre-made vs custom?
Lastly, a lot of business owners tend to struggle with this question when they are thinking about launching a new website. Should they go for something that works out of the box or should they hire a professional to create a unique web application by scratch?
Well, it depends.
Simply put, a lot of business owners can benefit from pre-made templates and themes, and in most cases, they work just fine. Others opt for custom solutions without even considering the pre-made route.
More or less, it all boils down to personal preference, experience, and requirements.
Pre-made solutions can be great for those who are on a budget and need a cheaper website to get things going. In most cases, they can pull off the vast majority of features a custom website can, however, there's a greater chance for error, especially when the website isn't configured professionally. And here's where experience comes in.
If the website owner knows the basics about web development they can carry out basic configuration tasks, take care of basic hosting necessities, and can even perform regular maintenance. However, without the necessary know-how, things can go wrong and if the site owner doesn't have a dedicated developer who knows the website in and out, chances are, it's going to be down for a while until the issues are resolved.
On the other hand, requirements also play a huge role. If you are looking for extraordinary features that are unique to your website, there's no better way to do it than taking the custom route. A professional web development agency can create a website tailored to your needs meeting your highest criteria.
Long story short, both have their advantages, but unless you have the necessary experience, hiring a team to create your website might be your best bet.
---
Finishing thoughts
Conversion is the name of the game when it comes to real estate and construction business websites and they should be focused around those features that help them generate more clients.
Providing an immersive experience with great interactive features and with valuable content should be also set high on the priority list, along with being simple to use, streamlined, with clearly visible contact information.
The point of the website should be to intrigue the prospect to reach out to the business owner and that's the part, "the excitement", you'll want to capture.