As a brand owner, chances are, you've heard of TikTok but didn't really give much tough to it because you were too busy doing business or perfecting your marketing strategy.
As a digital marketer, you already know the pros and cons of social media marketing and the costs of advertising on social platforms. But as the app gained more ground and recognition, you soon realized, that the Chinese app (first introduced as Douyin) is here to stay, offering a new channel for brands to reach out to their followers and to find new ones in the process.
As the new social media video-sharing channel launched internationally in 2017, TikTok is still a new platform offering relatively little competition and a huge potential (not to mention, it was the most downloaded app this January, with around 800 million users today).
However, the new channel doesn't only mean new opportunities but new challenges as well, and to help you create a well-rounded marketing strategy around it, below we'll share everything you need to know about the platform and its marketing formats with you.
Why Go With TikTok For Your Business Marketing Efforts?
If you've seen the channel, you might think that it's not a great marketing platform, but trust us, with the right approach, it can work wonders.
Most business owners and marketing experts criticize TikTok for its young audience, however, statistics show that more and more people have started using the app even among the older generations.
So, what's the most appealing in TikTok? Have you seen Instagram and Facebook lately? There is basically an abundance of ads, different brand pages, groups, and campaigns everywhere, trying to grab users' attention for more than a few seconds. The thing is, these platforms have become over-saturated, and finding new audiences is quite hard, even if you have genuinely good products/services and an awesome story behind your brand.
TikTok offers a relatively new, uncharted field for brands to shine and to gain a stronger online presence to build better recognition and prestige.
How Does TikTok Work?
Before jumping into the details, first, you need to understand how the platform works.
It's a video-sharing channel that revolves around posting videos that last for no longer than 15 seconds, however, you can combine them up to a total of 60 seconds. People on the platform interact with your content by scrolling through their feeds.
Where TikTok shines, compared to other video-based social apps, is the powerful editing tools and background effects users can take advantage of to enhance their videos. As a result, a lot of creative dance videos went viral on the channel.
As far as engagement goes, people can mainly perform the ?standard? actions, like liking a video, leaving a comment, or sharing the video through other apps, direct messages, or even SMS.
It should be said that this is probably the strongest side of the platform as TikTok boasts exceptionally high engagement figures. According to Influencer Marketing Hub data, the channel beats all other platforms in terms of engagement levels regardless to account size.
The app also managed to keep users interacting with the platform and content, as people generally use the app around 45 minutes a day.
So, what is the most difficult part of being a brand and marketing on TikTok? Creating the kind of content that resonates well with the users. Just take a look at a feed, and you will notice that this platform sports a different kind of content from other social media applications.
With that being said, it's probably better to take your time, and research the platform for a few weeks, watch videos. This will help you develop a better feel for how to approach it, and will ultimately make it easier to use it for marketing and branding purposes.
Before Getting Started, Get Your Demographics In Check
Before getting started, the most important question you need to ask yourself is whether your brand is targeted toward the people who are on the channel. TikTok is the most popular with users˜between the age of 16 and 24, which is around 41% of the entire user-base, and the remaining 59% is assumed to be in the 24-30 category, or at least making a large part of it.
That being said, marketing on this platform might be a good idea in case your audience demographics align with the user stats mentioned above. It's not to say that you can't start to build your online presence on TikTok, but chances are, if your audiences or an older age group, the resources you spend on TikTok marketing might be better spend somewhere else until older people don't start using the app.
We're not saying that you shouldn't even consider downloading the app if you happen to market to older millennials. All we are saying that you might not want to go really aggressively on the marketing strategy and budget if the people you market to the most aren't using TikTok yet.
With that in mind, it would make more sense to repost your TikTok videos on other channels like Twitter or IG. This way, you can enrich your older channels with fresh content that's heavy on creativity and effects (more on that later) and you can also ?lure? your followers into downloading the app themselves.
Getting Started With TikTok Videos
To create your first video, simply just log into the app, and tap the ?plus? sign you'll immediately see once you're logged in.
After this, you'll be able to start recording your video. On the upper right corner, you can find different recording features, like the ?speed? option, and the ?effects? feature, which will enable you to add some creativity and brand-flavor to your content.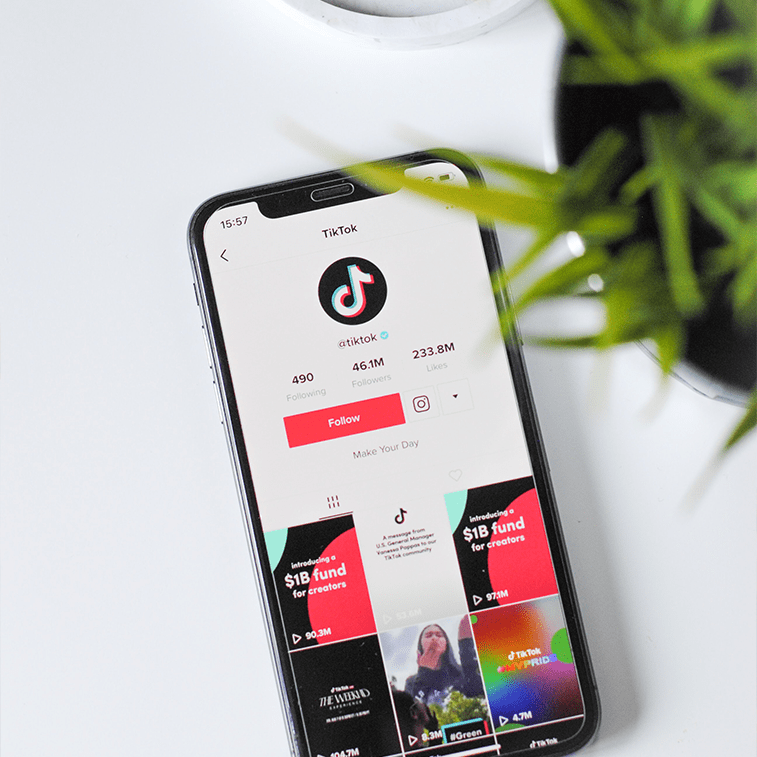 For example, TikTok is a great platform where you can take advantage of different features that use AR, or augmented reality tech. Use these effects if you want to make it seem as though you're interacting with different virtual items, or use them to change your appearance.
Once you've done with your video, you'll access the ?post-production? area, where you can add even more effects to your content, like filters and voice effects.
Once you're done with customizing your video, you can start the upload process. Before you upload your content, make sure to add hashtags for your video as they work just as hashtags do on Instagram ? they can impact your ?discoverability?. Make sure to use tags that are relevant to your brand, video, and your central vision.
You can also choose to add a ?cover? to your video, which works as a preview for your followers. A good cover can also have a significant impact on the likelihood of someone tapping on your content. That being said, go for the moments that are visually most appealing or striking in the content.
Now, that you're done with every editing phase, it's time to upload the video by tapping ?post?.
Just like with other platforms, you can also share your content automatically on other channels as well. This is a great way of letting know your followers on other outlets that you are on TikTok too, growing your following almost instantaneously.
Creating Content
This is probably the most pronounced difference you'll see when you compare TikTok to the other social media channels. TikTok thrives on creative and interesting content, and if you are able to come up with genuinely creative and exciting stuff, then your engagement will be on the higher side and the algorithm of the channel will prioritize your videos. Pushing it toward even more people.
So, how to come up with interesting content for TikTok? Some marketing experts advise having the same approach you'd have when coming up with blog post ideas. This means thinking about the things that might interest your target audience, and about the problems they face. If you can't pinpoint them exactly, you can always ask. Remember, TikTok is heavy on engagement, so chances are, your existing followers are more than happy to share theirs with you.
On the other hand, you can always conduct a bit of research, look for the most common questions your followers might have on different forums, make good use of the ?autosuggest? Google Search feature as a great inspiration-source when you're creating your content. Sometimes, even a thorough keyword-research can inspire you so always be on the lookout for the hottest SEO keywords within your industry.
And while educational content should always be high on your priority list, you should never forget about funny things either. Since most people use TikTok for fun, chances are, you'll manage to build a good rep if you ease things a bit and show your funny side as well.
On that note, don't be shy to take good advantage of the video-editing options you have at your fingertips. They could come in really handy, especially if you are struggling to come up with something humorous. Some filters and songs can really make a difference in this aspect and they can enhance the overall feel of your videos.
The Challenges Of Good TikTok Content
One of the biggest challenges that brands and marketers are facing on this relatively new platform is in regards to the original content.
Generation Z wants a full and immersive experience and wants to be involved and entertained. This means that if you want to dabble with original content, you'll want to create videos that will sit well with your followers and thus, engage with it. On the other hand, you'll also want to encourage your users to share videos of interacting or using your products.
On the other hand, TikTok is notorious for its viral videos (just think about the dance challenges and all that noise). This means, that to get noticed and to earn the attention of TikTok users, you need to pour in a lot of effort and creativity into creating your original content.
The mundane and sometimes repetitive approach that seems to take a hold on most brands and marketing agencies when it comes to social media content on IG and Facebook simply won't work on TikTok, especially, if you want to build a larger following fast.
Having that in mind, be honest with yourself whether you have the time to come up with creative and exciting content that will enable you to get noticed on the platform.
Don't Forget About TikTok SEO
You probably already know the drill with this one. Optimizing your content on the platform means making it easier for people to find you. The easiest way to pull this off is by using the right hashtags for your videos.
If you aren't sure about the right hashtags you should use, you can always conduct a little ?ad hoc? keyword research on the platform's search section as it will automatically suggest a number of different hashtags associated with what you typed.
Partner With Others
If you are experiencing a hard time building your following on the platform, you can always choose to partner up with other creators who are relevant to the channel.
As a digital marketer, for example, partnering up with another agency that has a stronger presence on the platform can be a great idea. Just be patient since it might take a while to get a response, and also make sure to reach out to several agencies, instead of fixating on one particular company.
On the same note, as your following begins to grow, you'll find that more and more people will be willing to partner with you and you might even be asked for collaborations as well.
Advertising
Just like in the case of other social channels, you can market your brand with the platform?s dedicated ad system, which can come in handy, especially if you don't want to spend that much time building your audience by yourself. All you have to do is set up a campaign, and once you're done, chances are, you'll be reaching new people within a day.
TikTok offers various ways you can advertise your business, and they are the following:
Branded Hashtags
Top View Ads
In-feed Ads
Branded Effects
Brand Takeover
Smaller businesses usually benefit greatly from in-feed ads. This might be due to the fact that the other advertising modules are more or less open for brands with more corpulent ad budgets.
If you want to look into in-feed ads, just use your ad account (go over the sign-up process and wait until you get access from TikTok) and click on ?Create an Ad?.
In-feed ads more or less follow the same video format as ordinary content, so opt for 9-15 seconds of the best results.
When setting up your ads, you can select from a number of different objectives, and you can choose two types of targeting:
Interest targeting: This one works somewhat like Facebook Ads. You select a relevant interest to your target audience and the platform will automatically market your ad to those people.
Behavioral targeting: This allows you to push your ads toward people based on how they behave and interact with content on the platform. To pull it off, simply choose a video category and a particular behavior style. This enables you to reach people who are active on the channel.
Also, you have options like lookalike audiences and custom audiences with the first one focusing on users that somewhat share the same user traits as the people who already follow you. Custom audiences, on the other hand, lets you become visible again to those people who have already interacted with your brand inside or outside the TikTok platform.
Influencer Marketing
This type of marketing started off years ago˜and its popularity is still strong. When done the right way, it can bring really fast and tangible results, however, finding the right influencer can be a hassle.
Sifting through influencers can be demanding and daunting and to tackle the problem, TikTok offers its own ?creator marketplace?, where you can see the metrics for each influencer.
If you use the given data the right way, it will ultimately be easier for you to find the right person for the job.
Hashtag Challenges
One of the essential features of the platform is hashtag challenges. This has become an elemental part of the community, as users love these challenges of making and uploading videos according to the given instructions in the challenge.
Namely, users who participate are usually given a hashtag, and they should make and upload a video, based around that particular hashtag and topic.
This might not seem like a revolutionary marketing opportunity for most business owners, however, taking part in an ongoing challenge can help your brand break a little ground and build up traction and momentum on the platform.
On the other hand, a business can start its own hashtag challenge on TikTok. However, unless the brand has managed to gain a substantial following, kicking off a branded hashtag challenge might be a better idea with the help of influencers.
Either with a help of a business partner or on your own, these games are a good way to raise awareness, engage with your audiences, show off your creativity, and even showcase your products/services at the same time.
Using TikTok Metrics
If you have previous experience with social media marketing, you know that knowing your metrics and data can be a huge help to fine-tune your strategy.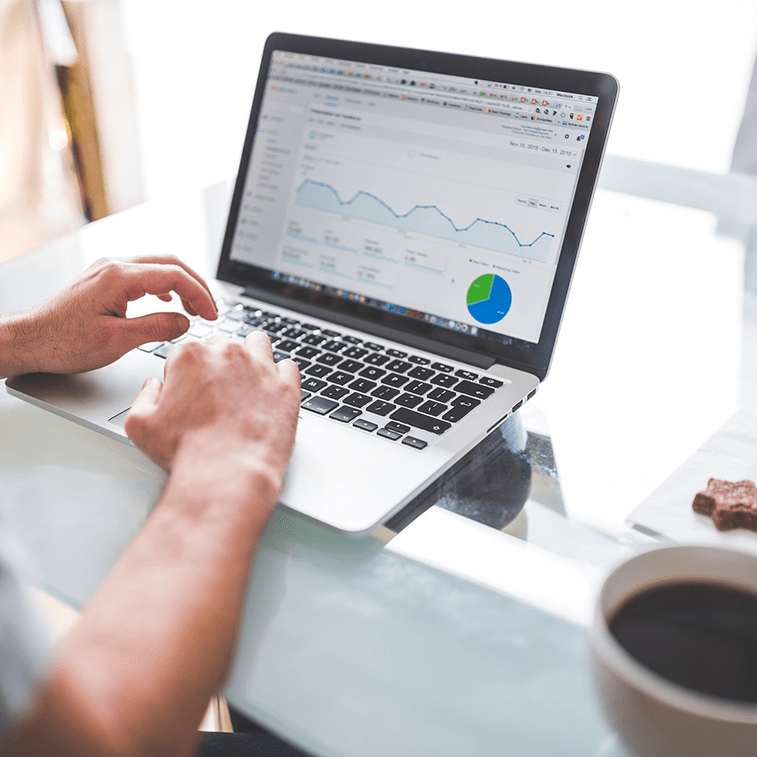 To get access to your video analytics data, you need a ?pro? account, which doesn't cost anything. Just go to the ?Privacy and Settings? section, tap on ?Manage my account? where you can enable this upgrade.
By monitoring your metrics, you can pinpoint the areas that work fine for your marketing objectives and which need alteration and you can improve your results on the fly.
The analytics section also lets you access the ?Followers Analytics? section, which enables you to see what your audiences are watching (apart from your videos), and when they spend the most time on the platform.
All this info can help you a great deal when you're setting up a content calendar for your videos, not to mention, it can help you maximize the results of your ad campaigns.
Marketing Strategy for TikTok: Best Practices
In this section, we're just going to mention a few great tips and examples regarding marketing on the platform.
First, let's touch on the ideal time to post on the channel. Up to date, not even experts can tell which is the best time that will yield the best results for most marketers, however, some might say that the best period is between 10 AM and 6 PM.
So, to cover all bases, conduct your own little experiment and post your content at different times to see what works best for you.
On the other hand, make sure to optimize your profile. Don't leave any vital information out of your bio, so people will know who you are and what you do. You can also leave a call to action in your bio, and it may prompt people visiting your profile to actually follow through and perform that particular action (like following you). Leave a link to your website, link to your other social profiles, and so on.
Lastly, jumping on trends can be a great idea. Every now and then, you'll find trending hashtags on the platform. Using them can up your chances of reaching a larger audience.
---
Finishing Thoughts
As you can see, TikTok offers a lot of different options for marketers with a few things you've already come to get familiar and comfortable with while using other platforms.
However, TikTok itself is a lot different than the rest of the channels that we use most of the time, meaning that as a marketer and/or business owner, you might notice that it will be a while before you get really familiar with advertising on the platform.
The key here is in the content, and this is where you'll probably need to put in the most work and effort. It's not that you can post anything on other social media channels and yield great results from them, but with TikTok, you really need to be unique and creative to break ground and to stick out from the rest. Why? Because your followers also put a lot of work into making their videos worth watching, and chances are, they won't settle for anything less.