Are you already using Instagram stories? If not - you are missing out on half a billion opportunities for your business to grow - because that's exactly the number of users who view at least one Instagram Story every day. If yes - it's quite likely that you're not using even a fragment of the huge number of options that these short format images or videos offer. Instagram stories are a great way to quickly and easily entertain and encourage your followers to take action, so today we present you 10 sure-fire applications for creating creative Instagram stories.
What Are Instagram Stories?
Driven by the success of the story on rival Snapchat, Instagram launched an identical option as part of its app in 2016. In a very short time, the success of the new Instagram option has almost halved the number of users who view Snapchat stories, and today Instagram stories are an indispensable part of a great marketing strategy, whether you are an influencer, a startup, or a company with years of experience.
An Instagram Story is a photo, text, or short video posted by users that disappears after 24 hours. Recently, the Highlights option has been introduced, which offers you to save your Story posts on your profile, group them, and thus offer your followers a unique journey through your business story.
Why Are Instagram Stories So Popular?
In 2019, stories were one of the biggest trends on social media. As much as a third of all Instagram Stories were posted by a company profile, and businesses publish an average of 2.5 stories a week. Every day, 200 million Instagram users visit at least one company profile on this social network.
But what makes Instagram Stories so tempting? The success of this type of content lies in the fact that people, but also brands, share real moments from their everyday lives through Instagram Stories. Without filters and editing, the Stories provide users with a unique insight into the background of the company's work, business people, influencers, or celebrities.
On the other hand, companies and individuals around the world use this personal and direct method of communication to get as close as possible to their target audience. Instagram Stories have become an indispensable part of every marketing strategy because of their "raw" approach, which differs drastically from the seeming perfection that users encounter in Instagram posts. This makes Instagram Stories a great marketing tool – both indirectly through connecting with audiences, as well as directly, through sponsored ads and inserting links to products and services.
Surely you've seen, by now, a beautiful and artistic Instagram Story that made you wonder how long it took to make, how the author is the embodiment of creativity, and how you will never be able to create something like that. And what if we tell you that you don't need professional equipment, a lot of time and money, but just a single mobile application to create a beautiful and effective Story?
The Best Mobile Apps For Outstanding Instagram Stories
We present to you the 10 most popular applications with which you can easily and quickly create a beautiful and effective Instagram Story that will go head-to-head with those of the most popular influencers and the biggest brands.
Canva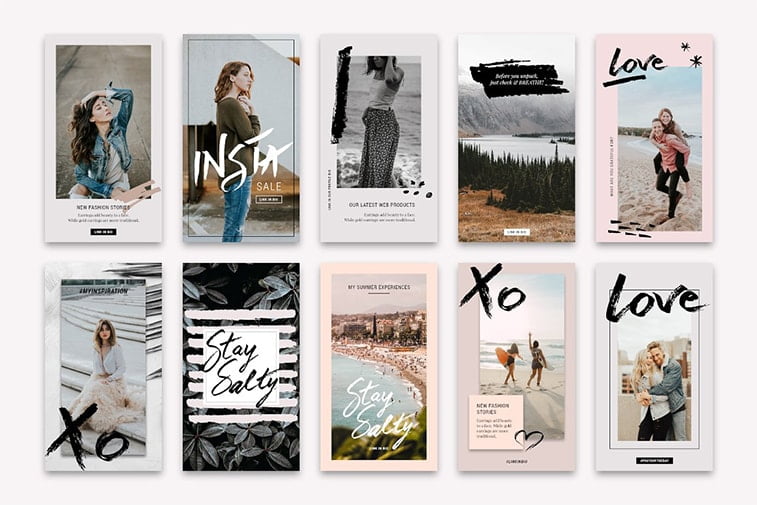 Ideal for creating and maintaining brand awareness, Canva is one of the leading apps for creating powerful Instagram Stories. Available on iOS and Android since 2016 and 2017 respectively, this application offers literally millions of different wallpaper designs, 130 fonts, and a multitude of graphic elements such as stickers, icons, badges, frames, and animations.
If graphic design isn't your cup of tea, Canva offers over 60,000 ready-made story designs, which is a great help to those who are still searching for their unique style. For those more creative, the possibilities that Canva offers are unlimited.
The free version of Canva offers a great number of options, but all possibilities are open to you for 10 dollars a month, which is the price of the complete version of this application. Also, the great advantage of Canva is that it is also available on desktop, in the form of a website as well as an application.
---
VSCO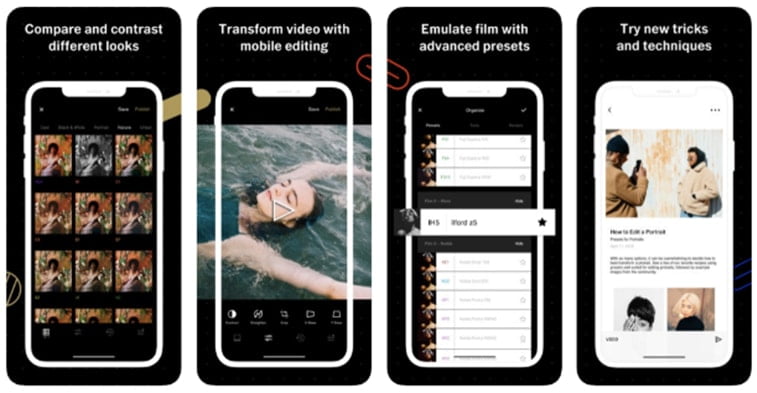 Rarely can an application boast itself for having entered the vocabulary of young people – but VSCO can. The popularity of this application among Instagram influencers gave birth to "VSCO girl", a term that indicates a girl who posts photos edited in this app.
VSCO offers a large number of tutorials and content creation tips that will help all beginners in this application to create a perfect design right from the start. In addition to these options, this app also has photo editing options, and video editing is only available in the paid version.
The application is available to both Android and iOS users, with identical features.
---
Unfold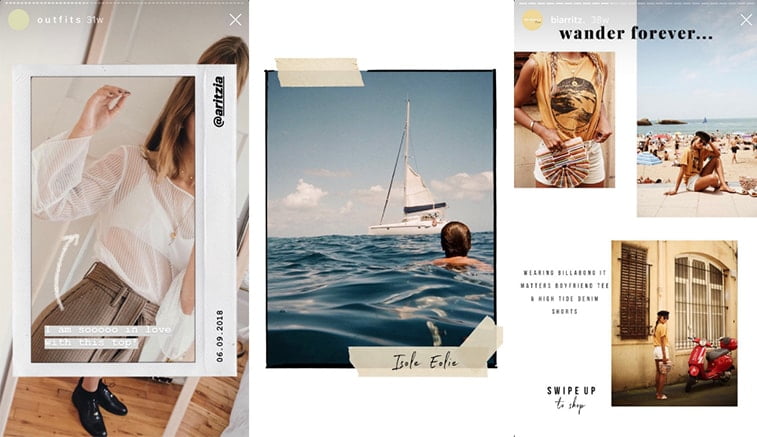 Minimalism is currently the biggest trend in photography, so it's no surprise that Unfold is one of the leading applications for creating Instagram Stories.
With 25 free and over 90 paid story templates that support both photo and video format, Unfold is a great tool to create amazing Stories in just a few steps. This app offers sets of templates, which is a great option for all companies that want to brand their Instagram Stories.
Unfold is available for Android and iOS devices.
---
Adobe Spark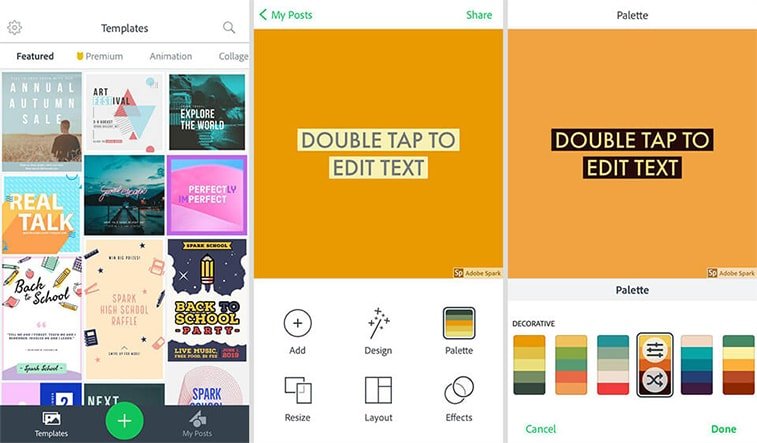 The latest reinforcement of the Adobe family has drifted from the strictly professional software, but that, by no means, suggests that your Instagram Stories won't be top-notch. Adobe Spark Post and Adobe Spark Video offer hundreds of professional designs that you can easily create according to your brand. Add a logo, choose fonts and colors, and with just a few clicks you can create a text animation.
Adobe Spark Post is intended for editing photos and creating unique graphics, while with Adobe Spark Video you can add effects, sounds, and animations to your videos.
Both apps also offer a large number of stock photos, as well as easy updates thanks to cloud backup. For now, Adobe Spark Post is available to Android and iOS users, as well as desktop applications, while Adobe Spark Video does not yet have its Android version.
---
InShot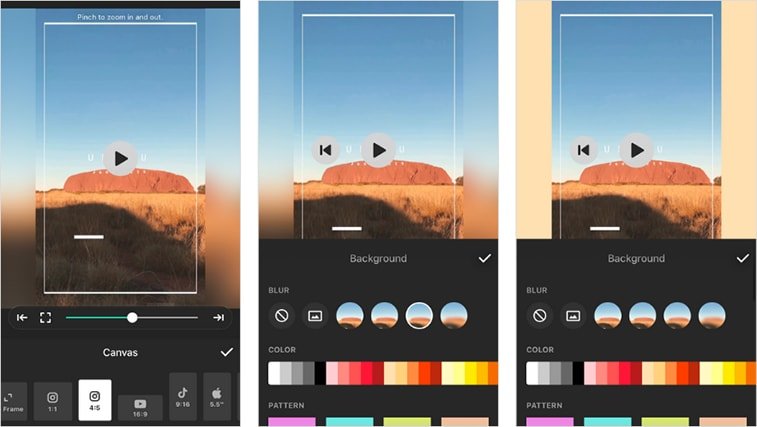 InShot is one of the best apps for editing photos and creating text graphics for Instagram stories. However, its full potential lies in the incredible number of options for editing and creating video Instagram Stories.
With options like shortening, cutting, and merging videos, adding music, background, filters, and effects to videos, as well as speed control that gives you the ability to make slow-motion videos, InShot is the perfect app for both amateurs and professionals.
Of course, there are other standard options, such as stickers, fonts, emojis, and many other effects that you can add to your design. InShot is one of the favorite choices of businesses for creating Instagram Stories, and the app is available to Android and iOS users.
---
Hype-Type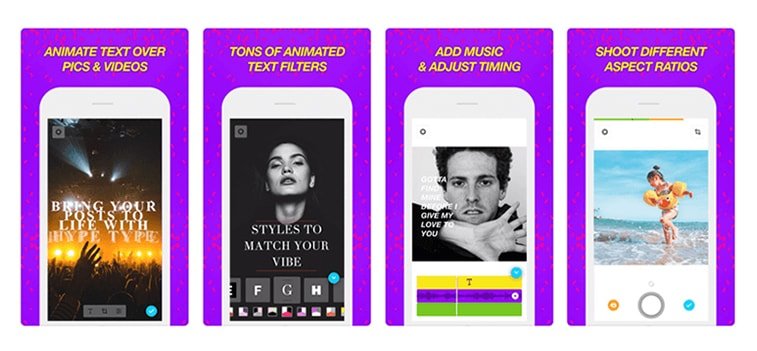 If you want your perfect Instagram Stories to be accompanied by powerful typography, Hype-Type is the right choice. This application is one of the leading ones for texts, offers a large number of fonts and options for text animations, and is compatible with photos and videos.
Hype-Type offers a large number of options for free and is available for Android and iOS devices.
---
Over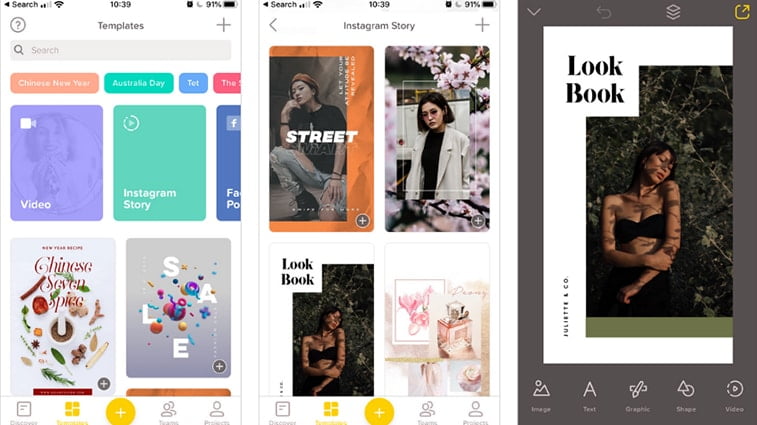 One of the top-rated apps for Instagram Stories, Over includes an incredibly large number of fonts, effects, stickers, backgrounds, templates, graphics, and many more options for the perfect look of your story. This application supports photos and videos, and in a few steps, you can create professional designs yourself.
In case you run out of inspiration, Over has a wide community of users who share inspirational designs on Instagram daily under the #bestofover hashtag.
This app is a great choice for creating branded Instagram content and is available for Android and iOS devices.
---
PhotoGrid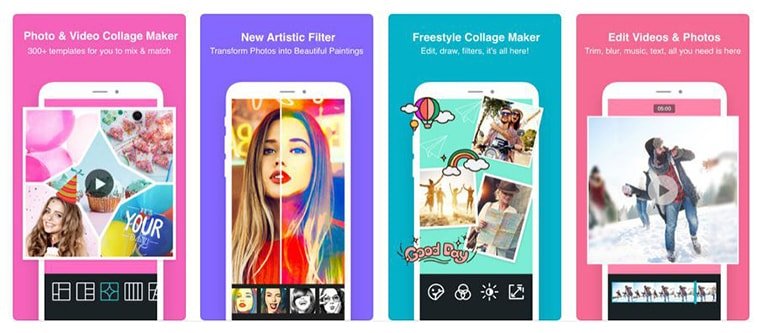 Make perfect collages of photos or videos with PhotoGrid in just a few clicks. This application offers a large number (over 300 in free and paid versions) of templates for Instagram stories, as well as a multitude of filters, fonts, and stickers for creating perfect designs.
PhotoGrid also lets you to play with options to remove makeup and beautify selfies, remove wallpaper, as well as create popular memes and add gifs. The application is available for Android and iOS.
---
Life Lapse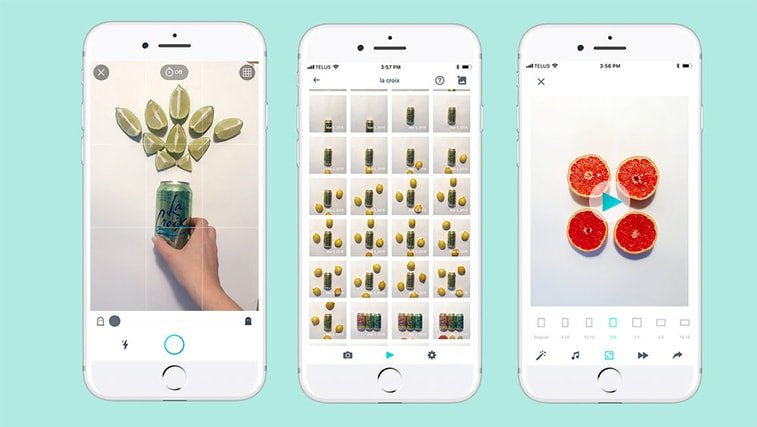 If you are ready to set new standards in creating Instagram stories, Life Lapse is the app for you. Specially designed for making stop motion videos, Life Lapse offers a variety of options for editing animation, adding music, adjusting video speed, and more.
Life Lapse has useful tutorials to help you master the basics of stop motion videography, and all you need to create these effective and powerful videos are good lighting, a tripod, and a camera.
This app is available on Android and iOS devices and is the perfect choice for creating unique Instagram stories that will definitely catch attention and engage your followers.
---
Filmm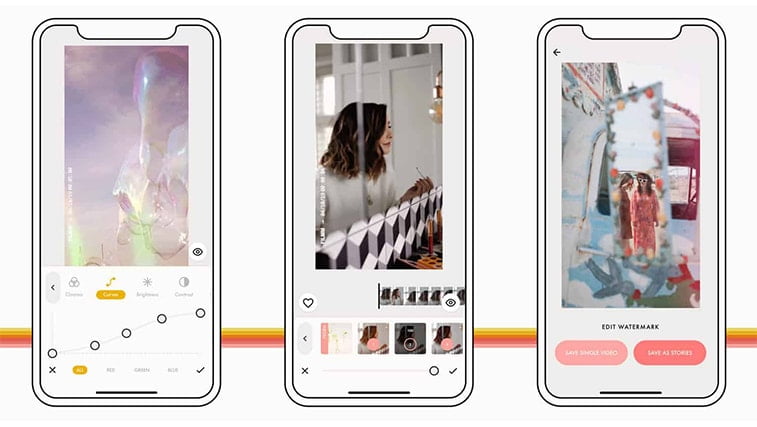 As its name suggests, Filmm is a newly arrived addition to the Instagram app scene, especially focused on designing stories with a retro filmography motif. Filters, effects, frames, templates, options for editing and adding music, are just some of the options that Filmm offers.
For now, Filmm is only available to iOS users, and the premium version costs $29.99 annually.
---
Conclusion
Social media marketing is one of the leading forms of advertising today, and Instagram Stories are a great way to entertain your followers and draw attention to your business, in a relatively easy, fast, and affordable way. From influencers to bloggers, startups to multinational companies – everyone's business offers a multitude of materials that would attract attention and engage your followers.
But the popularity of Instagram Stories lies precisely in the fact that they show the other side of your business, natural, imperfect, and raw. That's why creating an Instagram story that will perfectly portray your work doesn't have to be a complicated and arduous process at all, especially if you have some of the best Instagram Story apps with you.
Each of these apps offers countless possibilities, and even with free versions, you can create Instagram Stories that will rival those of world-famous brands. In just a few clicks, you can turn amateur photos and videos into professional visuals that, with a carefully crafted marketing strategy, will help you grow and expand your business.