Imagine that you've just come up with a solid digital marketing strategy, and you are ready as can be to boost brand awareness, sales, conversions, leads… In one sentence, to put your brand and products on the digital map and to insert your digital dominance over your competition.
And it's working. More and more people engage with your brand on social media, traffic to your site is way better than it used to be, and you're getting new leads day in and day out. 
And, that's the only problem… Business is going so well that you are failing to take orders, forgetting to send them out, to restock your resources, and so on. Also, you are failing to cater to special customer requests and you didn't open your company page's inbox on Facebook for weeks but you know there are quite a few questions there and another few orders that you'd still need to take.
How can you resolve this issue to have the time and the energy to cater to everyone, to have the time to manage your inventory, and to focus on scaling your business even further?
This is where marketing automation and chatbot services can give you a helping hand. If calibrated well and implemented into your strategy, these tools can help you save precious time, can eliminate human error, and can earn you more money in the long run.
Sounds great? If it does, let's get down to business and learn everything there's to learn about these services.
Chatbots – not just for marketing
So, to kick things off, what is actually a chatbot? Simply put, it's a digital tool that gives your customers a live chat experience online, enabling them to ask questions, schedule appointments, and so on, using everyday language and get correct answers in return.
They are powered by a subset of AI (artificial intelligence) called natural language processing. This means that the bot is able to understand the question and ultimately, respond to it with an answer.
If you are a veteran on the digital scene, you might even remember a few earlier chatbot tools that were a little bit rough around the edges but in the last 10 years, the AI tech has come a long way both in terms of usability, adoption, and entry making it chatbot technology a viable tool across all industries.
The responses these tools give can come from a predefined phrase and script list or can be compiled via machine learning apps along with external data sources, and your internal systems.
Most commonly, chatbots will be the tools responsible for answering frequently asked questions and supporting users with specific account questions and problems.
They can help out businesses not only with managing simple questions but can also help to sort out those customers or clients that really have urgent questions or issues that need assistance.
Lastly, they are multi-channel, meaning you use them not just on your website, but can integrate them with other platforms like Facebook Messenger, and can be used with voice assistants as well, such as Cortana or Alexa.
User Experience And Customer Support
Is managing FAQs the only thing chatbots are good for? – you might ask. No. First of all, with an instant response to their question, your customers can have a much better experience with your brand and business right off the bat. Their questions will receive an instant response no matter the time of day, without them having to look for phone numbers or email addresses, or conducting any FAQ searches on your site for that matter.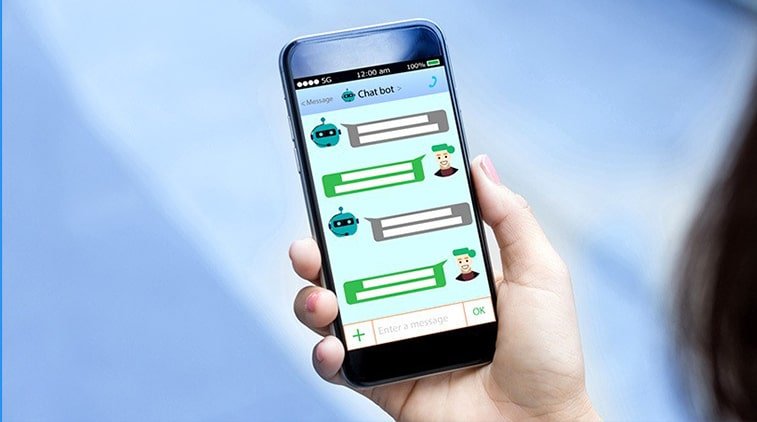 On the other hand, chatbots can give you valuable insight into what your users are asking about and what they want from you, your brand, and your products.
From the minute you launch it, chatbot tech gathers and logs every info and conversation that's coming through.
This can give you the opportunity not just to optimize the bot itself with better answers, but give you a chance to harness that gathered data and improve your product, service, business model, and so on.
Getting Started
When you make the decision of integrating chatbot tech into your digital strategy, the process is pretty much straightforward. Especially if you've already gone through a website-building process, you'll be pretty familiar with the procedure.
Do your research

: First thing's first, see what's out there, read up on the latest chatbot trends, take a look at the tools you can use out of the box, or ask your web developers and web designers for custom options as well. Ask your digital marketing manager for advice, feel free to leverage the knowledge of the people who already helped you on your digital journey.

Start out small

: Like with product development, start with the minimum viable product. Start small, identify a low effort area, implement the bot there, and study its impact thoroughly. If launched correctly, you can get quite the bang for your buck by offering value to your customers. On the other hand, you'll also gain valuable insight into what should be the next step and also gain momentum to push those steps even further.

Don't forget about user feedback

: As mentioned before, your bot will be logging every query it interacts with from day one. Use that data to your advantage. Use it to improve your bot and your business.

Be flexible

: In the digital realm, embracing the latest tech can always prove to be useful. However, you need to have an open mind and ask yourself early on, whether this is something your business really needs. If human interaction proves to be better, then you might be better off scrapping the idea of bots altogether.

Also, if you don't have the necessary time and resources to execute a proper chatbot strategy, it can even negatively affect your customer experience and your overall brand.

There will be different responses and you'll want to learn from them

: Chances are, your users will respond differently to your new tech. Some will love it, others will be wary about it. Some people will still use Messenger to reach out to you with their questions even though you have a bot on your website. These are things that you need to be mindful of, and eventually, expand your bot strategy to other platforms as well.

Having said that, you should also be flexible with your bot too. Don't expect it to solve all of your problems and all of your users' problems as well.
Enter Sales
Nowadays, shopping doesn't really follow a single path on the internet. When we're talking about purchases, there are literally tons of ways your customers can get to your products. Email, social media, and apps are just some of the most popular methods, and let's be honest, sometimes customers can lose track if there's no clear route for reaching your business.
Chatbots can help you to eliminate that problem with round-the-clock assistance and can give a highly individualized shopping experience.
When you are using chatbots for marketing reasons, usually, there are three basic areas where you can harness their power.
Guiding your customer all the way to completing a purchase

Helping with product recommendations

Customer support and answers to frequently asked questions
Chatbots And Sales: Are They A Good Match?
Some site owners might be wary about chatbots, however, conversational commerce seems to be on the rise with research showing that customers are ready to engage with this tech.
However, here are a few reasons why they should at least look into the numbers if they are looking for an effective way to boost sales.
Messenger Apps are at the forefront of user popularity

: A report by Business Insider from 2015 suggests that even back then, Facebook Messenger, WeChat, Viber, and WhatsApp are used more frequently by users than the four main social networks (Twitter, Instagram, Twitter, and Linkedin. Chatbots can give you a competitive edge by letting you put your business where your customers spend a considerable amount of their time online, letting your brand stay in the limelight and give them the opportunity to make purchases through the app.

People Shop With Messenger Apps

: It's not just about messaging friends. Users are also open to shopping via these apps and here are a few statistics to back that claim. According to HubSpot, around 47% of users are okay with making purchases with the assistance of chatbot tools, and 71% of them are okay with being assisted by a bot during customer service. Lastly, according to the 

Observer

, users are, on average, willing to spend over $55 on bot purchases. This shows that users trust chatbot services when it comes to engaging with brands and making purchases.

Businesses are jumping on the bandwagon fast

: The world of eCommerce is competitive and merchants are always trying to be one step ahead of their competition. Data currently shows that one way they are trying to up their chances of staying ahead of the curb is by using bot tech. That being said, the global chatbot market is said to reach around $9.4 billion by 2024 with a CAGR (compound annual growth rate) of 29.7%. With that kind of growth pace, it's quite clear chatbots are prominent and profitable eCommerce tools, and adding a chatbot application to your website or Facebook page can help you boost your sales and solve problems regarding customer support with ease.
More On How They Work
If we've come so far, it's only natural to go more in-depth regarding how the technology works. First of all, there are different types of bots you should know about. They work through two different systems, with the first one working based on a specific set of rules while the latter uses machine learning.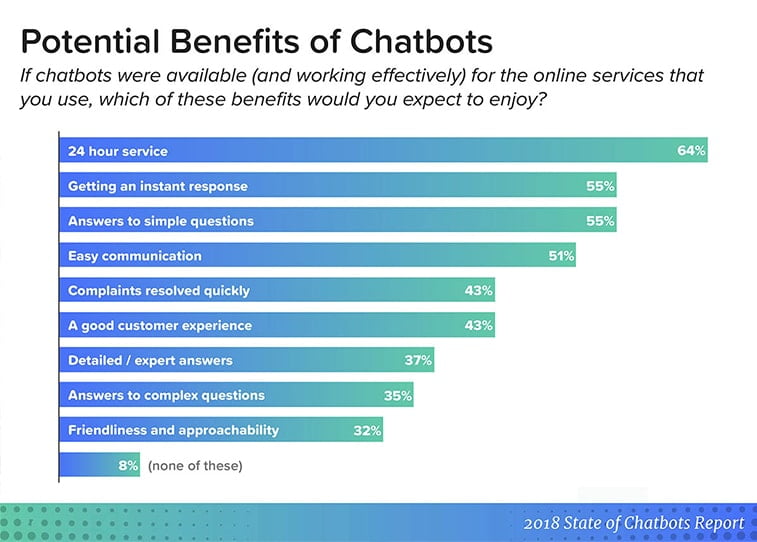 Rule-Based Bots: As already discussed before, rule-based bots only respond to a set of specific commands instead of relying on the interpretation of the user's language. These are great for instances where your customers are expected only to have simple questions that refer to only a limited set of topics and information. These bots can be great for appointment setting, simple FAQ queries, and for other specific tasks where the info they need to handle is limited.
AI Bots: These bots use machine learning to handle a wider range of conversational situations. They don't only respond to a set of specific commands, but interpret the user's language understanding and meeting their needs. These would suit those site owners who want their bot to handle more complex queries and requests from users, like giving product recommendations and such.
Choosing between the different types should primarily depend on your goals and needs. If you want your bot to handle simple queries, the first type would be more than enough, however, for more intricate eCommerce operations and selling strategies, online merchants might highly benefit from AI bots. They can learn about customer preferences, give more personalized service, and lead to a further boost in sales.
Building A Bot
This may sound a bit intimidating, however, if you are even just a bit handy with programming, you can probably launch your own bot in no time. On the other hand, you can always count on your web developers to help you out if you need assistance.
Fortunately, there are quite a few platforms for building your bot. There are some that require basic coding knowledge, but there are also some that sport simple drag-and-drop models.
Facebook Messenger

: The messenger platform offers a free bot-building feature exclusively on the platform. Launching a bot does require some coding skills but also has drag-and-drop elements when it comes to UI prototyping. Once you're done with your bot, you can launch it through the Messenger app or it can be also embedded into your own website via a plugin.

Kik

: This platform offers a dashboard for bot-building to launch on their messaging app (an app with over 15 million users every month). The platform also requires coding (more on the advanced-side) and offers no coding support. On the other hand, it's free to use. Kik is pretty popular among U.S. teens, so if those are your target group, using this platform makes sense.

Chatfuel

: This platform is used to create Facebook Messenger bots, and it's ideal for those with no coding knowledge since it uses a drag-and-drop editor (according to the platform, the process is lightning-fast, with building an action-ready bot in under 7 minutes). The basic features are free, however, their Pro plan costs $30 dollars per month.

Motion.ai

: This platform enables its users to build chatbots for a larger number of different mediums, ranging from your own site, through Slack, Facebook Messenger, to email- and SMS-based bots. Motion.ai uses a virtual approach when it comes to creating and calibrating conversation flows, meaning that you don't need coding knowledge to get started. Just like Chatfuel, the basic package is free, but it sports a usage-based subscription plan if you want to unlock more advanced features.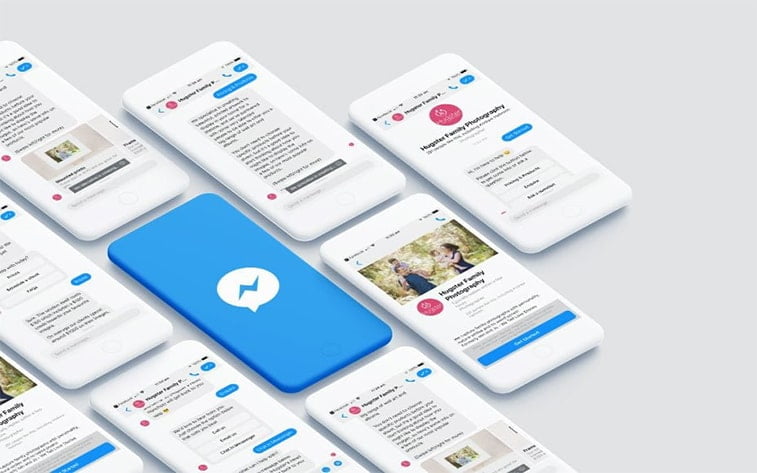 Measuring Your Bot's ROI
A chatbot only has use if it's engaging and helpful. Otherwise, buyers are most likely to abandon the conversation and look elsewhere.
That being said, to ensure that your bot is beneficial to your business and to your customers, you need to use chatbot analytics to measure how it is performing. These metrics include different indicators that show your bot's helpfulness, retention and engagement rates, and other, more advanced metrics that measure conversations and sales.
Fortunately, you can get access to these analytics tools on the dedicated platforms we've mentioned above, or you can opt to choose third party services too.
Dedicated Analytics
Apart from Kik, every other platform mentioned here offers metric tracking with Facebook Messenger and Chatfuel giving you guides on tracking your data. Motion.ai has a dedicated reports section where you can check out your bot's performance.
These platforms are great if basic metrics are what you are after, like the total amount of user interactions and total user numbers. They can be great to better assess the level of engagement your bot is providing to your users.
Third-party Analytics
If you are looking for more advanced metrics, then you should consider integrating third-party services with your bot. These platforms focus only on the metric data, giving you handy insights into your bot's performance and providing you with the option of analyzing bots across several mediums.
Here are a few options that you might want to consider:
Chatbase

: Coming from Google, this platform shows everything – from basic to advanced metrics, from conversations and active users to funnel reports. The latter can be especially handy if you want to track bot-driven sales. The platform itself is free to use, and can be used with Kik, Facebook Messenger, and can be integrated with Amazon Alexa and Google Assistant voice assistants as well.

Dashbot

: This metric tracker tool provides insights into Twitter, Facebook Messenger, Kik, Slack, Amazon Alexa, and Google Assistant chatbot applications. It also sports a free plan which covers metrics such as user demographics, engagement, retention, and few more equally handy metrics. It also comes with transcripts so you can analyze your conversations individually. There's also a paid plan for $100 a month, which gives you access to additional reporting features like analyzing your competitors' bots (like the comparison of message ad user counts).

Taplytics

: This platform does not focus on chatbots solely, but rather, focuses on giving more insight into entire mobile and web user experiences. The reporting is comprehensive and it can be a great choice if you want to embed your bot into your eCommerce web app, rather than just simply using it as a messaging application. This tool can track your bot's engagement rate in different locations giving you the opportunity to compare how different bot placement can affect the shopping experience.

Botanalytics:

This reporting tool can be used to track metrics on 13 different assistants and platforms and it gives more bang for your buck than the vast majority of tools out there. Apart from the basic reporting features, it also identifies things like the best times for re-engagement for users and gives insight to the conversation phrases that are most common among users. The tool also allows you to measure the rate of the conversion goals you've previously set for your set, like purchase completion rates. For $99, you can use the tool with limited reporting features like conversion segmentation reporting and conversion funnels, however, for $349 a month, you can get a fully customized reporting plan.
Marketing Automation
There has been a lot of fuss about chatbots in this article, yet, we didn't touch the subject of marketing automation in the digital sphere, which is also a pretty common term that gets thrown around in the world of eCommerce.
And since we've been talking about chatbots, you might ask yourself the question: "Is marketing automation also something I should consider?".
Automation Marketing – Autopilot In Action
All businesses whether online or offline should have a marketing strategy and you don't need to be a pro in sales to know that.
When it comes to online sellers, a lot of them rely on email marketing to generate more leads and to convert sales, and ultimately, to build a reliable customer base.
Email marketing is a splendid way to do that because its highly cost-effective and converts great, if your database is full of quality addresses in regard to your sales targets and your mail content is up to par.
When you introduce marketing automation to your email marketing, you basically give it an edge. Guiding your customers through the entire buying process from grabbing their attention to making brand ambassadors out of them.
To be more precise, it's a step forward from every aspect. It encompasses every marketing form you normally use to generate more leads and customers (email marketing, digital marketing, social media marketing, and so on) and automates them in the buying cycle.
On the other hand, marketing automation can help you out with filtering customers and targeting them with the necessary content. Automation tools can analyze your customers' online behavior, can generate classes of different interactions and in return, they give you a clearer picture of how your customers react to your messages and how you can improve their experience.
What does this mean? Well, instead of just simply sending out an email to your database, an automation marketing software can create different stages for you:
you can send messages only to specific customers who've bought specific products telling them that you have new similar products available

you can send links to your social pages or web pages to those who've opened your email but did not make a purchase and introduce them to the product your selling even more

for those who are the most engaged by the messages and the links, you can offer certain discounts pushing them to complete a purchase even faster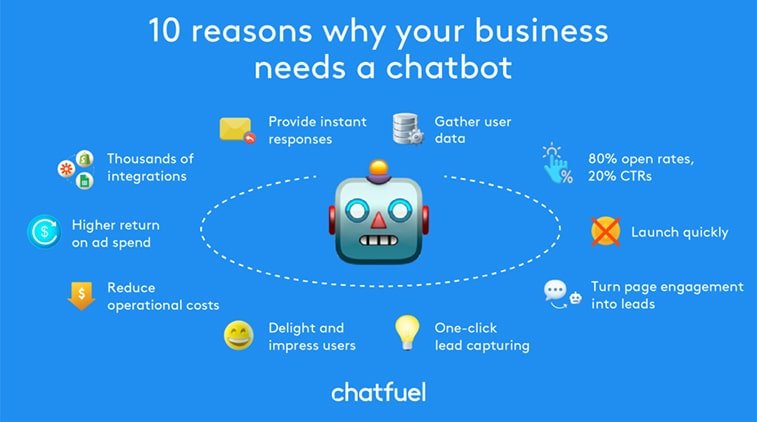 However, if you want these practices to be truly fruitful and effective, you should focus on incorporating as many channels as possible into your automation strategy and to collect as much data as you can. The more you have, the better insights you can gather into what truly works and where you are wasting your time.
Marketing Automation Types
Automation can mean a lot of different things to a lot of different businesses so before you jump into it, it's only imperative to research the topic and see what works for you. Here are a few marketing automation objectives so you can get a better understanding of what's out there.
A Personalized Experience
Good customer experience can make or break a deal between your business and a potential buyer. As such, it's crucial that you make sure that every customer has a positive experience with your brand during the purchase process, and you should focus on making it as personal as you can. Here are a few great ways you can do just that:
Personalized greetings for people who are on your newsletter list or for those who created an account on your website.

Insert your customer's name whenever you are sending out something to them.

Tailor the message to meet the specific need of your customers. Try breaking your email list into segments and tailor messages to suit.

Always follow up online inquiries – you can automate this but make sure it sounds natural.

Be on top of your social game and be alert for social media direct messages, comments, and so on. Be helpful and make sure that your responses sound genuine.
Engage With Your Crowd
To boost your automation marketing efforts, also try focusing on engaging communication.
Make sure that you're not just going through the motion of sending the same sales letters over and over again. This won't be boosting your sales.
Instead, try:
Offering something that's not just about products, items, services, and prices. Instructional guides, market news, and product reviews can also be helpful and interesting to your database.

Go for "Recommended For You" emails with those people who purchase from you regularly.

Make sure that the conversation does not end with your buyers making a purchase. Always seek to keep pushing forward and to offer value. That can be in the form of additional product guides, customer case studies so they get the most out of their purchase. Don't forget about them – offer upgrades or replacement options for the product they've bought when the time is right.
Whatever you do, always try to keep your content engaging and relevant. You want to remain friendly and useful to your customers so they can know whom to turn to when they need to make a purchase.
Also, in order to offer value, make sure that you always give feedback and just be thoughtful and sincere.
Have A Cohesive Approach Across All Channels
When you opt for automation, ensure that the content that you push across all channels echo the same themes.
The content of your emails (let's say, a seasonal price drop for certain or all products) should also be included in your social media posts, stories, and should also appear on your website banners. 
For this, however, make sure that your content and marketing strategy is up to par. Prepare your content in advance for such occasions and review your channels. See where you can improve the steps you are taking and make sure that every aspect of your overall strategy is intertwined with the automated nature of your selling efforts. You don't want to leave crucial sources of revenue out of the party.
---
Putting it all together
When it comes to eCommerce, it's hard to deny the links between chatbot tech, marketing automation, and an increase in sales.
As technologies get more refined, as machine learning gets more sophisticated, these tools are proving to be worthy investments across the board for every site owner who is looking to boost sales or to improve user experience on their platforms.
Unfortunately, neither of these technologies let you slack off. It's not just a fly-by-night process of setting them up and then leaving them to do their magic. Even though they do the majority of the legwork for you, if you really want them to work for you, you need to carefully plan out a strategy for both to ensure that your customers are getting the best out of what you have to offer to them.
That being said, make sure to research both of these tools before opting for either one. Better yet, ask your digital marketing and web designer team to help you look into the topic. Chances are, they've had their fair share of experience with them and can help you not only find the best tools but also come up with a strategy that ensures that you're making good use of both marketing automation and chatbot tech.
---
Improve your online business: