According to researchers, a company can get an ROI of $44 for every $1 spent on marketing email campaigns on average. Due to this, many brands use such campaigns as part of their business strategies. 
By thoroughly planning your strategies, you can increase the visibility of your business, drive more traffic to your platform, and segment your audience to cater to the needs of different groups of clients.
Email Marketing Campaigns: Types & Definitions
An email marketing campaign involves writing and sending carefully-targeted emails to potential and long-term clients to inform them about products and services and drive them to purchase. You can launch different types of marketing campaigns depending on the needs of your business and your industry. The most popular types of such campaigns include:
Newsletter. While they aren't used for promoting products, brands utilize them to share news, announce upcoming releases, share tips, and provide their subscribers with useful information.
Promotional. These emails are used for promoting products and services. Their main purpose is to boost sales. 
Onboarding. Such emails are sent to newly-subscribed members. They include information about a brand and describe some products and services. Onboarding emails might include information about bonuses and discounts encouraging people to place their first order.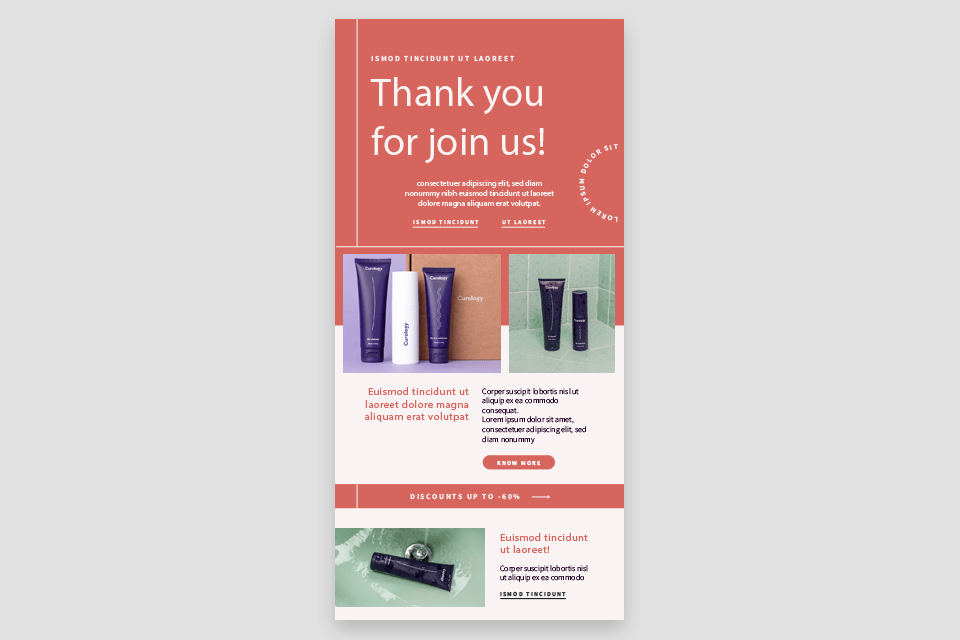 Abandoned cart. These emails are sent to site visitors who added some items to their carts but didn't proceed to checkout. According to stats, such emails might make you an extra $5.81 in revenue per recipient.
Re-engagement. Using such emails, you can engage inactive buyers. They typically contain incentives and exclusive offers to prompt a subscriber to place an order.
Seasonal. Companies send these emails at different seasons or before holidays. Their aim is to boost the sales of products sold at specific times of the year.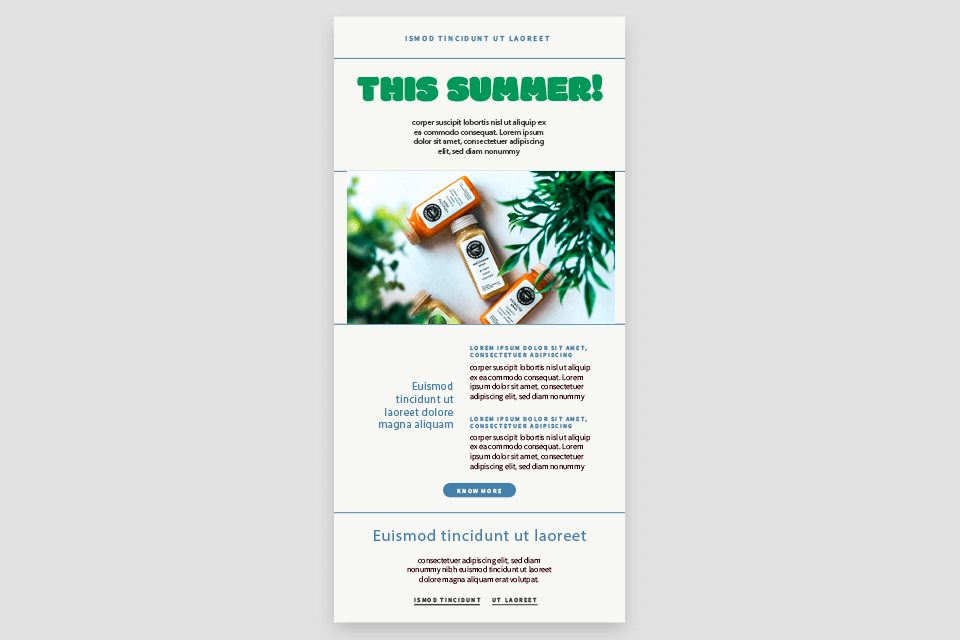 Announcement. You can send such emails when you need to announce new releases, upcoming sales, and other events.
Post-purchase drip. Such emails are perfect for those who need to contact buyers who have just purchased a product. For instance, you can tell them about the shipping process, ask them for feedback, or offer bonuses.
Testimonial request. These emails are sent for gathering feedback from existing clients. You can ask people to write a review on social media platforms or give a star rating to your product.
Create a Successful Campaign: Tips from Experts
To create truly attention-grabbing emails with a responsive design, you need to think about the goals of your marketing email campaigns. You might strive to improve the recognition of your brand, get new clients, boost your profits, improve an email open rate, learn more about your target audience, and engage your clients.
1. Add Forms to Your Site to Build a Targeted Email List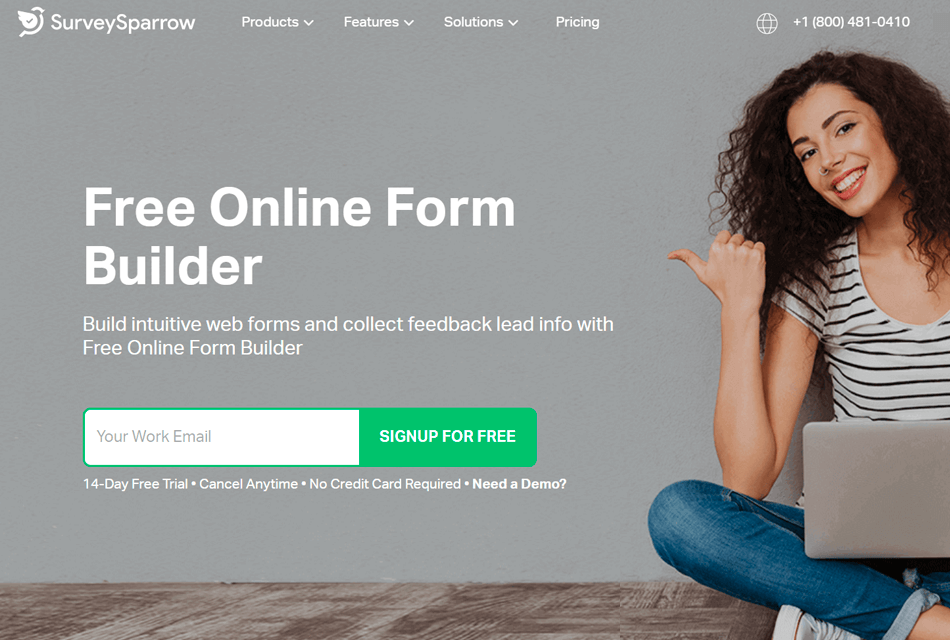 If you want to quickly create a targeted email list to convert your site visitors into loyal clients, you can use interactive opt-in forms. It will allow you to grab their attention and drive them to create an account on your platform. You can test different opt-in forms and add them to different places, such as:
Welcome gates, which greet users when they open your site. 

Lightbox popups that can appear on specific pages and encourage a client to focus on the message you want to convey.

Exit-intent popups, which get shown when visitors are about to leave.
Use time-tested web form builders to create forms. For instance, you may utilize HubSpot Free Online Form Builder, Gravity Forms, and Typeform.
2. Study Your Audience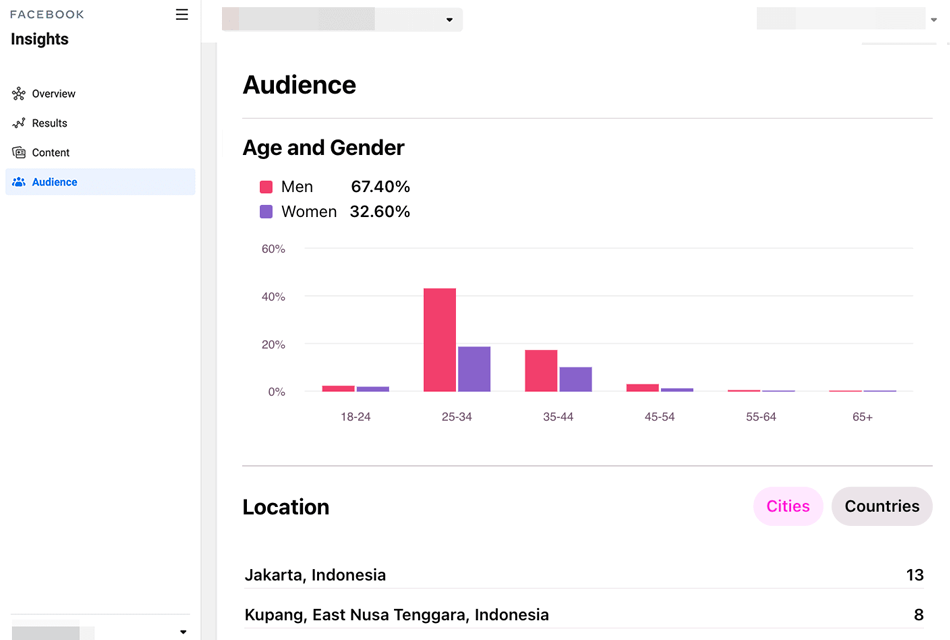 To learn more about the preferences of your audience, you need to analyze data gathered with the help of Google Analytics and your social media pages. 
For instance, you may use Facebook Insights. It will allow you to learn more about the demographics, location, and tastes of your audience. Besides, you will get access to other metrics that will help you learn more about your target clients and their interests.
 3. Select Functional Tools
If you wonder how to do email marketing, keep in mind that you can use trusted platforms to launch your campaigns They include Hubspot, Mailchimp, Brevo (formerly Sendinblue), ConvertKit, and Mailerlite.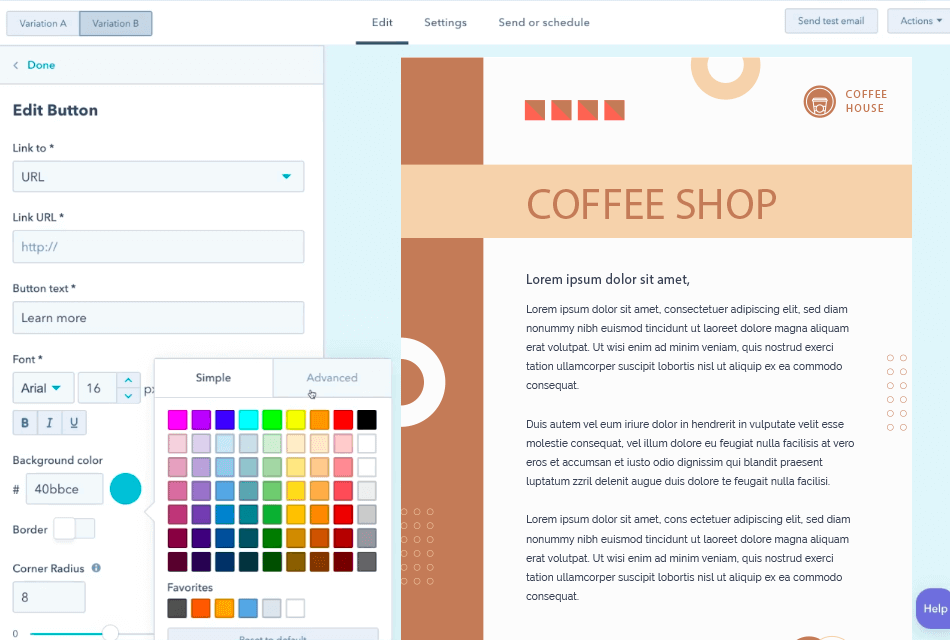 HubSpot has a range of email marketing tools available in its Marketing Hub and Sales Hub (CRM). The Marketing Hub offers features that will help you improve your conversion rate and drive more traffic to your platform using emails, landing pages, videos, live chat, and social media ads.
The Sales Hub makes it easier to schedule your emails and meetings, predict lead scoring, automate sales processes, build email sequences, and use reporting tools. Using this CRM, you can provide support with the help of a ticket system.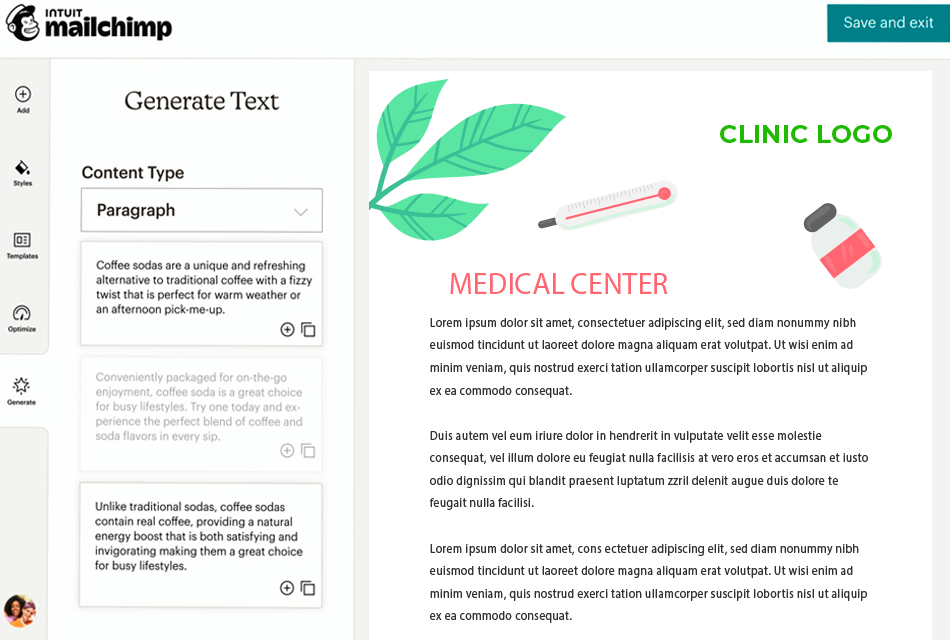 This email-creating tool has drag-and-drop functionality and a range of customizable templates, which makes it easier for you to launch email marketing campaigns in a few clicks. You can expand your client database by utilizing pop-up sign-up forms on your platform and building professional-looking landing pages with the help of templates. 
If you take a closer look at the available services, you will see that Mailchimp stands out for its professional email marketing features. Using them, you can perform A/B testing, segment your target audience, add product recommendations, and integrate eCommerce plugins. Besides, these tools allow you to select the best send time.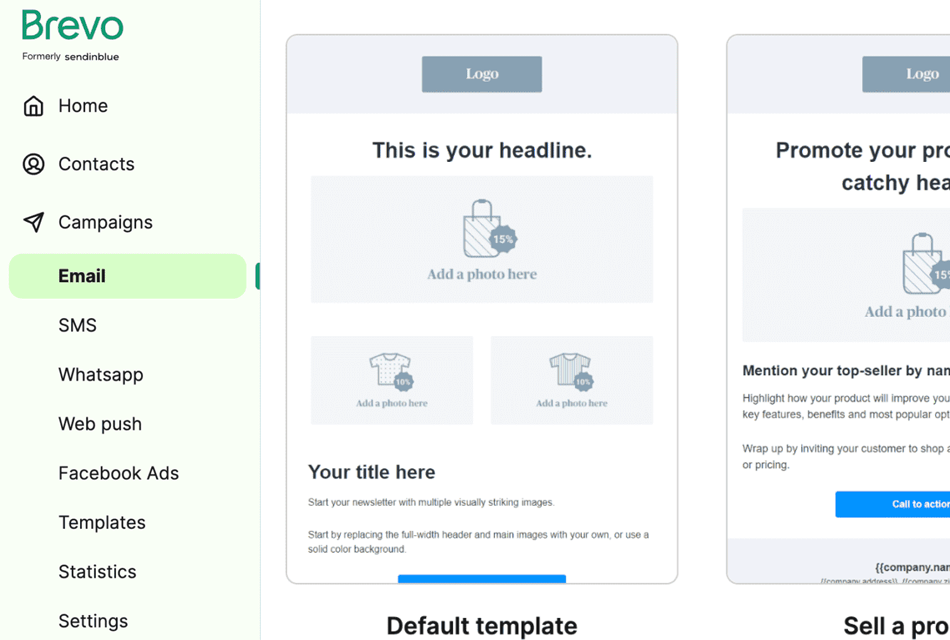 Brevo (formerly known as Sendinblue)
Using this CRM, you can access a variety of sales and marketing tools. It allows you to launch marketing and sales campaigns and run them across different channels, using SMS WhatsApp, live chat, and push notifications.
As it is primarily known as an email marketing service, Brevo is perfect for segmenting an audience, personalizing content, performing A/B testing, and selecting the perfect sending time. It has a drag-and-drop interface as well as a collection of responsive templates for creating great emails.
4. Plan Your Email Marketing Campaign
When planning your emails, you should consider how often you are going to send them, what type of email your clients are likely to respond to, what content you need to add, and what actions you want your recipients to take. 
Make sure not to send your emails too often unless you want your emails to go straight to the spam folder. It's better to create a schedule and notify your recipients about it so that they won't get annoyed. 
If you want to know how to create an email campaign, you may also analyze the preferences of your audience and ask your clients about their preferable schedules. It might also be a good idea to offer some solutions for those who might be interested in your emails but don't want to receive them too often.
5. Craft Your Subject Line
69% of people add emails to a spam folder if they don't like the subject line. This is why you should ensure that it is perfectly clear so that your recipients won't feel that they are getting tricked into opening your emails. 
According to Campaign Monitor, most subject lines are 41-50 characters long. Only a part of the subject line will be visible on a screen of a mobile device, which is why you should start it with the most important word.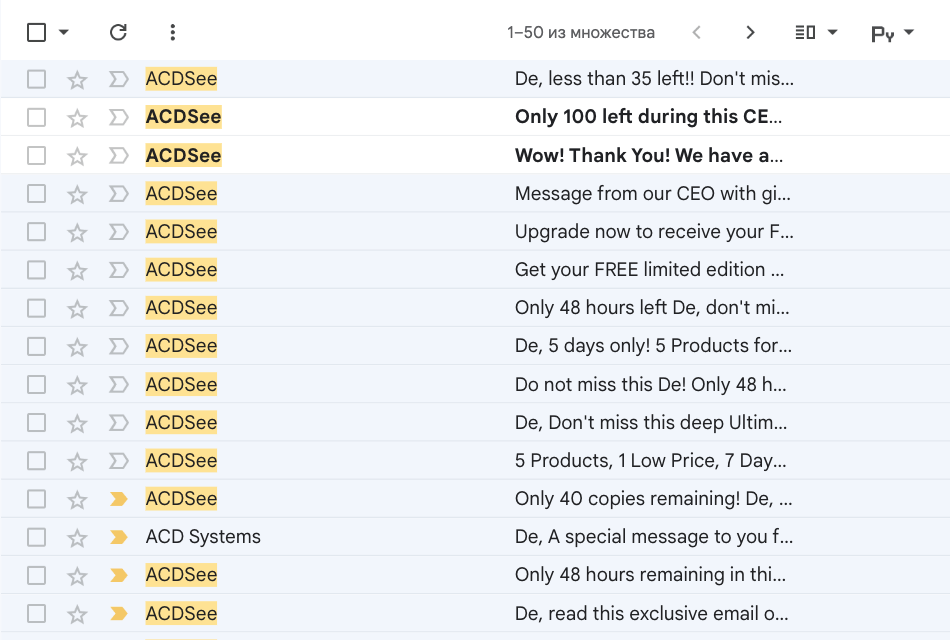 Follow these tips to improve your subject lines:
Let your recipients know what they will get after reading your emails.

Personalize your emails by adding names in the subject line to improve the engagement rate.

Don't use such spam trigger words as Buy, Order, or Additional income.
In addition, it's better not to sound overly sensational, promise too much, or use weird formatting. Add keywords to your subject lines to make them more informative. By using emojis, you will sound friendlier and improve the open rate. However, don't use more than one emoji, otherwise, your email might get into a spam folder.
6. Engage Your Clients from the First Line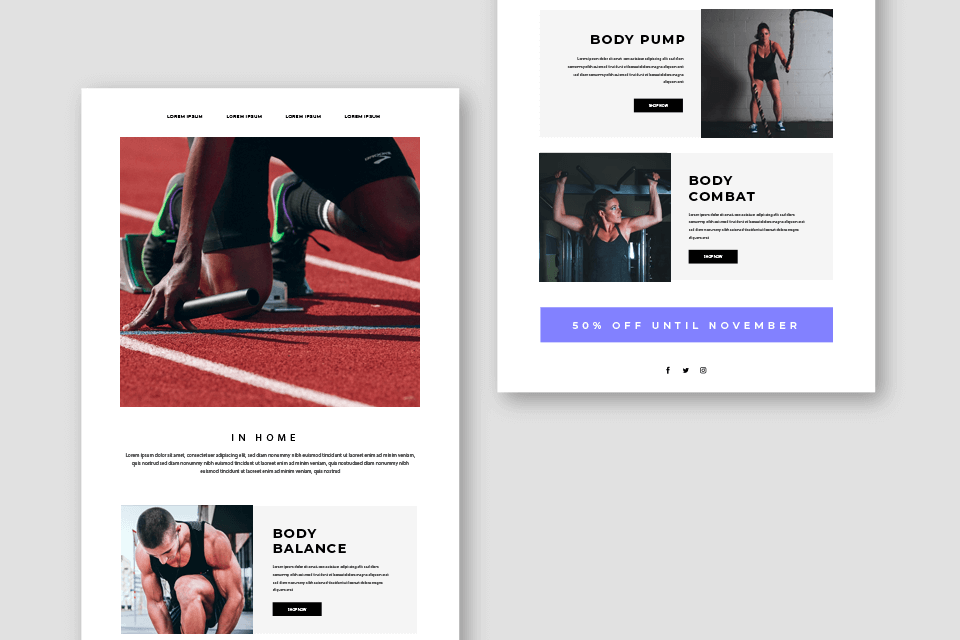 To improve your click-through rate, you need to personalize your emails and show that you care. Don't use marketing clichés and opt for conversational language instead. Make it look as if you were addressing a friend sitting across the table. 
Your emails should be creative and memorable. You may share some insights about your company, personal anecdotes, or touching stories to show that you care about their opinion.
Your emails should bring something of value to your potential clients. You may add some informative content, recommendations, or link to resources.
An email marketing copy should be short to achieve your goals. Besides, you should avoid trying to sell your services at the beginning. 
Personalize your letters by addressing your clients by their names. According to research, companies improve their click-through rate by up to 50% by segmenting their target audiences.
At the end of your email, make sure to add a call to action. CTA elements allow you to prompt your readers to take action.
 7. Focus on Email Marketing Design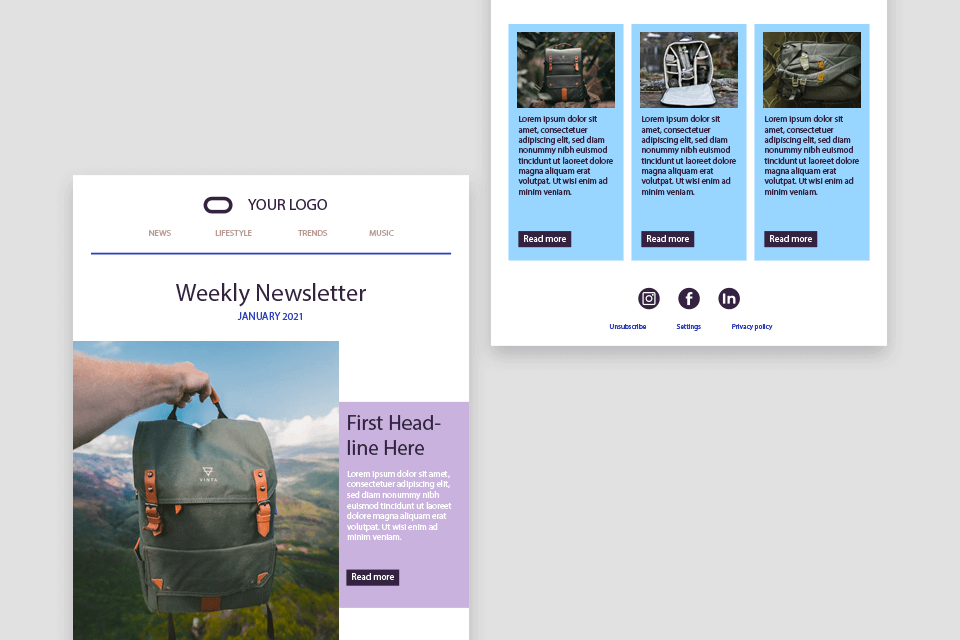 To ensure the success of your marketing email campaigns, you should make your emails as eye-pleasing as possible. You may add media files to your emails, including infographics, pictures, and videos to convey your main idea.
Here are some steps you should follow to improve the design of your emails:
Add your branding elements. Add your brand's logo, fonts, and colors to ensure that the design matches your visual brand identity.

Use white space. To make it easier to read your emails, add some white space around the text and images. It will improve the overall design of your emails and make them more comprehensive. 

Add pics. If you use only text blocks in your email, a recipient might lose interest. Make sure to add pictures and GIFs to grab the attention of your potential clients. For instance, you may use a colorful header or improve pics with the help of a

professional photo editing service

.

Use a responsive design. Whether your potential clients read your emails from desktop or mobile devices, the design should look the same. Images should be optimized to load more quickly regardless of the Internet connection speed.

Build a visual hierarchy. By using the right alignment, adjusting font sizes, and following basic visual hierarchy principles, you can make the design of your emails look well-balanced.
The main thing you should do is to avoid adding too much information to your pics, as it might make your emails less accessible. Make sure to use alt tags to describe your image for people who've disabled them.
8. Track Your Metrics
If you want to improve your marketing campaigns, you should consider the metrics listed below to better understand how you can optimize your workflow and reach out to your target clients. 
Here are the main metrics that you should consider:
Open rate. This metric demonstrates how many people open your emails and read them. You should aim at the range between 17 and 28%. 
Click-through rate. This rate shows how many people click on the links in your messages. If this rate is about 2.60%, it means that you are getting a good value for your money as this is an average rate for companies that specialize in different areas.
Bounce rate. It refers to the percentage of your emails that aren't received by your potential clients. If this rate is more than 2%, it indicates that you need to make some adjustments to make your marketing efforts more efficient. 
Unsubscribes. Unsubscribe rates show how your clients react to your marketing email campaigns and whether they like them. It's better not to exceed the rate of 0.5%. If it's lower, you can consider your efforts effective. 
You can track these metrics using the tools available on your service provider's platform. Alternatively, you can use such services as EmailAnalytics, Right Inbox, or SalesHandy.
Wrapping Up
After learning more about the ways of making your campaigns effective, you are all set to reach your goals and write a perfect email. Consider the needs of your audience, use simple language, and make sure to analyze the performance of your campaign to improve it in the future.