Creating a website for a tourism organization is the most important step in increasing the visibility of a destination and establishing quick and easy communication with potential travelers worldwide. Without an adequate website, no tourism-related activity can be successful nowadays.
According to a study conducted by Google, 74% of travelers use the Internet for trip planning, including the search for destination, transportation, and accommodation. The World Travel and Tourism Council states that 50% of all bookings are made online. Additionally, the data and research organization Statista, in a 2020 study, reported that 80% of respondents stated they book their trips online.
Creating a Website for a Tourism Organization – Why Online Presence Matters
Tourism is an industry where the internet and online media can bring more benefits than in any other. If the full potential of online presence is utilized, as recognized by experts in digital marketing agencies, significant success can be achieved.
Specifically, a tourism website has several benefits.
Online presence: A website allows tourists and potential visitors to discover and learn about a tourist destination and get interested in it. A well-designed web page can effectively and attractively showcase offerings and provide information to clients at any time, from anywhere in the world.
Information and availability: Through an adequately designed website, tourists can read details about destinations, accommodations, attractions, activities, and other relevant information. It enables visitors to easily find and compare options, facilitating informed decision-making.
Marketing and promotion: A website is an essential tool for marketing and promoting a tourism organization. It enables reaching a wider audience, both domestically and internationally, through search engines, social media, and other online channels. Tourism organization websites should include visually appealing content, such as high-quality images, videos, and testimonials, effectively showcasing the organization's offerings and attracting potential visitors.
Reservations: Many tourism organizations offer online reservation systems. This allows tourists to directly book accommodations, tours, transportation, and other services. By providing online booking options, a website simplifies the reservation process, enhances customer satisfaction, and increases the operational efficiency of the organization.
Direct communication: A website facilitates direct communication between a tourism organization and its customers. Visitors can use contact forms, chatbots, or email addresses to ask questions, seek assistance, or provide feedback. By promptly responding to inquiries and resolving issues, the organization can increase customer satisfaction, build trust, and foster positive relationships with tourists.
Global reach and market expansion: With a website, a tourism organization can overcome geographical boundaries and target potential visitors from around the world. This opens doors to international markets, allowing the organization to attract tourists from different countries and cultures. A multilingual website can further cater to a diverse audience, making the organization more accessible and appealing to a global customer base.
Analytics and insights: In the digital age, it is easier than ever to track valuable data and analytics that can help tourism organizations understand visitor behavior, preferences, and trends. By analyzing this data, organizations can gain insight into their target audience, identify areas for improvement, and make informed marketing and operational decisions.
What a Tourism Website Should Include
Marketing and IT experts know what a website should look like and what functionalities it should have to meet the needs of visitors and potential clients. After researching the target audience and analyzing the competition, these teams can create a clear website structure tailored to the specificities of your business.
Creating a website for tourism organizations is a very important task, and before meeting with programmers, designers, and marketing experts, you should have a vision for your website, taking into consideration the target audience you want to address.
Specifically, you can consider the basic sections of the website and their functions.
Homepage: The homepage should make a strong first impression and provide an overview of the destination with stunning visual displays, a brief introduction, and highlighted details of what the destination has to offer.
Destinations and attractions: Provide detailed information about destinations, including descriptions, historical significance, cultural landmarks, and key attractions. Include high-quality images, videos, and interactive maps to attract visitors and help them visualize the experience.
Accommodation: Offer comprehensive information about different types of accommodation available at the destination, such as hotels, resorts, and hostels. Include details such as room types, amenities, location, prices, and availability.
Activities and tours: Highlight a range of activities and a list of possible tours available to visitors, including outdoor adventures, cultural experiences, guided tours, and special events. Provide detailed descriptions, itineraries, durations, prices, and booking options.
Travel information: Include practical travel information such as visa requirements, transportation options, local time, currency exchange, and any specific travel tips or safety guidelines. This information helps visitors plan their vacations efficiently.
Events and festivals: Promote local events, festivals, and seasonal attractions happening at the destination. List dates, descriptions, and any additional information to encourage visitors to align their travel plans with these unique experiences.
Restaurants: Showcase cafes and restaurants along with their cuisines, specialties, and customer reviews. Include options for different budgets and dietary preferences.
Travel tips and guides: Offer useful travel tips, insider recommendations, packing lists, local customs, and etiquette guides to help visitors navigate the destination more easily. This information can enhance their overall experience and ensure an unforgettable trip.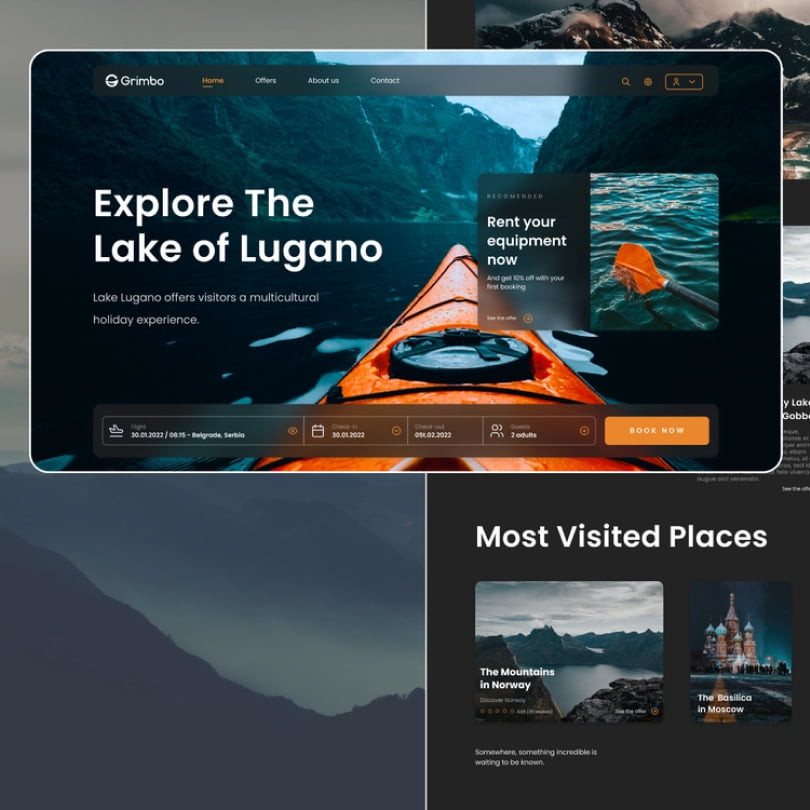 Creating a Website for a Tourism Organization – 10 Key Elements
For an impressive online presence, a tourism organization's website should include key elements that attract and engage visitors while effectively showcasing the destination.
Below, we will present 10 key elements to consider.
Visually Appealing Website
IT and marketing experts can create an attractive and professional design that reflects the unique identity of your tourism organization and captures the essence of the destination. The basic rule is to use high-quality images, stunning graphics, and typography to ensure an appropriate first impression.
It is essential to use high-quality, breathtaking images that showcase the beauty and attractions of the destination. Here, it is absolutely necessary to involve a professional photographer who can capture the best of the place you are promoting through their lens.
In addition, designing a website for a tourism organization involves choosing a color palette that aligns with the brand identity of your tourism organization and complements the overall theme of the destination. Colors that convey the desired emotions are used to create a visually cohesive experience throughout the website.
Clear Navigation
The website should have intuitive navigation with a user-friendly menu structure. Visitors should be able to easily find the information they are looking for, such as destinations, attractions, accommodations, and activities, without any confusion.
Additionally, it is important for the content layout to follow a logical and hierarchical sequence. The most important sections, such as destinations, activities, and accommodation, should be prominently placed on the main menu. Visitors should be able to navigate from one page to another without confusion or unexpected changes in the appearance or placement of navigation elements.
Reservation System
Implementing a reservation system on a tourism website allows visitors to book accommodations, tours, activities, or other travel-related services.
Firstly, it is necessary to decide what types of reservations you want to offer on your website. This can include hotel rooms, guided tours, transportation services, event tickets, or any other relevant offering.
Next, it is essential to choose a reservation system. Various options are available, from pre-existing platforms to custom-built solutions tailored to your needs.
IT and marketing experts know how to provide a smooth user experience, allowing visitors to check the availability of accommodations, select dates, choose additional options, and complete the entire reservation process in one place.
Quality Content
Creating a website for a tourism organization also involves planning quality content. It needs to meet two criteria: informativeness, which means providing essential information about the destination and all related content, and inspiration, encouraging users to visit and explore the destination.
It is necessary to provide detailed and informative guides for various destinations, including key attractions, historical sites, and cultural landmarks. Highlight unique features, insider tips, and lesser-known gems to help visitors discover hidden treasures.
To go beyond informational content, share insider tips and local stories to engage visitors. This can include recommendations for off-site locations, the best time to visit popular attractions, money-saving tips, or advice on interacting with the local population.
Additionally, personal stories from guests who have visited the destinations you promote would be interesting to visitors. Authentic narratives and firsthand accounts can inspire readers and create an emotional connection with them.
Personalized Recommendations
E-commerce websites have long been based on personalized recommendations, which significantly increase the chances of turning visitors into customers. Namely, it is possible to create offers specifically targeted to visitors based on their previous behavior on the website and their search history.
Marketing and IT experts can set up a whole system to collect visitor data and track their behavior, which will later be used to create personalized recommendations. For example, if a visitor spends the most time on a particular destination, returns to it, or interacts with it in any way, whenever they visit your website, something from that segment will be displayed to encourage them to take action.
Multilingualism
Considering that a website knows no geographical boundaries and having in mind the possibility of attracting tourists from all over the world, it would be advisable to consider creating a multilingual website. Experts in digital marketing agencies and IT companies know the best add-ons that enable the application of multilingualism. The goal is to allow visitors to easily and quickly switch to their preferred language on your website.
Interactive Maps
It would be beneficial for the creation of a website for a tourist organization to include the creation of interactive maps. These maps should display the location of the destination and its key points of interest, with the ability to zoom in and move around, making it easier for visitors to navigate the area. The purpose of such maps is to provide interested visitors with a quick and clear understanding of where they can find the most important places they will need during their stay.
Chat Bots
High-quality, modern websites should also incorporate artificial intelligence (AI) features, which are becoming increasingly popular. Chatbots are another way to engage in direct communication with website visitors, based on AI technology. They allow potential travelers to receive answers to their questions at any moment if they are among the most important and frequently asked ones, which have been programmed into the chatbot.
Useful Plugins
To ensure that the creation of a tourism website is a success, attention to detail is crucial. It is useful for interested visitors to have access to a calendar on your site, allowing them to quickly check the dates and days they are interested in. Additionally, weather forecast plugins are welcome additions, as weather information is important for all travelers.
Newsletter
It is useful to maintain regular communication with interested visitors in order to guide them toward the decision to visit the destination you are promoting. At least once a week, an interesting text (blog post) or relevant information about the destination should be sent to visitors' email addresses. This can include useful tips on making the most of their vacation, information about upcoming festivals and events, or experiences and reviews from travelers who have already visited the place you are advertising.
Creating just any website will not bring you the desired results. The development of a website for a tourist organization is often a complex task that requires expertise and experience, especially when it comes to details that can set you apart from the competition. It is advisable to pay attention to some examples of well-executed websites for tourism organizations and consult with experts on matters of such great importance for your business.