When it comes to website optimization tools, one can say, the more the merrier. While that's not ultimately true, there are quite a few essentials out there which you definitely want to use if you want to run a successful website.Why? Simple. If your website isn't optimized, search engines won't rank you high, making you more or less invisible for your potential visitors and clients.
This is rather scary. Just think about it: You've been doing the right things, built a brand from the ground up, you've invested the necessary time and research into developing the right product or service that your audience needs. You also have the visual identity and social media presence that's necessary for digital domination, yet, your potential customers can't find you when they Google your brand.
Even worse, they visit your site but leave abruptly because it's just a big mess.
And you know what? These people, your potential customers, might end up going to your competitors, and end up buying a less valuable product or service. Why? Because you weren't ranking high enough so that they could find you.
The optimization process itself plays a huge role in both the traffic and the conversions you generate. It includes a wide array of different things, including:
General optimization: on-page SEO, backlinks, website content optimization
Technical optimization: speed, mobile-friendliness, hosting performance, page errors
Conversion optimization: user demographics, conversion rates, abandonment rate, bounce rate
SEO and optimizing your conversion rates are interlinked processes because traffic is pretty much worthless without conversions. On the other hand, you can't convert if you don't have traffic.
If you want to generate traffic, you need to ensure that your website is properly optimized. Also if you want to generate conversions, you need your visitor to take the necessary action to convert them.
Each of these components mentioned above helps the other to improve your website's performance and help you achieve your business goals. And this is where optimization tools come in.
That being said, there's an abundance of tools you can use to help boost your online visibility and optimization efforts. However, you need to be focusing on those which indeed help with making you more visible and ensure that you are converting your site visitors into customers with ready wallets.
In this article, we'll cover those.
Why are these tools important?
One might ask the question and be right. What's the big deal with these tools anyway? Well, in the simplest terms, they help you become more visible to search engines by automating certain optimization processes. Apart from that, they also help to optimize your website for better conversion rates.
Long gone are the days when you can manually optimize your websites so using tools that automate certain processes can help search engines find you and can also help generate conversions from the traffic you gain.
It's important though that you don't treat these tools as magic pills which will do the job for you. They'll be of help by giving you insight on how you can improve segments or your entire website to make sure it's browser- and buyer-ready.
To give you an example, tools for speed optimization will help you pinpoint those elements that are or might be slowing down your site. If you use link checking tools, you can detect broken links more efficiently and ensure that Google will read your internally linked index pages properly.
Other tools examine your site's mobile-friendliness, A/B testing tools give you the option of comparing different versions of your site, and so on.
As you can see, there's a wide palette of different tools and now we'll go over the best ones you can try to get the most out of your website.
Our choice of the 6 best optimization tools
As we've said before, there are literally countless tools for optimizing your website with great features and capabilities, but these are the ones we think give you the best results.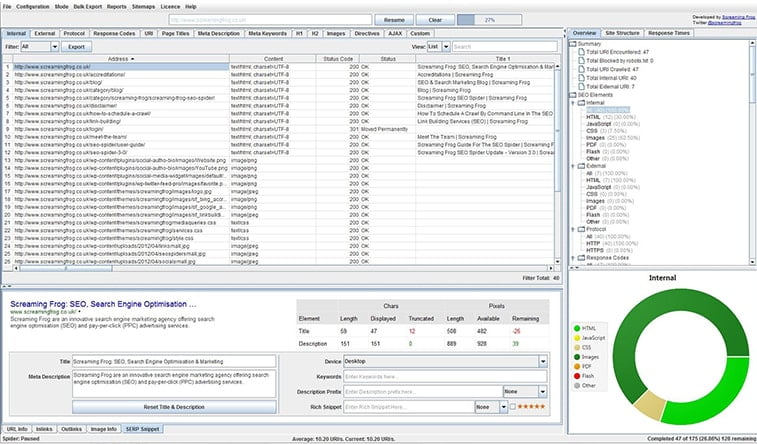 Don't let the name deceive you. This rather bizarrely named piece of software is an essential element in every marketer's tool-arsenal. Screaming Frog hosts a wide array of capabilities that it's actually hard to gather them all into one single list.
For starters, it gives you insight into a huge amount of valuable information regarding your website. From duplicate content through bad page titles and meta descriptions to broken links, this tool can help you a great deal with organizing and optimizing your website in the way that browsers can't help but love.
You can also link the tool to your account on Google Analytics to pull even more metrics and valuable data.
You can get the tool with its base features for free or you can pay just under $200 a year and get access to all premium features for a year.
---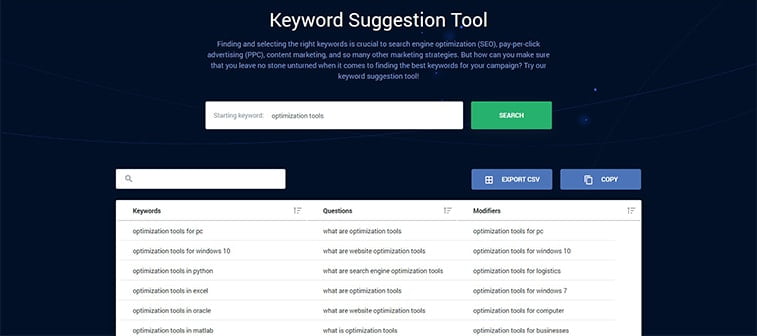 This handy tool can also pack quite a punch when you want to improve your keyword research in order to help your content score your more traffic and a better ranking overall.
If you've been in the game of online marketing for a while now, you probably know that keywords are essential for your content to shine and to rink high. As such, KeywordsFX gives you the opportunity to see not just the highest-ranking keywords for your specific niche, but gives you a huge list of the related keywords and even gives you questions with your keyword in it, along with modifiers of the said keyword.
A free tool that also gives you the ability to export all your data to a CSV? Count us in.
---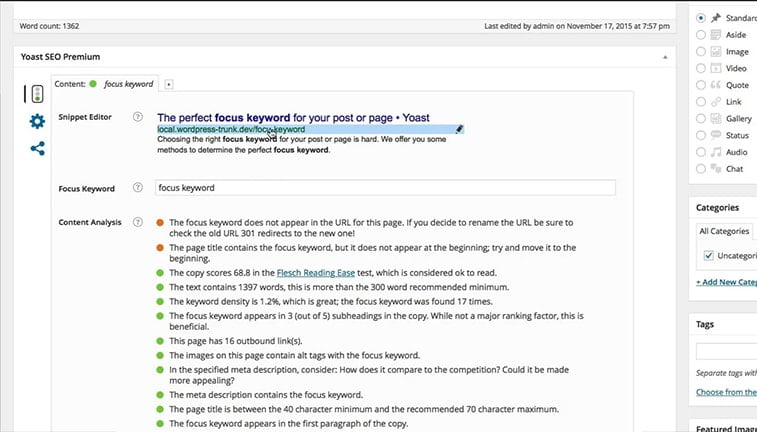 Are you a WordPress user? If yes, then it's pretty much clear that Yoast SEO should be one of those plugins that you must have in order to rank well.
Yoast is one of the mainstay website optimization tools for WP site owners because it identifies certain irregularities and other problems that you might otherwise miss in your content.
Yoast boasts a wide array of features based on the version you are using, you can broaden its capabilities. The free version is basic, even though still pretty handy. On the other hand, the paid version (ranging from $89 to around $760 based on the number of sites you'll use it for) can help you optimize your site content for your target keywords. It can also give you full control over your breadcrumbs with lots of suggestions for internal linking and insight into content metrics, and so on.
While the free version is great, we highly recommend getting the paid version to get the most bang for your buck.
---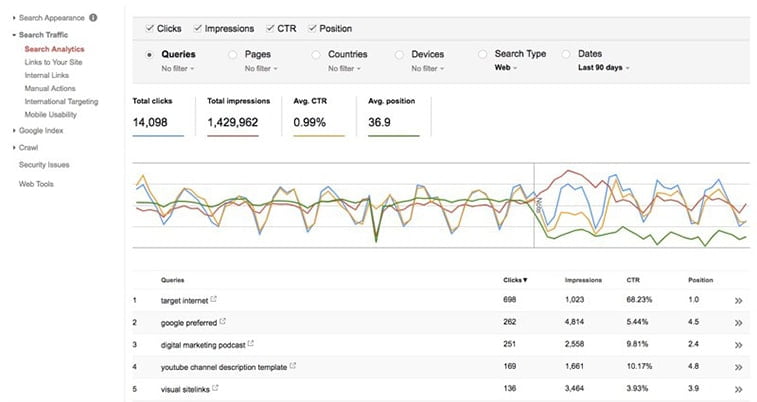 Google Search Console is a free tool for website optimization allowing you to check and have a better idea of the technical aspects of your website.
This tool gives you the option of submitting your sitemap to make sure that there are no errors. You can also check out your robots.txt files, examine probable security issues, set your domains, and so on.
Google Search Console also gives you the opportunity to examine search analytics reports with the latest info about your overall website performance.
All in all, this website optimization tool helps you with optimizing your site for search engine visibility and makes sure that all your internal errors are eradicated that might keep you from ranking better.
---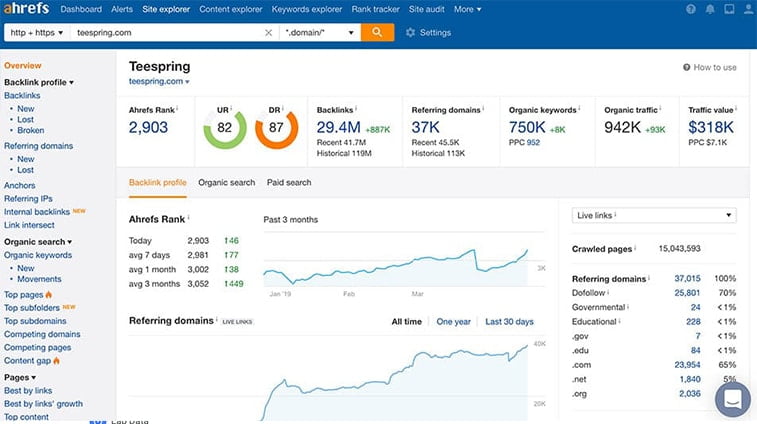 Ahrefs is one of those tools that you must have if you are serious about ranking high and driving traffic to your site.
It allows you to see what other businesses are using, in regards to target keywords, content, and how they are ranking with said strategies. Apart from that, it also gives you tons of insight regarding your website's own content.
It also lets you check out and analyze your backlink profile, learn about your most-visited pages, content gaps, competing domains, just to name a few.
Ahrefs is the best of both worlds – it can give you loads of opportunities to get ahead of your competition by keeping a close eye on them and can also give you valuable info regarding your own website to solve potential problems and threats before they wreak more havoc than necessary.
This great little tool can cost you from $99 up to $999. The price mostly depends on the features and the different packages you want to use.
---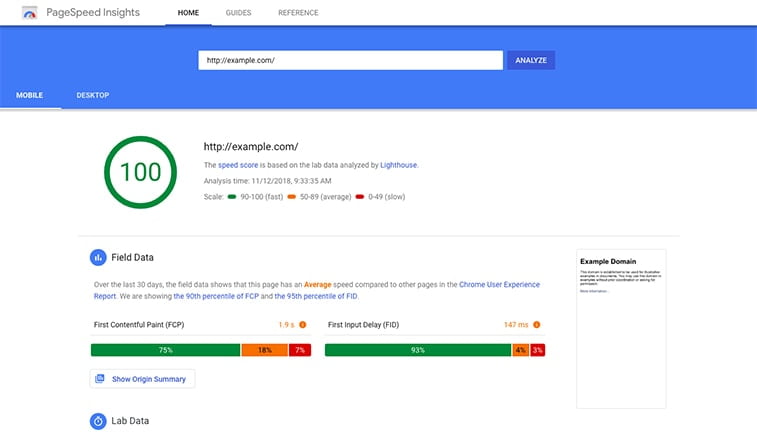 PageSpeed Insights helps not only with improving your rankings but can help you a great deal with improving user experience and tipping the scale towards your site in terms of improvements in traffic and conversions.
There's a lot of data out there showing that fast websites have better conversion rates but it's important to know how fast your website should exactly load.
Google states that the optimal load speed is less than half a second and believes that two seconds is the maximum when it comes to e-commerce platforms.
Other studies (like the one conducted by mPulse Mobile) found that:
pages that managed to load in 2.4 seconds had a 1.9% conversion rate
when loading for 3.3 seconds, the conversion rate dropped to 1.5%
at 4.2 seconds, conversion rates dropped to 1%
after loading for 5.7+ seconds, the conversion rate was quite disappointing 0.6%
Google's Page Speed Insight tool helps you test your loading speed and gives you suggestions to improve your loading speed on the fly.
---
Use the right tools to help your business grow
These six tools we've listed make sure that you get the most bang for your buck – valuable insights regarding your website, its overall performance, content, links, keywords, page speed, and so much more.
These tools are pretty much essential for you to get better rankings and to boost your conversion rates. By using these six tools you are covering all basic areas where you can improve your online presence, selling power, and performance.
On the other hand, don't forget that these tools won't do the necessary work instead of you. There's much more to a great online presence than just a few SEO tools. You'll still have to do the legwork. Also, things such as site design, functionality, social media marketing, branding, email marketing, SEO strategy, content strategy, and so much more can have significant effects on your online conquest, and in order to win in the digital arena, you need to cover every aspect of it.
That's why it's important to seek out the help of professionals if you feel stuck or don't know where to begin either with your website optimization or with any other aspects of your overall digital strategy. A digital marketing agency can give you the guidance and insight you need to get off on the right foot and to make sure you leave your digital footprint on the internet.