SEO is a pretty effective technique designed to make your website more visible in online queries and help you gain a major competitive advantage in search engine rankings. But, how to tell which SEO tools could really advance your appearance in SERPs?
If you are an entrepreneur, a small business owner, or a startup founder looking for ways to bring your company right where it belongs – ranking high in search engine results page (SERP) – read on and find out all about some of the best free search engine optimization tools you can use to accomplish your goal.
Also, if you are an SEO enthusiast eager to learn more about the possibilities for website audits, keyword research, competitor analysis, content ideation process, link building campaigns, site performance measurements, and landing pages experimentations, stay on the track with us.
We present you the list of the best free SEO tools that can help you boost your web rankings and improve the overall quality of your website.
Screaming Frog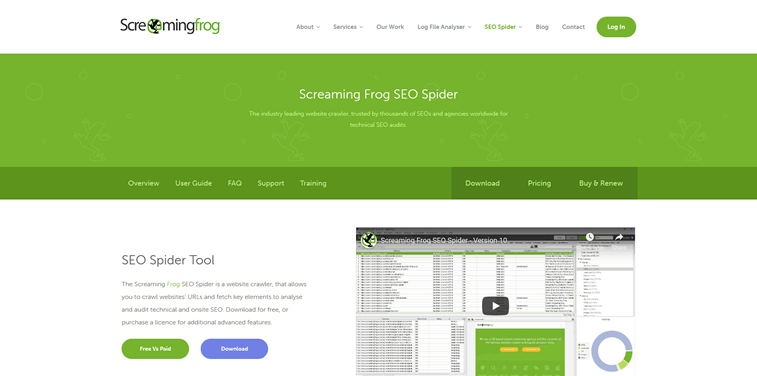 The Screaming Frog SEO spider is an SEO auditing tool, built by SEO experts for SEO experts. So, many search engine optimization specialists around the world rely on this tool to give them a thorough website data overview.
And there is quite a list of technical SEO data included in the Screaming Frog's report.
Using the free version of this tool will limit you to 500 audits per month, but you will get the results on broken links, server errors, redirects, duplicate pages, meta descriptions, meta keywords, file sizes, dofollow/nofollow links, hreflang attributes, AJAX, customized source code search, and many other issues.
Spark from seoClarity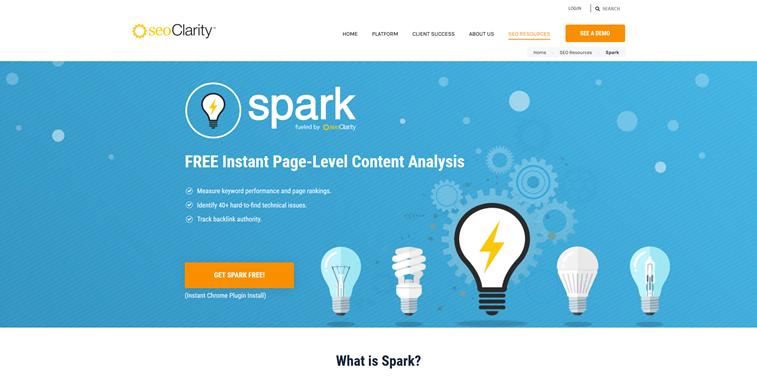 Spark is a free Chrome extension coming from the all-in-one SEO tool named seoClarity. Once added, Spark allows you to use it on any web page you are currently on. It will give you a detailed preview of various insights into the web page you want to check out.
Spark provides a summary of the keywords that the page ranks for based on seoClarity's master keyword data set consisting of tens of millions of keywords and billions of pieces of content, updated once a month.
This tool also provides you with the usability audit, backlink authority, and relevance analysis, as well as the on-page summary of word count, page topic, and other insights. It can also track backlink authority and identify more than 40 hard-to-find technical issues.
Answer the Public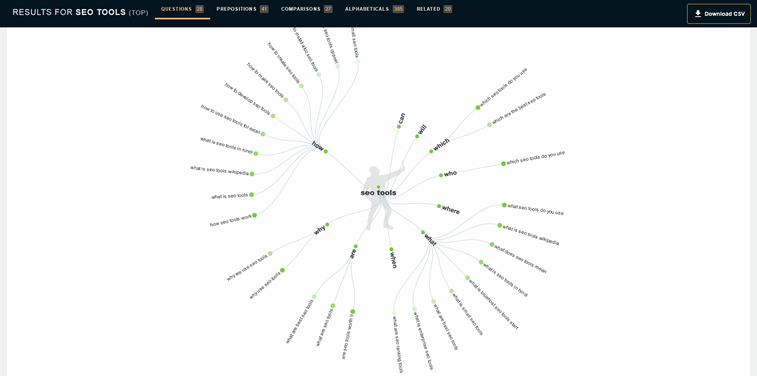 Answer The Public is a free tool for keyword research and brainstorming content ideas.
Making a content strategy and sketching out the editorial plan for the next month/quarter/year is not a simple task, especially if you are going to write SEO-friendly articles, blog posts, case studies, or any other form of content marketing.
This tool can help you with presenting the queries that people are searching for on Google. But not only in the classical search. It finds the questions that people ask on forums, blogs, and social media as well.
So, you will get multiple reports on the word/phrase you search for, including the questions, comparisons, queries in alphabetical order, and much more. And the best part – you can see it all in interesting data visualizations.
Answer the Public is a free tool, but there is also a paid version tailored to suit marketing agencies, seasoned content marketers, and experts with advanced SEO knowledge.
LSI Graph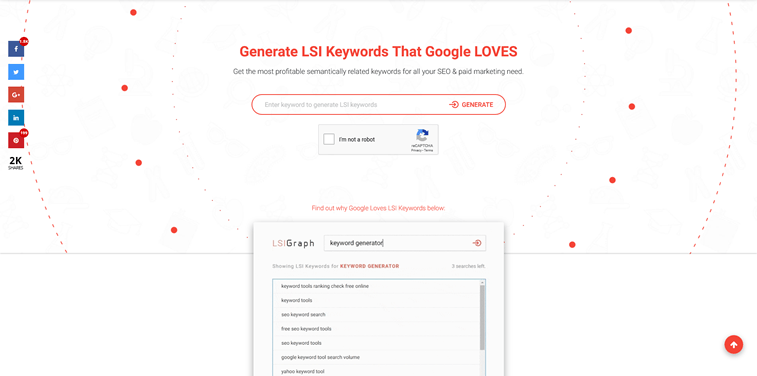 If you want to write in an SEO-friendly manner, your blogs and articles need to be well thought through, carefully outlined, and crafted around a keyword you want to rank for. But hey, do not even think about staffing your article with one keyword.
You need to create high-quality, value-rich content for your target audience, and yes, it requires some serious keyword research, as well as the insight into the competitors' stories, and then some content ideation, creation, and promotion.
The great part in the keyword research takes the Latent Semantic Indexing (LSI) as a way of connecting your primary keyword to semantically related phrases. It is not just about getting synonyms, it is about putting your keywords into the context and finding contextually related phrases to include in your content.
That is where the LSI Graph steps in, as one of the best free LSI keywords generators.
You can use related words to create content easily readable and understandable to search engines. Some of these words and phrases will come naturally to your mind while writing about a certain topic, but you should not neglect the power of generated LSI keywords.
This tool gives you the opportunity to get the precise keyword search volume, as well as their latent semantic value (LSV), while also discovering top performing content and getting access to project manager library. As described, LSI Graph is powering SEOs with more than 29 million semantic LSI keywords during their research.
Ahrefs Free Backlink Checker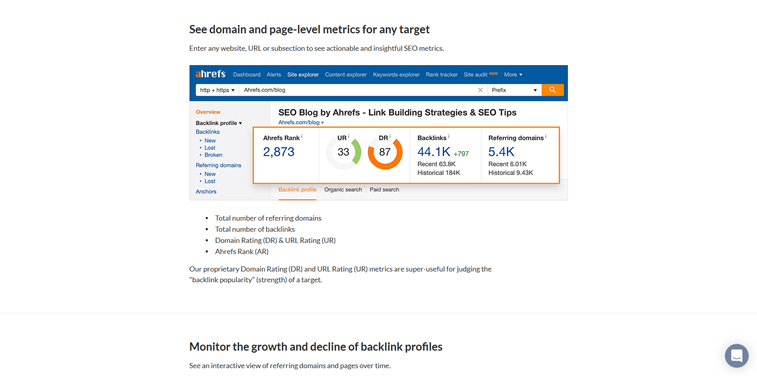 Ahrefs is one of the most popular SEO tools among SEO specialists. It comes with a price tag and a large pool of features, but there are some free versions as well.
For instance, Ahrefs free Backlink Checker is a free version of the premium Ahrefs backlink checker that has one of the largest backlink databases in the industry with reported 16 trillion known links and 6 billion pages crawled each day. So, even the limited free version can get you pretty much of an insights worth knowing.
Definite SEO Checker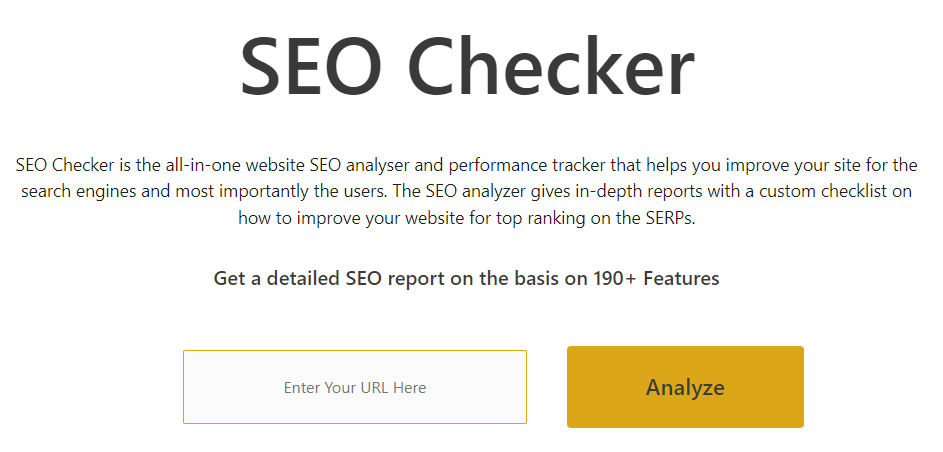 SEO Checker is the all-in-one website SEO analyzer and performance tracker that assists you in optimizing your site for search engines and, more importantly, users. The SEO analyzer gives in-depth reports with a custom checklist on how to improve your website for top ranking on the SERPs.
GTmetrix
Loading your page fast is essential for better rankings of your pages in SERPs. Various surveys around the globe (as well as the ones coming directly from Google) have shown that web pages that take more than 3 seconds to load are usually considered too slow.
GTmetrix appears as one of the most useful tools to analyze the page loading speed, and you can check the results from 28 servers in 7 different regions around the world.
Aside from the performance score, GTmetrix is going to provide you with recommendations on how to make your web page load faster.
This tool makes it possible to track performance by monitoring website and providing you with detailed reports and graphs, allowing you to annotate areas of interest for further improvement.
ShortPixel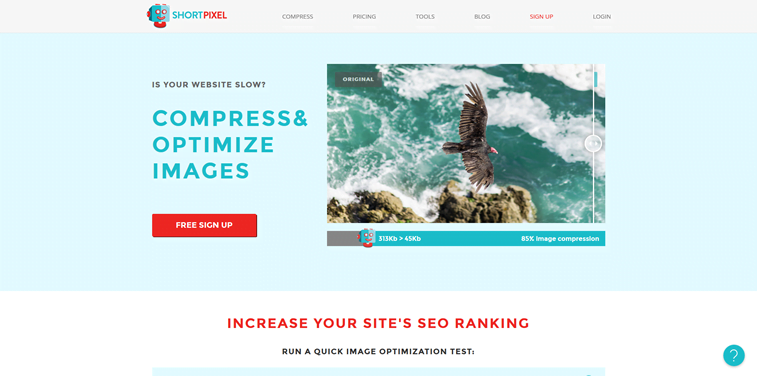 Do you have a lot of heavy slow-loading visuals on your website? Image optimization is another way of improving the page loading speed and ShortPixel can help you with the compression.
You can choose between lossy, glossy, and lossless compressions. Lossy algorithms will make the smallest possible versions of your image files. Glossy would be the best for you if you do not want to compromise on the image quality, even if your page is still going to be a bit slow. And the lossless optimization will lose nothing in the images' quality, but their size is going to be reduced.
This easy-to-use online image tool with no file size limits gives you the opportunity to optimize up to 100 images per month in its free version, while there is also a paid version available.
What Do You Think?
We are curious to hear about your experiences with these best free SEO tools.
Have you already tried some of the above-mentioned tools? Do you use them regularly? Are you satisfied with insights and results they provide you with? Would you recommend some other tools as well?
Share your thoughts in the comments below or on our Facebook page.
---
Interested in SEO topics? Learn more in related articles: