"How to reduce image size but keep its quality?"This is probably the biggest question every designer asks when he or she starts working at a web design agency. With an SEO-friendly approach, which assumes that all images must be as light as possible to not burden the speed, it can be quite difficult to create awesome graphics.
Especially today when there are so many screen resolutions available. Moreover, in the upcoming months, we expect page speed to become a major mobile search ranking, as Google yesterday announced. This means that your website pages must be as small as possible in size in order not to hinder their speed and be easy to open by all devices, especially mobile phones.
The answer to the above question is image optimization. Every SEO expert will tell you that graphics need to be optimized before being published on a website. This means two things: (1) technically speaking, an image must have alt tags and title properly written (which implies that it can rank on Google); and (2) it needs to be lightweight, without the size impacting image quality negatively.
How to achieve this?
No matter if you are a graphic design beginner or an SEO for your company, you need to make those images optimized, and these free tools can help you compress their size. Mind you that there are only six free image optimization tools in the list that have proven to be quite useful on a day-to-day basis; however, there are much more on the Internet and you should not hesitate to find them.
---
6 Free Online Image Optimization Tools
1. Optimizilla
Our first choice is Optimizilla. This popular online compressor uses a smart algorithm to shrink JPEG and PNG images to the minimum size possible while retaining high image quality. If you need to shrink many files in one round, you can upload up to 20 files and wait for the compression to finish.

---
2. Tiny JPG
A friendly panda nibbling eucalyptus branch is the trademark of the second best option for JPEG compression: Tiny JPG. This excellent online tool automatically identifies image color, pattern, and texture, and creates a fine-tuned JPEG file without sacrificing its final condition when compared to the original image. If you want to upload an unlimited number of files and optimize them all at once, you can switch to a pro account or even use a Photoshop plugin to shrink images directly in your program.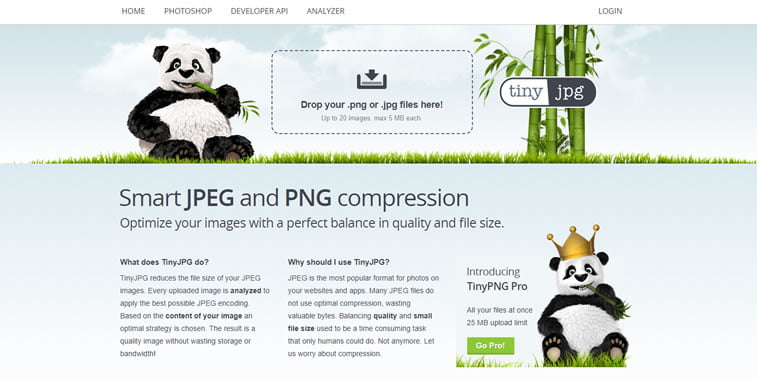 ---
3. Tiny PNG
Sister to Tiny JPG is Tiny PNG. Practically the same tool, the same panda, the same action, only for a different format. Tiny PNG reduces the file size of PNG images, which are unique for storing partially transparent background, unlike JPEG. The former format is significantly larger than the latter, which makes the tool a smart way to keep all the options for fewer bytes.
---
4. Image Smaller
If for some strange reason the aforementioned websites are down or they do not provide a satisfying image size, the next best online tool is Image Smaller. This useful optimization website reduces the size of JPEG, JPG and PNG files, and photos to a size of up to 90%. Just like any other tool, it uses a special compression algorithm which keeps PNG file transparency and JPEG/JPG quality factor of 75. This site also offers video compression, audio conversion, PDF compression, and other image compression options.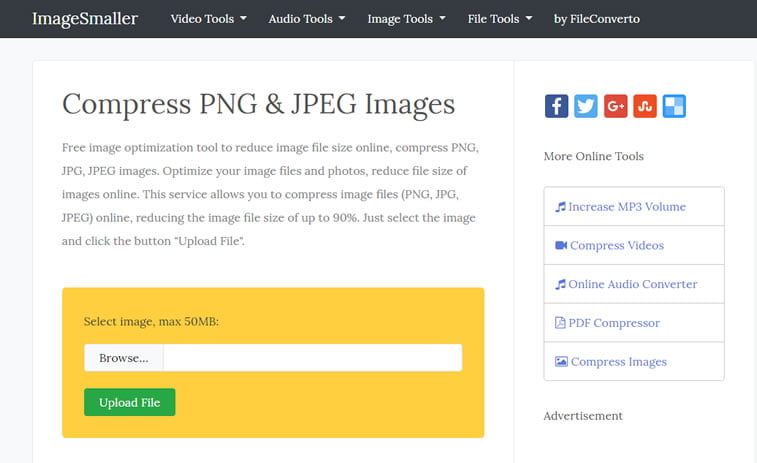 ---
5. Image Optimizer
Image Optimizer is a free tool which comes in two forms: as online and program option. If you have a small number of files, you can use the online version and select quality and size for your image, whereas the program offers you the option of resizing and compressing files in bulk, completely free of charge and in a matter of moments.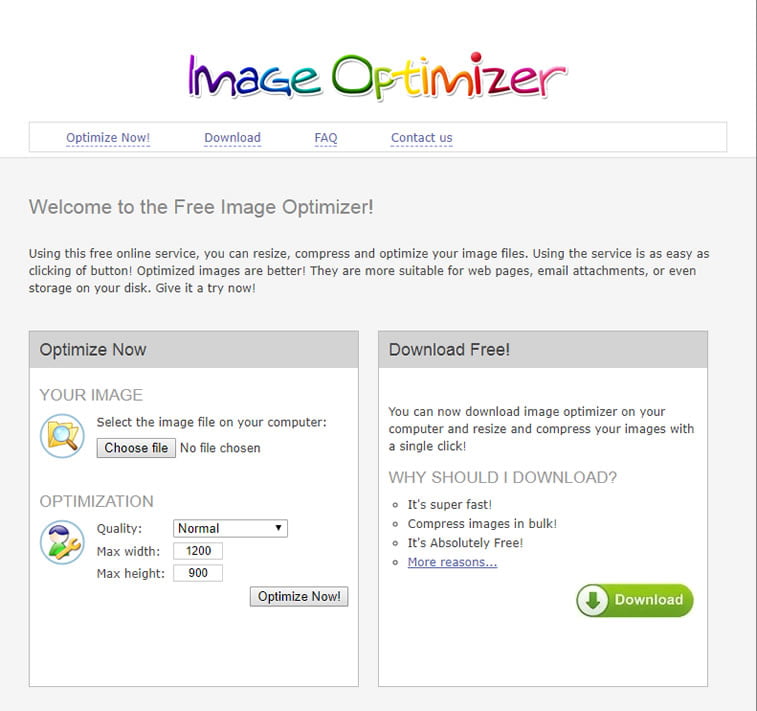 ---
6. Compressor
This powerful online image compression tool supports 4 file formats: JPEG, PNG, GIF, and SVG. With Compressor's high shrinking quality, you can save hundreds of kilobytes and choose between lossless or lossy compression types. It is easy to use and super-fast. Give it a try!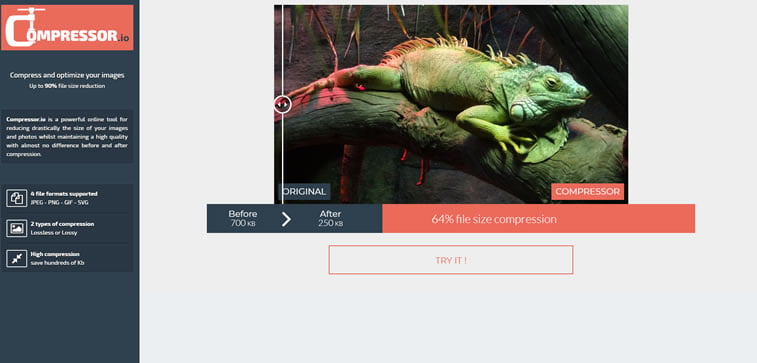 ---
Here we enlisted our SEO specialists' six favorite image optimization tools which can help your website rank higher in the SERP and image search. Have you tried using any of them? Or do you have another compression tool to recommend? Tell us in the comments below or on our Facebook page and Twitter.
---
Like this article? Here are more interesting posts: