Logo design is one of the areas of graphic design that demands quite a lot of creativity today. And with reason.
In the time when every business needs a unique branding representation, it can be pretty challenging for designers to compete with their colleagues and coworkers in the creativity domain. A logo is what represents the company, its mission, values, goals – any many more. So, how to do it – how to create a truly breathtaking logo?
Well, for starters, it has to do a lot with what you do and how you do it.
Now, there are some basic requirements every good logo needs to have, besides simplicity, of course:
1. Unique
2. Adaptable
3. Timeless
4. Appropriate
But this is what comes later – after you have already created it. No matter if you are a freelance designer or working for an amazing design agency, before you start the logo creation process, you need to do some research and ask your client some questions.
Do your homework.
Sure, it comes as a normal thing: you need to know the main area or niche your client's business belong to, but what can help you create a great design rather than a good one is the details. You need to do your research thoroughly after you have scheduled a meeting with your client. And not just get acquainted with them – you need to fully understand their core values, business principles and all things that can be influential on your design. This is the starting point and from it come the questions.
Remember that knowledge is never sufficient and the more you learn about your client and their liking is going to increase the odds of them accepting your logo solution (if not the first solution!).
Ask specific questions:
Q1: Why do you need a(nother) logo?
There are two reasons people need logos:
They are starting a new business
They need a redesign
These two reasons will lead you on completely different pathways.
First of all, if the logo you are designing is for a startup project, you can expect the client to give you their ideas (and even sketches) or give you none. However, mind you that when given the liberty to design something on your own, you definitely have to be careful because you can get thumbs up or miss the point completely. Sure, "you're the designer" does not mean "do whatever you want."
On the other hand, if a redesign is required from you, you are probably going to have a set of older logos that need to be brushed up a bit (businesses usually try to stick to what they have and avoid complete brand overhauls). Make sure you know all the rebranding reasons which will then help you with making the design contemporary and according to your client's needs.
Q2: Who is your company's target audience?
This one is another no-brainer, and it pretty much comes directly out of the appropriateness principle. If you want to get things straight from the start and know how to set the mood, you are going to need the information about the target audience.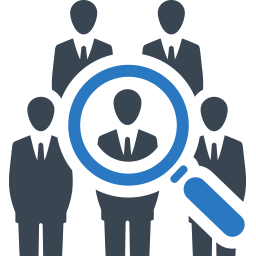 Knowing the target audience's age, gender, location, lifestyle, income level and many other details is significant for any type of work, and here it will help you adjust things like font choice, sketch/doodle vs serious forms, etc. – things that really make a difference.
Extra tip: If your client is too general – things can go offhand – so you can simply ask them to describe you their ideal customer, and this will do.
Q3: What are your long-term goals?
Running a business is pretty hard, so companies do not need brand redesign every couple of years. Since trends often change in a period of five years, for example, you are probably going to have to make the logo of your company stand the test of time.
However, what often happens in business is that companies can change their goals and even industries in a longer time period, so ask your clients to keep you up to date about their current goals and aspirations. Their plans can make an impact on your design, and you can even take inspiration from this, as well.
Q4: Who are we competing?
Another important question you need to ask your client. Even if they are unwilling to tell you who they are competing against, it is your job and responsibility to do the research and avoid an unwanted situation (such as ending up on LogoThief, a famous site that has recently announced a relaunch). Often times unwanted copying happens (not to mention blatant rip-offs), so if you want to avoid following your client's competition's style and feel – make sure to know their logo – and AVOID it.
If you liked this article and find it useful, but would like to explore some more about the topic, the Creative Bloq blog offers 65 expert tips when designing a logo. And, if you want us to design your logo, do not hesitate to press the Order button.
Read more: