Our world evolves around business. The estimate that there are about 300 million registered companies in the world only favors its importance (source: Quora).
Businesses can be generally divided into two major groups: office-based and web-based. Both have their advantages and disadvantages (none is perfect or absolutely bad, for that matter), but they fit people's different needs.
For example, some people cannot find focus while working at home, so they need to sit in an office to fully exploit their potentials. Whereas other people do not find offices that much creative places like when they are sitting at a home-based office, leading their web-based business and enjoying the benefits of having the possibility to cook a warm meal and take a break whenever they feel tired.
If you belong to the latter group of people, and would like to start a web-based business which you can lead from your home office, keep reading this guide and find out all the steps you need to make.
Ideas start engines
Ideas are at the basis of every business. And with good reason. Without a good idea you will not be able to start anything. Thus, unless you have a clear idea of what your web-based business is going to be about, you cannot proceed to the next phase.
First of all, you can ask yourself if you have any special skills, which you have acquired during your previous employment, or just have an idea which you need to work on. Sometimes, until you master a new skill or acquaint yourself with a new field, only then will you be able to proceed with your plan of starting a business. Brainstorming can be a great basis for you to start thinking in a different way.
Since customers are at the focus of every business, you should think about them in terms of problem solving. Imagine that you are in an average person's shoes; think about what problems they may have and in what way they can be helped. Realization of the manner of solving someone's problem is crucial in organizing your future business's path.
If you are in a phase of your life when you are in between jobs and do not really know where to head to next, you can find inspiration in Business News Daily's recent article about online business ideas.
Business plan
It is okay to have an idea, even if there are many businesses that share it. Your idea needs to be fresh and innovative, contributing the area with some new insights. Web-based businesses can be divided into two groups: those offering services, and those offering products.
What enables a business to truly come to this world is making a solid business plan. Writing business plans should be your top priority during the first phase of starting your business; you should spend most of the time on it and work on every smallest detail. Write an outline of your business plan, which should contain the following: executive summary, company summary, products/services you are going to offer, market analysis summary, strategy summary, management summary, and last, but not the least, financial plan.
When you have these sorted out in your business plan outline, you can finally start writing it. You can find free business plan templates on BPlans, adjust them and use them for your web-based business. Just make sure that you include these questions (and their answers) in it:
What the business is about?
Where will it be held?
To whom will you be selling your products/services?
How much (money) will be spent?
How much (time) will it take you to start everything?
What are your long-term goals?
Mind you that a business plan should not be understood as something carved in stone; instead, it should be adaptable to changes, which are a normal part of life of every rising business. Do not be afraid to experiment and follow your hunch. In fact, many entrepreneurs have actually achieved star heights because they have followed their sixth sense AND were guided by goals proclaimed in their business plan.
Business model
Defining the business process clearly will contribute greatly to the organization of your work and the demand for other people in later phases of work. Writing a business model will help you create an
abstract representation of an organization, be it conceptual, textual, and/or graphical, of all core interrelated architectural, co-operational, and financial arrangements designed and developed by an organization presently and in the future, as well as all core products and/or services the organization offers, or will offer, based on these arrangements that are needed to achieve its strategic goals and objectives. (Source: Wikipedia)
Your business process will be largely influenced by what is written in the model, so you need to make it solid. Conducting a SWOT analysis, i.e. Strengths, Weaknesses, Opportunities and Threats of your business will help you think two steps ahead and solving problems even before they arise.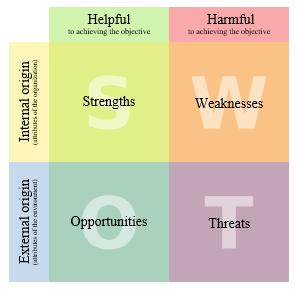 Business model should be a part of your strategy, which takes into consideration all organizational preconditions, external influences and resources that are going to function together as a whole in your future business. According to Michael Porter, an authority on competitive strategy and economic development, business strategy should involve the following three principles:
Unique (and valuable) market position
Choosing what to do and what not to do, and
Aligning company activities so as to support your strategy
Funding
Funding is another major point you should consider as soon as possible. The majority of businesses are started from personal investments, but a significant number is funded by investors, angel investors, loans and other means of financing. Nevertheless, remember that you should never invest all your money into a start-up; rather, you can invest some of it, and ask for partnerships or other means of financing so as not to risk of losing everything, and be able to recover if something goes wrong.
Additionally, if you do not want to make partnerships with practically unknown people, you can ask around and see what business start-up benefits your state authority offers. Many regions today plan investing into local businesses, so you should check their annual budgeting plans and see if anything works for you.
Registering
Another thing you need to turn to the state is getting all the licenses and permits. Firstly, you should register your company in your state registers office so that you can pay taxes, give paychecks to your employees, and generally, make a profit.
And secondly, if you are working with some special products or services which demand having a permit, you can get into deep trouble if something wrong happens. It is always better to play by the rules rather than pay for the mess.
Launch your website
Since your business is going to be web-based, you are definitely going to have a good website. All the major institutions and websites in the world today use WordPress themes for their websites, because they fit their needs best and are user-friendly.
Many people hire agencies and experts to make a website for them, and you can do it, too by placing your order.
Build a great team
After all the technical issues have been sorted out, you should think about the team you are going to be working with. It you think that a "one man show" will be good for you, you had better think twice and start asking around for some help. Even though it is okay to start with a person or two, soon, when your business starts running, you will need help because you will not have enough time nor strength to be in different places at the same time.
Being rational is the best solution, so think rationally when you decide to form a team of associates and partners. Think about how they can contribute your work, and demand special skills (such as knowing certain languages, programming languages, or having CMS knowledge). Your business demands only the best, and best is what you are going to get.
Branding
Every business needs to be recognizable, so you need to start thinking about creating your brand ID as soon as possible. First of all, your company is going to need its logo, designed only by the best experts in the field. Additionally, you need to create a corporate ID and business cards which you can give out to your potential customers, even in informal situations. Make sure to have them with you always, wherever you go, because you never know when a new business opportunity can arise.
Branding goes hand in hand with marketing. Every web-based business needs to have a firm advertising strategy in order to become visible in the online world. PR articles, running social media profiles and pages, and even blogging can help you in reaching wider audiences.
Search Engine Optimization (SEO)
Search Engine Optimization (SEO) is what every business today needs. However, web-based businesses need to pay special attention to SEO because it can help your website become noticed by search engines and draw customers directly to you. There are two ways SEO works:
First of all, your website needs to be user-friendly and it needs to be usable by your end customers. If they wander around it, not being able to find the BUY button, you will not profit from that. That is exactly what onsite SEO involves – assembling your website and making it searchable, by both customers and search engines.
Offsite SEO involves becoming more visible on the web. It involves running social media campaigns, community management, link building, blogging and content writing, as well as many other things that are done outside of your website.
Since SEO demands a lot of work (which cannot be done by one single person), you can find out more about SEO Consulting services from us.
Further reading: