Da li već koristite Instagram priče? Ako ne - propuštate pola milijarde prilika da Vaš biznis poraste, jer upravo je to broj korisnika koji svakodnevno pregleda bar jedan Instagram Story. Ako da – vrlo je verovatno da ne koristite ni delić od ogromnog broja opcija koje ove slike ili videi kratkog formata nude. Instagram priče su odličan način da brzo i jednostavano svoje pratioce zabavite i podstaknete na akciju, stoga Vam danas predstavljamo 10 nezaobilaznih aplikacija za kreiranje kreativnih Instagram storija.
Šta su Instagram priče?
Povedeni uspehom storija na suparničkom Snapchat-u, Instagram je 2016. godine lansirao identičnu opciju u okviru svoje aplikacije. Za vrlo kratko vreme, uspeh nove opcije Instagrama skoro je upolovio broj korisnika koji pregledaju Snapchat priče, a danas su Instagram storiji nezaobilazan deo marketing strategije, bilo da ste influenser, startap ili kompanija sa višegodišnjim iskustvom.
Instagram Story je fotografija, tekst ili kratki video koji korisnici postave, a koji nestaje nakon 24 časa. Od nedavno, uvedena je i opcija Highlights, koja Vam nudi da sačuvate svoje Story objave na profilu, da ih grupišete i time pratiocima ponudite jedinstveno putovanje kroz Vašu poslovnu priču.
Zašto su Instagram priče tako popularne?
U 2019. godini, storiji su bili jedan od najvećih trendova na društvenim mrežama. Čak trećina njih postavljena je od strane neke kompanije, a biznisi u proseku objavljuju 2,5 storija nedeljno. Svakoga dana, 200 miliona korisnika Instagrama poseti bar jedan kompanijski profil na ovoj društvenoj mreži.
Ali šta čini Instagram storije tako primamljivim? Uspeh ovog vida sadržaja leži u tome što ljudi, ali i brendovi, putem Instagram priča dele realne trenutke iz svoje svakodnevnice. Bez filtera i editovanja, storiji korisnicima pružaju jedinstven uvid u pozadinu dešavanja rada kompanije, poslovnih ljudi, influensera ili poznatih ličnosti.
S druge strane, kompanije i individue širom sveta koriste ovaj ličan i neposredan metod komunikacije kako bi se što više približili svojoj ciljnoj publici. Instagram priče postale su neizostavan deo marketinške strategije zbog svog "sirovog" pristupa koji se drastično razlikuje od, naizgled, savršenosti sa kojom se korisnici susreću na Instagram objavama. To čini Instagram priče odličnim marketinškim alatom – što indirektno kroz stvaranje povezanosti sa publikom, što direktno, kroz sponzorisane reklame i umetanje linkova ka proizvodima i uslugama.
Sigurno ste, makar jednom, videli prelepu i umetničku Instagram priču za koju ste se zapitali koliko je vremena trebalo da se napravi, kako je autor otelotvorenje kreativnosti, i kako Vi baš nikada nećete moći da stvorite tako nešto. A šta ako Vam kažemo da Vam za kreiranje lepog i efektnog storija nije potrebna profesionalna oprema, mnogo vremena i novca, već samo jedna mobilna aplikacija?
Najbolje mobilne aplikacije za savršene Instagram storije za 2020.
Predstavljamo Vam 10 najpopularnijih aplikacija pomoću kojih možete lako i brzo kreirati prelepu i efektnu Instagram priču koja će svojim kvalitetom parirati storijima najpopularnijih influenseria i najvećih brendova.
---
Canva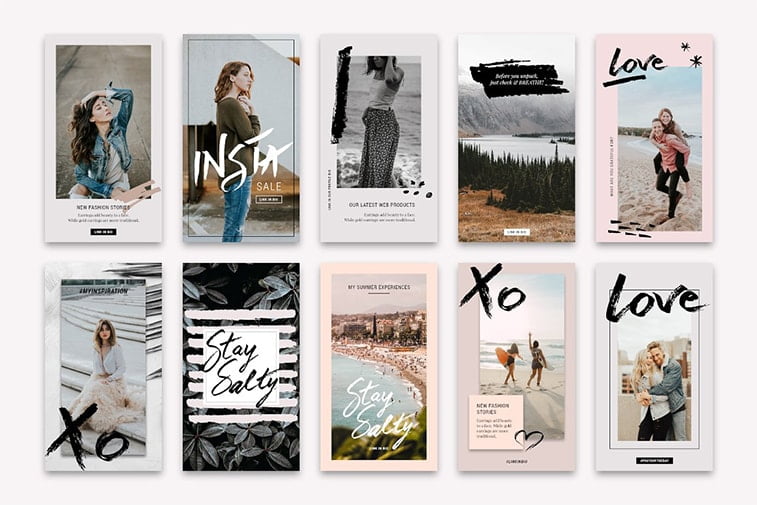 Idealna za kreiranje i održavanje prepoznatljivosti brenda, Canva je jedna od vodećih aplikacija za pravljenje moćnih Instagram priča. Od 2016. godine dostupna za iOS, tj. 2017. godine za Android uređaje, ova aplikacija nudi doslovno na milione različitih dizajna pozadina, 130 fontova i mnoštvo grafičkih elemenata poput stikera, ikonica, bedževa, ramova i animacija.
Ako Vam grafički dizajn nije blizak, Canva nudi preko 60.000 već pripremljenih dizajna storija, što je velika pomoć onima koji još uvek traže svoj unikatni stil. Za one nešto kreativnije, mogućnosti koje ova aplikacija nudi su neograničene.
Veliki broj opcija dostupno je u besplatnoj verziji Canve, ali sve mogućnosti otvaraju Vam se za 10 dolara mesečno, koliko košta kompletna verzija ove aplikacije. Takođe, velika prednost Canve je što je dostupna i na desktopu, u formi vebsajta kao i aplikacije.
---
VSCO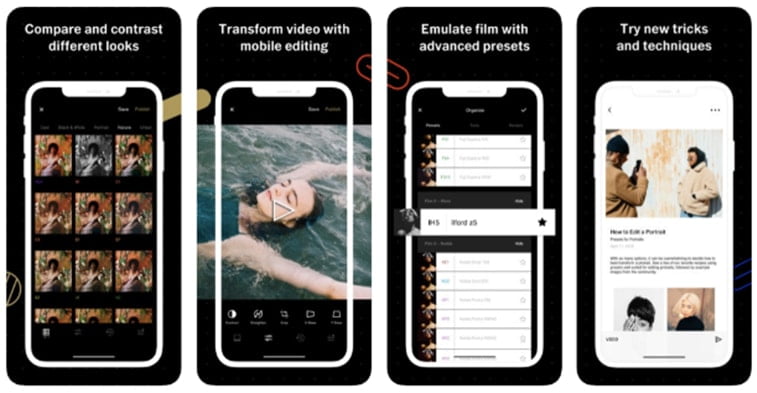 Retko koja aplikacija može da se pohvali time da je ušla u rečnik mladih – ali VSCO to može. Popularnost ove aplikacije među Instagram influenserkama izrodila je "VSCO girl", termin koji označava devojku koja postavlja slike izmenjene baš u ovoj aplikaciji.
VSCO nudi veliki broj tutorijala i saveta za kreiranje sadržaja koji će pomoći svim početnicima u ovoj aplikaciji da već od prve upotrebe naprave savršen dizajn. Pored tih opcija, ova aplikacija poseduje i opcije za editovanje fotografija, a izmena video sadržaja dostupna je samo u plaćenoj verziji.
Aplikacija je dostupna i Android i iOS korisnicama, uz identične mogućnosti.
---
Unfold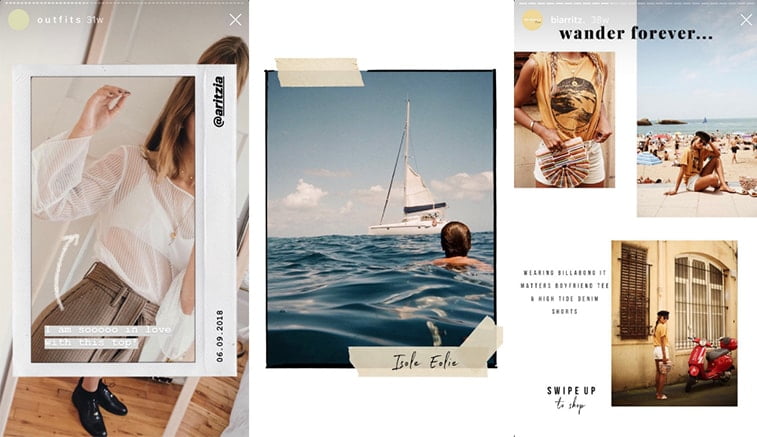 Minimalizam je trenutno najveći trend u fotografiji, stoga ni ne čudi što se upravo Unfold nalazi među vodećim aplikacijama za kreiranje Instagram priča. Vizuali dominiraju Unfold-om, a prate ih veliki broj elegantnih i unikatnih fontova.
Sa 25 besplatnih i još preko 90 plaćenih šablona za storije koji podržavaju kako fotografije, tako i video format, Unfold je odličan alat kojim, u nekoliko koraka, možete da napravite zadivljujuće storije. Ova aplikacija nudi setove šablona, što je odlična opcija za sve kompanije koje žele da brendiraju svoje Instagram priče.
Unfold je dostupan za Android i iOS uređaje.
---
Adobe Spark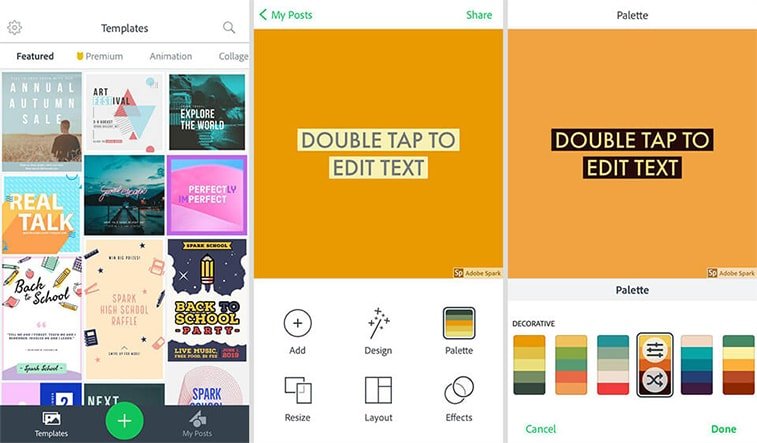 Najnovije pojačanje Adobe porodice skrenulo je u nešto manje profesionalne vode, ali to nikako ne znači da Vaši Instagram storiji neće biti vrhunski. Adobe Spark Post i Adobe Spark Video nude na stotine profesionalnih dizajna koje možete lako uskladiti sa Vašim brendom. Dodajte logo, izaberite fontove i boje, a uz samo par klikova možete napraviti i tekstualnu animaciju.
Adobe Spark Post namenjen je editovanju fotografija i kreiranju unikatnih grafika, dok uz Adobe Spark Video možete da dodajete efekte, zvukove i animacije Vašim video zapisima.
Obe aplikacije nude i veliki broj stock fotografija, kao i jednostavno ažuriranje zahvaljujući cloud backup-u. Za sada, Adobe Spark Post dostupan je Android i iOS korisnicima, kao i desktop aplikacija, dok Adobe Spark Video još uvek nema svoju Android verziju.
---
InShot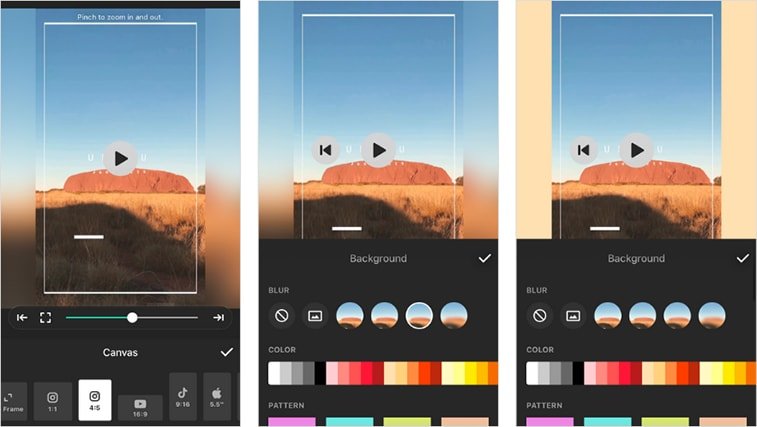 InShot je jedna od najboljih aplikacija za editovanje fotografija i kreiranje tekstualnih grafika za Instagram priče. Ipak, njen pun potencijal krije se u neverovatnom broju opcija za editovanje i kreiranje video Instagram storija.
Sa opcijama poput skraćivanja, sečenja, i spajanja videa, dodavanja muzike, pozadine, filtera i efekata u video zapise, kao i kontrole brzine koja Vam daje mogućnost pravljenja slow-motion videa, InShot je savršena aplikacija kako za amatere, tako i za profesionalce.
Naravno, tu su i ostale standardne opcije, poput stikera, fontova, emoji-ja i mnoštva drugih efekata koje možete dodati svom dizajnu. InShot jedan je od favorita za kreiranje Instagram priče za firme, a aplikacija je dostupna Android i iOS korisnicima.
---
Hype-Type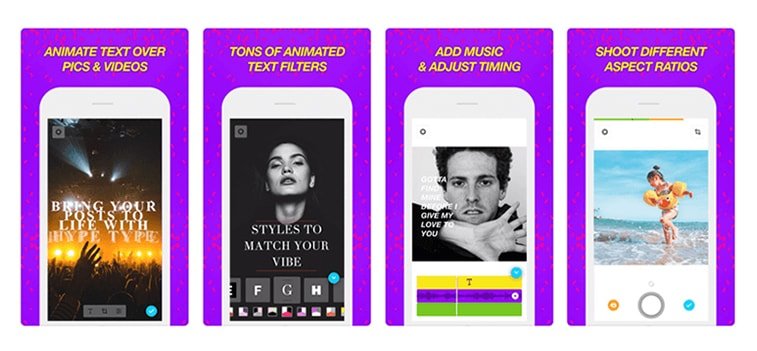 Ako želite da Vaše savršene Instagram priče prati moćna tipografija, Hype-Type je pravi izbor. Ova aplikacija je jedna od vodećih za tekstove, i nudi veliki broj fontova i opcija za tekstualne animacije, a kompatibilna je sa fotografijama i video zapisima.
Hype-Type veliki broj svojih opcija nudi besplatno, a dostupan je za Android i iOS uređaje.
---
Over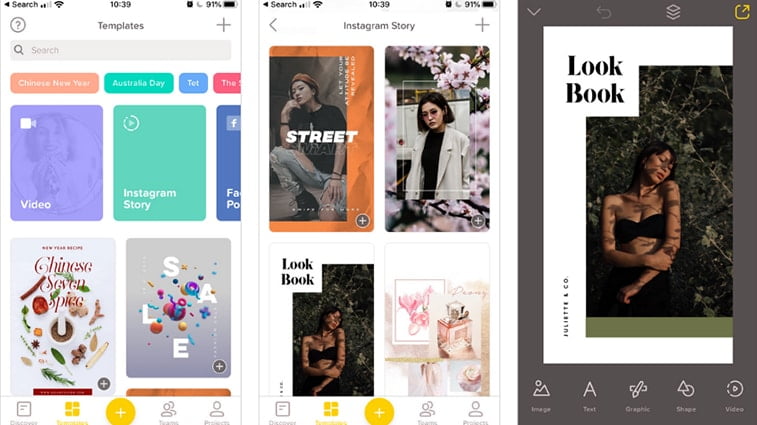 Jedna od najbolje ocenjenih aplikacija za Instagram priče, Over uključuje neverovatno veliki broj fontova, efekata, stikera, pozadina, šablona, grafika, i još mnogo opcija za savršen izgled Vašeg storija. Ova aplikacija podržava fotografije i videe, a u par koraka, možete i sami napraviti profesionalne dizajne.
Za slučaj da Vam ponestane inspiracije, Over ima široku zajednicu korisnika koja pod #bestofover heštegom svakodnevno deli inspirativne dizajne na Instagramu.
Ova aplikacija je odličan izbor za kreiranje brendiranog Instagram sadržaja, a dostupna je za Android i iOS uređaje.
---
PhotoGrid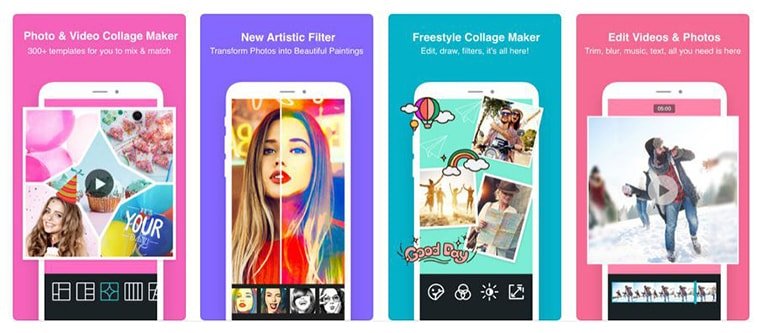 U samo par klikova napravite savršene kolaže od fotografija ili videa uz PhotoGrid. Ova aplikacija nudi veliki broj (preko 300 u besplatnoj i plaćenoj verziji) šablona za Instagram storije, kao i mnoštvo filtera, fontova, stikera za pravljenje savršenih dizajna.
PhotoGrid Vam dopušta i da se igrate sa opcijama za uklanjanje šminke i ulepšavanje storija, uklanjanje pozadine, kao i pravljenja popularnih mimova i dodavanje gif-ova. Aplikacija je dostupna za Android i iOS.
---
Life Lapse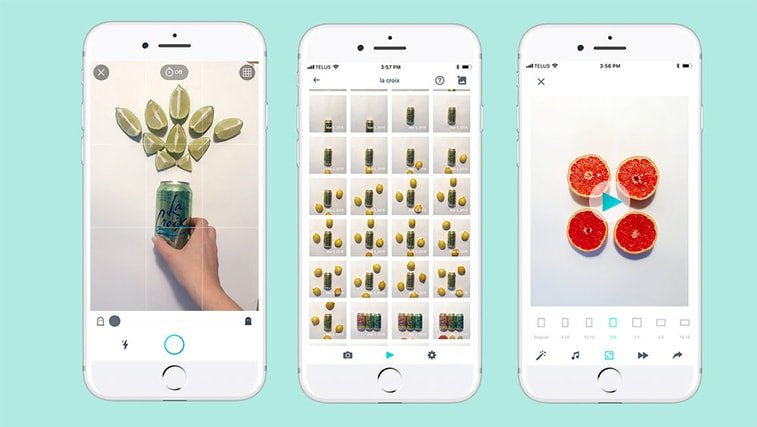 Ako ste spremni da postavite nove standarde u kreiranju Instagram priča, Life Lapse je aplikacija za Vas. Specijalno dizajnirana za pravljenje stop motion videa, Life Lapse nudi mnoštvo opcija za editovanje animacije, dodavanje muzike, prilagođavanje brzine videa, itd.
Life Lapse ima korisne tutorijale koji Vam pomažu da savladate osnove stop motion videografije, a sve što Vam je potrebno za kreiranje ovih efektnih i moćnih videa jesu dobro osvetljenje, stativ i kamera.
Ova aplikacija dostupna je na Android i iOS uređajima, a savršen je izbor za kreiranje unikatnih Instagram priča koje će definitivno privući pažnju i animirati Vaše pratioce.
---
Filmm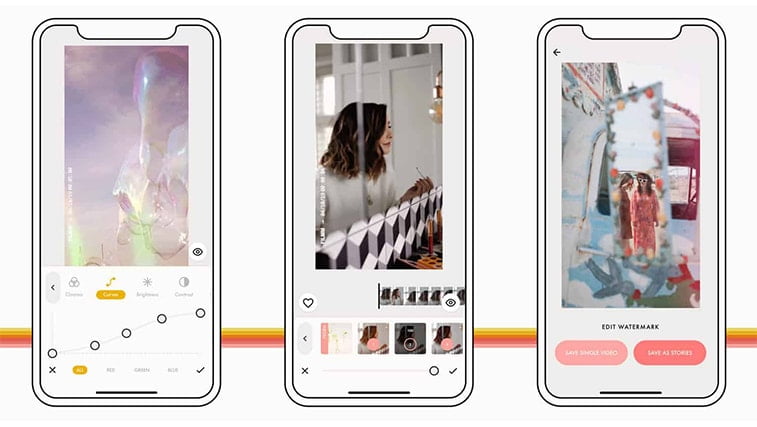 Kao što joj i ime sugeriše, Filmm je novopristigli dodatak na sceni Instagram aplikacija, posebno fokusiran na dizajniranje priča sa motivom retro filmografije. Filteri, efekti, ramovi, šabloni, opcije za editovanje i dodavanje muzike, samo su neke od opcija koje Filmm nudi.
Za sada, Filmm je dostupan samo za korisnike iOS uređaja, a premijum verzija košta 29,99$ na godišnjem nivou.
---
Zaključak
Marketing na društvenim mrežama danas je jedan od vodećih vidova reklamiranja, a Instagram priče su odličan način da zabavite svoje pratioce i skrenete pažnju na svoj biznis, na relativno lak, brz i pristupačan način. Od influensera do blogera, startapa do multinacionalnih kompanija – svačiji biznis nudi mnoštvo materijala koji bi privukli pažnju i angažovali Vaše pratioce.
No, popularnost Instagram storija leži upravo u tome što prikazuju onu drugu stranu Vašeg posla, prirodnu, nesavršenu i sirovu. Baš zbog toga, kreiranje Instagram storija koji će savršeno oslikavati Vaš rad uopšte ne mora da bude komplikovan i mukotrpan proces, posebno ako uz sebe imate neku od najboljih aplikacija za Instagram priče.
Svaka od ovih aplikacija nudi bezbroj mogućnosti, a čak i sa besplatnim verzijama možete kreirati Instagram storije koji će parirati onima svetski poznatih brendova. Amaterske fotografije i video zapise možete, u samo nekoliko klikova, pretvoriti u profesionalne vizuale koji će, uz pažljivo kreiranu marketinšku strategiju, pomoći da unapredite i proširite Vaše poslovanje.
---
Za ljubitelje umetnosti: