"Osmišljavati dizajn za EXIT zaista je jedno jedinstveno i neponovljivo iskustvo, neuporedivo sa radom u bilo kom dizajnerskom studiju. Klijent je isti, ali on neprestano evoluira, a sa njim i kreativni izraz koji ga prati. A neograničena kreativna sloboda otkriva obe strane medalje." priseća se Predrag Kovačev, naš dragi kolega, koji je pre nekoliko godina dizajnirao vizualni identitet EXIT festivala. Pandemija je odložila proslavu 20. rođendana najvećeg muzičkog festivala na ovim prostorima, ali to nas ne sprečava da se prisetimo kako je to EXIT izgledao u očima grafičkog dizajnera.
U proteklih 20 godina, EXIT je postao jedan od glavnih simbola ne samo Novog Sada i Srbije, već i cele jugoistočne Evrope. Dobre vibracije, najpoznatiji svetski izvođači, i nezaboravan provod do zore na Đavi pročuli su se i do najudaljenijih kutaka sveta. Samo u 2019. EXIT je zabeležio 200.000 posetilaca, a u ovoj godini, planirano je još sestrinskih festivala u susednim zemljama, poput Sea Dance festivala u Budvi, i Sea Star-a u Umagu.

Ipak, zdravstvena situacija u svetu onemogućila je da i ove godine Petrovaradinska tvrđava bude domaćin najvećim svetskim muzičkim zvezdama i ljubiteljima kvalitetne muzike i dobrog provoda. EXIT 2020 je i zvanično otkazan, a dok čekamo nove datume i line up za EXIT 2021, prisećamo se kako je to izgledao grafički dizajn EXIT festivala 2016. i 2018. godine, kao i priču o inspiraciji, putovanju i motivima za njegov nastanak.
Kako se rađa vizuelni identitet EXIT festivala?
Prvi korak ka kreiranju vizuala koji će pratiti EXIT jeste osmišljavanje imena kampanje, poput Magic (2016), Summer of Love (2017), Freedom (2018), Tribe (2019), itd. "Ali to nije samo ime koje će zvučati zanimljivo u reklami, već ono ima mnogo dublji smisao. Oko njega se gradi kompletna priča i duh festivala, a grafički dizajn je tu da, na adekvatan način, predstavi poruku kampanje kroz vizuale, boje, simbole" objašnjava Predrag.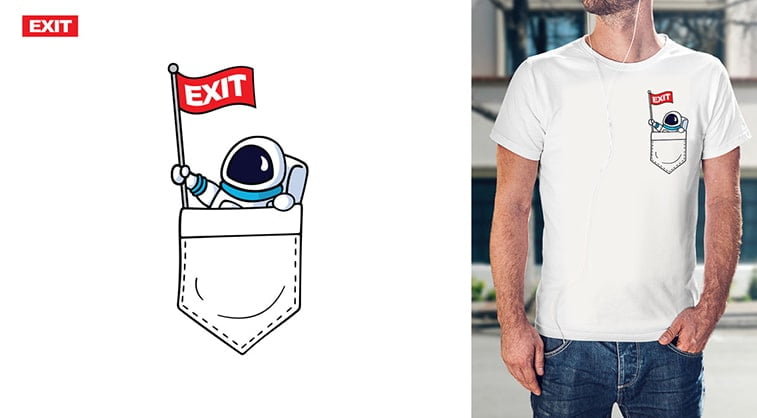 EXIT je uvek isti, ali se i neprestano menja, kaže Predrag. Pristup poslu je potpuno drugačiji od uobičajenog – radi za istog klijenta svake godine, ali kampanje se potpuno razlikuju. "2017. EXIT je obeležio 50 godina leta ljubavi, te je dizajn to morao da isprati. Simboli mira, cveće, šarenilo samo su neki od elemenata koji evociraju hipi osećaj."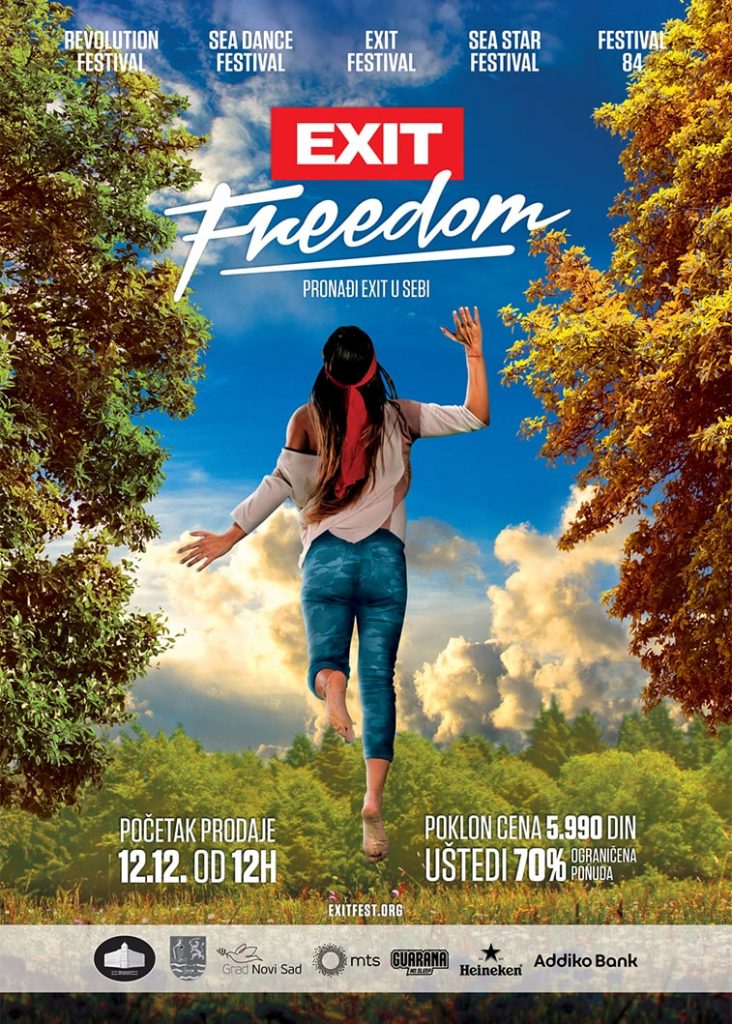 "Godinu ranije, ime kampanje bilo je Magic tako da se sve vrtelo oko svemira, vasione, neba, akvarela. Dizajnom su dominirale boje koje bi aludirale na to, poput plave, roze, ljubičaste, a uključili smo i simbole poput zvezda, sazvežđa i astronauta".
Naravno, tu su i različiti izvođači – kako ukombinovati nežan sint pop Eli Golding i tehno rejv The Prodigy-ja u isti dizajn postera? "Važno je održati vizuelni identitet EXIT kampanje, a istovremeno osmisliti grafiku koja će biti u skladu sa samim izvođačem. Stoga, finalni izgled grafike je ustvari samo početak, jer se kasnije za svakog muzičara ponaosob kreira dizajn prilagođen njegovoj muzici."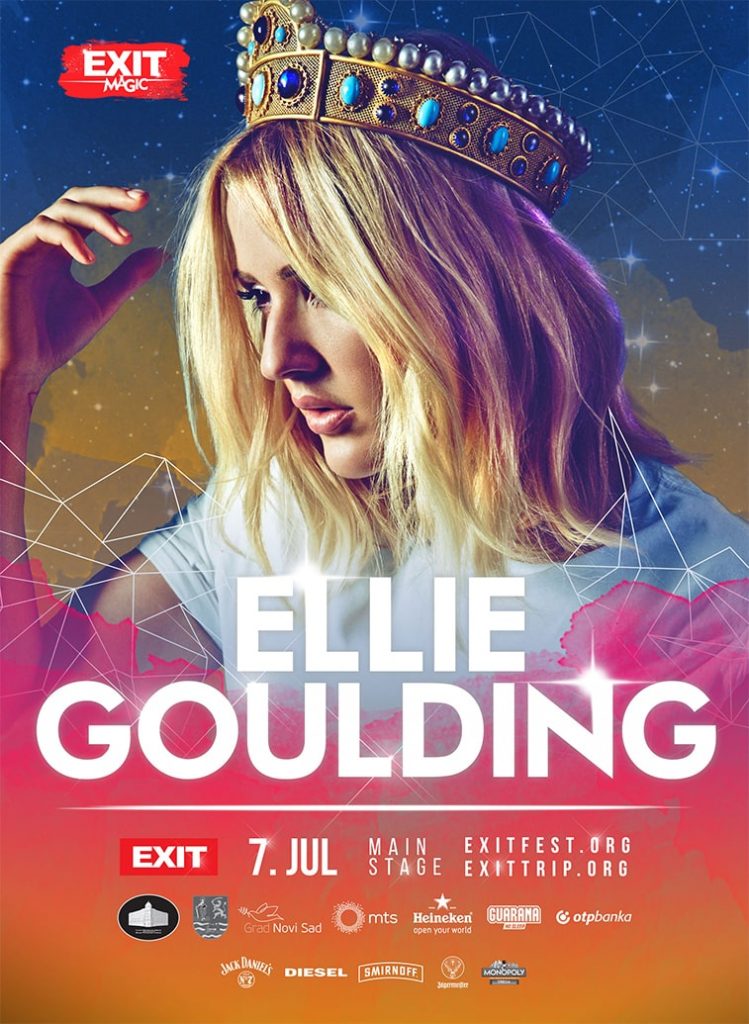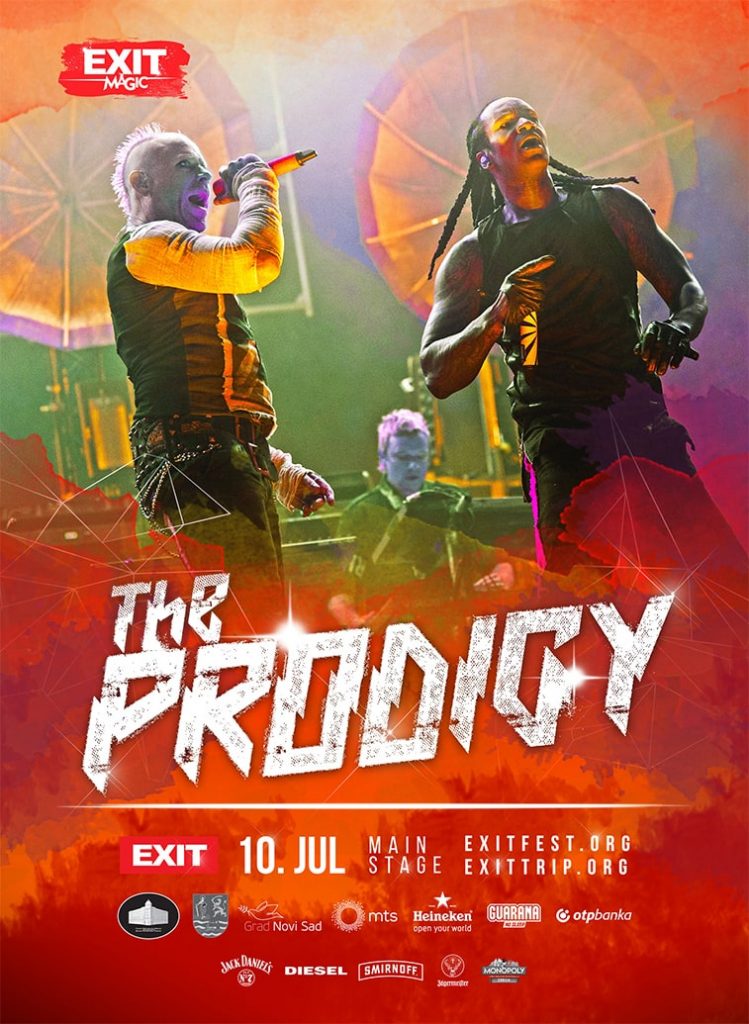 Veliki uspeh i popularnost EXIT-a proširili su se i na komšiluk te, od nedavno, festivalski duh ispunjava plaže Budve i Umaga, gde se održavaju Sea Dance i Sea Star festivali. Naravno, dizajn se kreira za celokupan festival, pa tako i ova dva događaja.
"Dizajn koji se radi za Sea Star i Sea Dance treba da ostane verodostojan brendu EXIT-a, a opet da ima neki svoj lični pečat, posebno što se oba festival održavaju u gradovima na Jadranu". Dizajn majice za Sea Star 2017. godine savršeno oslikava sve što jedan grad na moru nudi – školjke, ribice, delfine, plažu, palme, pomorske motive, jedrilice, hobotnice i podmornice.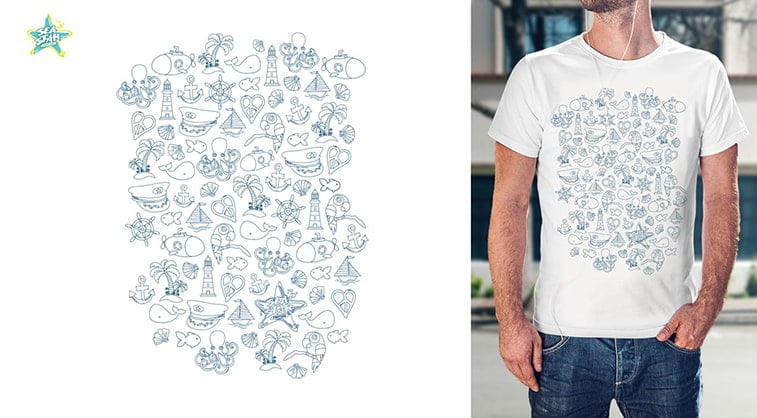 Društveni angažman EXIT-a i kako se on oslikava u grafičkom dizajnu
EXIT nije samo festival muzike, već i simbol zajedništva, multikulturalnosti i društvenog angažmana. Kako se sam festival priprema mesecima, i uključuje ne samo muzičke zvezde već i uticajne pojedince širom sveta, EXIT se konstanto menja, evoluira, napreduje. Borba za očuvanje životne sredine, jednaka prava, inkluzivnost, samo su neke od tema koje je EXIT stavljao u središte svojih kampanja.
"Društveni angažman je nezaobilazan aspekt EXIT-a, a samim tim i grafičkog dizajna koji ga prati. Sve te teme su ljudima već dobro poznate i obrađene nebrojeno puta, zbog čega je još veći izazov kako jedan tako ozbiljan i važan problem predstaviti na inovativan način" dodaje Predrag.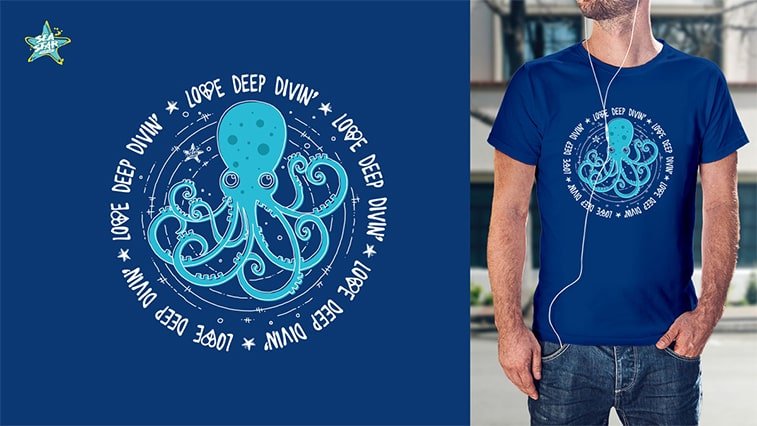 Pored toga, dizajneri imaju ne tako jednostavan zadatak da pronađu balans u predstavljanju ključnih i gorućih pitanja u sklopu razigranog duha festivala. "EXIT je muzika, ali je i mnogo više od toga. Nije bilo jednostavno pronaći adekvatan način kako uklopiti društvene probleme u "opušten" brend EXIT-a, a opet zadržati ozbiljnost i ukazati na važnost tih tema."
Kreativna sloboda u dizajnu – inspiracija ili blokada
Vizuelni izgled kampanje, koji se još naziva i artwork, menjao bi se iz dana u dan. "Znatno se vidi promena na samom početku rada i na samom festivalu. Ali to nije ništa neuobičajeno." Sam festival je višestran, pa samim tim i prateći grafički dizajn mora da bude slojevit, višedimenzionalan. Plakat nije samo predstavljanje izvođača, a majice nisu samo odevni predmet. Oni su poruka, argument za višeslojnost EXIT festivala.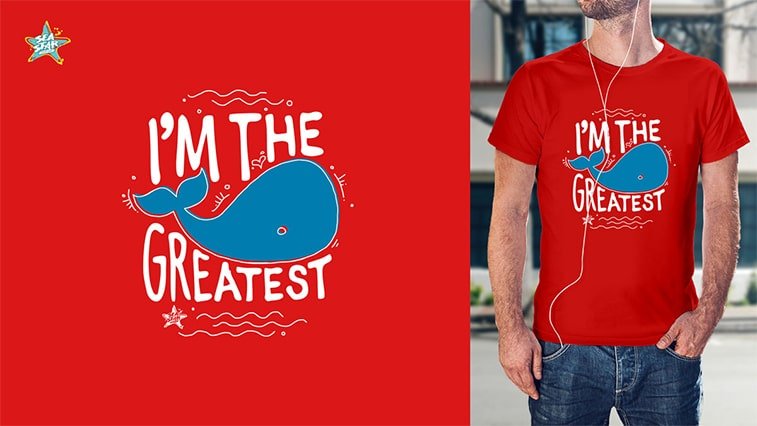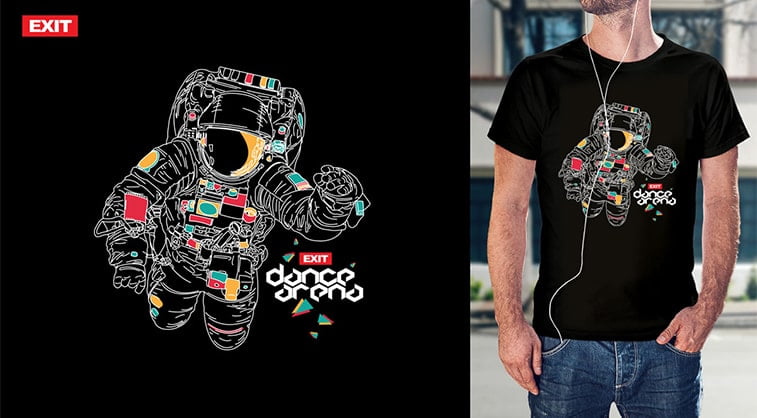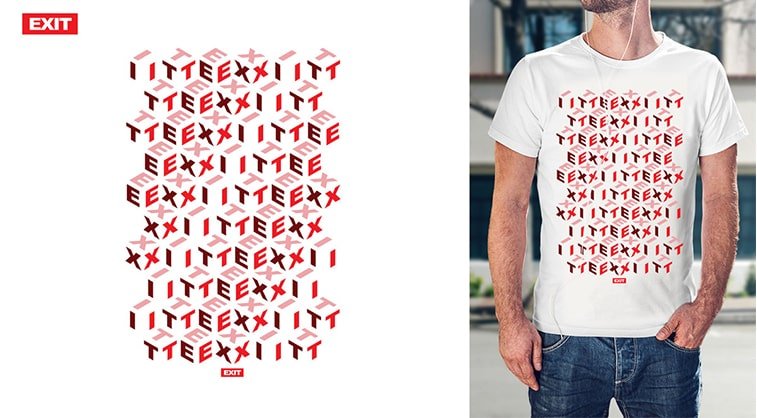 Artwork čini skup elemenata, boja, fontova, efekata, a kada se pronađe idealna kombinacija započinje se kreiranje kompozicija. Predrag navodi da svi promotivni materijali koji će biti deo festivala moraju da sadrže te elemente, ili makar deo njih. "Celokupan brending EXIT festivala radi se interno, kao i dizajn svih promotivnih materijala".
"Raditi za tako velik, svestran i kompleksan festival zaista je izazovan zadatak" zaključuje Predrag. "S jedne strane, tu je izuzetna kreativna sloboda, ali s druge, ponekad ta neograničenost ograničava. Vrlo je lako skliznuti u ambis nepreglednih mogućnosti i varijacija, pa čak i do potpune kreativne blokade."
EXIT je najveći muzički festival u regionu, i jedan od najvećih na svetu. Nosilac je mnogobrojnih priznanja, među kojima i ono za najbolji evropski festival. Do sada je okupio preko 2.000.000 posetilaca i nekoliko desetina hiljada umetnika širom planete. Simbol je ne samo odlične muzike i nezaboravnog provoda, već i akcija i pokreta za društvene promene. "EXIT je neverovatan događaj i bila je ogromna čast kreirati grafički dizajn za jedan tako važan deo kulture Srbije i celog sveta, i znati da će tvoju zamisao videti milioni ljudi širom sveta i da će, upravo u njoj, pronaći svoju kreativnu inspiraciju."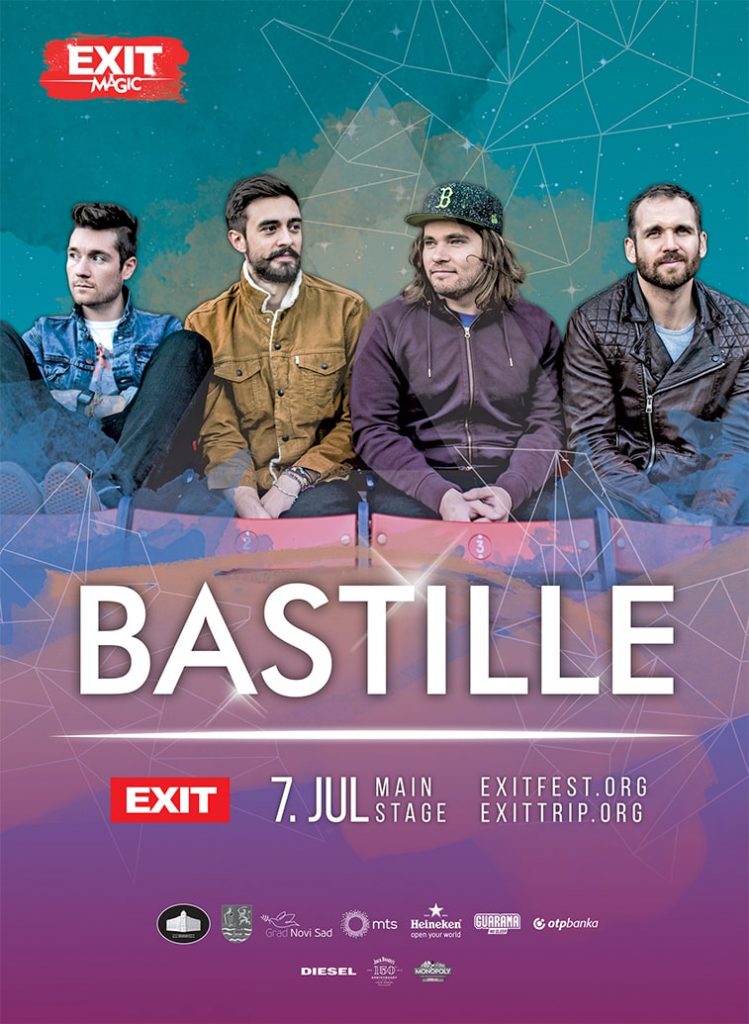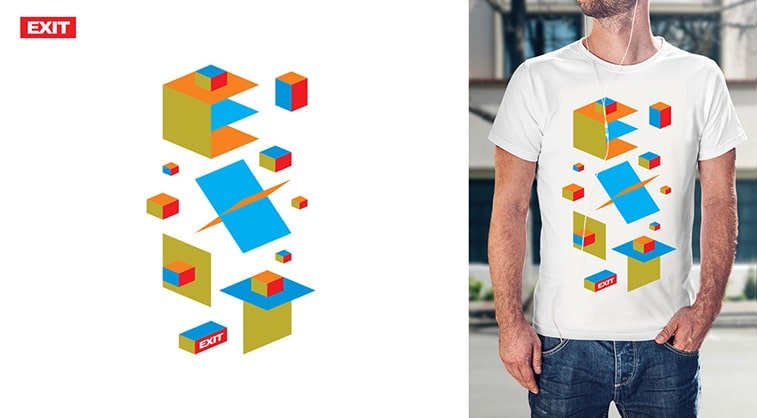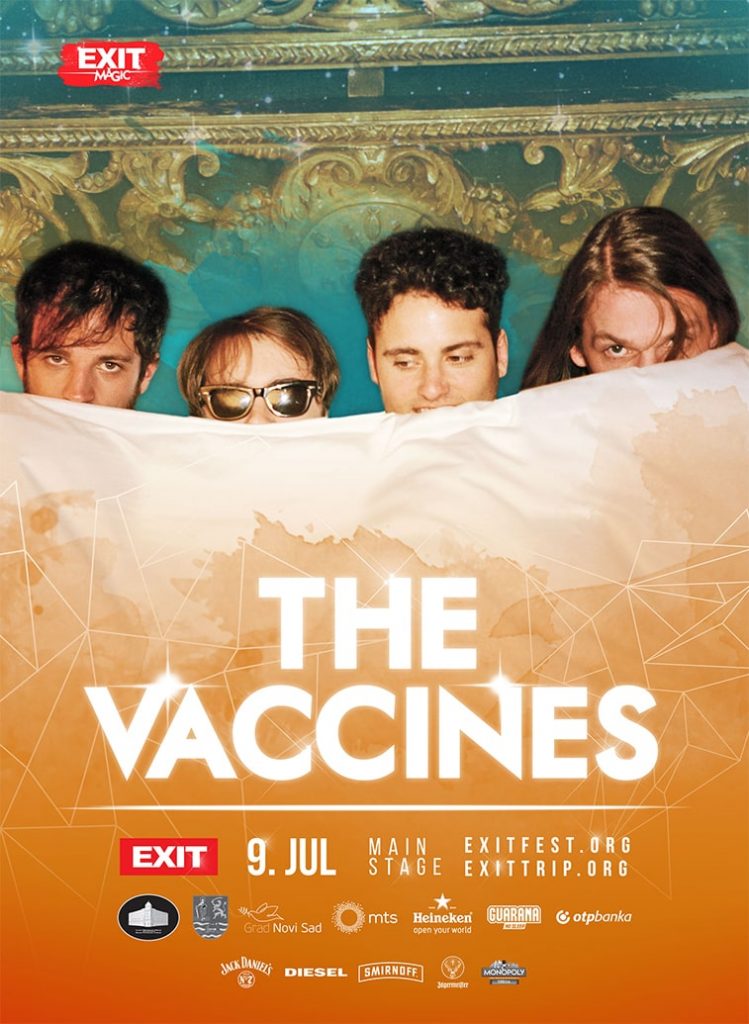 ---
Još zanimljivih priča o dizajnu: