Unikatno, odvažno, interaktivno, razigrano, ekspresivno – tako bismo mogli opisati upotrebu tipografije u veb dizajnu u 2018. godini. Korišćenje različitih digitalnih efekata u tipografskim sistemima mnogi danas nazivaju i eksplozijom kreativnosti na internetu. Koji su trendovi trenutno najaktuelniji?
Ovde odgovaramo upravo na to pitanje, zato ostanite sa nama.
Ali pre toga, evo i nekoliko pojašnjenja.
Osnovni pojmovi i tipografski arhetipovi
Kada kažemo veb tipografija, mislimo na način organizovanja, stilizovanja, formatiranja i aranžiranja teksta na jednoj veb stranici, čemu prethodi odabir tipografskog pisma i fontova za određeni projekat u oblasti veb dizajna, bilo da je reč o kreiranju ličnih sajtova, elektronskih prodavnica, veb prezentacija ili aplikacija.
Kada kažemo font mislimo na slova, brojeve, interpunkcijske i specijalne znakove kreirane u određenom stilu, sa određenom veličinom i težinom sloga (eng. typeface).
Kada kažemo tipografski sistem mislimo sveobuhvatno na sve tipografske elemente koji su upotrebljeni na jednom vebsajtu ili određenoj veb lokaciji.
Dizajner Eliot Dal (Elliot Dahl), koji je nedavno pisao za freeCodeCamp na platformi Medijum, opisao je postojanje tri osnovna arhetipa tipografskih sistema. Većina kompanija u svojim veb prezentacijama koristi sva tri, u manjoj ili većoj meri, ali treba imati u vidu suštinsku razlika među njima.
Arhetipovi tipografskih sistema su:
tipografija za marketinški sajt – kod svakog sajta namenjenog prodaji proizvoda ili usluga određeni delovi bi trebalo da su naglašeni upotrebom efektnih, ali pažljivo uklopljenih fontova
tipografija za blog – prostor namenjen člancima zauzimaće najviše mesta na sajtu, a najvažnija stavka pri odabiru fonta biće njegova čitljivost
tipografija za digitalni proizvod – proizvod podrazumeva softver ili veb aplikaciju za rešavanje određenog problema, a izabrani fontovi trebalo bi da prate formu i određenu hijerarhiju među elementima, ali i da na adekvatan način povezuju uputstva i dostupne podatke.
Preporuka je da se za strukturirane komponente na sajtu koristi fiksni sistem, dok je modularna skala za odabir veličine fonta idealna za kreiranje optimalnog iskustva za čitaoce bloga ili obimnije dokumentacije.
Umetnost ili nauka?
Ako se bavite veb dizajnom i ujedno ste vrsni tipograf, da li biste sebe jednom rečju opisali kao umetnika ili kao naučnika?
"Tipografija je više nauka, nego umetnost", rekao je Jan Čikold (Jan Tschichold), jedan od najuticajnijih dizajnera u tipografiji 20. veka.
Kada imamo u vidu da treba poznavati anatomiju fonta i mogućnost podešavanja modularnih skala, ali i da do tančina treba izučiti tzv. jednakostranični trougao savršenog pasusa, koji se sastoji od dužine redova, veličine fonta i visine redova, možemo razumeti i tvrdnju da je tipografija i svojevrsna nauka.
U svakom slučaju, pažljivo odabrani i vešto uklopljeni tipografski elementi neosporno će doprineti većoj upotrebnoj vrednosti vebsajta.
Sledi, međutim, još jedno pitanje – da li je za preglednost sajta važniji sadržaj ili izgled?
Oni koji smatraju da je značajniji sadržaj, i to najčešće u formi teksta, u poslednje vreme zadovoljno se smeškaju znajući da je tekst na velika vrata ušao u veb dizajn i tu se poprilično raskomotio. Neretko i dominira šireći se preko cele stranice i jasno ukazuje na to da je reč o jednom od najnovijih tipografskih trendova.
Pogledajmo koji su sve trendovi uočljivi u današnjem svetu veb dizajna.
5 aktuelnih trendova u veb tipografiji
1. Dominacija teksta
Ako mislite da tekst na jednoj veb stranici obavezno mora da bude prošaran slikama, video snimcima, ilustracijama ili drugim elementima koji će razbiti monotoniju redova ispunjenih slovima, razmislite još jednom. Takvo nepisano pravilo zaista važi u veb dizajnu, jer će korisnicma interneta lakše zapasti za oko vrhunska fotografija nego izvanredno napisan tekst. Ali, ko reskira, taj i dobija, zar ne? Tako, oni koji su dovoljno hrabri i odvažni, odlučuju se da kompletan sajt opreme slovima, i to slovima krupno ispisanim preko celog ekrana. U ovakvim slučajevima koriste se prilagodljivi, odnosno responzivni (eng. responsive) tipografski elementi, tako da podjednako dobro izgledaju i na displeju mobilnog telefona i na ekranu stonog računara.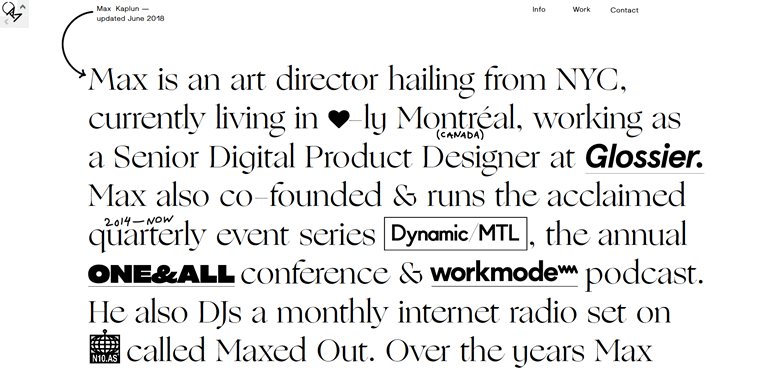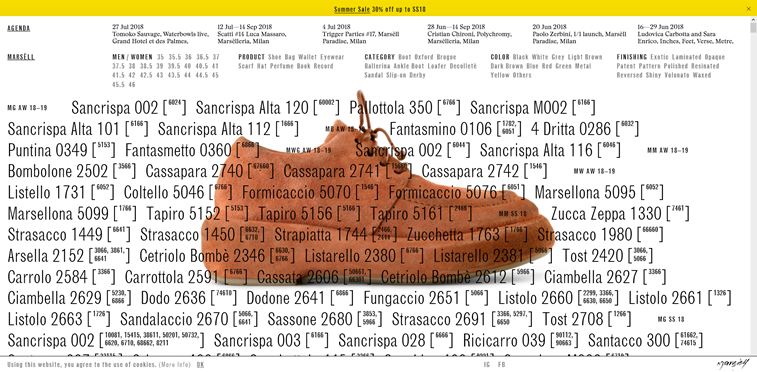 2. Sa serifom ili bez njega?
Ako je tekst ušao na velika vrata u veb dizajn, reklo bi se da se upotreba serifa na mala vrata ušunjala nazad na scenu. Iako su serifni fontovi odvajkada prisutni, sada se ponovo može reći da su u trendu. I jači su nego ikada do sad, budući da se često koristi podebljana (eng. bold) verzija fontova. Sa druge strane, beserifni (fr. sans serif) fontovi i dalje su visokopozicionirani kada je reč o odabiru fontova za projekat. I ovde se koriste podebljana slova, i to najčešće ona sa naglašenim spajajućim potezom (eng. spine) i dijagonalnim potezom slova (eng. stroke). Razlog za upotrebu slova bez serifa jeste njihova čitkost, ali i jednostavnost uklapanja sa drugim elementima. Dakle, za koju god verziju da se odlučite – nećete pogrešiti.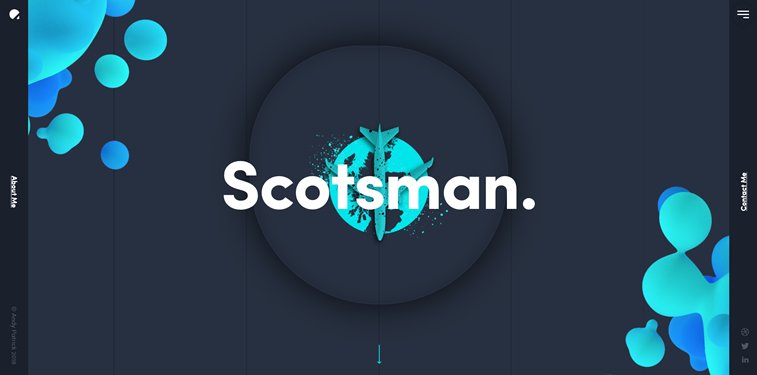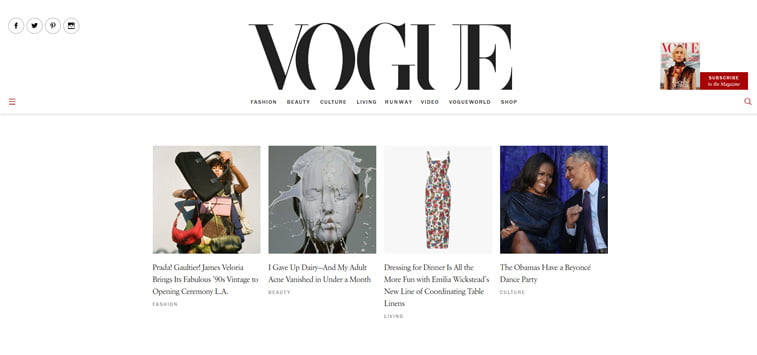 3. Crno na belom / belo na crnom
Jak kontrast je poželjan u veb dizajnu jer privlači pažnju posetioca i fokusira je na željene elemente sajta. A postoji li veći kontrast od onog između crne i bele boje? Upotreba bele i drugih svetlih nijansi sve je češća, a posebno je uočljiv trend postavljanja izraženih crnih slova na beloj pozadini i obrnuto. Vizuelni efekat takvog dizajna je zaista snažan i retko kada može da omane u isticanju onoga što je najvažnije, pa i u privlačenju pažnje korisnika.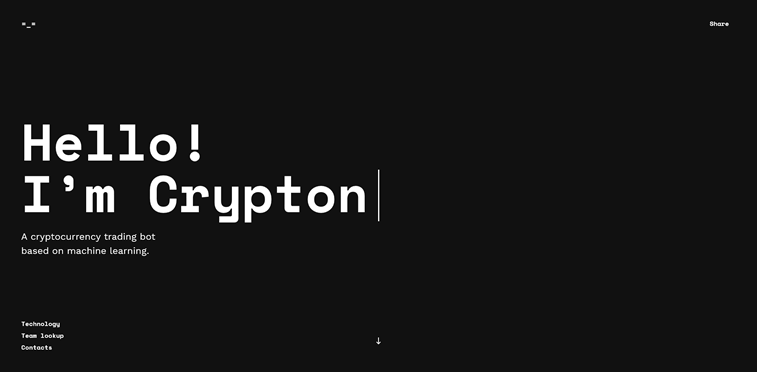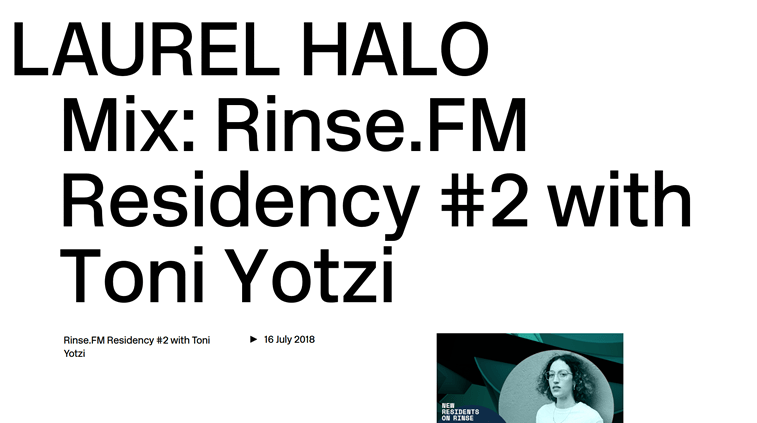 4. Interaktivni elementi
Uvek je zanimljivo kada aktivnost prevlačenja mišem preko određenog elementa (eng. hover) izazove iznenađujući efekat na sajtu. Što originalniji efekat kreirate, to bolje. Često je primetan interaktivni dizajn koji uključuje i tekst, pa tako prelazak kursorom preko slova može učiniti da čitava reč zaigra, zatreperi, promeni čitav spektar boja ili počne da skakuće, često praćena određenim zvukom. Veb dizajneri iz godine u godinu odlaze korak dalje u kreiranju nesvakidašnjih interaktivnih elemenata u tipografiji, te verujemo da ovaj trend neće tako brzo postati démodé.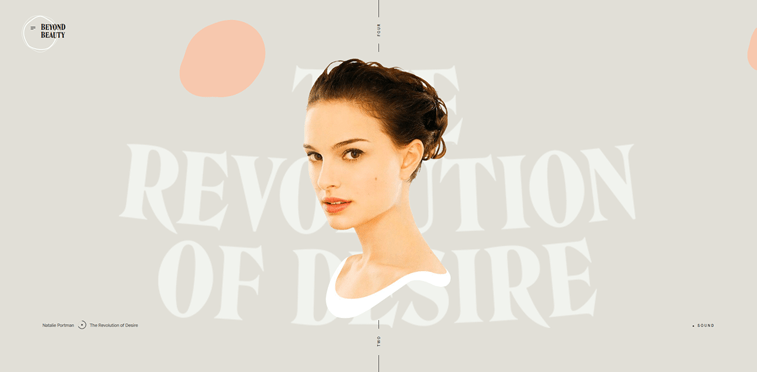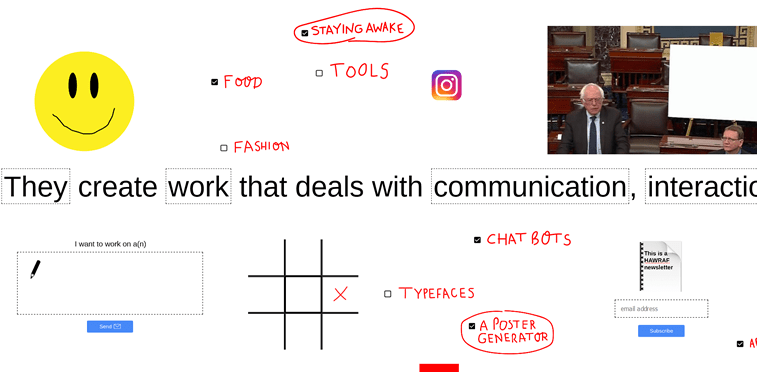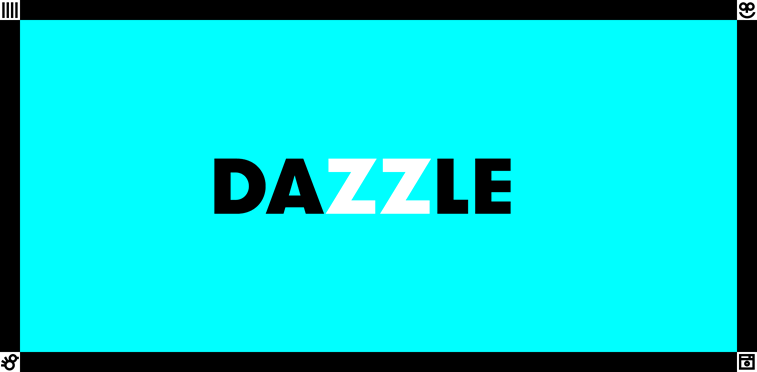 5. Unikatni fontovi
Kada se neko posveti, recimo, kreiranju projekta povodom obeležavanja stogodišnjice rođenja Herba Lubalina, jednog od najpoznatijih grafičkih dizajnera, nazvanog još i kraljem tipografije, logično je da će tome pristupiti na jedinstven način. To podrazumeva i kreiranje unikatnog fonta samo za tu priliku, kao i specifičnu upotrebu veb tipografije. Činjenica je da svaki primer jedinstvenog dizajna i originalne tipografije namenski osmišljene sa stilom (i smislom) neće proći nezapaženo. Zato unikatan dizajn već duže vreme i ne izlazi iz mode i biće, reklo bi se, još dugo jedan od najznačajnijih tipografskih trendova.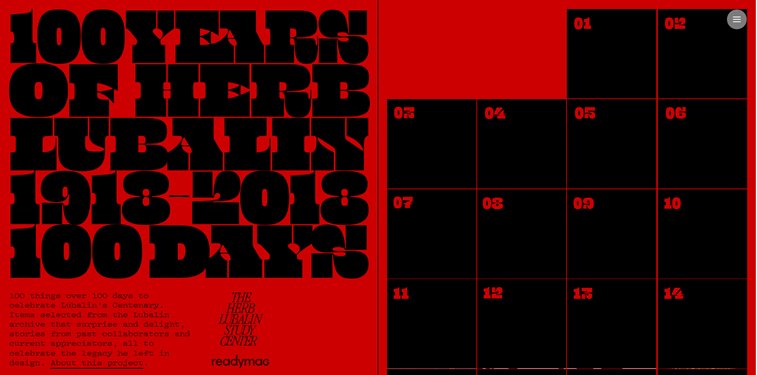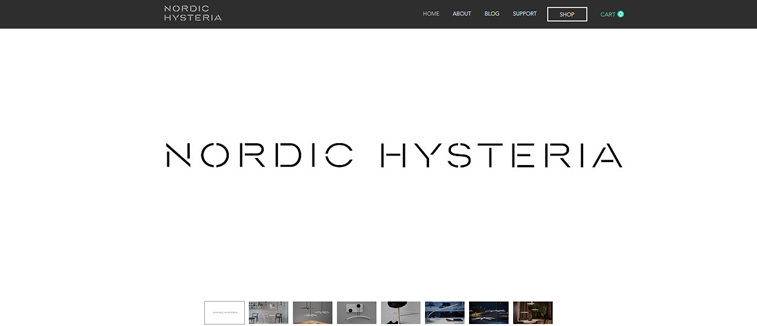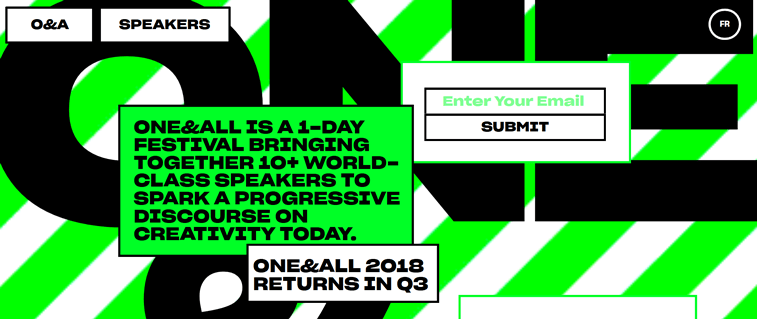 Postoji još nešto što nikad neće izaći iz mode, a to je dobro naštimovan tekst koji prati određeni ritam i po horizontalnoj i po vertikalnoj osi.
Drugim rečima, uvek se trudite da kreirate tipografski aranžman koji će biti prijatan za gledanje, jednostavan za praćenje i lak za čitanje. Ostalo prepuštamo vašoj kreativnosti i umešnom baratanju tipografijom.
---
Ako vas zanima tipografija, biće vam interesantni i tekstovi: