Savremeni računarski programi danas nude mnoštvo mogućnosti za uređivanje teksta. Jedna od njih je i primena fonta koji najviše odgovara potrebama vašeg projekta. Ali šta raditi ukoliko ne možete da nađete baš font koji ste zamislili?
U instalacionom paketu programa za uređivanje teksta uglavnom već postoji izuzetno veliki broj fontova, ali ako vam oni ne odgovaraju na internetu ih ima još više. Neki su dostupni za besplatno preuzimanje, neke je potrebno platiti. A nekada nećete pronaći željeni font jer – još uvek ne postoji. Da li znate da je, zahvaljujući razvoju tehnologije i interneta, sada moguće napraviti sopstveni rukopisni font?
Ovde donosimo nekoliko sajtova koji su nam omogućili da sopstveni rukopis pretvorimo u jedinstven font ili da izmenimo postojeći font i prilagodimo ga sopstvenim potrebama.
Kako to funkcioniše?
Sajtovi koje ćemo detaljnije opisati u nastavku funkcionišu po sličnom principu. Nude vam da preuzmete šablon, odštampate ga i popunite odgovarajućom pisaljkom (o čemu će kasnije biti reči), skenirate, vratite na sajt, i u roku od nekoliko minuta imaćete lični font zasnovan na vašem rukopisu.
Neki drugi nude mogućnost da izmenite postojeći font podešavanjem parametara koji su dostupni na sajtu.
Čime popuniti šablon?
Kada je u pitanju pisaljka, dobro obratite pažnju na to kojom ćete vrstom olovke popuniti šablon. Potrebno je da mastilo bude dovoljno tamno, da vrh olovke ostavlja dovoljno širok trag, i da mastilo teče ravnomerno. Zbog toga obična grafitna olovka nije dobra (isto važi i za tehničke olovke): trag koji ostavlja grafit je presvetao o kom god grafitu da se radi. Kada ga softver skenira, skoro je nevidljiv. Hemijska olovka je previše tanka; kao i razne vrste naliv-pera, rapidografa, signira, linera, rolera i, uopšte, sve vrste pisaljki koje ostavljaju prefinjen, tanak trag. Trajni markeri su, s druge strane, neodgovarajući jer ostavljaju preširok trag, a i prolaze kroz papir, naročito kroz običan štamparski papir kakav koristi većina štampača, a neki skeneri neće ni registrovati markere za obeležavanje teksta kojima ostavljamo trag preko postojećeg teksta.
Zbog svega toga, po našem dosadašnjem iskustvu, crni flomaster je najpogodniji za popunjavanje matrice za font. Pero mu je najoptimalnije širine, dotok mastila najispravniji, a i crna boja najviše odgovara skenerima.
Korisni sajtovi za pravljenje sopstvenih fontova
1.   MyScriptFont.com
Sajt myscriptfont.com nudi najjednostavniji način da stvorite sopstveni font, i funkcioniše upravo po principu koji smo već pomenuli. Potrebno je da preuzmete šablon, popunite ga i skenirate, i nakon postavljanja na sajtu imaćete sopstveni font vrlo brzo. Za sada je dostupan na engleskom i nemačkom jeziku, ali i bez srpskog ne bi trebalo da predstavlja problem snaći se na njemu.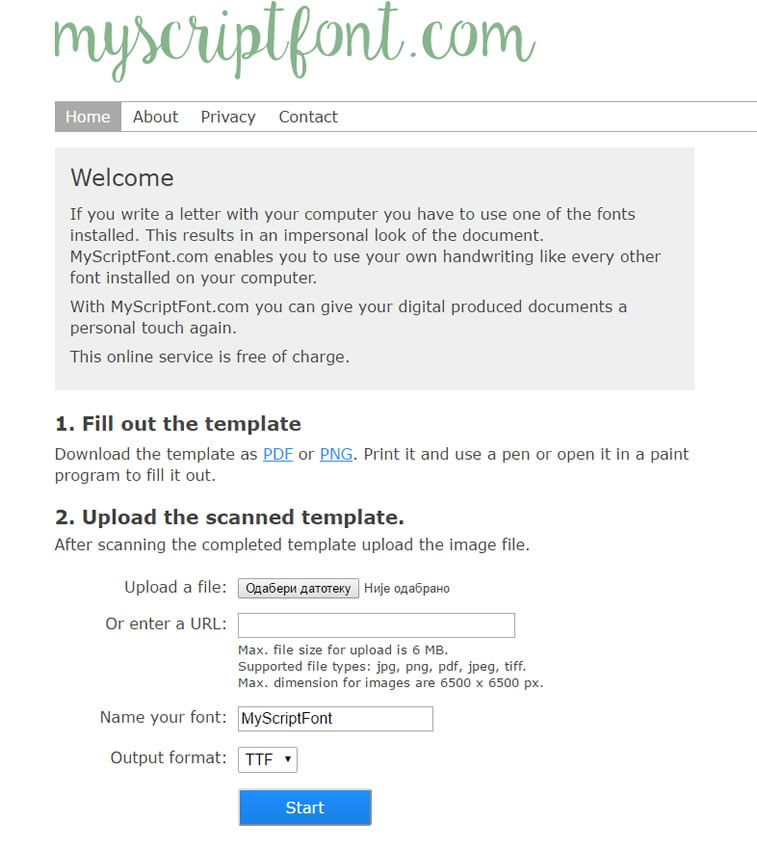 Ograničenje ovog sajta jeste šablon koji nudi, jer na njemu imate vrlo ograničen broj znakova, i ne sadrži grafeme srpske latinice s dijakritičkim znacima. Možda se nekad u budućnosti to promeni.
---
2.   PaintFont
Sajt paintfont.com funkcioniše po istom principu kao i prethodni, ali se od njega razlikuje po tome što možete odabrati skup znakova koje će sadržati šablon koji pravite. Dodatno, odabirom posebnih jezika ili skupova znakova u dnu stranice nudi vam se i pregled simbola, te na taj način imate uvid u šablon koji ćete preuzeti.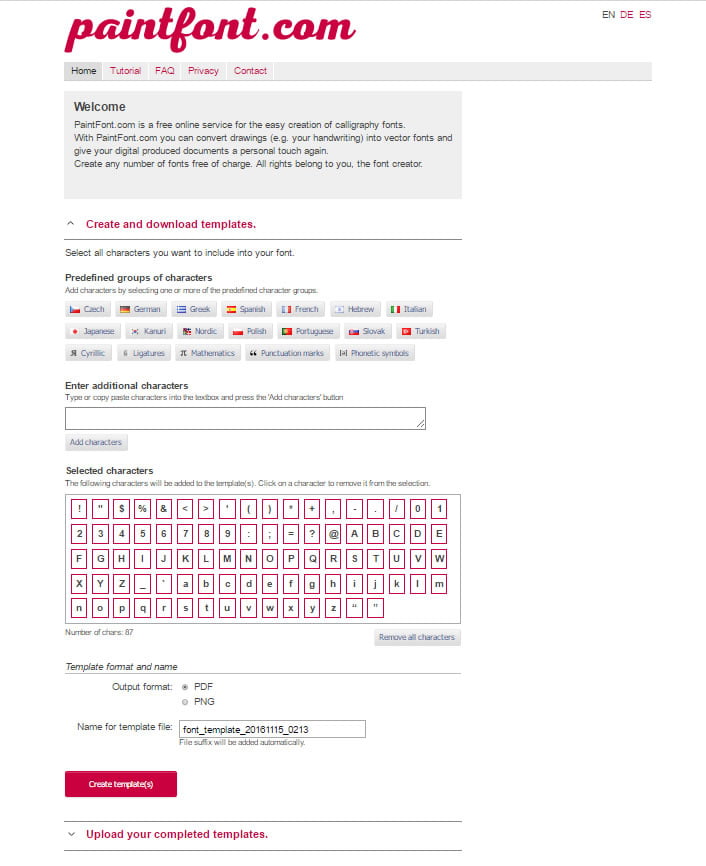 ---
3.   Protypo
Sajt prototypo.io razlikuje se od prethodna dva jer nudi mogućnost da izmenite fontove koji već postoje.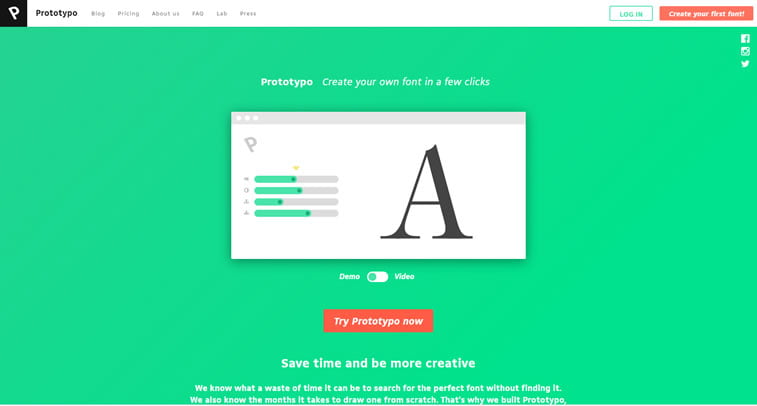 Takođe, početna strana traži registraciju, ali proces je vrlo jednostavan.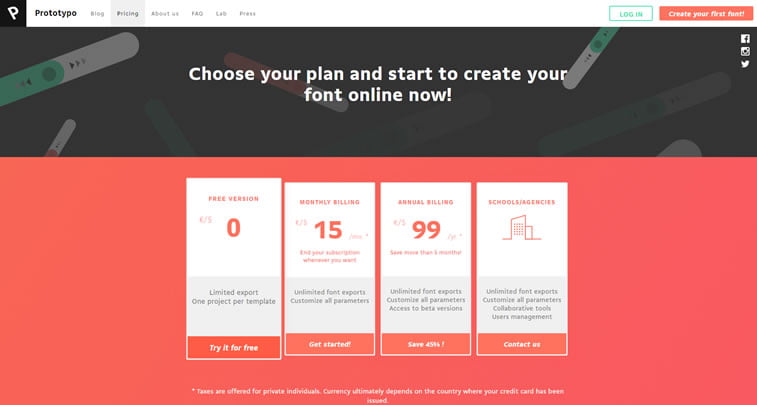 Nakon što se ulogujete na sajt, otvoriće vam se interfejs kroz koji je moguće izmeniti font, dodati tekst i preko njega pratiti promene, odabrati različite parametre i menjati izgled slova… Mogućnosti ima mnogo, ali neke opcije su dostupne samo kao plaćene. Kada završite sa izmenama, pronađite opciju "Dokument" (eng. File) u gornjem levom uglu, jer tu postoji mogućnost da preuzmete sopstveni font.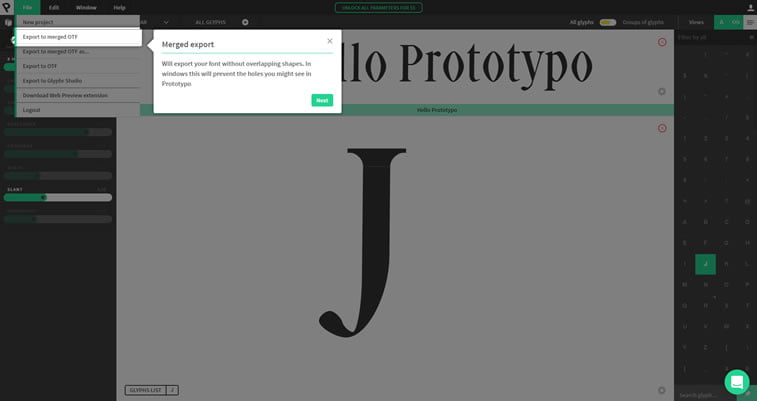 ---
4.   Fontastic
Sajt fontastic.me, kao i prethodni, zahteva registraciju, ali proces je vrlo kratak.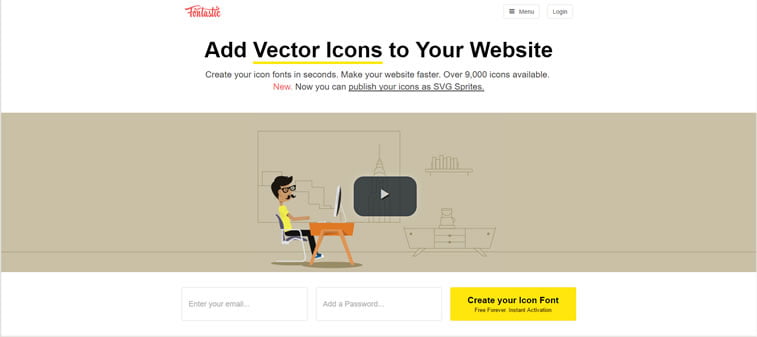 Nakon što se ulogujete, otvoriće vam se ekran sa listom ikonica. U tome se ovaj sajt razlikuje od ostalih, jer, umesto samog fonta, nudi mogućnost personalizovanja ikonica koje predstavljaju slova koja im dodelite.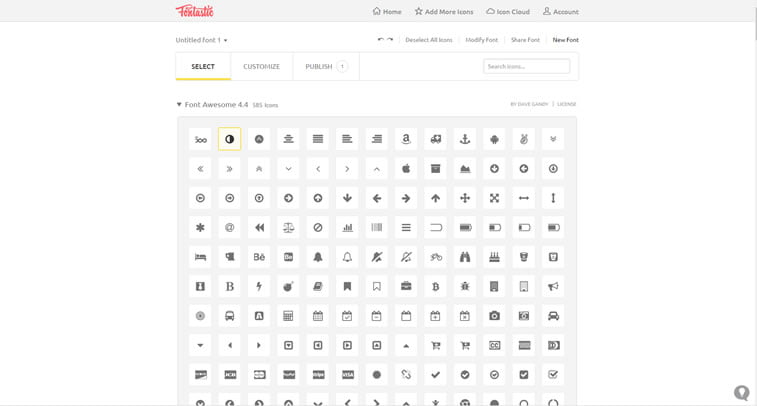 Nakon odabira ikonica, klikom na "izmeni" (eng. Customize), otvara vam se prozor u kome možete izmeniti podešavanja, kao na sledećem prikazu.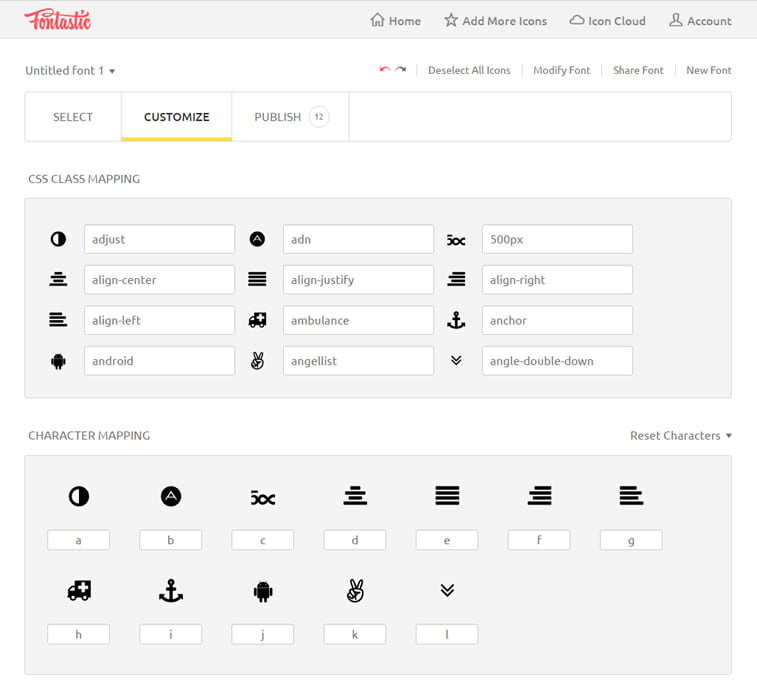 Nakon toga, klikom na dugme "objavi" (eng. Publish) dobijate mogućnost da font objavite, preuzmete ili instalirate na sopstveni sajt.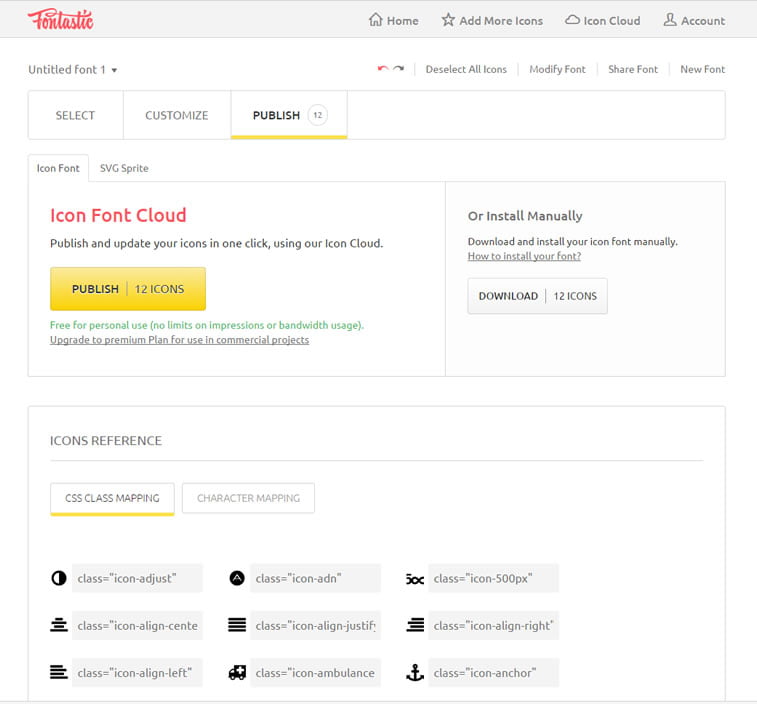 ---
Ovo su samo neki od mnoštva sajtova posvećenih pravljenu sopstvenih rukopisnih fontova. Razlikuju se jedni od drugih po načinu rada i opcijama koje nude, ali svakako mogu poslužiti kao dobar uvod u tipografiju onima koji žele da se bave izradom fontova. Tek ćete isprobavanjem različitih šablona i promenom sopstvenog rukopisa na šablonima uvideti kakve su vam sve mogućnosti na raspolaganju.
Znate li neki sličan sajt za pravljenje sopstvenih sajtova?
Zanima vas tipografija? Pročitajte i slične tekstove: