Koliko puta se desilo da posetioci pobegnu sa sajta pre nego što vam se jave? A koliko puta ste poželeli da možete ih uhvatite za ruku pre nego što kliknu iks u uglu ekrana?
Recimo da na vebsajtu vaše turističke agencije predstavljate aktuelne aranžmane, ali vam prodaja trenutno ne ide. A sezona je u toku! Da li biste voleli da pokucate na vrata svima koji su na vašem sajtu gledali ponude, recimo "nova godina u Beču" ili "letovanje u Barseloni", a nisu kliknuli na dugme KUPI? Sada možete i to uz pomoć društvenih mreža.
Ako vam prodaja preko sajta još uvek nije dostigla zamajac i ako želite da se poveća u dogledno vreme, treba vam piksel.
---
Šta je piksel?
Fejzbukov piksel (eng. Facebook pixel) predstavlja parče kôda koje se postavi na sajt kako bi beležilo ko je sve posetio stranicu dok je bio ulogovan na ovoj društvenoj mreži.
Piksel nije tvorevina 21. veka, već zapravo poreklo vuče još od samih začetaka interneta devedesetih godina prošlog veka, kada su određeni korisnici želeli da saznaju koliko je puta njihov imejl pročitan. Naime, da bi ovo proverili, postavljali su sličicu veličine 1 x 1 piksel na početak poruke, slali je na određeni broj adresa i čekali da u analitici vide koliko je puta sličica bila prikazana, što je bilo jednako čitanju te poruke.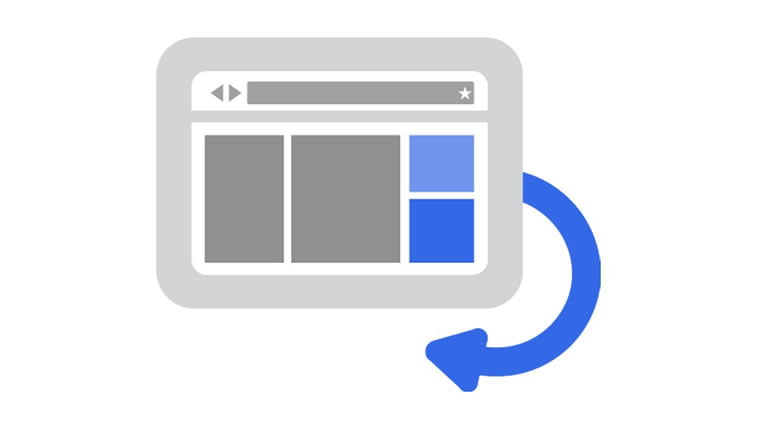 Međutim, danas se Fejzbukov piksel može iskoristiti pametnije. On ne samo da pruža podatke o tome koliko je ljudi pregledalo određene stranice na vašem vebsajtu, nego vam pomaže i da im se svima ponovo javite (eng. remarketing). Bitno je napomenuti da je piksel koristan jedino u kombinaciji s oglašavanjem na društvenoj mreži Fejzbuk, te je neophodno da ih povežete na vašem poslovnom nalogu (eng. Facebook business manager).
Ako još uvek nemate poslovnu stranicu na društvenoj mreži Facebook, pravo je vreme da je napravite za svoj sajt!
Svakako, Fejzbukov piksel nije ništa revolucionarno novo; zapravo, veoma je sličan Guglovoj analitici jer podatke prikuplja na skoro identičan način. Ono što ga razlikuje od Guglove analitike jeste to što se, umesto na pretraživaču, oglasi korisnicima mogu predstaviti na mestu na kome provode najviše vremena – na društvenoj mreži.
---
Prednosti piksela
Podatke prikupljene uz pomoć piksela možete iskoristiti na razne načine:
dođite do ciljne publike – ako želite da se obratite ljudima koji su već posetili vaš sajt i kojima malo fali da vam se obrate, piksel će vas odvesti do njih! Ova ciljna publika može se formirati na osnovu podataka prikupljenih pomoću kolačića te joj se ponovo možete vratiti u narednim marketinškim kampanjama. Štaviše, Fejzbuk nudi i opciju formiranja ciljne publike slične onoj koja je posetila vaš sajt, te ovaj krug možete još više proširiti!
poboljšajte prodaju – podesite opciju automatskog licitiranja za klikove ljudi koji su skloni da kupe vaš proizvod ili uslugu i povećajte prodaju.
analizirajte rezultate oglasa – analiza uspeha oglasa na Fejzbuku može vam pomoći da shvatite kakvi su oglasi koje postavljate i zbog čega su postigli uspeh ili, pak, doživeli neuspeh.
---
Kako ga podesiti
Premda spomenuti izrazi običnom laiku možda zvuče nepoznato jer ne zna ništa o kodiranju, oglašavanju, ciljnim grupama i sl, stvari su zapravo vrlo jednostavne.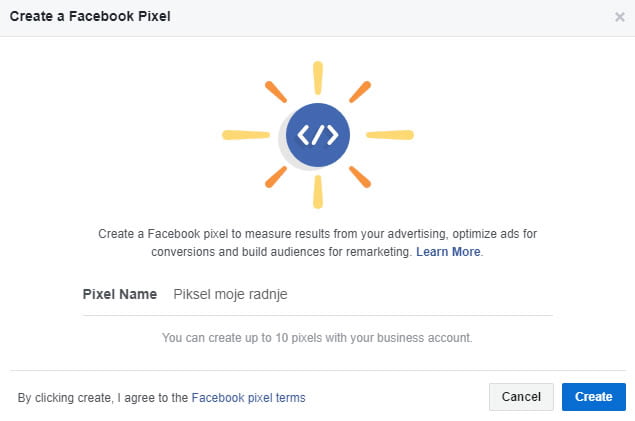 U poslovnim podešavanjima kliknite na opciju Pixels, napravite novi piksel i povežite ga s nalogom za oglašavanje (eng. ad account). Potom otvorite taj novi piksel i povežite ga sa sajtom tako što ćete parče kôda ubaciti u izvorni kôd vašeg sajta. Kôd je aktivan ako pokazuje zeleno svetlo, što možete proveriti u svakom trenutku.
---
Kako piksel povećava prodaju
Nakon pokretanja piksela, pustite ga da prikuplja podatke neko vreme. Što više vremena prođe, više ćete korisnih informacija moći da saznate.
Tako npr. u analitici možete videti statističke podatke o tome kada su korisnici dolazili na vaš sajt, kojim danima ih je bilo najviše, kog su pola, iz koje zemlje dolaze, da li su vas pronašli preko Gugla, društvenih mreža ili direktno preko sajta, pa čak i preko kog su ga uređaja i sa kojim operativnim sistemom posetili (Vindouz, iOS, Android, stoni računar). Sve ove podatke možete pronaći u pregledu, dok je za ozbiljniju analizu potrebno napraviti sled koraka kojim su korisnici došli na sajt i posetili željenu stranicu.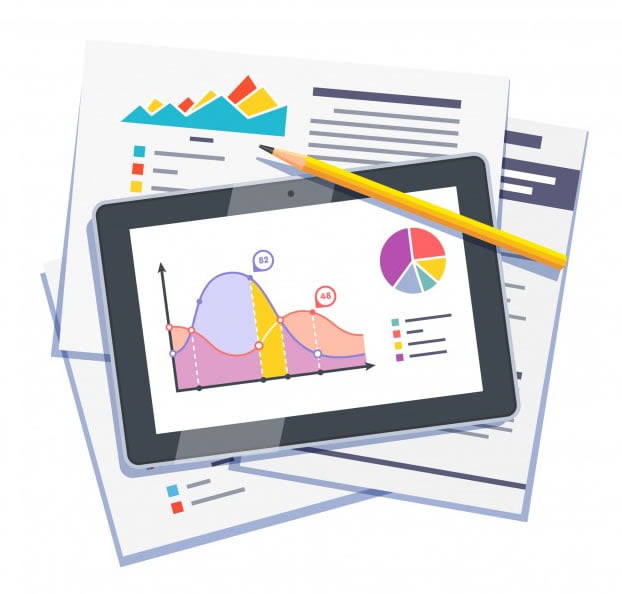 Kada pravite novu promociju (oglas), potrebno je samo iskoristiti publiku koja je posetila određenu stranicu (recimo, u slučaju škole stranih jezika – kurs nemačkog ili engleskog jezika) i pokrenuti kampanju. Ostalo sve ide samo.
Još jedna odlična opcija jeste slična publika (eng. lookalike audience) koju možete iskoristiti za novu prodaju, kao i praćenje konverzije – odnosno trenutka u kome običan posetilac sajta postaje kupac – a samim tim i isplativosti čitavog ovog načina reklamiranja.
Naravno, svi podaci koje dobijete su uopšteni i nikada nećete dobiti podatke o profilu osobe s imenom i prezimenom, nego samo možete računati na to da se vaš oglas prikaže vašoj ciljnoj publici koja odgovara zadatim kriterijumima u datom vremenskom periodu.
---
Pomoćnik za otkrivanje piksela na sajtu
Ako želite da idete u korak s konkurencijom i proverite njihov način dolaženja do kupaca, možete instalirati dodatak za veb pregledač Hrom za otkrivanje piksela (eng. Facebook pixel helper). Njime vrlo jednostavno možete utvrditi da li ga neki vebsajt koristi i za koje sve potrebe.
Uz to, ako se desi da piksel iz nekog razloga prestane da radi na vašem sajtu, to lako možete utvrditi redovnim proveravanjem.
---
Kada ste iskusni u ovom poslu, navedeni podaci treba da budu samo smernice; međutim, početnicima u reklamiranju na društvenim mrežama sve ovo može delovati zastrašujuće. Ne dajte se uplašiti! Fejzbuk objavljuje korisne tutorijale za sređivanje osnovnih podataka, a čak i nudi savete za korišćenje piksela u marketinške svrhe.
---
Sviđa ti se ovaj tekst? Pročitaj još sličnih članaka: