Do you know how they say you should always start with yourself first? Ask yourselves, then, what is it that you would do if you needed to hire a company for your upcoming move? It is most likely that you would google moving companies in your location and choose one that is in the top results and seems to fit your needs best. This is why a moving company's Google ranking and online presence are crucial for this business.
Your moving company's website is how customers will find you and its level of optimization, responsiveness, and user-friendliness is why (or why not) they will choose you. There are many factors that affect your moving company's visibility on search engines, as well as the performance of its online presence, and we will discuss the most important of them in this article, explaining how you can improve them and providing you with helpful moving company marketing ideas.
Google Ranking Factors
Before we delve into further details, you have to understand the details themselves. The factors that affect your moving company's website ranking on Google are primarily the quality and relevance of the website. But how does Google determine these? 
You can ensure your moving company's website quality and relevance through local SEO, keyword research and optimization, user experience and website design, and of course, through creating high-quality content. If you succeed in taking all of these into account, both Google and customers will love your website.
Local SEO for moving companies is crucial as most of them serve specific geographical areas, so SEO services ensure that the people who actually need you are able to find you through Google search. 
Identifying relevant keywords through effective keyword research and optimizing moving company website content through meta-tags, headers, and on-page SEO lets Google find you relevant customers as well. 
A moving company's website design should provide a positive user experience by tailoring its aesthetics and functionality to the needs of these specific customers. Website design services can ensure this by taking into account easy navigation, mobile-friendliness, and intuitive design, leading thus to higher rankings.
Engaging and valuable content speaks for itself – it makes people stay on it and read it, thus making Google identify it as relevant in the field of moving companies. Quality content is always a part of the list of marketing ideas and strategies, and moving companies field is no exception.
The Importance of Local SEO for Moving Companies
The contemporary moving industry is a dynamic and highly competitive market, which is the reason behind the importance of standing out. The easiest way to stand out and reduce the competition in this field is to specify your precise area of service offering, which is done through local SEO. 
When searching for a type of service like a moving company, customers are trying to find those close to them anyway. Moreover, they are most likely to include these localizing modifiers in their search, typing in something like "local moving companies" or "moving companies near me". This is why local SEO will help your business.
Local SEO enables your moving company to appear in Google's local pack, that is, in the list of businesses that appear at the top of the search results when people conduct such local service searches. This attracts customers in your service area and increases your visibility for your exact target audience. 
Essential steps for a successful local SEO implementation include local keyword incorporation, local testimonials showcase, local images and videos, local-specific calls-to-action encouraging visitors to contact you, and of course, utilizing Google Maps for better local visibility. You can try it yourself or hire an SEO company to do all the necessary steps for you, but either way, neglecting local SEO is not an option for moving companies nowadays.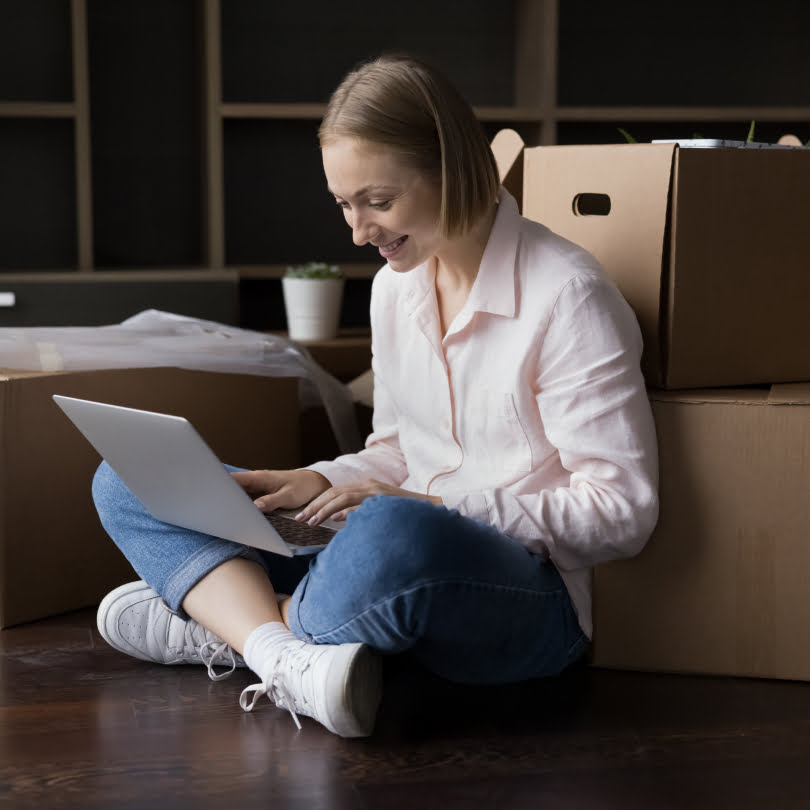 Moving company keyword research conduction
In this overview of moving company marketing ideas, keyword research plays a  pivotal role in directing relevant traffic to the website of your moving company. You have to know what people are searching for regarding your moving business and what they expect to find, and then tailor your content accordingly. 
Targeting industry-specific and local keywords enables you to reach potential customers who are actively seeking moving services in your exact service area. Moreover, the inclusion of local and long-tail keywords, which both serve to improve and narrow down specifications, help reduce competition from more generic terms and attract customers near you.
Highly relevant keywords also help to improve CTR and ROI, which are both relevant when it comes to moving company marketing ideas. No worries, we will not leave it on these confusing acronyms. CTR stands for click-through rates, meaning that this metric shows the effectiveness in generating users' clicks. These clicks are more likely to happen and increase traffic to your website if you pay attention to targeting proper and relevant keywords. On the other hand, ROI stands for return on investment, a financial metric used to measure the profitability of an investment. Focusing on relevant and local keywords drives more qualified leads to your moving company website, which then translates into a better ROI for your marketing ideas and efforts.
Effective keyword research demands the usage of keyword research tools, which can be found online either for free or with a subscription fee. Now that we're starting to rhyme you can rest assured that your moving company is about to shine. Some of the most popular tools you can try are Google Keyword Planner, SEMrush, and Ahrefs Keyword Explorer. Of course, in case you don't want to deal with learning how to use these tools and paying for them, hiring a digital marketing agency will cover this within their SEO service.
The Role of Website Design for Improved Moving Company Online Presence
Website design plays a significant role in improving the online presence of a moving company and implementing some of the most important moving company marketing ideas. Design impacts the overall success of the online presence through user experience, mobile-friendliness, and of course, visual appeal.
Positive user experience refers to providing your website visitors with simple navigation, organized content, fast-loading pages, and clear calls to action. Both users and Google appreciate this stuff, so a positive user experience leads toward converting visitors into your moving company's customers. 
As most people use their smartphones for Google searches nowadays, the matter of the mobile-friendliness of your website is continually highlighted. A responsive website design that adjusts the layout to fit different screen sizes ensures great functionality for the users, as well as optimization now necessary for better Google ranking. It is advisable to use analytics and tools to track your moving company website's mobile performance, such as conversion rate, user engagement, and bounce rate. 
The visual design of a website and your moving company's unique aesthetics demonstrating your professionalism is what catches the visitor's eye. If you succeed in capturing the visitor's attention, chances are you will succeed in converting them into a customer. Use high-quality images (but don't forget to compress them) showcasing how your moving company gets the job done for satisfied customers, let the potential customers get to know your team and brand, and provide them with consistent and accurate information about your moving company to build trust and encourage partnerships.
Content Marketing Ideas and Strategies for Moving Companies
What potential customers hear is as important as what they see when they visit you, if not more. In the case of online presence, what they "hear" refers to written words, so choose your content (writers) wisely. Moreover, statistics show that 91% of marketers surveyed by Semrush achieved success with their content marketing in 2021. Engaging and useful content can draw in new visitors, make them stay longer on your page, and enhance your brand identity, thus ensuring better Google ranking and improved visibility of your moving company. 
This particular business offers chances of providing educational and informative content that can in fun and de-stressing ways help people who are getting ready to move. Some of the ways for accomplishing this can be moving experts' advice and tips, satisfied customers' success stories, or detailed guides for moving preparation.
It is crucial to have your target audience in mind when it comes to content writing. Advice and tips on moving won't be written in the same way and tone if you are targeting families with children as if your target audience is, for example, college students. Provide either professional and trustworthy advice written with care or humorous and relaxed tips on how to carry out a cheap move accordingly. 
Sharing testimonials from satisfied customers who have used your moving services and digging into all of the challenges they faced during the move and how you managed to help them overcome each of them will build credibility and trust for your moving company. Moreover, it will serve as proof of the quality of your service and of the importance of a strong partnership for your moving company. 
A detailed guide is always useful, and when it comes to stressful times and fragile items, step-by-step explanations aren't tiring to read. Your moving company should offer content showcasing that you really are experts in this field and you know the most functional ways for packing and moving. Try to include anything anyone might wonder about regarding moving in your content, from home decluttering before moving and reassembling large furniture to different moving insurance options and best moving day snacks.
Remember, consistency and quality are crucial in the content marketing of your moving company. Develop a content calendar, plan your topics in advance, and ensure your content is well-researched, informative, and engaging.
To conclude…
In order to boost your moving company's Google ranking and improve its online presence, either you or an agency of your choice must take into account SEO strategies (in this particular case especially local SEO, but link building and off-page SEO is always beneficial as well), relevant keyword research and optimization, user-friendly website design, and high-quality content.
However, these essential steps that guarantee results still won't get you any unless you act on them. Put these strategies into action and make your moving company move away from all of the competition.