No matter what kind of content you are publishing on a regular basis, you have more or less one primary goal: finding an audience for that content. Simple as that.
However, when it comes to the average internet user, chances are, they will look at the first page of Google and rarely go beyond that. Now you're thinking: you just simply have to push your content on the first page of Google and your audience will flock to your website.
That's pretty much true. However, it's also something that's easier said than done.
In the world of professional search engine optimization solutions, there's a myriad of different techniques that all work together to place you on that prestigious first page, providing you with more visibility, improved traffic, and overall, better conversion rates.
Without going into the details let's just say that there are tons of different ways you can achieve a better place in search engine rankings.
One of them is using rich snippet plugins for your WordPress site.
What are rich snippets, you ask? Well, in short, these are optimized search results that display a compiled list of details about your website, or a lot more than your "plain" average search result. They can include locations, ratings, images, and so on.
So, you've guessed it, below you will find a list of the best rich snippet plugins for your WP website to help you improve your rankings and boost your online visibility.
More About Rich Snippets
When you look at a general search engine result, you will find that it most often contains an URL, web page title, a description, and date of publication. Rich snippets add a couple of more details in the mix and started their career as an actual Google feature to let users know more info about the displayed web pages directly from the results. These additional pieces of info could be anything useful: product prices, review ratings, questions, answers, image thumbnails, location, map directions, and lots of other useful stuff.
Later, Bing, Yahoo!, and Google created the developer community Schema.org, which has dedicated their work to create schemas, or a common vocabulary for structured internet data (think emails, web pages). What this means is, the majority (now along with Yandex) support rich snippets, which can serve only as further encouragement to embrace them.
These snippets actually give users more info within the results alone and might help convince them to click on a particular website. It's a great way to appeal to new potential website visitors to improve your traffic and subsequently, improve your rankings as you give more for search engines to work with as well.
With a WordPress website, the best way to get into the world of snippets is by using the right plugin. Luckily, there are several options for you to choose from.
What you need to know with these plugins is the fact that with them, you will also insert the schema markup to show your snippets in the search results but this is no guarantee that your snippets will actually appear. What they do, is simply make the content on your site eligible to be chosen as snippets in the results. At the end of the day, it's the all-mighty Google that calls the shots and decides which websites earn snippets.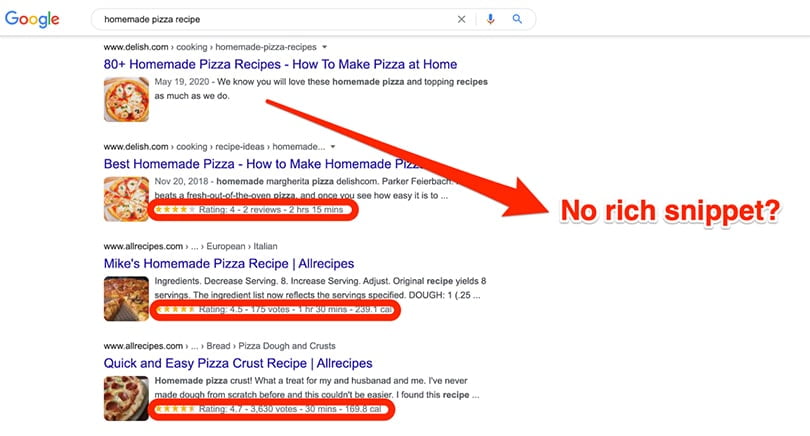 If you are looking for something straightforward, then you can rest assured that All In One Schema Rich Snippets will give all the accurate info Google needs to get your snippets upfront. This includes star ratings, authors, photos, and a lot more.
After installing the plugin, you will see a new option in your admin panel called Rich Snippets. Here, you can customize the plugin and tailor it for your preferences. If you're editing in the Gutenberg editor, you will see that you can configure the post to have more info for search engines.
You should also know that this plugin comes in a free and a pro version. The free iteration gives you enough versatility on its own with 9 different schema types that allow you to create comprehensive rich snippets (recipe, article, product, event, person, review, video, software, service, and application). With this, you will have enough tools in your arsenal to create snippets for several page types right off the bat.
On the other hand, if you opt for the pro version, you can actually automate adding rich snippets. Depending on the pricing plan you choose, you can also get targeting functionalities, exclusion and inclusion rules, a template library, content-specific schema implementation, and a ton of additional awesome features.
Add a modern review system to your WP site with this plugin. It also supports microdata on your custom posts types along with traditional web pages and blog posts. Add a rating and review system to your custom post types, pages with this highly customizable plugin that also allows you to change images, styles, fonts, and a lot more.
What makes this plugin desirable from the standpoint of rich snippets is the fact that the complex review system and all the customizable options can be included on your rich snippets and presented to your potential visitors.
Here's another comprehensive and user-friendly plugin that can help you with your goals. Its settings are pretty intuitive and flexible enough to suit most of your needs.
With this plugin, you will get 19 different snippet markup styles that will make an effort to help you stand out in the search results.
The plugin also comes with several rating systems like percentage, bars, and stars that all help you stand out in the SERP.
The mentioned rating widgets are also easy to customizable and can fit pretty much any layout or style.
This is one of the top-rated rich snippet plugins for WP with supporting more than 35 schema types, allowing you to make virtually any piece of content snippet-eligible on your site from videos, to blogs, to… you name it.
You can also add the schema markup conditionally, meaning that you can also exclude and include content. Also if you've used previous schema plugins before, you can import the data you've already created in those plugins to this one.
Also, if you're running a store with WooCommerce, you can use a premium extension that makes your entire store structured in a data-friendly way with support for membership, review, booking, and email schemas.
This isn't just a rich snippet plugin, but a rather useful little SEO toolbox that most experts recommend. Often cited as one of the best free WP plugins to improve SEO, Rankl Math does a great job at allowing you to assign schema markups for posts and pages. You can add supported schema to individual pages or posts as well, if you have to customize. In total, the plugin supports 16 different schemas, like a person, article, review, music, video, product, FAQ, and much more.
Another premium WP program that allows you to set up your very own rich snippet code if you feel like editing the ones already pre-installed. It supports several snippet categories ranging from, businesses, to products, people, ratings, reviews, organizations, music, events, recipes, and a lot more.
It also has global snippets: a standout feature that allows you to generate a single schema and apply it to all your pages, custom post types, or simple posts automatically. There's also conditional logic in this automation process, meaning you won't lose full control over the schema applied.
If you are looking for a rich snippet plugin for star ratings, then this one will probably be the only thing you'll need. It's a flexible plugin that grants you full control over your snippets. You can control where they are disabled or enabled, how many times the same user can rate your site, full customizability options when it comes to the look of your rich snippet, and more.
With this plugin, you also get a widget that you can use to track the top-rated posts on your site. This can be a handy tool for you to help you decide which posts you should be optimizing for better performance.
Yet, another great, comprehensive rich snippet plugin for your WordPress site that supports customer reviews. We're talking about a highly customizable plugin that can be easily tailored to meet your business's needs. Enable or disable the affiliate button, change colors, edit icons, and more.
You also have a comparison table feature where you can easily compare different product features as well.
If you're running a recipe blog, this plugin will help you a ton, without a doubt. When users browse the web for a specific recipe, yours can easily stand out with a great rich snippet with this plugin. It automatically adds metadata fields like images, instructions, ingredients, description, and a lot more.
---
Takeaway
By now, you can see that rich snippets can help you a great deal in improving your chances in the ranking game. They have a science of their own, with tons of different features that can all help optimize your content for better outcomes in searches and tons of other handy stuff that will simply make your website more structured and simply just more pleasant to browse.
Now, all these features, free and premium versions might seem like a handful at first, so it's only normal that we highly advise that you reach out to your digital marketing experts and WordPress wizards to help you choose the best plugin to get you covered in terms of rich snippets and general SEO.