On one hand, you have the most popular CMS in the world that more than 60 million people use to run their websites. On the other hand, you have an all-in-one website builder that is becoming increasingly popular and used by more and more people around the globe every day. So, WordPress or Squarespace? How to decide which website platform to use? And why?
We will dive into the comparison, but first let us ask you a few questions.
If you have done your research and your choice came down to WordPress and Squarespace, but you cannot decide, you can start with answering these questions:
What is the purpose of the website you want to build?
Is it going to be a complex web application (e.g. media portal with thousands of articles) or a simple web presentation (e.g. online portfolio)?
If you are building an e-commerce site, is it going to be an online store with 10.000+ products or do you want to sell your services online?
Are you going to build the website on your own or ask professional developers to create it for you?
If you choose a DIY process, are you tech-savvy enough?
Are you proficient in HTML, CSS, JavaScript, and PHP?
Do you know your way around search engine optimization?
Think carefully about your answers and write them down for yourself.
So, now that you have a starting point, let us give you some useful information and make it easier for you to decide.
WordPress vs. Squarespace: The Basics
For starters, please note that we are talking about WordPress.org, not the WordPress.com. So, we refer to a more technical side of building websites with WordPress.
That said, let us see what we are dealing with here.
WordPress
WordPress is a free open-source content management system (CMS) that can be used for building websites and web applications. It was released in 2003 and by now more than 33% of the top 10 million web locations are based on WordPress (WP). Besides the WordPress software package, that comes along with a ton of customizable templates and plugins, there are also native mobile apps available to help users manage their websites on the go.
WP is based on HTML, CSS, PHP, and JavaScript (with its newest content editor Gutemberg powered mostly by React.js) and it supports various technical features. Still, this platform is flexible enough to enable developers to take full control over the websites they create.
Squarespace
Squarespace is an all-in-one website builder with its own CMS. It was also launched in 2003 and now there are millions of users around the world. The company itself has 830 employees today, with headquarters in New York City.
Squarespace is a cloud service, so there is no need for downloading any kind of a software. And why do we call it an all-in-one solution? Because, within a subscription fee, it provides customizable and responsive website templates, hosting service, domain name, SSL certificate, marketing tools, and a 24/7 customer service that provides help within an hour.
A team of dedicated in-house designers and developers are creating the Squarespace platform and all its tools. Besides that, they take care of the users' website maintenance and regular upgrades, while also providing technical support for any issue that users might stumble upon.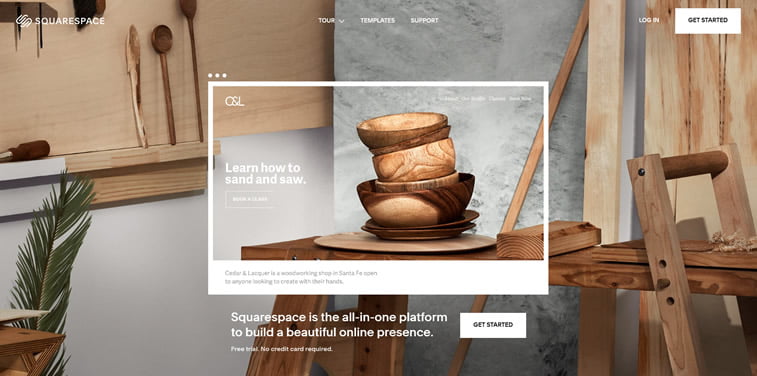 Now let us take a more detailed insight into these two platforms.
Ease of Use: WordPress vs. Squarespace
Squarespace's interface has a minimalistic and stylish design. Its dashboard is relatively easy to use for everyone, especially for people without technical skills. The content editor is resizable, so when you resize the window you get to see exactly how it is going to look on smaller screens.
There is a cover page builder for single page design. It is customizable (within a Business subscription plan) if you are familiar with HTML and CSS. The interface is in English only, but the editor supports other languages. However, unlike WordPress, Squarespace might not be such a good choice if you need to build a multilingual website.
WordPress could be a much better solution for multilingual sites, and it also has an intuitive interface with an easy-to-use dashboard. It is easier, though, if you are familiar with HTML, CSS, and PHP. It requires at least a basic knowledge of these programming languages and style sheets if you want to build a website on your own.
The more you know, the more proficient you can become in WordPress development. This is especially important if you want to build your website from scratch and make it completely custom-made.
WordPress vs. Squarespace: Themes and Templates
WordPress
WordPress is based on customizable themes and it follows the plugin architecture. There are thousands of WP themes available, both free and paid, and almost 55,000 different plugins for all sorts of modifications and additional functionalities.
If you are proficient enough in HTML, CSS, JS, and PHP, you can use WordPress theme only as a skeleton of your website and customize everything that you need.
Within themes, there are various templates, and furthermore, there comes a template hierarchy.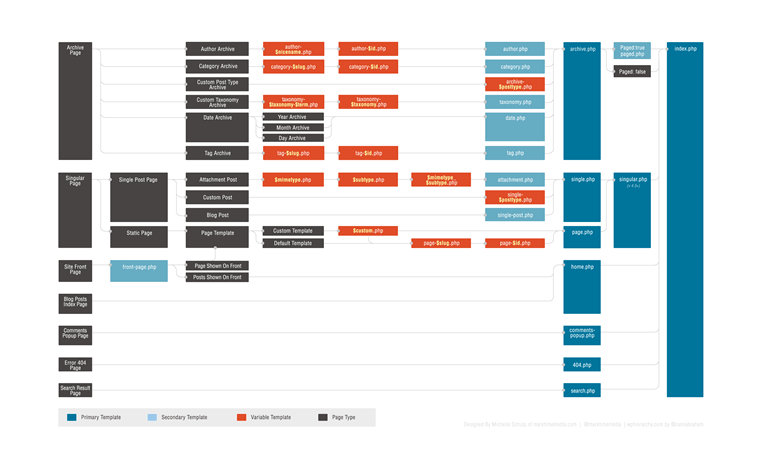 Squarespace
Similarly, Squarespace is based on customizable templates. There are over 100 templates to choose from, and all these templates are grouped in so-called template families that share similar functionalities and features.
When you set up your profile on Squarespace, you will be aksed to choose a template to start from. Depending on your site's purpose you will get the recommended templates, which narrows your choice and give you a jump start.
Please note that templates cannot be combined. You can start with one template and then switch to a different one later on. However, the transition might not be such an easy process due to differences between templates and dedicated features, but it is possible.
Can you compare templates? Sure.
There are detailed template comparison charts as a useful tool for insight into template families and their features.
Every template is available with every subscription plan, and all of them come with a responsive design.
Depending on a template you choose, there would be different options for making style changes on your page, customizing navigation menu, headers, sidebars, and footers, getting down to font and text formatting, and choosing page styles.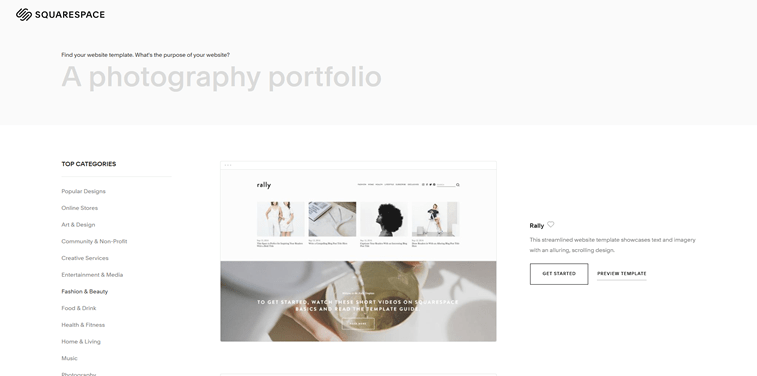 Blogging Preferences
When it comes to building your own blog, there are also pros and cons for each platform.
WordPress Blog
WordPress has been developed as a blogging platform right from the start. Its CMS is genuinely easy to use and you do not need to have technical skills in order to write and publish new blog posts, upload videos and images, maintain the image library, share your blog posts on social media, interact with your audience wihin comments, structure your URL-s, etc.
You can choose between a visual and textual mode for editing your posts, you can keep them as drafts, schedule them for later, and much more. Also, WordPress mobile apps make it possible to write, edit, and publish posts on the go.
Squarespace
Squarespace has also established itself as a quality blogging platform. You can even import your existing WordPress blog to Squarespace if you want to switch platforms.
There used to be an option called Post By Email – you could send your blog post via email and Squarespace's staff would publish it for you. That feature is not available anymore, but there are still usual blogging features such as commenting, tracktags, geolocation tags, reblogging, etc. You can even host your own podcast on Squarespace, with RSS feed and iTunes tagging.
However, bear in mind that there is not an option of optimizing single blog pages – page titles and meta descriptions cannot be adjusted for individual posts – which will not bring justice to your SEO efforts. So, if you care about optimizing your blog pages for search rankings, Squarespace might not be the right solution for you.
E-commerce Websites
If you are going to create a new online store, or redesign an existing one, you might want to consider WordPress rather than Squarespace.
WordPress
In that case, WooCommerce would be the best solution. It is a free open-source WP plugin specifically created for e-commerce development. There are more than 600 dedicated e-shop themes, and a large development community on GitHub.
WooCommerce provides a responsive website, unlimited number of products, creation of special offers and coupons, integrated payment solutions, statistical sales report, and much more.
Squarespace
On the other hand, Squarespace offers Basic and Advanced subscription plans for online stores and integration with PayPal and Stripe services. There are various useful features, such as connecting your product pages with Instagram's shoppable posts, which could boost up your conversion rates.
The other positive feature is that you can opt for selling not only physical products but also digital products and your services. That is why so many freelancers choose Squarespace as their primary e-commerce platfrom.
WordPress vs. Squarespace: Worldwide Community
In a certain way, WordPress has become so popular because there are already so many WordPress developers out there who know the ins and outs of this CMS, so they just keep on improving their knowledge on top of the existing base, hence growing the WP community around the world.
Developers share their experience and learn through WP community on GitHub, and there are also regular WP meetings and conferences organized around the globe. At this point, thousands of developers, content specialists, and website owners gather at monthly meetups in 436 cities worldwide.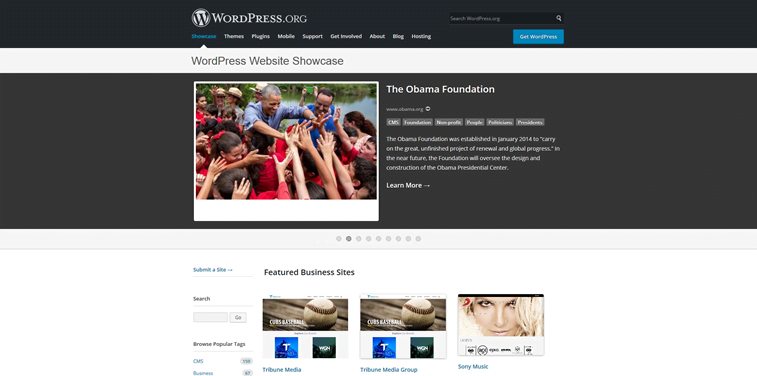 But Squrespace is not falling behind. There is an ever-growing community of Squarespace fans and authorized Squarespace trainers, as well as specialized Squarespace designers you can hire if you are not sure that you will execute it well by yourself.
There is also a platform called Squarespace Circle. If you have 3 or more websites that you have built yourself on this platform and you would like to sharpen your skills, you can become a member of the Circle. It could help you start building your own web design practice while learning from creative entrepreneurs around the world.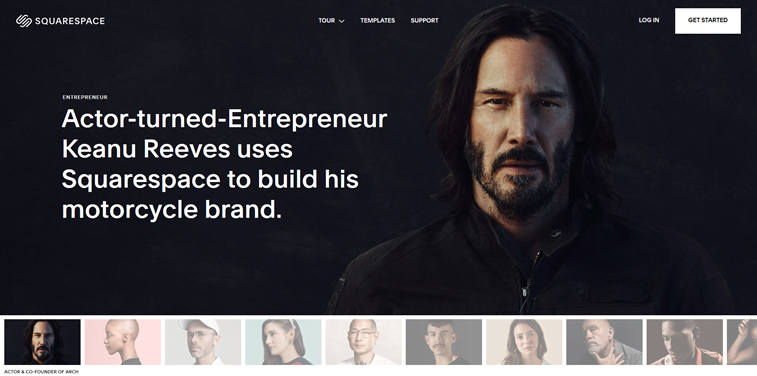 WordPress vs. Squarespace: Pricing
Squarespace is not free, except for the 14-days free trial. There are several plans to choose from. Individual webiste plan starts from $12 per month (billed annualy), while Business plan runs from $18 a month. For online stores, the Basic plan cost start from $26 a month, and the Advanced goes from $40 a month.
However, as advertised, there shouldn't be any other costs besides that. With an annual subscription you get hosting for free, as well as domain (domain is free for the first year), free SSL certificate, and all the marketing tools that are included in the package – integration with G-Suite, Mailchimp, Zapier, and other services, as well as the possibility of a promotion of your products on social media.
Squarespace also provides website analytics, with insights from Google Search Console and other third party SEO tools. It offers the creation of e-mail marketing campaigns, social media widgets, pop-ups creation, and more. And there is fast and reliable technical support 24/7.
WordPress, on the other hand, is free software. But do have in mind that there are various costs to consider before opting for it. You need to find and pay a hosting provider for your website and purchase your domain before you start building a website on WordPress.
You will also need to purchase and implement an SSL certificate on your own. And one more important issue to consider – if you are not tech-savvy enough yourself, you should calculate additional costs of hiring a WordPress developer to build the site for you.
Security Issues
Every functionality and a tool within the Squarespace platform is developed, tested, and monitored by the in-house development team, so the users can rest assured knowing that their websites are not going to collapse that easily.
That, unfortunately, cannot be said for WordPress plugins. Users need to be very careful with their implementation in order not to install an incompatible plugin, unsecure one, or the one with a history of crash downs.
So, plugins may be the best WP feature, but could also be the most negative one because they can make a website vulnerable to hacking attacks.
Also, you do not want to overcrowd your website with a ton of plugins. It will result in a messy code with too many unnecessary functions or unused code. This can lower your website performance rates. A lot. And that is not a good thing.
So, if you want to use WordPress, and you are not a proficient developer who knows how to write code from scratch, it would be better to collaborate with professional WordPress developers instead.
One more thing to take into consideration – what about the website you had built and then forgot about it for a couple of years? What if you wanted to revision it afterward? Well, at that point WordPress CMS version might be old and probably even more vulnerable to security issues and data protection than before.
Website Ownership
With Squarespace, you can control your website a lot, but there is not an option of downloading a complete database copy or server files. It means that you will not completely own your website.
With WordPress, you will have a lot more control over your website, even if you choose an existing theme and customize it. If you build the site from the ground up or outsource a developer to do it for you, you get the full ownership over your website.
---
To Sum It All Up
We cannot decide instead of you, of course, but here is a quick summary of our WordPress and Squarespace comparison. It might help you come to a conclusion about this dilemma.
Essentially, you should consider using Squarespace if:
You are not a coding master and not quite familiar with programming languages
You want an all-in-one platform to suit most of your business needs
You care about having a secure website that protects your users' data
You wish for sleek and elegant interface design
You want useful functionalities integrated within the package
You appreciate the reliable technical support
You want to build your online portfolio or a one-page website, start a freelance business, launch a small-scale online store, or run your own web design business for this platform
On the other hand, WordPress could be a good choice if:
You do have coding skills and want hands-on experience in building websites
You wish for a unique, custom-made web pages
You need a diverse set of non-standard functionalities on your site
You appreciate the legacy and continuous efforts of the worldwide community
You care about search engine optimization and want to have SEO-friendly site
You want to have full ownership of your website
You plan to start your own blog, build a large-scale e-commerce website, make a tailor-made web presentation, build more complex web applications, or start learning WP development yourself
We hope that this comparison has helped you decide whether to go for a well-established WordPress website or choose an ever-evolving Squarespace platform for your online presence. Of course, if you still struggle with a decision, feel free to reach out to us for a further consultancy about WordPress. We would be glad to provide a helping hand for a custom CMS development to you.
---
You might find these articles useful as well: