Everybody is on Twitter nowadays, including web developers. Besides sharing IT jokes, they are also in the loop with the latest industry news and also sharing valuable resources. In equal measure entertaining and educational, by following some of these experts you can share a laugh with them and also learn something new every day.
Are you interested in responsive web design? Who else to follow than the man himself – Ethan Marcotte, who coined the phrase. Do you wish to learn more about making web designs more accessible? Sara Soueidan is the person to follow. Do you have an upcoming conference speech about development? Rachel Andrew is a keynote speaker with lots of helpful tips for preparing quality presentations. Besides industry experts, such as Jeff Atwood and Jeffrey Zeldman, there are some new kids on the block which are also deserving of our attention.
Here is who to follow and a snippet of what they mostly share with their friends and followers.
Atwood is the co-founder of Stack Overflow and Discourse.org.
Even though he states in his Twitter bio that he has no idea what he is talking about, Atwood is a proven expert in his field. He is up-to-date with the freshest IT news, but he is also following current pop culture and often tweets about new sci-fi tv shows and movies.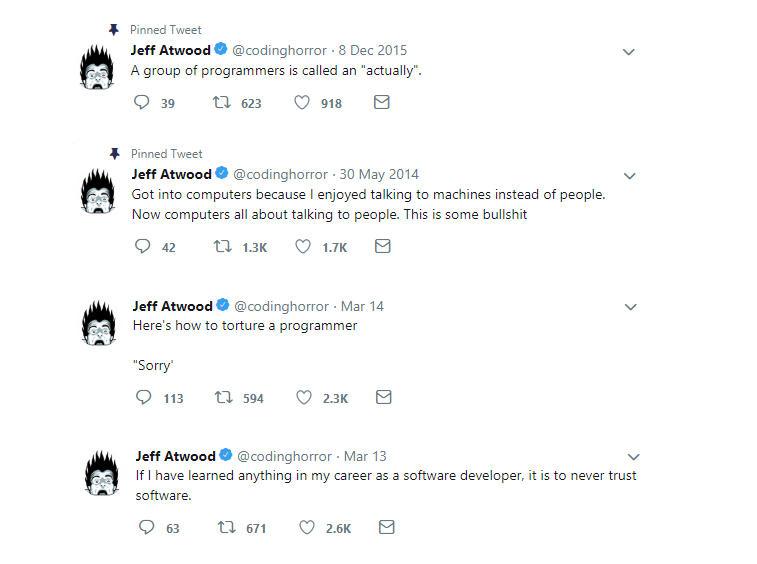 Zeldman is in the game of designing websites since 1995. He is the man behind "A List Apart", "A Book Apart" and "An Event Apart". Currently, he is a creative director at Automattic.
On his Twitter profile, Zeldman is often sharing useful articles and his thoughts about the latest IT news, sprinkled here and there with a cat picture.
Frost is a frontend designer. He is also organizing workshops and training sessions on design for various companies who wish to learn more about the topic. Frost is also not a stranger to writing; he has his blog and has also written a book called "Atomic Design".
Check out his Twitter profile for an abundance of witty industry related tweets.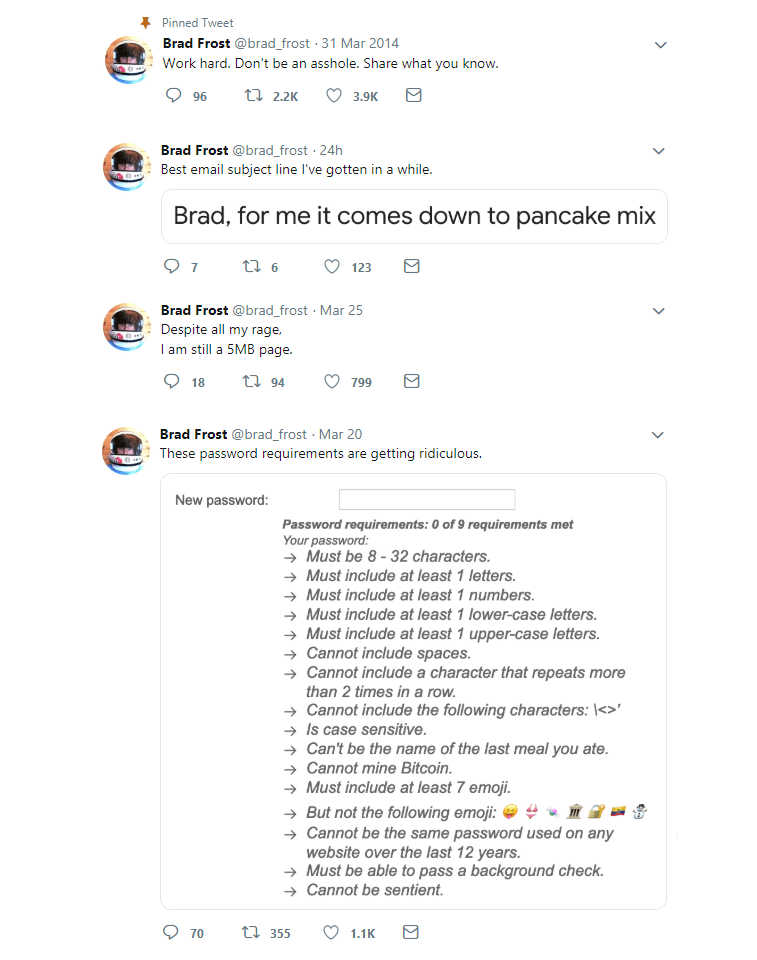 Marcotte is the person behind the whole idea of "responsive web design". He even wrote two books about it and gave a lot of talks on the topic.
On his Twitter account, Marcotte is sharing funny GIFs (accompanied by an alt text in a separate tweet!), here and there he also retweets interesting articles and posts his blog updates.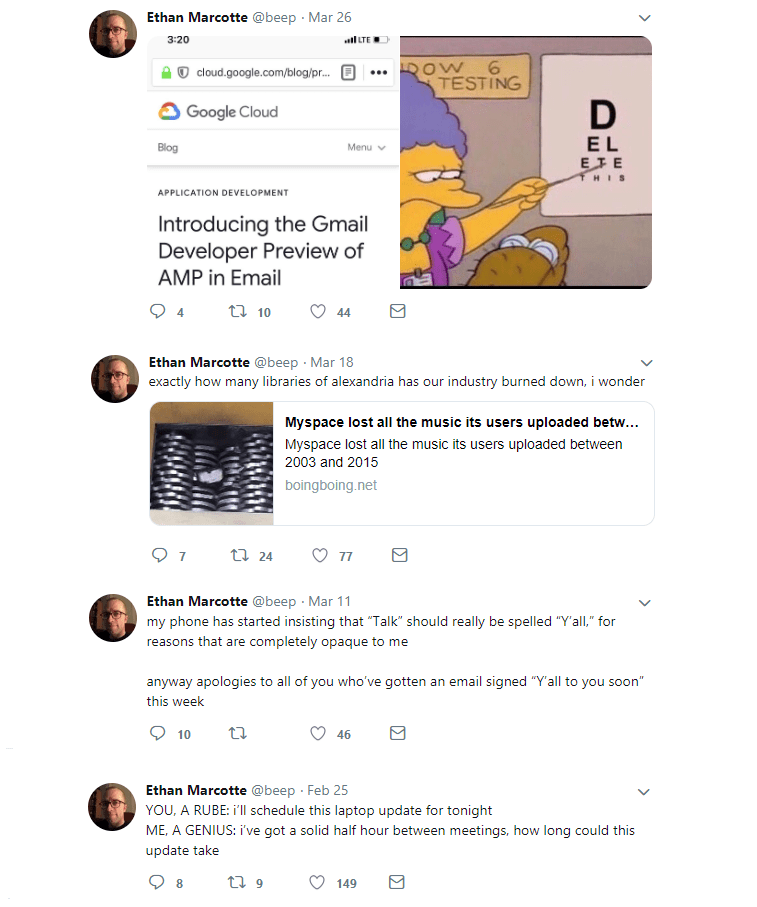 As a freelance web developer who is always learning, Soueidan is very outspoken in the Twitterverse. She is always on the lookout for useful tips and tricks and loves sharing knowledge with her peers.
Besides developing, Soueidan is often organizing workshops and is a frequent guest speaker at IT conferences and similar events.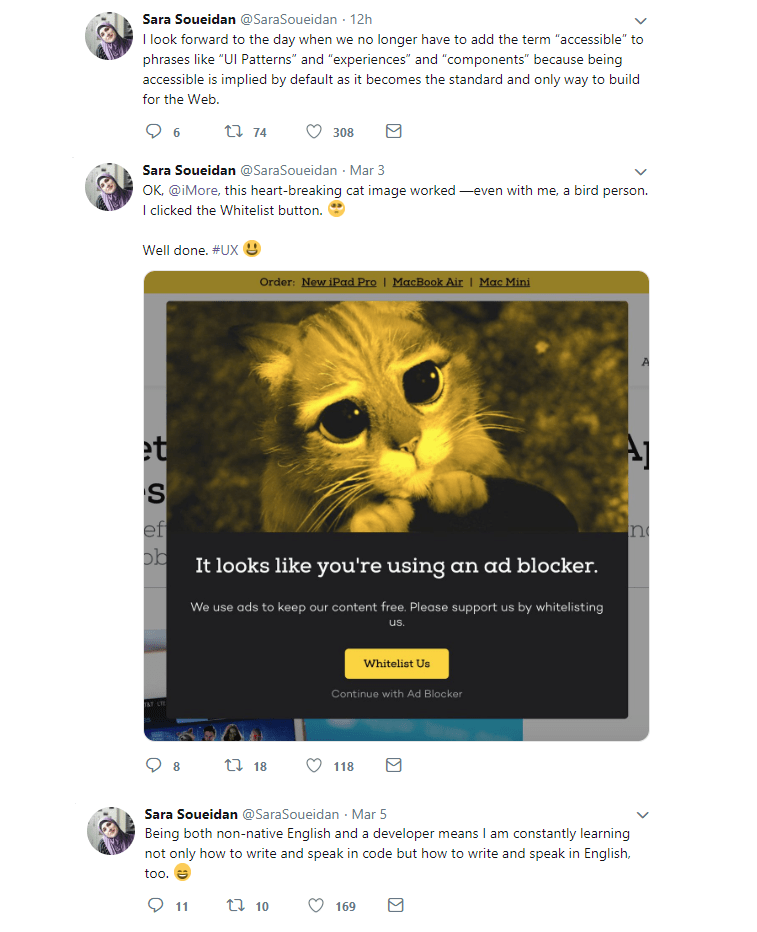 Besides being a web developer, Andrew is also Editor in Chief at Smashing Magazine. She created Perch, a content management system, and Notist, a public speaking portfolio platform with her husband. She is also often speaking at conferences and sharing her vast knowledge online and offline.
Andrew also often posts pictures of her cat Pixel on her Twitter.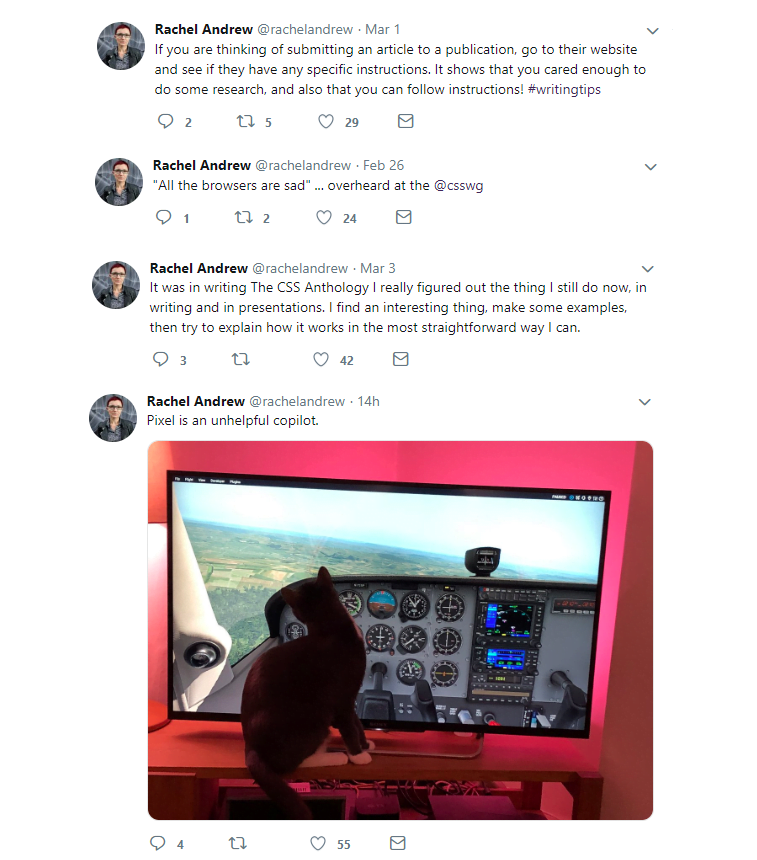 Witkowski is a web developer and is working alongside his colleagues at Thinko. He mostly spends his time designing websites, making jokey emails for his friends and managing his alternative social media Screenhole.
Follow Witkowski's Twitter account for non-stop giggles.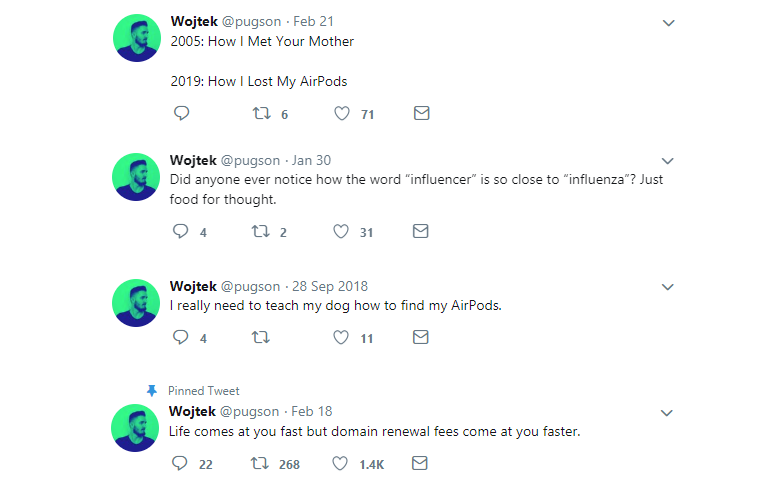 ---
We know that this is by no means a full list of all developers that are present on Twitter. So do share in the comments below or on our Facebook page who you are also following in the developer's world.
---
Did you like this article? Here are some others you might enjoy: