When Ben Hammersley coined the word podcast using the bits of the words iPod and broadcast in his 2004 article for The Guardian, little did we know that podcasts would become the next big thing in the digital arena. So, thousands of podcasts later, here we are - handpicking the best of the best design podcasts for you.
If you are an audio lover, you may already listen regularly to these shows, and if you are still new to this podcast thing, get ready to delve into the realm of inspirational talks, humorous adventures, helpful advice, business coaching, and interesting topics that will boost your creativity and impact your career growth as a designer, developer, photographer, videographer, writer, illustrator, animator, and everything in between.
Make some room in your schedule (anywhere, anytime), put your earbuds on, and start exploring the world of the best design podcasts out there. You are going to love them.
12 Best Design Podcasts To Watch
UX Podcast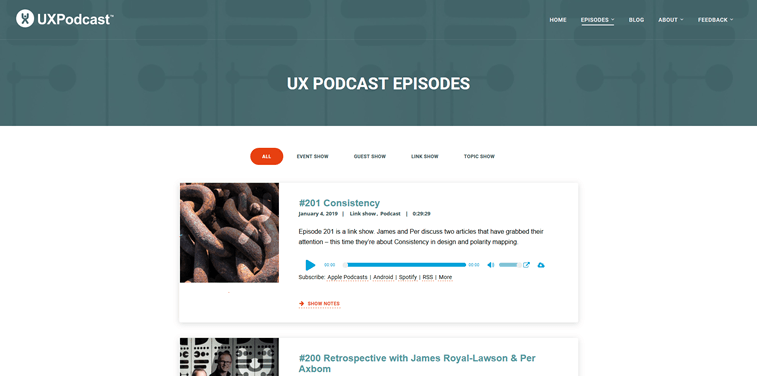 "On the plane back from UXLx Lisbon, in May 2011, it struck us. If we ever wanted to start a podcast this was the perfect time. So we did. It wasn't like we really had any time on our hands. But hey, with the right amount of passion, who needs time!?"
This is how UX professionals Per Axbom and James Royal-Lawson, the creators and hosts of the UX Podcast explain how it all started. So, ever since May 2011, they have been putting out the new episode on every other Friday (or broadcasting a more frequent series of live shows if they attend a live event).
As the hosts say, UX Podcast is not just for UXers, but for everyone who balances business, technology, and users within the digital sphere. The show is created with an aim to spread knowledge and move the conversation beyond the usual paradigm about user experience.
Design Matters, with Debbie Millman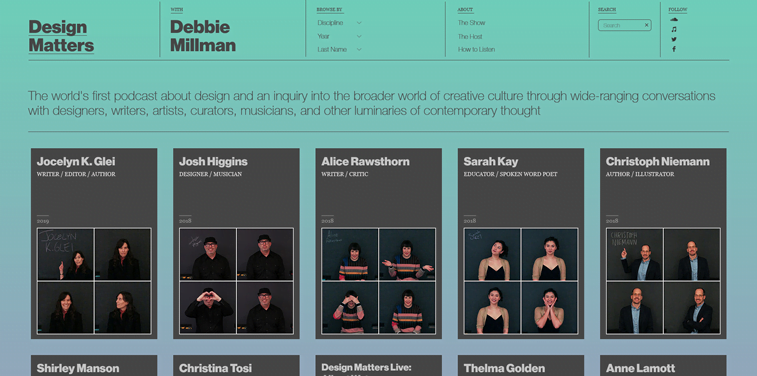 This one is the classic. Debbie Millman is one of the pioneers of podcasting about design, and Design Matters is one of the world's most beloved series of interviews with a broad range of leaders in the creative industry, including designers, writers, artists, curators, musicians, and others.
Some of the latest episodes include guest like Christoph Niemann, Albert Watson, Anne Lamott, Sarah Kay, Stephen Heller, and Laurie Anderson. Episodes are either audio podcasts or videos of a live conversation in the studio, and they are all hosted by Debbie Millman.
Obsessed with Design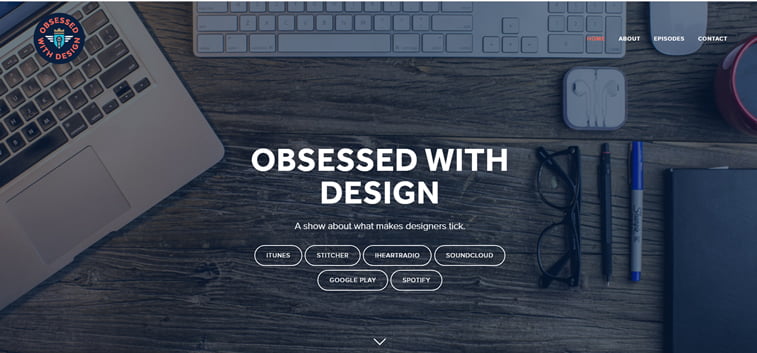 Hosted by a graphic designer Josh Miles, Obsessed with Design podcast is full of inspiring personal stories from leading designers, architects, illustrators, photographers, and other creatives from around the globe. If you also have a kind of an obsession with all things design, this podcast might easily become your favorite one.
ShopTalk Show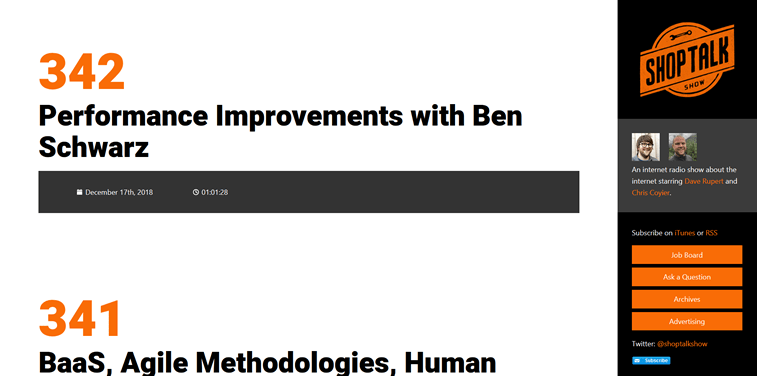 As the authors describe it, the ShopTalk Show is an internet radio show about the internet. And the authors of this award-winning podcast are Chris Coyer, also known as the founder of the CSS-Tricks and a co-founder of the CodePen, and Dave Rupert, a lead developer at Paravel. They host a guest in every episode, and they discuss things like performance improvements, Agile methodologies, human-readable URLs, 3D on the Web, PWAs, starting over with design, thinking like a front-end developer, and other real-life web design stories.
The Deeply Graphic DesignCast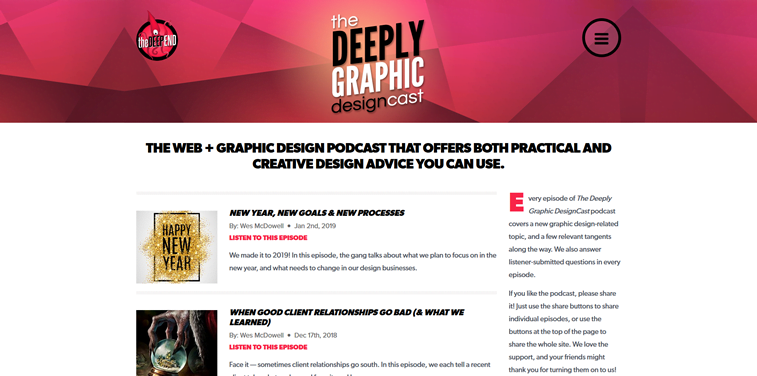 The Deeply Graphic DesignCast is, of course, about the depths of the graphic design realm. Each episode covers one topic and answers some of the listeners' questions. There are several hosts, and some of them are Wes MacDowell, a graphic and web designer Los Angeles, Mikelle Morrison, owner of the collaborative design shop from a Salt Lake City, Nick Longo, a creative executive with over 20 years of experience, and Brandon Voss, a creative director and UI designer from San Francisco.
99% Invisible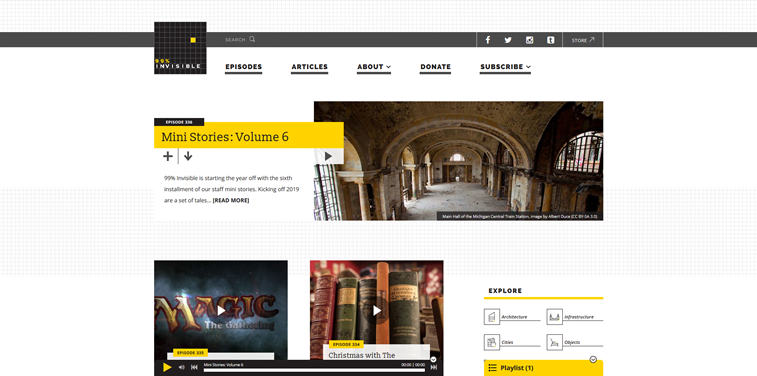 Have you noticed that so many things in the world go unnoticed? Design that shapes our world, architectural details, all the underreported stories around us… Roman Mars, a founding member of the podcast collective Radiotopia, felt like that was an unfair situation, so he started the 99% Invisible podcast out of his bedroom. In the meantime, it has become one of the most popular and quite influential podcasts on iTunes, with more than 250 million downloads. In the meantime, the production has been moved into the studio, but the podcast is still completely independent, with funding coming only from listeners and donations.
Adventures in Design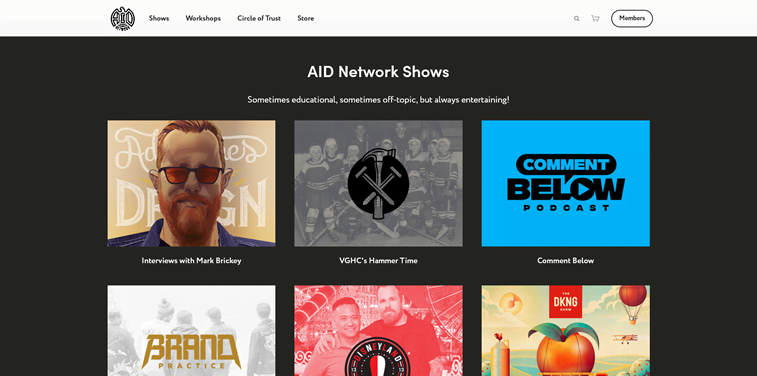 Mark Brickey is hosting Adventures in Design podcast, producing daily talk shows with creatives on making their professional lives more productive and meaningful. Every episode runs fun and educational conversation packed with advice on influence, daily routines, goal-setting practice, collaboration, freelancing, and other topics.
The DesignBetter.co Podcast, from InVision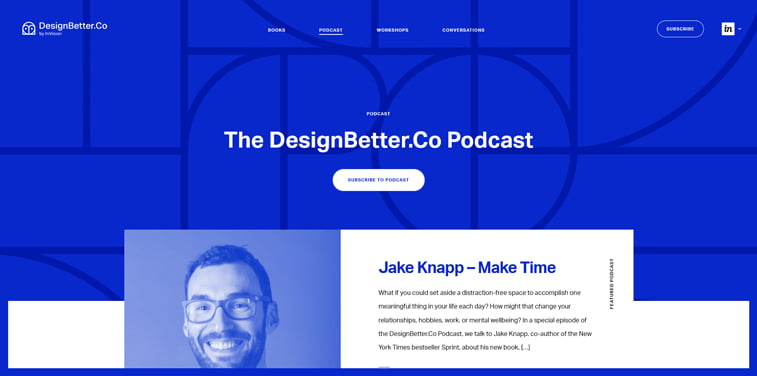 The DesignBetter.co Podcast is hosted by Aarron Walter, VP of Design Education at InVision and author of the book Designing for Emotion, and Eli Woolery, director of Design Education at InVision and a professional photographer and filmmaker.
During Season 1, the podcast was exploring human-centered design and the ways of intersection between product, design, and engineering. And now, in Season 2, the podcast is all about the operations, systems, and leadership needed to create great products at scale.
The Honest Designers Show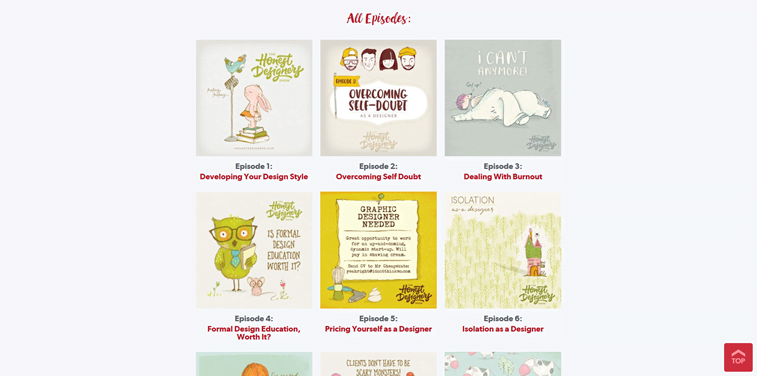 If you want to learn how to develop your unique style, land your first client, and acknowledge that your fellow designers are facing the same challenges as you are, then The Honest Designers Show is for you.
This weekly podcast is hosted by Tom Ross, CEO and founder of DesignCuts, along with his friends and seasoned designers Lisa Glanz, Ian Barnard, and Dustin Lee. As they describe it, this show is all about giving a transparent look into the life of a modern designer and learning how to overcome some of the less glamorous obstacles throughout the day.
Motion Hatch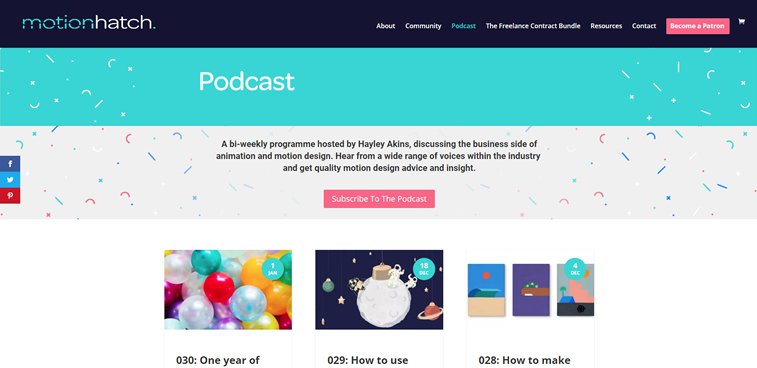 This is a bi-weekly program hosted by Hayley Akins. If you are interested in learning more about the business side of animation and motion design, and getting to know some useful insights, then Motion Hatch would be the right fit for you.
Some of the topics tackled through the episodes include protecting your work as a motion designer, finding more clients and landing big clients, using your network to boost your career, thinking about sound design as an animator, and much more.
Etch Podcast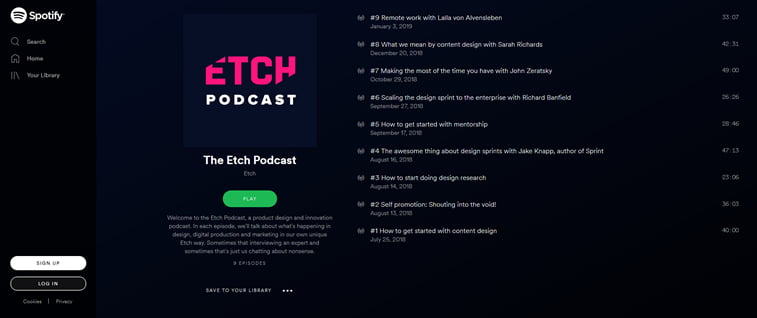 The Etch Podcast is the new design-related podcast that you would want to subscribe to if you care about product design and innovation. Some of the topics that have been covered so far include content design, the importance of design research, design sprints, and remote work, only to mention a few. In each episode, the conversation goes on current happenings in the design industry, digital production, marketing, and other topics.
UI Breakfast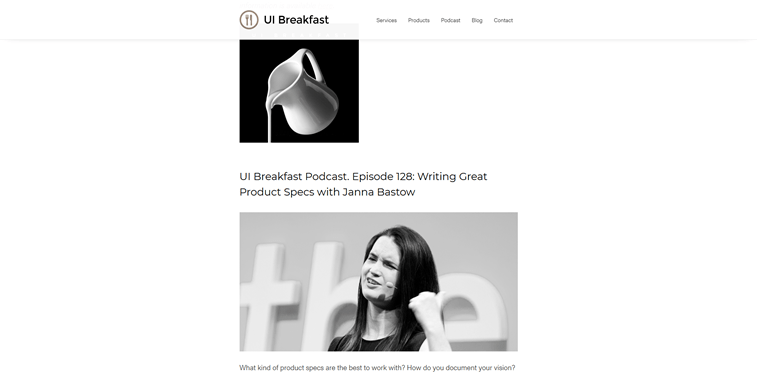 Will your product ever be done? How do you stay true to yourself when your company grows and changes? How do you make the most important things easy to find? How do you document your vision? These are some of the questions that were answered during the interviews with Emily Tate, Haraldur Thorleifsson, Chris Huylebroeck, and Janna Bastow during the UI Breakfast podcast. And this is only in the last 4 episodes, out of the pool of 128 shows that have been published so far. Every episode runs a talk with industry experts on UI/UX design, digital products, marketing, entrepreneurship, and much more. The host of the show is Jane Portman, an independent UI/UX consultant from Russia.
---
So, this is our list of recommended podcasts about design, but it is by no means an exhaustive list of audio shows that might be worth your attention. Tell us what you think. Do you already listen to some of these shows? Do you have your favorites? And, of course, if you know of other interesting podcasts for design-related issues that creatives might find inspirational, bring them on! Put your recommendations into the comments below or on our Facebook page.
---
Are you a design lover? You are going to love these articles as well: