Twitter is a powerful platform. But only if your customers are on it. Otherwise, you should try reaching them via some other social media platform.
If you already have a fan base on Twitter, extracting data from that number of followers and retweets and likes would not be a piece of cake. Luckily for you, this platform kindly offers its own analytics tool. Learn how to use it and improve your Twitter page!
---
What is Twitter Analytics?
Twitter analytics is an analytics tool which you can use to understand your followers better. When used properly, it can bring you more followers and improve engagement with your posts. Your website can also benefit in traffic from your Twitter business page and, if you invest a lot of time and effort into it, you can even become an influencer on this social network.
To access this tool, you first need to have a Twitter account/page. If you want to access analytics, when logged in, just click on your profile image in the right-hand corner and then on the page Analytics, OR click on the following link which will take you directly to it: https://analytics.twitter.com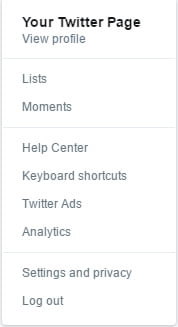 If this is the first time you are accessing Analytics, you are first going to have to turn them on. As of this moment, you will be taken to your analytics page where you can see loads of useful data.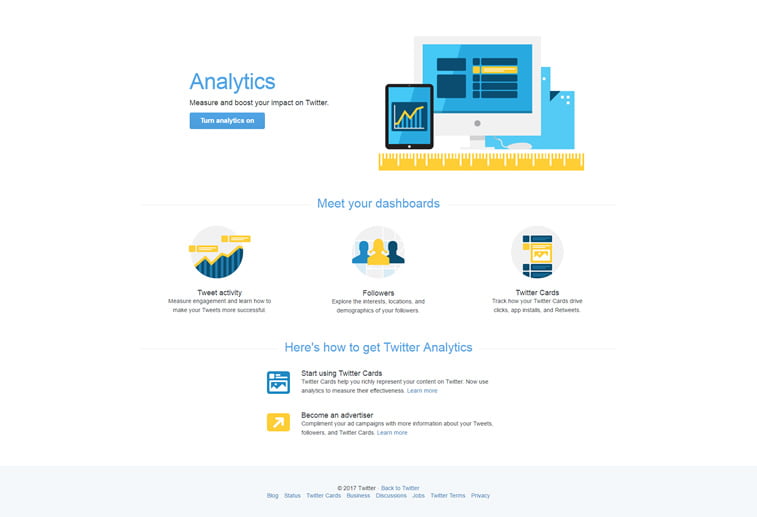 However, if this is the first time you are using this tool – there will probably not be much to see here, but as soon as build up your profile with data, within a week or two you will get to see how your audience behaves in response to your tweets.
---
What Twitter Analytics Contain
Twitter analytics dashboard contains the following:
Home
Tweets
Audiences
Events
More: Videos (beta), App manager, and Conversion tracking
---
1. Home
Twitter Analytics Home presents you with an overview of your activities over a 4-week period. There you get to see how many tweets you have chirped, how many impressions they have had, how many times your profile was visited, how many times you were mentioned, and how many followers you have gained.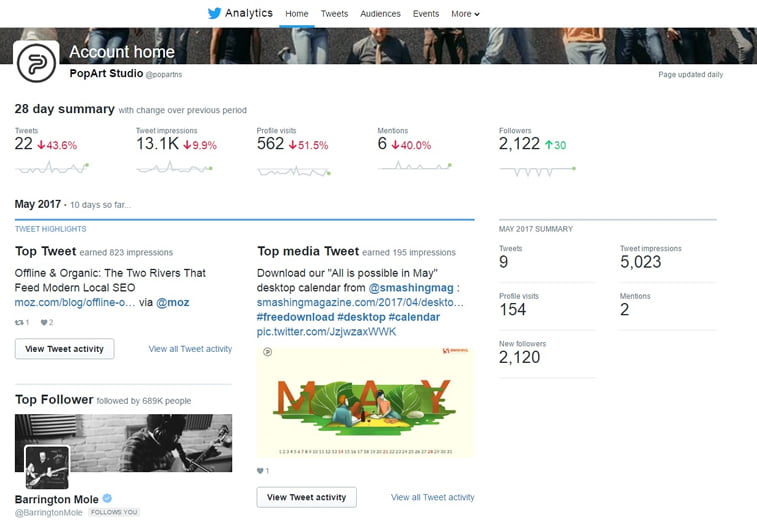 In the right top corner, you can see a summary of the current month and below your top tweets, as well as top media tweets. If you scroll down, you will get to see similar summaries for practically any month you have had your Analytics on.
---
2. Tweets
Tweets tab allows you to get a better insight into your tweet activity, not only during a 28-day period but from whenever you want (as long as you have been using it then). You can change the time you monitor in the right-hand corner at the top.
By hovering over any day in the graph, you will be able to see how many impressions your tweets have had on that particular day – and even export this data to use it in your SMM reports.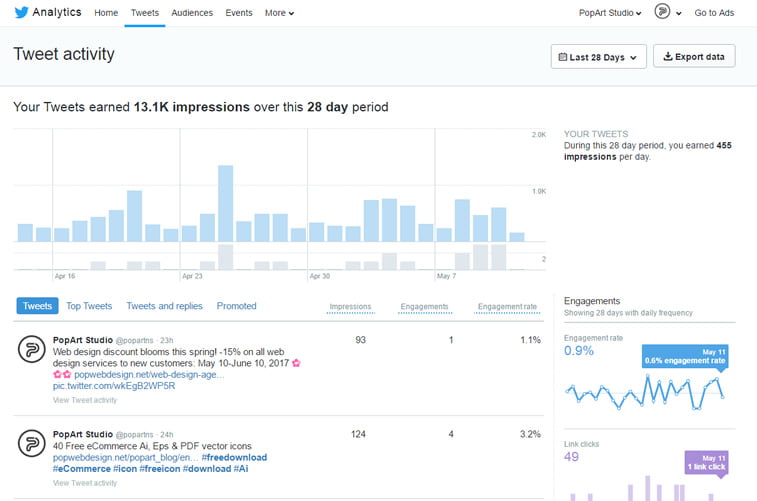 Pay attention to Tweets, Top tweets, Tweets, and replies, and Promoted tabs beneath the graph to learn what your audience responds to the most!
One of our favorite insights Tweets tab offers is Engagement– where you actually see the rate, link clicks, retweets, likes, and average replies.
---
3. Audiences
Audiences give you a general overview of who your followers are (on average): what language they speak, their lifestyle, their consumer behavior, as well as gender, interests, etc. Based on this data, you can modify or completely change your current Twitter behavior and get better results on this social network.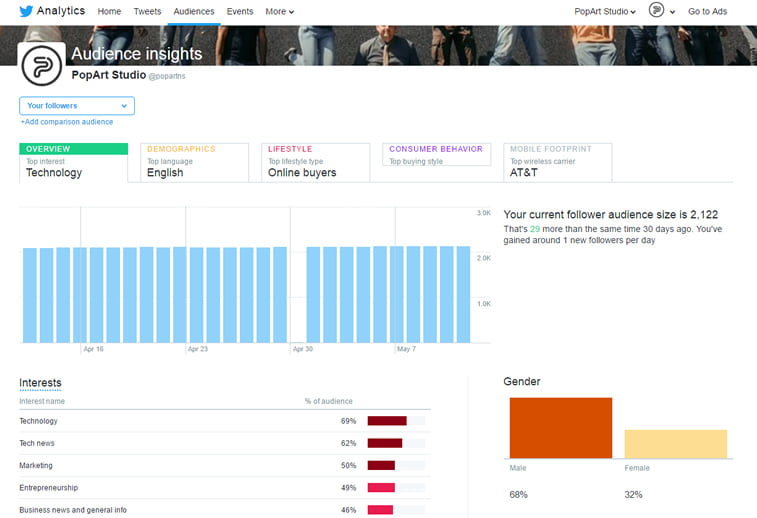 ---
4. Events
This is where things get really interesting 8at least for Community Managers). In the Events insights, Twitter reminds you of future events people are likely to talk about, so you can join in and create campaigns that revolve around them. The more you know, the better.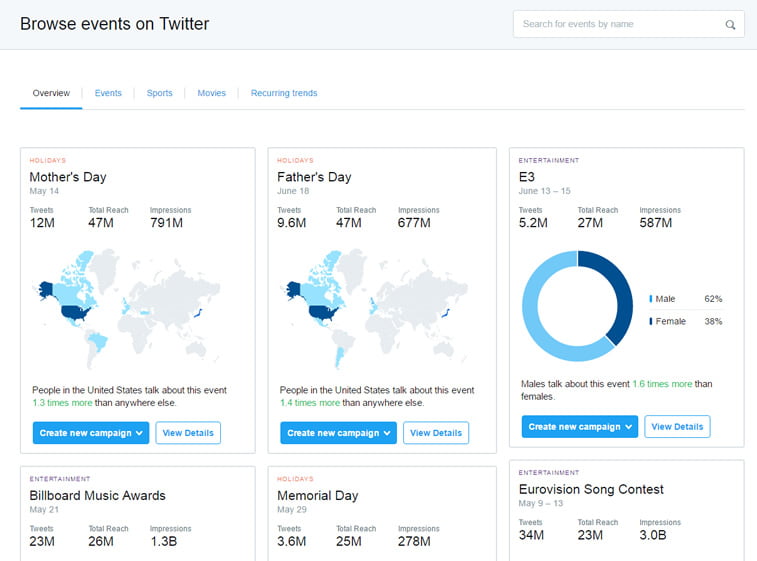 ---
5. More
Video activity is still in beta version, but here you can get a better understanding of short videos you post on Twitter.
If you connect your app with Twitter, App manager allows you to set it up and get the right audience use it!
Conversion tracking is an impressive tool which you can use to measure user behavior, gather audiences based on website behavior, and optimize your tweets for conversions.
The following step is advertising on Twitter, so you can use it if you want to get more followers and improve conversions coming from Twitter.
Mind you that all this data should be monitored – not obsessed with, so you do not lose time on more important things, such as creating an SMM strategy and plan.
---
Benefits of Twitter analytics:
The benefits of using Twitter analytics can be numerous.
First of all, you will be able to see how your audience – if you have it – reacts to your tweets, pictures, videos, and links.
Secondly, if you have implemented Twitter Cards protocol onto your website, you will also be able to tell what kind of audience comes to your website from Twitter. Using rich photos, videos, and media experiences, your audience will benefit from a much better user experience that eventually leads to your website. Get started with Cards!
Thirdly, using all of this knowledge – you will be able to create content that suits your audience/followers best. Be it video, photo, or short textual content – you will be able to sell more products or your services and improve the digital image of your company.
---
Improve your business
Twitter can improve your business in many ways. If you already have Facebook and LinkedIn pages for your company, you should definitely have one on Twitter as well. Order our Social Media Marketing services and let our Community Managers analyze your content, improve your tweets, and optimize your website according to the newest trends.
And do not forget to follow us on Twitter!
---
Like this read? Learn more about Social Media Management: