Letnja sezona je počela, a s njom i češći odlasci u kafiće, barove, poslastičarnice i restorane, kako bismo se u prijatnoj atmosferi videli s dragim ljudima ili poslovnim partnerima. Ali, da li vizuelni izgled menija utiče na odabir mesta za opuštanje, i zbog čega je bitno da baš vaš ugostiteljski objekat ima profesionalno dizajniran jelovnik?
---
Jelovnik ili meni?
U našoj ugostiteljskoj praksi najčešće se sreće naziv "meni", iako pravila kažu da je ispravniji oblik "jelovnik". Razlika je u obimu ova dva dokumenta.
Naime, jelovnik (eng. menu) predstavlja potpunu gastronomsku ponudu sa cenama, odnosno celokupnu ponudu jela i pića koju ugostiteljski objekat poseduje. U zavisnosti od veličine objekta, može sadržati jednu stranu, dve strane, ili biti u obliku omanje knjižice, ukoričen ili u kožnom povezu, sadržati logo i dati osnovne podatke o restoranu.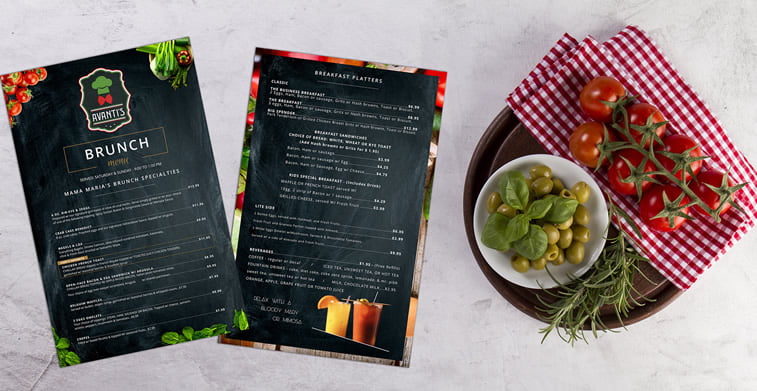 S druge strane, meni nudi popis jela za određeni obrok sa utvrđenom cenom, zasniva se na jelovniku, i cene jela u ponudi menija trebalo bi da budu nešto niže nego u jelovniku.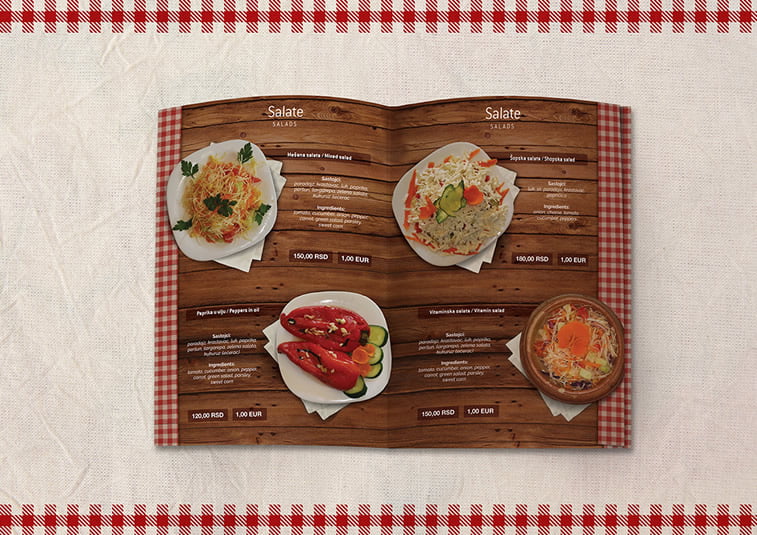 Na konkretnom primeru, ukoliko u jelovniku imate popis svih jela koja se vode pod doručkom, u meniju bi trebalo da se nađu jela koja su dostupna određenog dana u nedelji ili tokom jednog godišnjeg doba – kada se radi o sezonskim jelima. Ili, na primeru ručka, meni bliže objašnjava šta dnevna ili nedeljna ponuda ručka sadrži: od hladnog predjela, supe, glavnog jela, poslastice, itd, s unapred utvrđenom cenom.
---
Kako dizajnirati jelovnike?
 #1: Imajte na umu pravilo privlačenja pogleda
U fotografiji postoji nekoliko osnovnih pravila, a jedno od njih odnosi se na kompoziciju i na tačku na kojoj se zadržava pogled. Slično je i s dizajnom menija.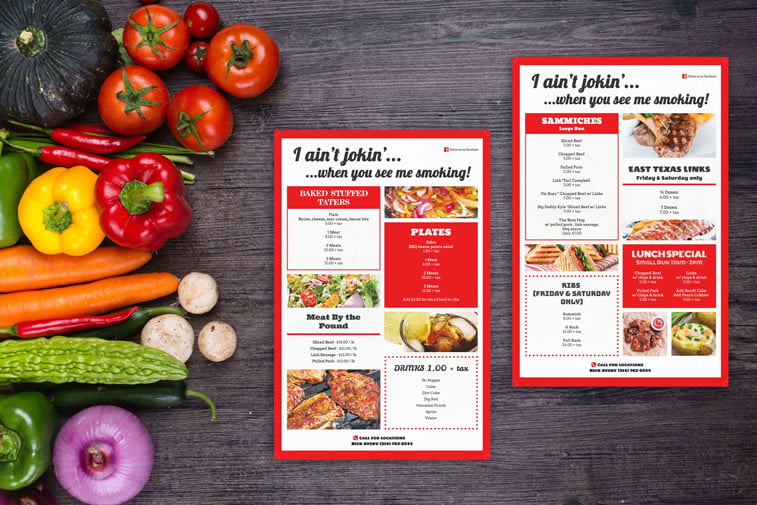 Iako su godinama restorani pravili jelovnike verujući da će svima pogled prvo otići prema slatkom delu, tj. prema gornjem desnom uglu, neke nove tendencije pokazuju da mušterije jelovnike češće posmatraju kao knjige, tj. da ih čitaju od gornjeg levog ugla, ka dnu, pa tek onda ka desnoj strani.
---
#2: Organizujte ponudu po kategorijama
Snalaženje u meniju znatno je lakše kada se ponuda jela, dnevnih i sezonskih obroka, pića i poslastica organizuje logički, tako da se i vizuelno skrene pažnja na to kojim se redosledom jela mogu poručivati.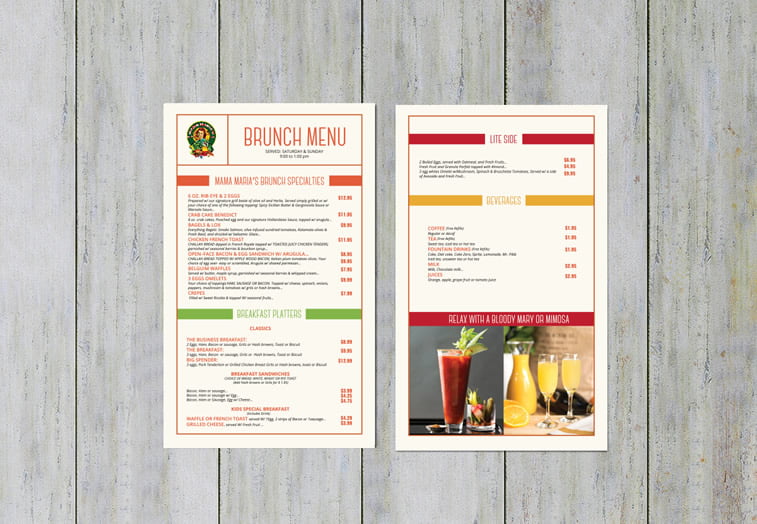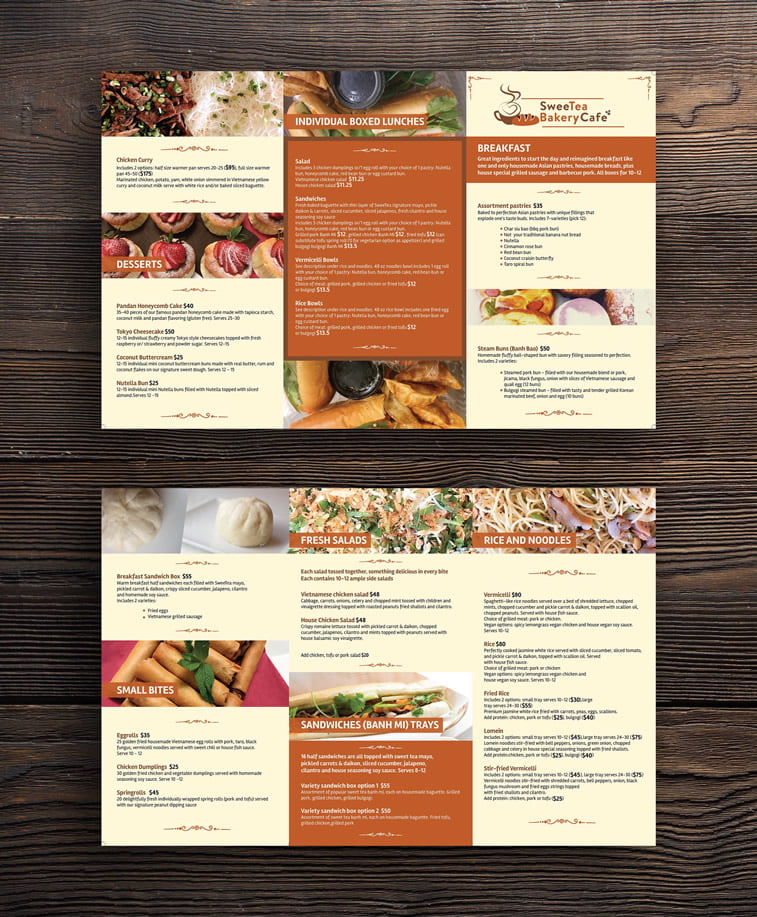 ---
#3: Oprezno s fotografijama
Nekada s fotografijama treba biti izuzetno oprezan, naročito kada se radi o jelima koja se ne moraju uvek servirati kao što prikazuje fotografija.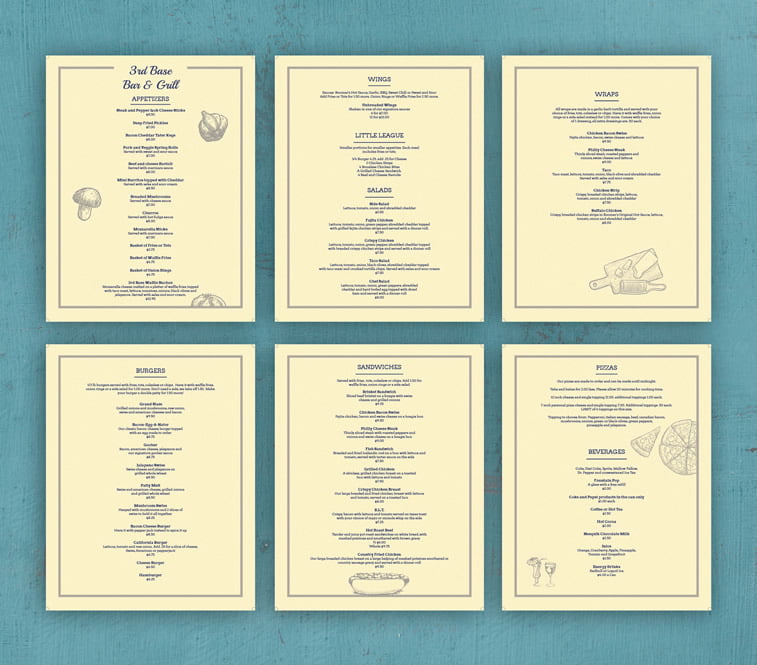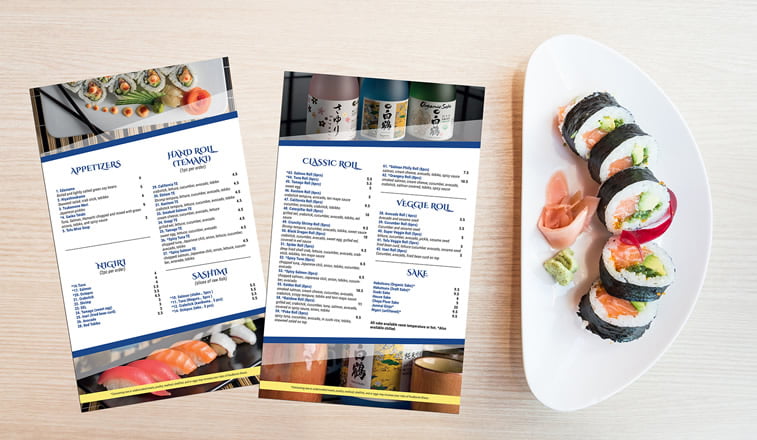 Prenapadne fotografije češće se vezuju za lance brze hrane i dosadne reklame, dok se veći restorani mogu pohvaliti svedenim, jednostavim i elegantnim jelovnicima.
---
#4: Upotrebite ilustracije
Umesto fotografija, koje se ne moraju uvek svideti svakome, ilustracije mogu biti bolji izbor jer bliže prikazuju ličnost ugostiteljskog objekta i prenose ličniju poruku.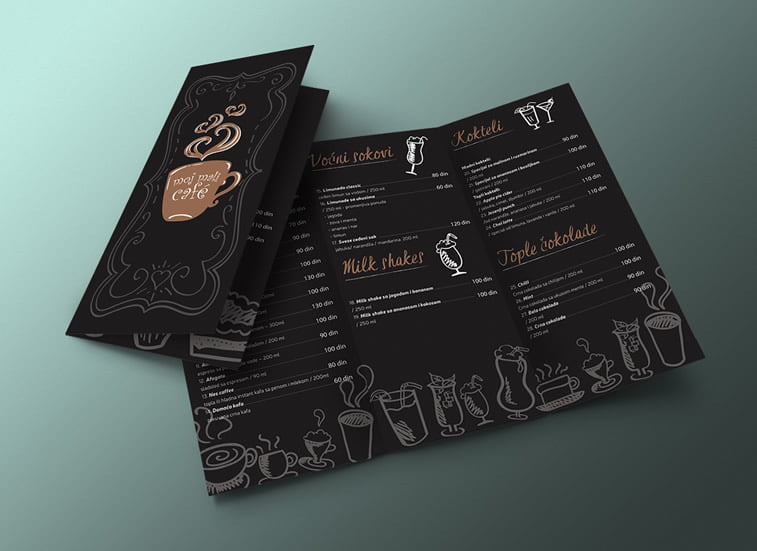 ---
#5: Uokvirite tekst
Vizuelno lep način za organizovanje određenih delova jelovnika jeste plansko uokvirivanje teksta.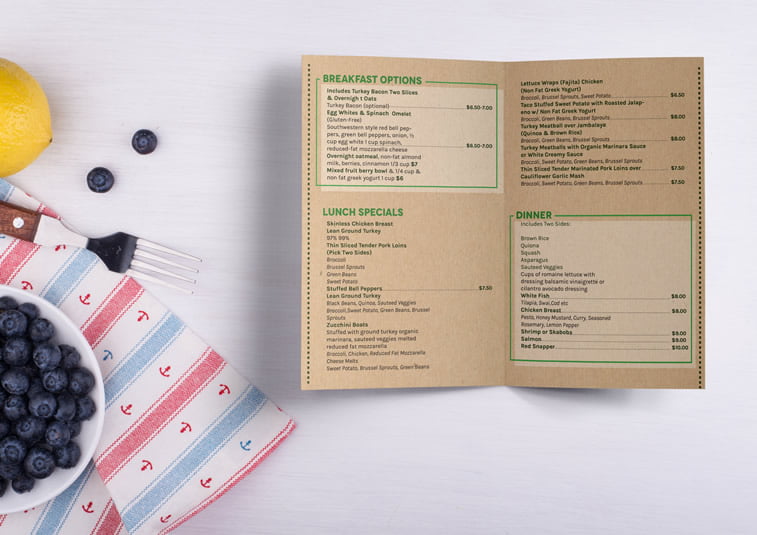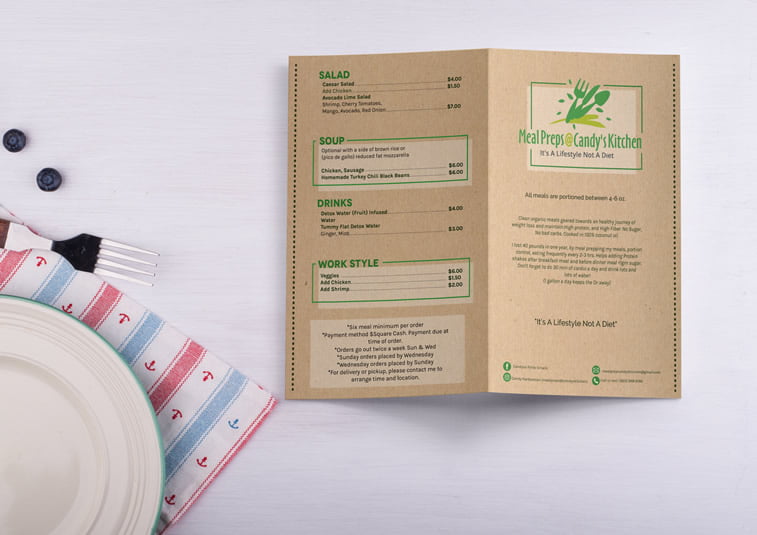 To znači da se mogu uokviriti delovi ili jela koja želite posebno da istaknete, a ako za okvire koristite više vrsta linija, preporučljivo je da one budu komplementarne.
---
#6: Pronađite pravi font
U akademskom svetu postoje pravila o tome koji se fontovi mogu koristiti u određenim kontekstima, kao i koji se fontovi mogu kombinovati. Pravi font može vas vizuelno predstaviti posetiocu i učiniti da delujete ozbiljno, elegantno, opušteno, ili mladalački.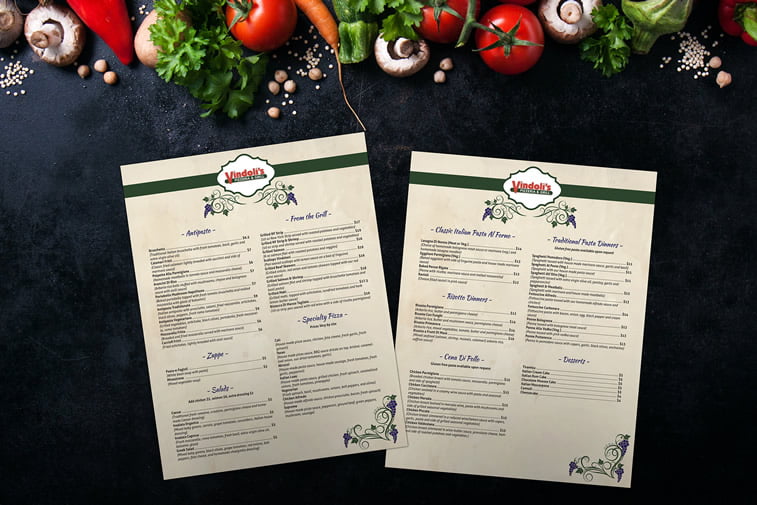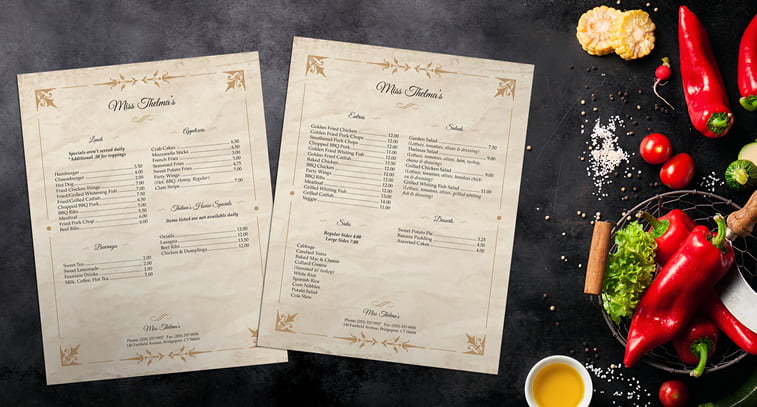 Zbog toga je odabir odgovarajućeg fonta još jedan način da se ispravno brendirate na tržištu.
---
#7: Pažljivo s bojama
Odabir boja treba da bude u skladu s ciljnom grupom mušterija i temom restorana. S obzirom na to da boje imaju različit psihološki uticaj na posmatrača, one mogu pomoći da uspostavite željenu atmosferu restorana i privučete pažnju na određena jela u ponudi.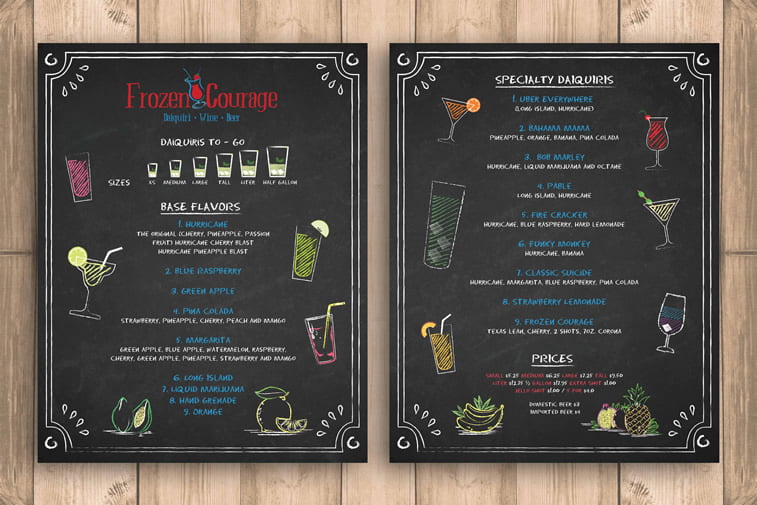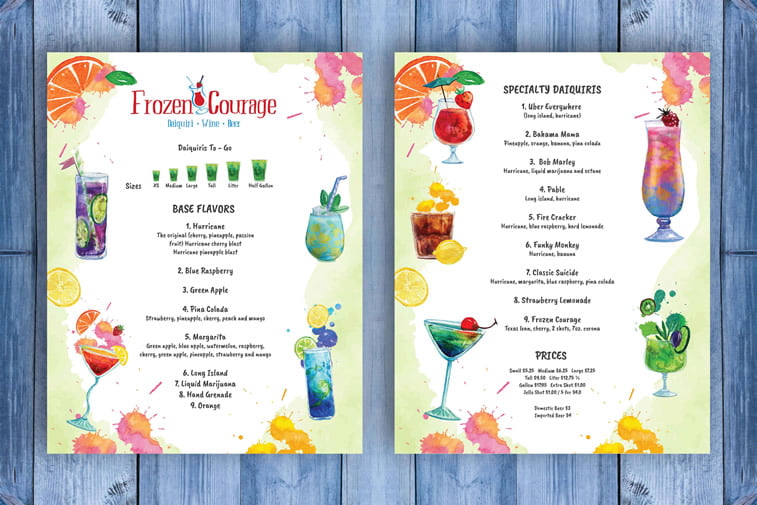 ---
#8: Proverite jezik
Jezička provera ispravnosti jezika trebalo bi da bude obavezna o kakvom god da se pisanju radi, a rastoranski meniji nisu izuzetak.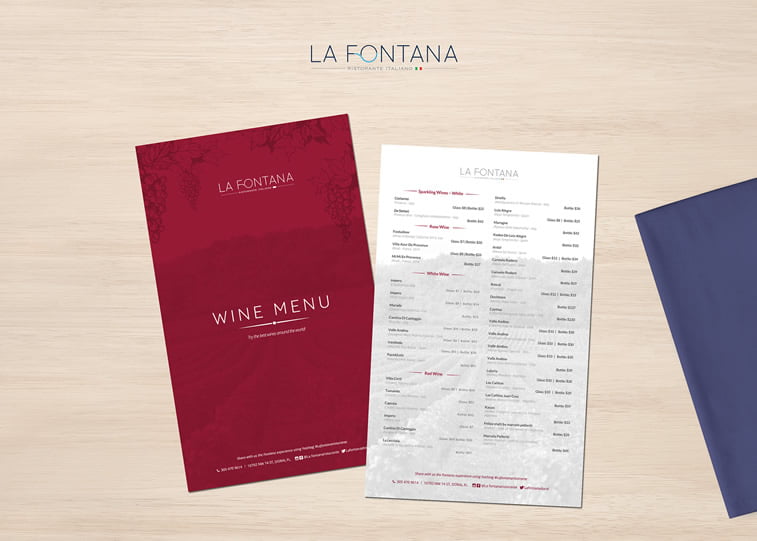 Posebnu pažnju treba obratiti kada imate višejezične menije. Nije redak slučaj da u različitim zemljama jelo jednostavno nema ekvivalent, te prevod treba da objasni o čemu se radi umesto da samo prevede naziv.
---
#9: Usudite se da budete drugačiji
Ako je nešto trend, ne mora da znači da tako treba svi da rade. Imate svoje ideje, znate kako želite da izgleda meni vašeg restorana, ali niste sigurni da je to u redu?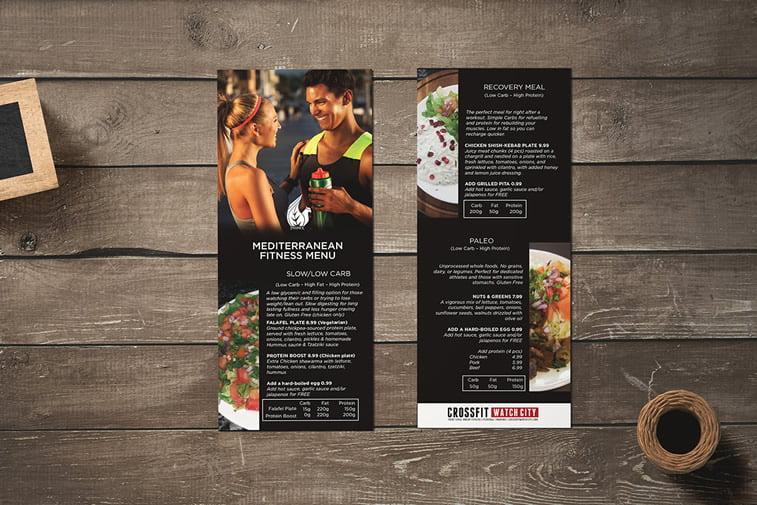 Ako vam je potrebna izrada menija, obratite nam se  i objasnite nam šta želite. Možda je baš u dizajnu menija ključ vašeg budućeg uspeha!
---
Povezani članci: